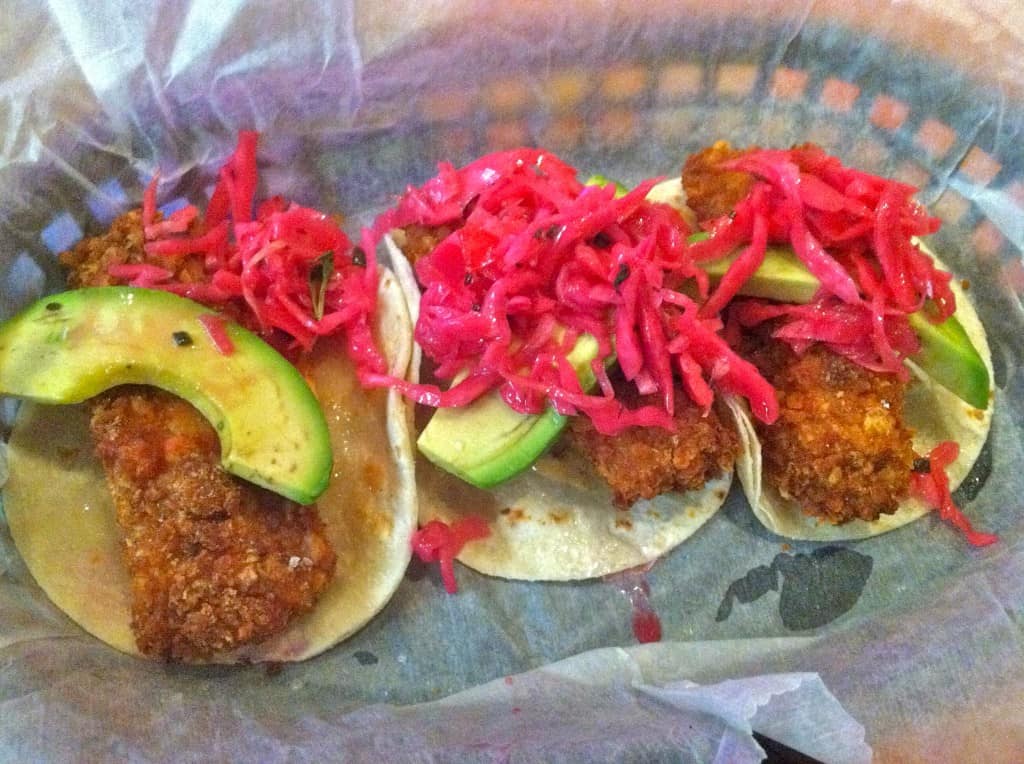 Holy crap, I'm getting married today!  Right now my soon-to-be wife and her maidens are getting their hair and make-up done, so I figured, what better way to start off my day than writing a quick post.   Last weekend my buddies and I went down to Atlantic City for the big bad bachelor party.  A lot of the guys were excited for late nights of gambling and beverages.  I was excited for the Saturday morning round of golf and the massive quantities of food I was to enjoy!  Don't judge.  After we played our round of golf, a lot of guys took a nap before dinner.  A couple of my brave friends joined me on the food crawl I was waiting for all weekend...
We started by walking down to the brand new Revel Casino, just completed this year.  Iron Chefs Marc Forgione and Jose Garces both have up-scale gourmet restaurants in this spectacular building and casino, but I was here for the cheaper eats.  Jose Garces has two such options:  Distrito Cantina and Village Whiskey.
First up on our list to conquer was the fast and casual Distrito Cantina.  It is modeled after Jose Garces' super popular Guapos Taco Truck in his hometown of Philadelphia.  You all know how much I love the Kimchi Taco Truck here in NYC, so I was uber-excited to try Garces' tacos on for size.  As we walked up to the super-sized food truck in Revel Casino, we were immediately hit with the awesome decor of the truck: it was blinged out with all the little lights from that old-school game Lite Brite.  Remember that fun toy?
You order at that window up there, then take a seat and wait for your food to be brought out, which takes about 5-10 minutes.
Directly behind the truck is an ample seating area:
So I wanted a margarita and asked the lady at the take-out window for her recommendation, and she really swore by the frozen pomegranate margarita.  She said it was really delicious and is made strong... okay I'm game.  It came out and it was unbelievably good!  I've never had a margarita with this kind of smooth consistency... It was almost like pillowy snow.  And yes, it was strong.
We ordered 3 different tacos, each came three to an order.  They are a bit on the expensive side for what I like spending on tacos ($10-13), but at first bite I understood why.  The ingredients were very high quality and the balance of flavors were genius.  They were some of the best tacos I've ever had.
The first tacos up were the JG Steak Supremo: skirt steak, refried beans, avocado, mexican crema, and salsa roja.  I've never had skirt steak so tender.
Next were the Pescado tacos: fish, chipotle remoulade, pickled red cabbage, and avocado.  The fish was fresh out of the fryer with a nice crispy coating, but totally not greasy.  As you bit into the fish, little bursts of the hot oil blended with the acidity of the pickled cabbage = party in my mouth.  These were my favorite of the three tacos we tried... I'm still dreaming about them.
And last up were the Lengua tacos: veal tongue, red chile, white onion, and cilantro.  I've never had veal tongue before, only cow.  The tongue must have been cooked super slowly because the meat was falling apart tender.  These tacos were really good, but probably my least favorite of the three.
Next up on the food crawl was Jose Garces' Village Whiskey, a burger and whiskey bar.  I don't really care for whiskey, although he does sport an impressive 80 different varieties of the stuff.  However, I am a big fan of burgers.  Here's a look of the inside of the place:
The booth was the most plush and comfortable booth I've ever sat in.  Our waiter was fantastic and very attentive to our very need.  Steve started things off with an order of top neck clams.  He said they were fantastic...
I am a sucker for shakes.  If they are on the menu, I will almost always have to order one.  Sometimes they are great like the Dark Chocolate Shake at Bobby's Burger Palace, but many times they fall short, like the ones at Shake Shack.  When asked for his favorite, the waiter was pretty adamant about the s'more shake.  It came and holy crap, it was revolutionary.  This shake is in my top 2 shakes of all time.  Just like the pomegranate margarita was super smooth and texturally amazing, so was this shake.  It was super creamy and jam-packed with flavor.
You typically can't go wrong with french fries... fry them in duck fat like Jose Garces does, and you really can't go wrong.  Take it one step further and top it with cheddar cheese sauce?  Fantastic.  Wait, put a pile of tender, delicious short rib in there too?!  Amazing.  Here they are: Duck Fat Fries with Short Rib and Cheddar.
And now, the pièce de résistance, the reason why we came to Village Whiskey in the first place.  The thing my friends heard me talk about the whole car ride down to Atlantic City: the Whiskey King Burger.  Half a pound of super flavorful Maine Angus beef, maple bourbon glazed cipollini onions, rogue bleu cheese, applewood bacon, and wait for it... wait for it... foie gras!  The burger was cooked to a perfect medium-rare.  It was even declared "best burger I've ever eaten" by my friend Steve.  That says a lot.  He loves his burgers and has definitely eaten his fair share... he only bestows the title "best of" to the top tier foods he's ever eaten.   This burger truly was perfection.
Another look:
Even though we shared everything at both places, we were all pretty stuffed at this point, but it was just about time for our dinner reservation at Bobby Flay Steak in the Borgata.  No trouble... we are pros:
Our reservation was for 10 p.m., but we didn't get seated until about 10:15-10:20 p.m.  The place was jam-packed!  Here's a look at the interior:
The service here was not the best.  Bobby, are you listening?  Our waiter, although very nice, seemed frazzled and overwhelmed the entire service.  He was also a bit inattentive... tracking him down was sometimes difficult.
I ordered the bone-in rib eye steak, medium-rare.  Sadly, it came out medium... not even close to medium-rare.  To me, overcooking a steak is acceptable... if you're at Applebees.  However, when you are paying $50 for a steak at a high end steakhouse, I want that thing cooked perfectly.  In any case, it was fantastic.  The exterior of the steak was perfect: little char, crusty, and super flavorful.  Flay likes to add a bunch of pepper to his crust, which I really like.  It adds a bit of bite to the steak that I appreciate.  The steak was very tender and super high-quality.
Out of a table of 8, everyone's steak was cooked perfectly except mine and my buddy Steve's.  His was the worst:  He ordered the hanger steak medium-rare.  It literally came out well done.  We looked for the waiter, but he was nowhere to be found.  Steve decided to eat a bit of it to see how it was, and by the time the waiter came around, he polished off half of the steak.  Our waiter finally came over to check on us and Steve let him know about the gross mistake.  He was extremely apologetic and quickly brought Steve out a brand new steak, which was cooked perfectly.  Steve made out on the deal, getting in essence 1 and ½ steaks for dinner.
As a side, I got the Creamed Corn with Fire-Roasted Peppers.  Everyone at the table agreed that this was the best side dish on the menu.  It was crazy good, with a bit of spice, some of the best corn I've ever had.
And so that ended my food coma day.  It was so awesome.  Okay folks, time to go get ready for this wedding thing.  Asheley and I are going to Paris on our honeymoon, so I'll be sure to get pics up as soon as I can!