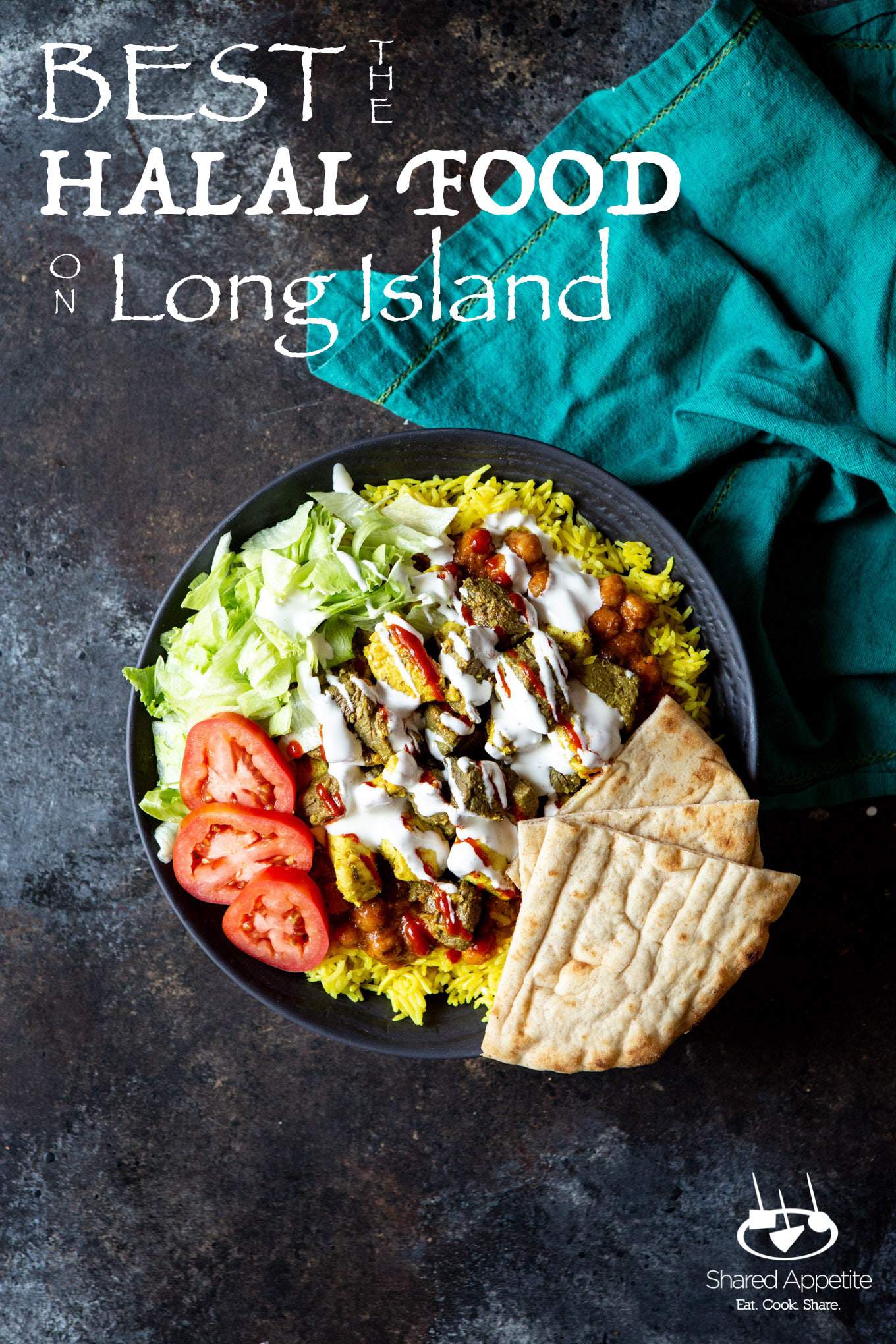 What's your favorite thing to eat? It's a question that I hear often, and one that is near impossible for me to answer. My favorite food is variety, and I love the option to choose between a myriad of amazing cuisines here on Long Island on any given night. However, my current favorite meal over the past year or so? Halal food. It's cheap (always under $10 for a TON of food, usually closer to $8) and it's ridiculously delicious.
Halal food, as the majority of people here in New York know it, usually consists of some combination of rice, lettuce, and chicken and/or lamb in a disposable dish or pita, with red and white sauce on top. Halal food really is much more than that. Halal, meaning proper and permitted, refers to the whole category of food that Muslims are allowed to eat and drink under Islamic law and also instructs how the food must be prepared. However, for the purposes of the Best Halal Food on Long Island, we are talking about the halal food take-out that we've come to know here in NY.
For anyone walking through the city over the past decade or two, they are very familiar with the ubiquitous sight of cart vendors selling what has been coined street meat. Beginning as street carts and now expanding to several brick & mortar restaurants, it's easy for all halal food to start looking identical... meat, rice, greens, sauce. However, the nuances each establishment adds to their dish really helps to separate the best from the not-so-great.
Although each halal food joint on Long Island has their own unique offerings on their menu, the standard (at least for me) in this world of cuisine is the combo. And no matter what restaurant you walk into, no matter how their menu is configured, you can simply say combo and they'll know what you want.
Lamb + chicken over rice and salad. White sauce and red sauce. Add a pita on the side. DONE.
So what's the Best Halal Food on Long Island ... let's get to it: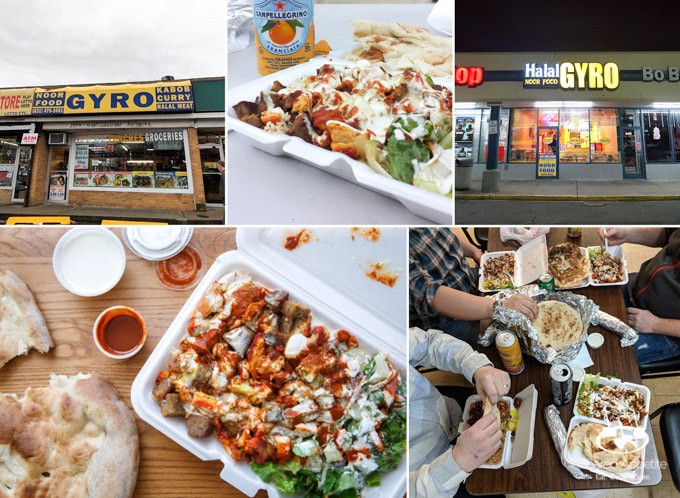 Disclaimer: this is not an exhaustive list of halal offerings on Long Island. I'm only one person with one stomach, and although I love to eat, I haven't had the chance to try it all yet. There are definitely some halal food restaurants on Long Island that I've tried and are not on this list (sorry, they didn't make the cut), but if you know of any great places that I should try, please comment below or drop me an email at chris@sharedappetite.com
Noor Food.
This was my introduction to halal food on Long Island, and although I assumed for a while that my affinity for its flavor must have something to do with nostalgia, the more and more combo platters I consume, the more I am convinced in its superiority.
My buddy Tyler once asked our friend group what our death row meal would be. In other words, if you got the choice to pick your last meal on earth, what would you choose? Noor Food was (and still is) my answer.
What makes Noor Food my favorite? The spice mix on the meat, the crunchy bits on the exterior of the lamb and chicken from the flat top griddle, the absolutely PERFECT (and I mean perfect) white sauce.
Huntington's Noor Food is the original location, and it's very easy to miss when trying to find it. The nondescript storefront is in a small strip of stores across from a car dealership, and it's as much a mini halal grocery store as it is a take-out eatery. The place is always busy and the meat is constantly being cooked, so you know the food is fresh every single time.
If you're visiting the Huntington location, make sure you order naan. It's made FRESH and by hand in a traditional tandoor (and its low price... I think around $1.50 is a steal). The West Babylon location naan is definitely a reheated-from-frozen product, which although disappointing, is understandable for a quick serve establishment (and is still better than the usual pita most places serve up with their combo platters).
1056 E Jericho Turnpike Huntington NY 11743
84 Route 109 Farmingdale Road West Babylon NY 11704
https://www.noorfoods.com/
Hamza & Madina Halal Food.
With nine locations on Long Island and into Queens, Hamza & Madina is a major player in this region's halal food game. With good reason, of course. It's freaking delicious. My first Hamza & Madina experience was very late at night driving home from an event. Not wanting the typical late night fast food fare, I remembered hearing about this halal food truck that sets up shop in the parking lot of a We Sell Gold property. I was amazed, that even on a random Tuesday night at midnight in the most random of places, there was a decently long line of people waiting for their Hamza & Madina fix. And as I learned on repeat visits, the line wasn't a random occurrence, it's the norm.
My second Hamza & Madina exerpience was when I had a sudden halal food craving while in Commack. While we were on the Starbucks drive-thru line for my wife (I've never tried coffee... yup, freak status), I frantically checked Google to see if there were any halal places nearby. Sure enough, there was one just down the street in a... wait, this can't be right... in a gas station. BUT YES, I WAS RIGHT. Hamza & Madina Commack... attached to a gas station (absolutely amazing).
I'm beyond ecstatic that Hamza & Madina's most recent storefront opening in Ronkonkoma is just minutes from my home. Because of it's close proximity and constant high quality, it's my current go-to during the week.
At the Ronkonkoma location, I love that beyond the typical salad lettuce you get on a normal platter, they also have other options to add into your bowl. I love adding their chopped tomato + cucumber salad, which gives a nice fresh flavor with lots of crunch that helps to offset the richness of the meat and white sauce. The chicken at Hamza & Madina is made ahead of time and kept warm in a gigantic serving container in the quick service line counter (like Chipotle), and the par-cooked lamb is finished off on the flat cook top to order. If you order a pita (yes, of course you should order a pita), it's also heated on the griddle for you.
One of Hamza & Madina's signature moves is that they will pour on as much white sauce onto your platter as you want. Super generous of them for sure, and something I always appreciate.
Multiple Locations
http://hmhalal.com/
Naz's Halal.
Full disclosure. I've only had Naz's one time. Full disclosure. It was really good and I can't wait to go back. Definitely one of the top three halal experiences (along with Noor Food nad Hamza & Madina, above) I've enjoyed.
Yes, I know I need to go back and try it again. And even with 5 locations, they just are not located in spots I'm normally in or driving through.
I love Naz's Halal's story. Founded by two cousins are are also public school teachers (hey, so am I.. woot woot!), they opened up a food truck as a side business. This side business has turned into a food truck PLUS four restaurants.
Multiple Locations
https://nazshalal.com/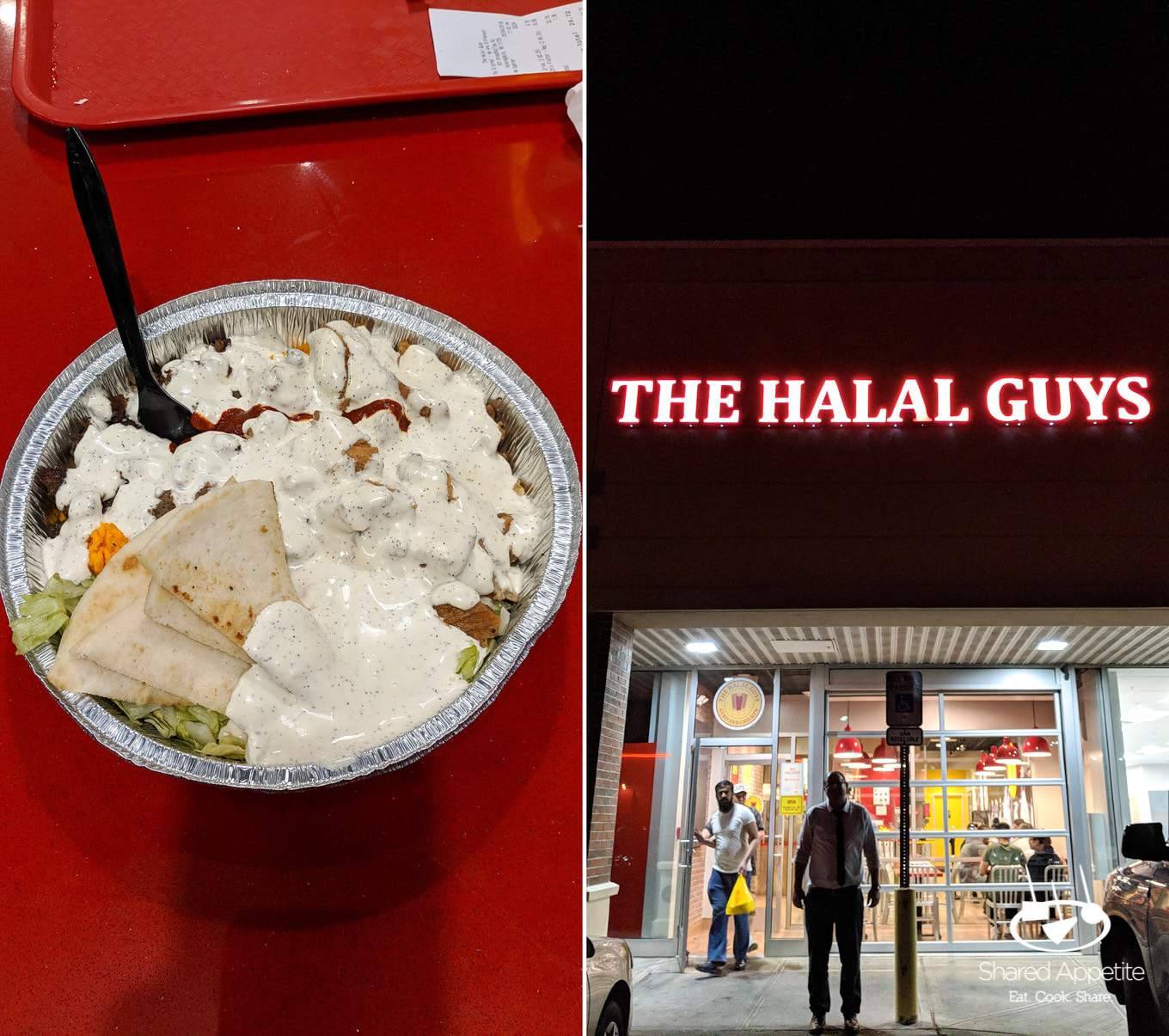 The Halal Guys.
If you know halal food, you know about the legendary The Halal Guys. All you needed to say back in the day was hey let's go to 53rd + 6th (for the halal cart at 53rd Street and 6th Avenue in NYC). Everyone knew what you meant, as was confirmed by the city block long line waiting for their fix of The Halal Guys.
Beginning in 1990 when three founding partners opened up a hot dog cart, they recognized a huge demand from Muslim cab drivers looking for a halal food meal. The famous chicken platter was born and fast-forward 25 years, they now have 5 carts, 2 NYC restaurants, and are now franchising all over the country with 2 right here on Long Island.
The Halal Guys is definitely good and worth the stop when you're in the area. The customer service I experienced in the Farmingdale location (I've never been to the one in East Meadow) was fantastic, with an employee coming around to each table asking if they want extra white sauce. Uhm, yes!
However, and I'm speaking 100% on the experience I had in Farmingdale multiple times and not from the original cart in NYC... although satisfying and a perfectly enjoyable meal, the flavor is definitely more tame and underwhelming than the three I mentioned above.
2565 Hempstead Turnpike East Meadow, NY 11554
911 Broadhollow Road Farmingdale, NY 11735
https://thehalalguys.com/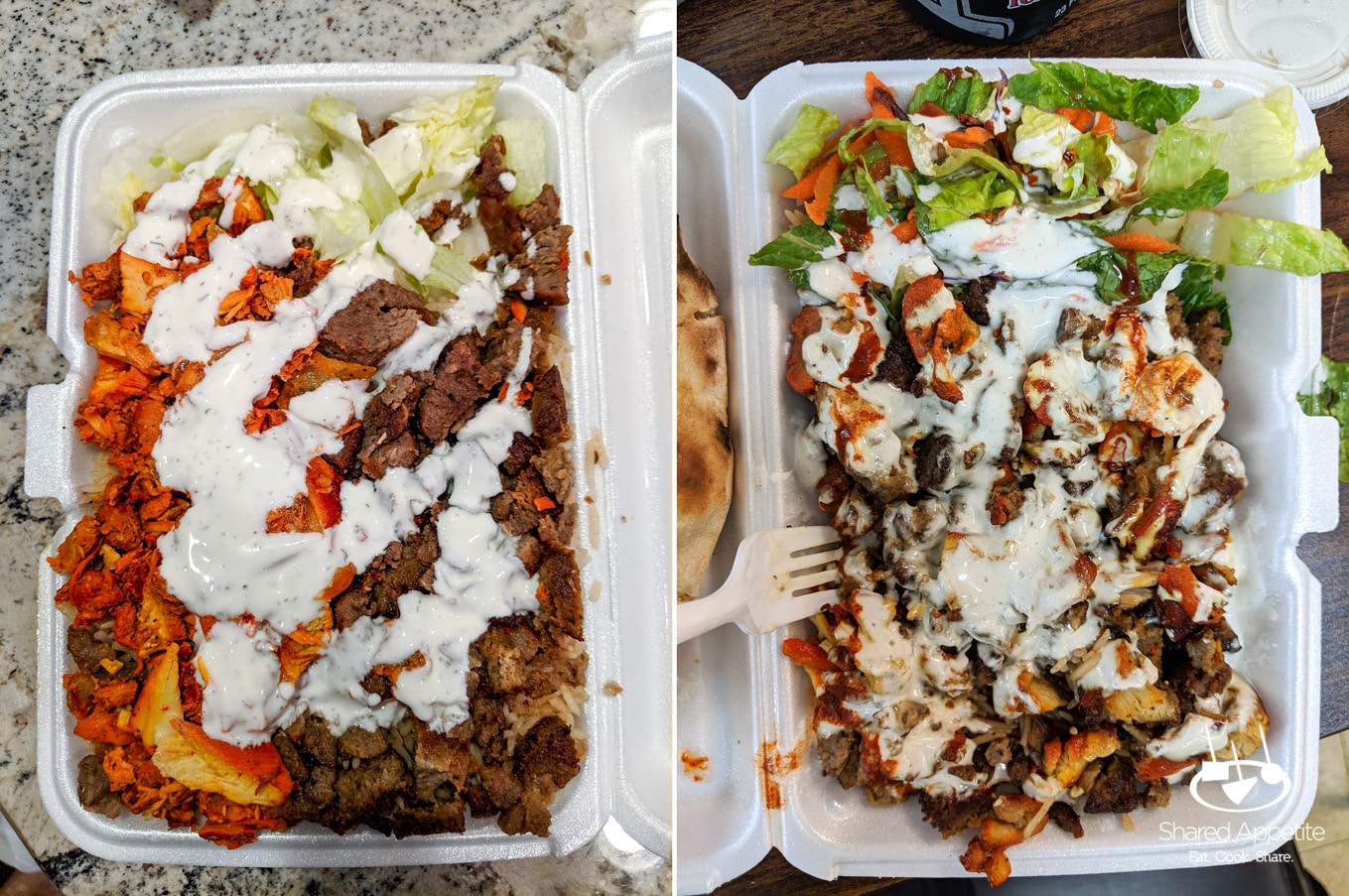 Halal on Wheels.
I've only had Halal on Wheels twice, and honestly can't remember much about it other than it was an enjoyable meal. Is it a place that I purposely search out? No, probably not. However, when I'm in the area and ready for grub, it's definitely got my vote.
1295 Middle Country Rd, Selden, NY 11784
Shah's Halal
The company with the largest halal food presence on Long Island, with 10 locations, is Shah's Halal. Starting with one food cart in Queens back in 2005, they expanded to LI in 2016. It's definitely delicious and definitely hits the spot every time... but the best way I can describe Shah's... imagine you have a friend that's never tried halal food and isn't the most adventurous of eaters. You want them to have a very safe first experience where the flavors are very mild, almost to a fault for those with a discerning palate and understanding of other halal joints. You walk in and it presents itself almost in a Chipotle-esque style service counter, with a ton of side options to round out your platter.
Multiple Locations
https://www.shahshalalfood.com/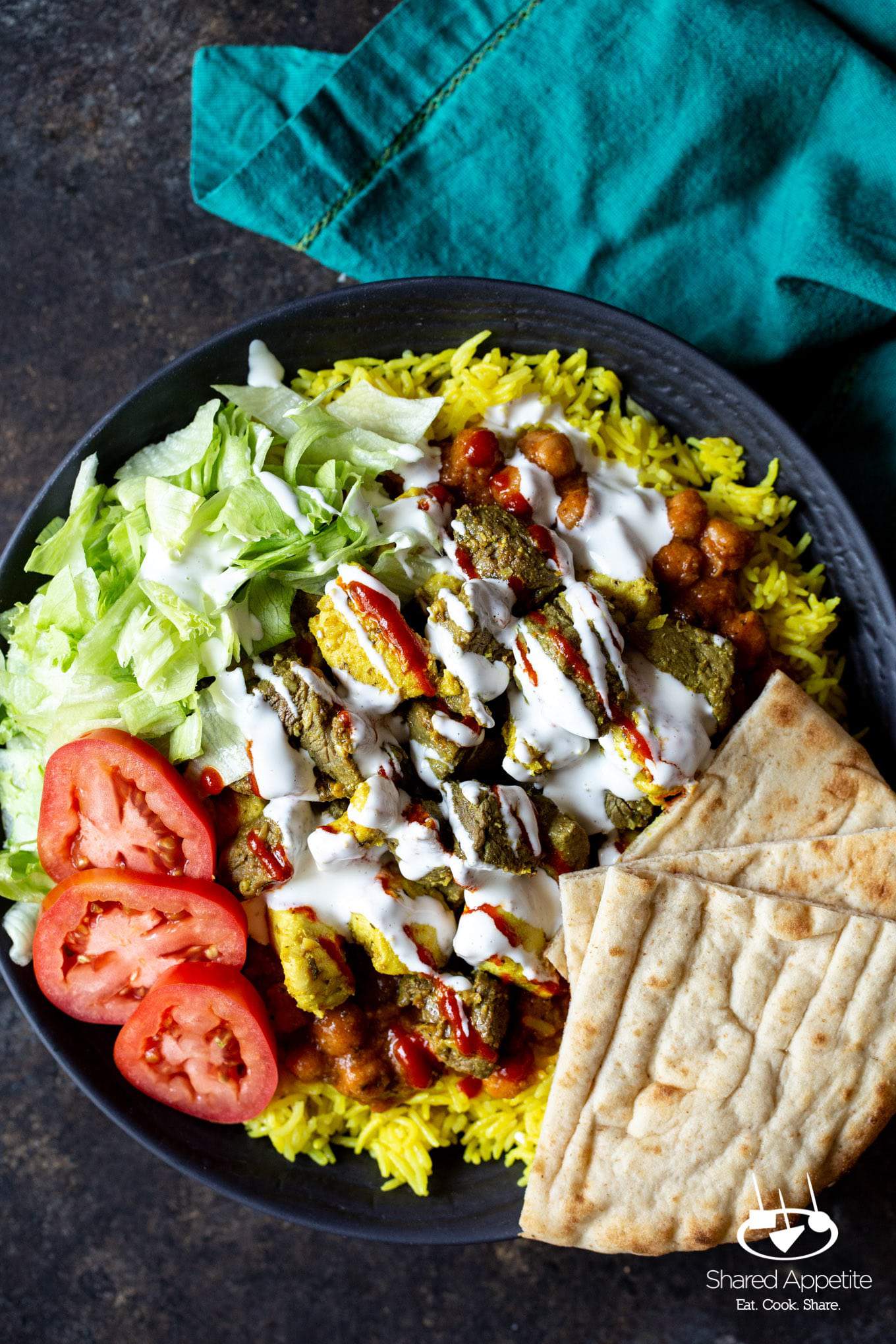 Okay Long Island foodies. Let me know. What spots am I missing? What other spots need to be mentioned here on the Best Halal Food on Long Island? Let me know!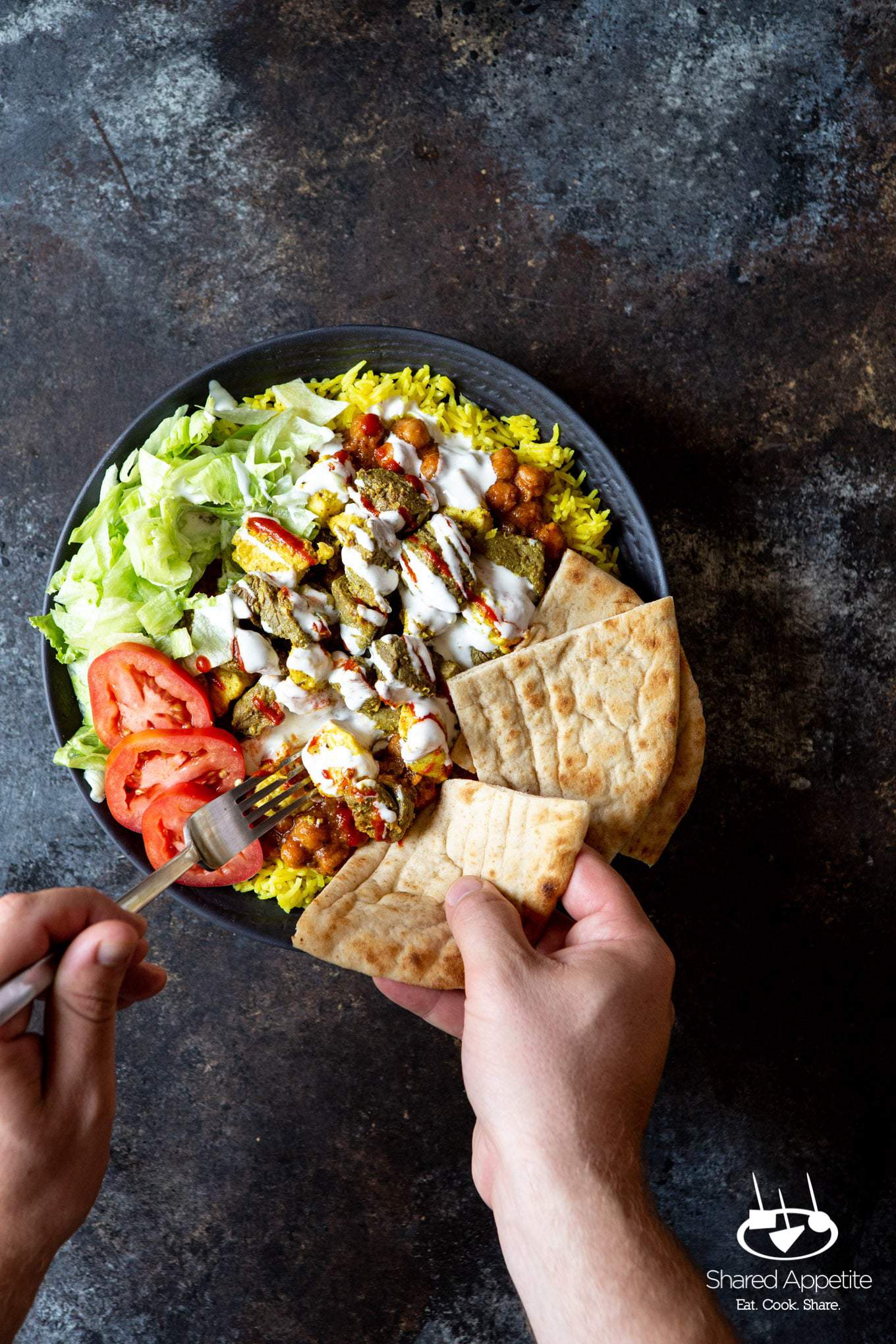 Best Halal Food on Long Island