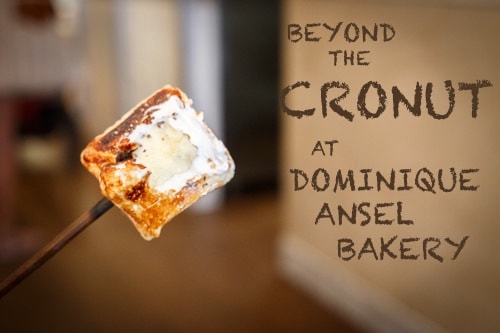 It's cronut mania up in NYC. People are getting in line way before the sun rises in hopes of scoring the hottest item in the food world. Pastry Chef Dominique Ansel has become an overnight celebrity since his half croissant, half doughnut took Manhattan by storm this past May. His cronuts have been featured on the Today Show, Jimmy Fallon, and pretty much every other local news outlet. A cronut black market has emerged, and many imitators have soon surfaced. Want more cronut info? Check out his Cronut 101.
And no, I have yet to have a cronut. Tyler and I are thinking of taking the early morning cronut pilgrimage sometime soon. We'll see. But this past Monday Asheley and I made a late-morning stop in the bakery during my birthday weekend celebration. I knew cronuts would be long sold out, but I've heard about some other irresistible treats from the genius mind of Dominique Ansel that, frankly, should be celebrated just as much: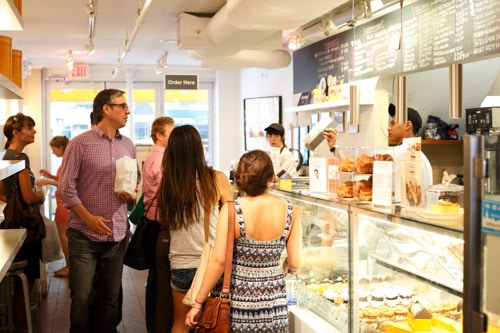 Can you find Asheley in the above photo? Can you?!
Even though the cronut line was long gone, a steady amount of people made their way into the bakery during our time there.
I've been hearing about this frozen s'more thingy, which is Dominique Ansel's latest Willy Wonka brainchild. Sure we were technically there for breakfast and sure Asheley judged me harshly for having a frozen s'more first thing in the morning, but hey... it was for official blog research. Right?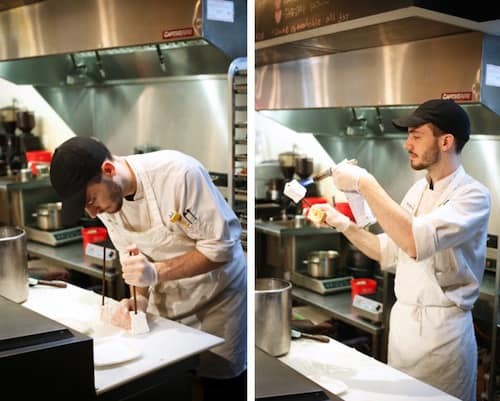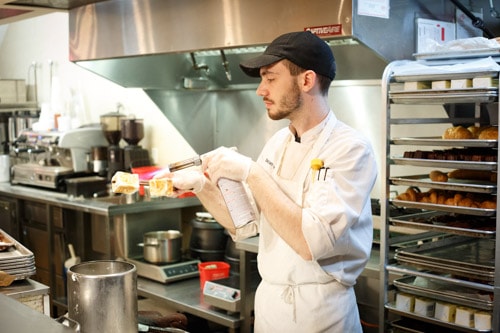 The s'mores are toasted on demand with the aid of one of my favorite kitchen gadgets. The Kitchen Torch
. I don't even use it that much, but sometimes I'll turn in on for no reason, just for fun 🙂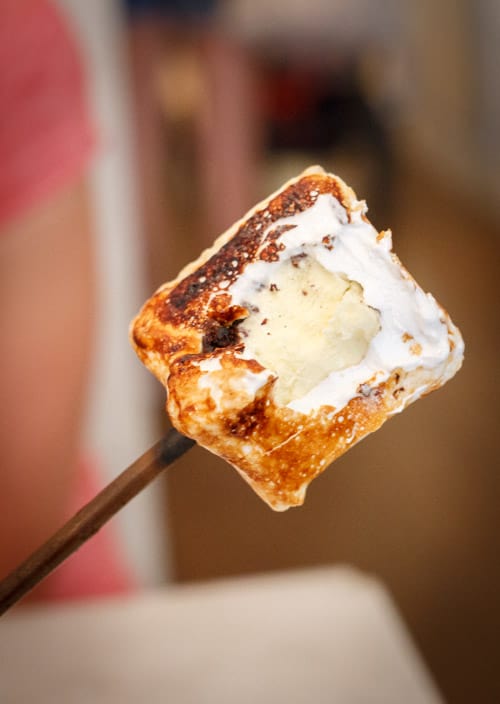 Isn't it beautiful? Almost a shame I had to eat it. Almost.
The center of the frozen s'more is a vanilla ice cream that's then coated in a chocolate cookie/wafer (feulletine, for all you fancy people). The ice cream is based off of the Turkish dondurma, which has a little bit more of a chewier texture than regular ice cream (but not much).
A generous blanket of marshmallow then engulfs the ice cream and is impaled with an applewood-smoked willow branch, to give you that campfire feel. Following it's time with the guy wielding the kitchen torch, you are left with a beautiful crackly crust reminiscent of a creme brulee crust.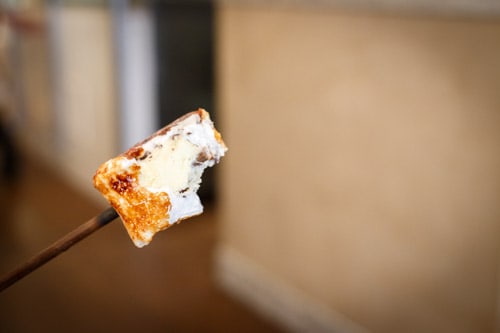 The only downside. These bad boys will set you back $7 a pop.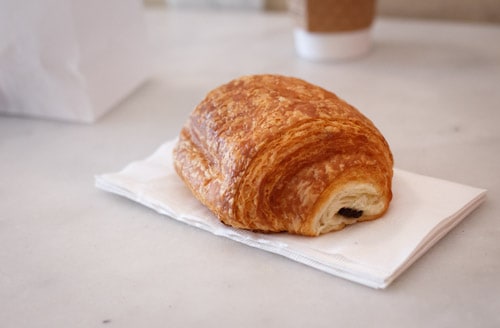 Asheley enjoyed her chocolate croissant. I honestly didn't even get a chance to try it because I was trying to snap a few photos of the frozen s'more. The next time I glanced down, it vanished. To her belly.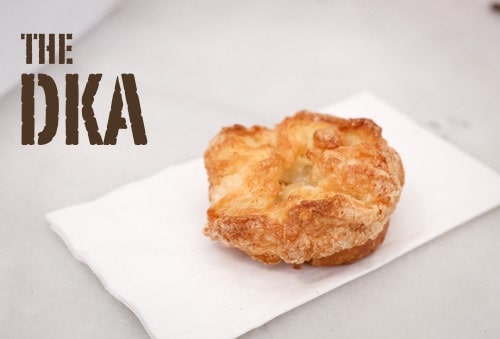 The DKA (i.e. Dominique Kouign Amann) is absolutely delicious. It's croissant-like with a tender flaky interior, but with more butter and sugar, and the outside is full of caramelized goodness.
And guess what? It's Dominique Ansel's favorite concoction on the menu, even more so than the cronut. How do I know this? He told me when we chatted for a few moments. Don't believe me? I'm hurt. I thought we had a circle of trust thing going. Here's proof... (just ignore the terrible quality, heavily-filtered instagram image).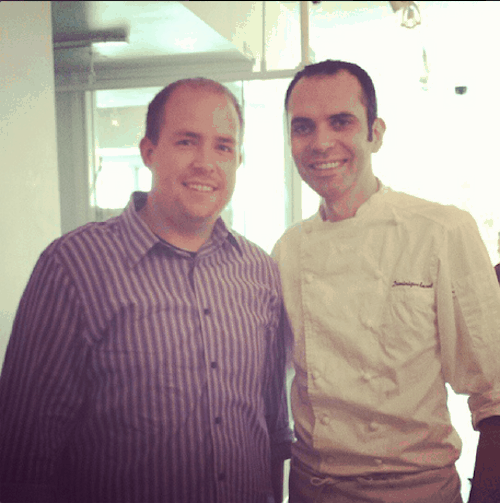 See I told you!
So get down to Dominique Ansel Bakery at a decent, normal hour (once the sun has been up for a couple hours), and grab any one of the non-cronut-but-totally-worthwhile items from the mind of this sweet genius.
Dominique Ansel Bakery 189 Spring St
New York, NY 10012
212-219-2773
You may want to also check out...
The Top 10 Foods You Have To Eat In NYC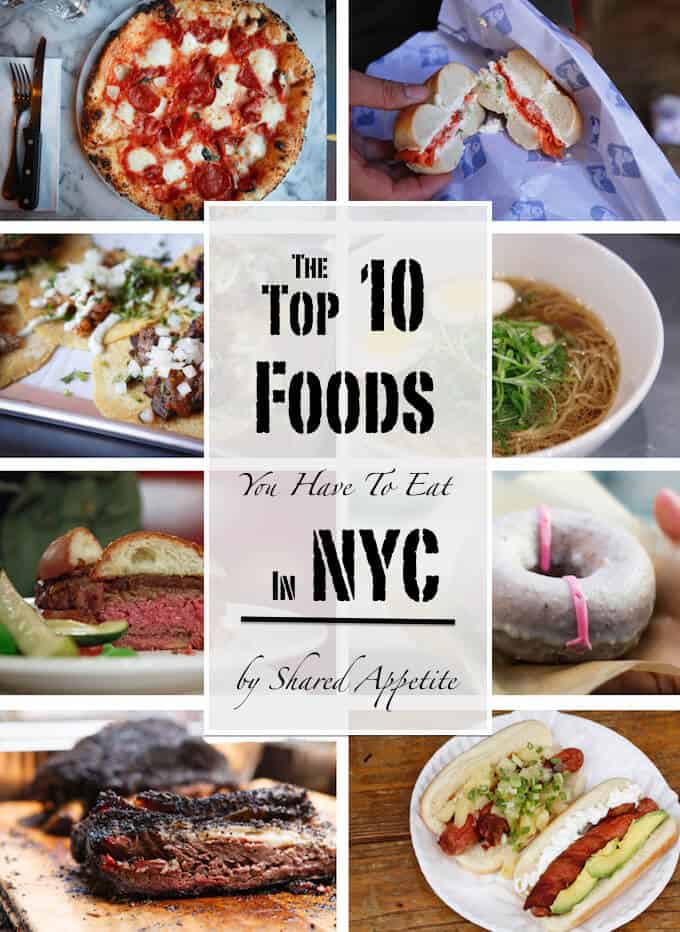 The 10 Best Ice Cream and Frozen Treats in NYC