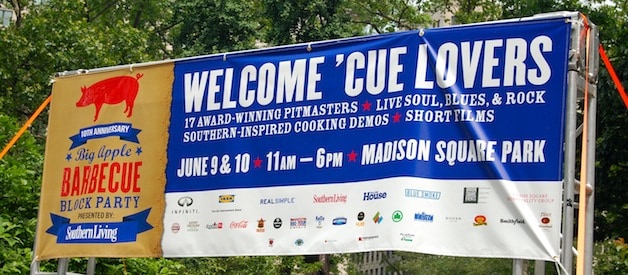 June... one of my favorite months of the year.  Why, you ask?  Being a teacher, summer vacation is nearly upon us, and more importantly, June is Big Apple BBQ Block Party time!  Celebrating it's 10th year, the Big Apple BBQ brings together the top pit masters from across the United States for an amazing weekend filled with award-winning barbecue, live music, and cooking seminars.
Best of all, the event is totally free to attend and no ticket is required.  Food is sold directly from each pit master rig at $8 (cash) per plate.  Drinks and desserts range from $2 - $6.  If you planned ahead for the event like we do each year, you went to the Big Apple BBQ website ahead of time to secure a Fast Pass ($125).  The fast pass gives you and a guest access to the express lines at each pit master rig, and also includes a $100 value redeemable for food, drinks, and merchandise.
And even better yet, the whole event supports the Madison Park Conservancy, the organization responsible for beautifying and maintaining the amazing park.
Here's a picture-filled recap of that glorious porky day...
The anticipation of the Big Apple BBQ Block Party starts in April when I start checking their website for Fast Passes to go on sale.  They do usually sell out, but luckily I got mine the day they went on sale.  I then pull a Ralphie... you know, the kid from A Christmas Story that checks the mailbox every day for his decoder ring... and finally, my treasured Fast Passes arrive:
With my Fast Passes in hand, days go by.  Days turn into weeks and weeks to months...  and at last, the day comes!  The morning of the Big Apple BBQ, I totally feel like a kid on Christmas morning.
Walking up to the beautiful Madison Square Park, being hit in the face with a cloud of BBQ smoke, my nose filled with the smells of the best BBQ from around the country... does life get better?!
Getting closer, you can see all the rigs set up with an arsenal of meat: pulled pork, ribs, sausages, brisket... not to mention a plethora of Southern sides and desserts, as well as a beer garden within the park.  So much to eat, so little time!  I knew exactly where my BBQ journey would start... Ed Mitchell!
If you're a Food Network fan, you may remember his name from an episode of Throwdown where Bobby Flay challenged him to a BBQ cook-off.  Mitchell is a North Carolina BBQ legend and his whole hog was the absolute highlight of the Big Apple BBQ last year.  I had high hopes for his whole hog this year, and he of course came through with a big win.
We found his rig immediately...
But wait, even with our Fast Pass and access to the express line, there was still quite the wait for the legend...
You see all that smoky goodness?  Yea, it was freaking awesome.  This wait for Ed Mitchell was 45 minutes, even at 11 a.m. when the Block Party first opened.  Apparently the secret is out that he serves up some of the best pork at the whole event...
Here's some of his team monitoring one of the SIX mega-smokers he had in the rig set-up:
Look at the picture below: you see the line on the other side of the rig?  That's for the non-Fast Pass people... it wrapped around several times and was about a full city block long.  I can't even imagine how long they waited!
Look who I found?!  The legend himelf: Ed Mitchell! He was smiling the whole time!
Why yes, yes I did get a picture with the pitmaster.   If you look closely in Ed's sunglasses, you can even see Asheley.
Here's a look at his massive rig set-up:
At the middle table, guys are hard at work chopping up and blending the whole hog together.
A look into the spices that go into Mitchell's secret spice blend... I can see red pepper flakes, some empty bottles of vinegar (apple cider vinegar if I had to guess), ground black pepper, and paprika.
Nothing gets past Ed Mitchell... he is the quality control, checking on every ounce of his whole hog product:
45 minutes later, I had this in hand (along with 2 to bring home).  "No sauce?!" you gawk.  I foolishly said that too last year when I first got it... but then you taste it, and you literally can't believe what's going on in your mouth.  It's incredibly moist.  Ridiculously full of pork flavor, with just a hint of spice from the red pepper.  It'... it's... perfect.  No sauce required.
The coleslaw was also very good.  It was nice and creamy with just enough balance of acidity, which is just how I like it.
And in case you're wondering, the whole hog reheats amazingly well also.  The pork stayed perfectly moist for the leftover BBQ dinner Asheley and I enjoyed the next day.
Ed Mitchell, you sir are a BBQ Rock Star...
If Ed Mitchell is the front man of my BBQ band, Big Bob Gibson is definitely playing lead guitar.  The rig is run by pitmaster Chris Lilly, who has won 10 world barbecue championships.  He was the 2nd most anticipated BBQ pitmaster I wanted to visit this year.   Last year, the pulled pork won me over.  The plethora of BBQ sauces are also incredibly amazing, especially the habanero one.
At the point we went to the Big Bob Gibson rig, it was about 12:30 p.m.  The line, even with our beloved Fast Pass, was nuts... 1 hour in total!  Craziness, I know.  We had some fun just hanging out together though and also enjoyed looking at this modified chocolate fountain.... the BBQ Sauce fountain:
And finally, after 60 minutes of an agonizing wait, watching person's after person's eyes light up at first bite of this glorious pulled pork, we arrived:
Just look at that pork beauty!  It was so moist, full of flavor, and the little bit of habanero BBQ sauce I added put it over the top.  The mustard coleslaw was also very good... so good my brother is still talking about it to this day.
Last year my good friend Steve almost fell over in blissful shock after tasting Jim 'N Nick's smoked sausage.  I was determined to try it this year.
Now, I'm not a huge sausage fan, so I didn't have extremely high hopes for it.  One bite though, and it was like my eyes were flung open.  What have I been missing all these years?  This was hands down the best sausage I've every tasted.  Simply phenomenal.  Apparently they use 7 different seasonings and 3 types of peppers in the made-from-scratch sausage.  The house-made pimento cheese made for a  nice little side...
The Big Apple BBQ Block Party has become a tradition among many of my church friends.  It all started with one man, the True North Community Church BBQ guru, @jjpryor.  We all have our different opinions on who serves up the best dish of the year, but one thing we never disagree on is the Blueberry Cobbler at Blue Smoke.  It's 100% legit awesome.
Luckily, the line for the Blue Smoke dessert tent wasn't too bad, only about 10 minutes for Fast Pass holders.
Oh man, I was getting excited at this point...
Ok Chris, breathe, just breathe.  Ok... wait... ok, I'm good.  Just look at this.  It is and always will be the way I want to end every Big Apple BBQ Block Party.
My buddy Steve is overcome with joy after downing his Blueberry Cobbler.  And yes, that is one fantastic t-shirt.  17th St. Bar and Grill were selling these "Praise the Lard" t-shirts last year.  I tried to get one this year at the merchandise tent and they didn't have any!  Mike Mills, if you're listening, let me know how I can get me one of these amazing shirts!
Speaking of 17th St. BBQ, I really enjoyed their Baby Back Ribs this year!  Champion pitmaster Mike Mills is known as "The Legend".  He's a 4-time world champion and 3-time grand world champion.
The baby back ribs were nicely tender, although I wish they would have cut each rib individually.  It got messy trying to cut them with a plastic knife and pull them apart!  The beans were excellent, served in a sweet bbq sauce.
In case you've been waiting for an action shot, I didn't want to disappoint:
While on line for Ed Mitchell (the first rig we waited for), I noticed the line for South Carolina's Blackjack Barbecue was oddly enough very short.   I quickly jumped over to grab some grub.
I'll take the whole tray, please:
The pulled pork was delicious!  I really enjoyed the peppery kick in the BBQ sauce.  It added a nice zing.  The coleslaw was also good: light and refreshing, not too creamy and a nice balance of vinegar.
There were so many amazing dishes served up at the Big Apple BBQ Block Party this year.  With the good, though, typically comes the ehhh and the bad...
Blue Smoke served up Salt and Pepper Beef Ribs.  I didn't try them, but my brother said they were just okay, and he didn't even end up finishing them.  Enough said.
I love me pulled pork, so I was excited to try Ubon's Barbeque of Yazoo.
As Asheley and I each took a bite, we were shocked by the very odd and off-putting flavor of the pork.  The BBQ sauce was very good, but the actual pork was abysmal.  The coleslaw was of equal disappointment.
So now that the 10th annual Big Apple BBQ Block Party has wrapped, Asheley and I have reset our countdown clock to await the arrival of the 11th!  We hope to see you there, so here's some tips to follow to get the most out of your day:
Tips for the Big Apple BBQ
Get the Fast Pass.  It's worth it.  The lines are still long, but much shorter than those poor souls on the other side of the rig.
Bring some Tupperware and a cooler.  Asheley and I get one of whatever we want to share that day, and always get an extra one to bring home for a BBQ feast the next day.
Lose the bun... it's just a crappy Pepperidge Farm bun.  You don't need that garbage taking up valuable space in your stomach.  Save room for meat... and blueberry cobbler.
Next year, we came up with a plan to maximize eating and minimize waiting in lines:  we always have a bunch of friends that go together to the event, so we are each going to wait at a different rig, get enough orders for everyone, then meet back together and chow down!
There are some picnic tables available to sit down, but not a lot.  Bring a picnic blanket and have a seat in the beautiful Madison Square Park!