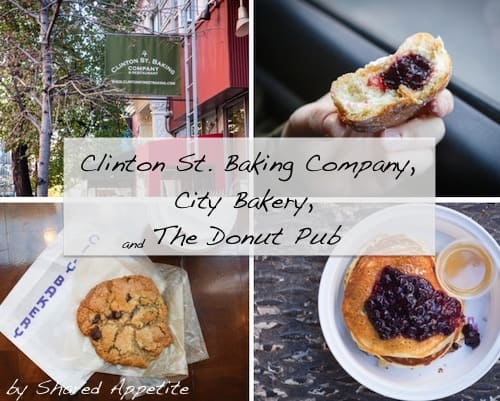 Three of NYC's classic and extremely popular places to grab a sweet treat, including some of the best pancakes, cookies, hot chocolate, and donuts in the city.
Sometimes I'm really excited to write a post intro. It comes naturally. I have something specific to share. A story. An anecdote. A memory.
Today, I've got nothing. Asheley's at work. I'm trapped inside from the blizzard currently happening outside. Just me, the take-out Thai food I picked up yesterday in preparation for said blizzard, and a never-ending stream of pretty crappy movies playing in the background while I think about what to write.
So let's just talk about the food. It's better that way. And hopefully by next time, I'll have something more eloquent, or at least interesting, to share 🙂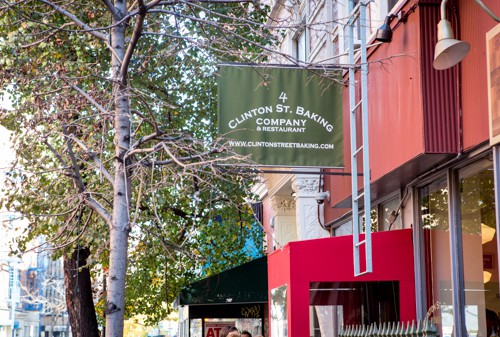 Clinton St. Baking Company.
They are probably best known for their famous blueberry pancakes. These blueberry pancakes beat Bobby Flay in a Throwdown. They've been named best in the city a few of times over. And they have been featured throughout countless media outlets.
But are these pancakes really that good? I mean, c'mon, it's just pancakes.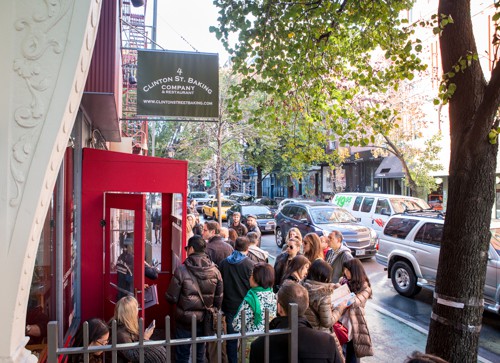 Well, I've never not witnessed a large crowd anxiously hovering around the entrance to Clinton St. Baking Company at breakfast time. With only 32 seats up for grabs within this tiny Lower East Side gem, locals and tourists alike have to brave a typical 1 – 2 hour wait.
Asheley and I just won't do it. But that won't keep up from pancake heaven. We just order take-out, either find a spot somewhere in the area to sit or head to our car, and chow down.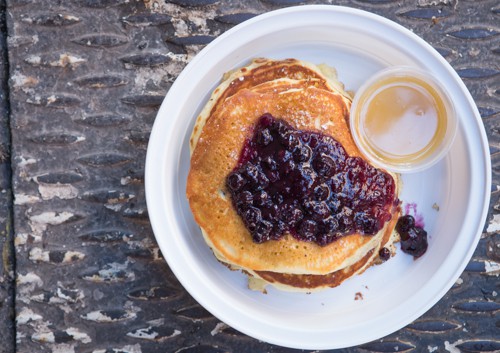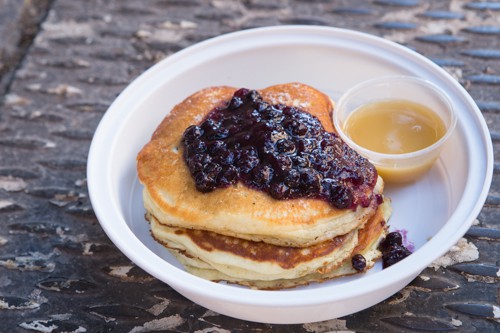 Here they are. The Wild Maine Blueberry Pancakes with Warm Maple Butter ($14).
And you know what? Everything they've said about these pancakes are true. Fluffy. Moist. I honestly never knew pancakes could be so perfect.
Apparently the secret is that Chef and Co-owner Neil Kleinberg separates the eggs and gently folds in whipped egg whites into the batter, making for incredibly fluffy pancakes. But his secret wizardry goes way beyond that.
The warm maple butter. The wild Maine blueberry compote. The complexity of flavor in the batter. It's all just so good.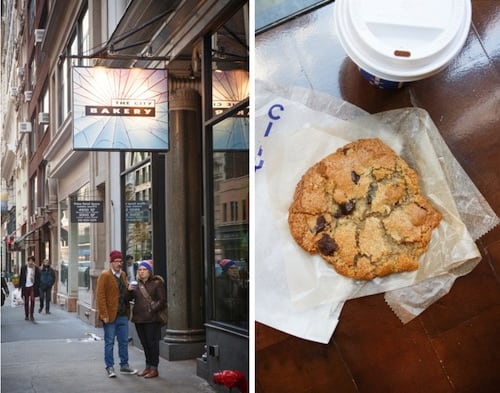 Welcome to Union Square's City Bakery, a two-level cafe and bakery that makes one of the best hot chocolates in the city. Apparently they also have a seasonal savory menu and a killer salad bar with local ingredients obtained just a few blocks away at the Union Square Farmers Market. But I've never actually eaten at City Bakery.
You are here for one reason and one reason only. A chocolate chip cookie and hot chocolate. I can't think of any other indulgence I want more during these cold winter months. The hot chocolate is rich, thick, creamy, and intensely chocolate.
Pretty much everything you could and should want in a hot chocolate.
Last time I went, they were out of homemade marshmallows. Big bummer. Those marshmallows are legit and are a necessity if available.
And the cookie is a solid cookie. Chewy. Good flavor. A perfect little treat to nosh on while sipping your hot chocolate.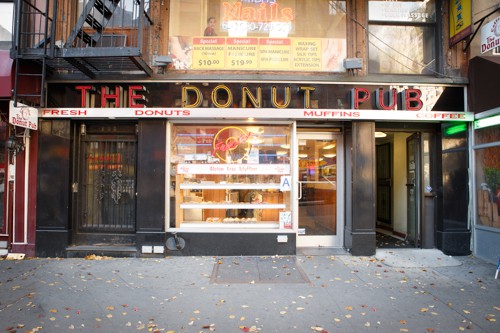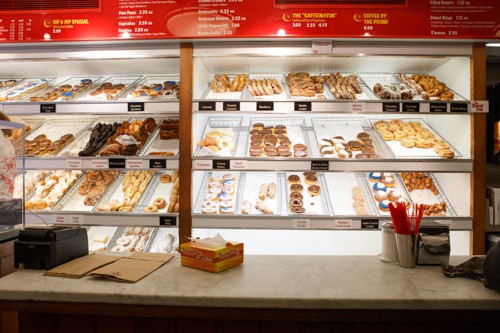 Chelsea's The Donut Pub has been in business for almost 50 years. It's a New York old-school classic.
Counter. Stools. Flourescent lights harshly illuminating a beautiful array of donuts.
And there are a ton of donuts to choose from. So many of them look incredible. But I've heard that the Jelly Donut is pretty fantastic… and Tyler wanted the donut stick. He always goes for the donut stick.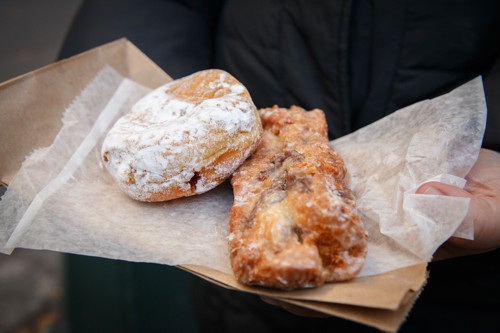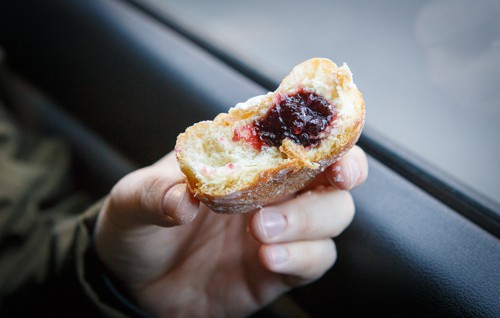 The donut itself isn't anything too special. But once you get some of that jelly. Oh my, it's good. I just wish there was a bit more of it. More jelly to dough ratio would be appreciated.
I'm not really even a jelly donut type of guy (I never order them), but the jelly in this donut made me a convert. I'll definitely be going back to The Donut Pub to try some more donuts on for size.
Clinton St. Baking Company 4 Clinton St
New York, NY 10002
(Lower East Side)
646-602-6263
City Bakery 3 W 18th St
New York, NY 10011
(Union Square/Flatiron) 212-366-1414 The Donut Pub 203 W 14th St
New York, NY 10011
(Chelsea) 212-929-0126
You may want to also check out…
The Top 10 Foods You Have To Eat In NYC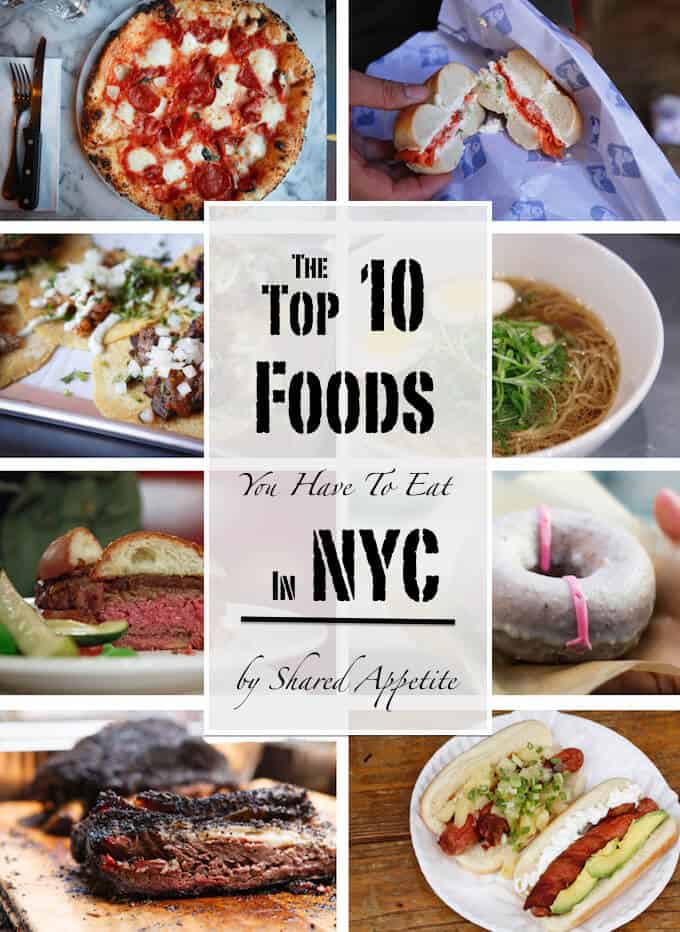 The 10 Best Ice Cream and Frozen Treats in NYC