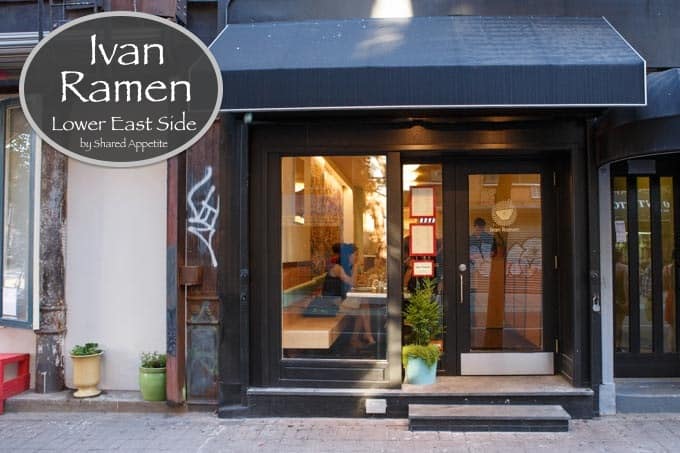 A first look at the wildly creative and innovative appetizer and ramen menu at Ivan Ramen Lower East Side.
You wouldn't expect that after being certified fatties and eating our way through the Big Apple Barbecue Block Party, we would still be hungry for more.
Well, jokes on you. We were.
Making our way to the Lower East Side in our friend Steve's new Jeep (top and doors removed in true summer rockstar fashion, of course), we waited for Ivan Ramen to open by grabbing a drink at Stanton Social. Side note... the Basil-Lime Gimlet there has managed to capture summer in a cup. It's fantastic.
Not soon after it's 5:30pm service start time (trying to avoid the hungry hoards of ramen junkies that undoubtedly would descend upon the holy grail that is Ivan Orkin's flagship NYC restaurant), we headed through the doors of Ivan Ramen Lower East Side and were seated immediately.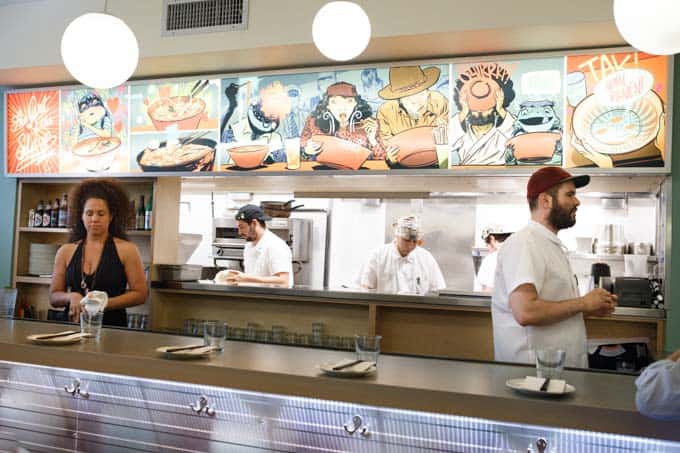 The left side of the restaurant is scattered with table tops for two and four... not quite sure if there is seating for parties of larger than 4? To the right is this ramen bar with a semi-open view of the kitchen.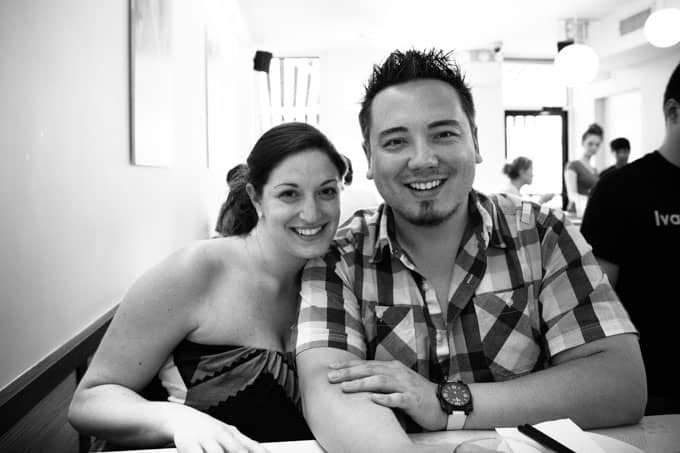 Look at our good friends Steve and Val... this very well could be their last ramen dinner as singles. In 3 short weeks, they'll be all married and stuff.
FOREVER....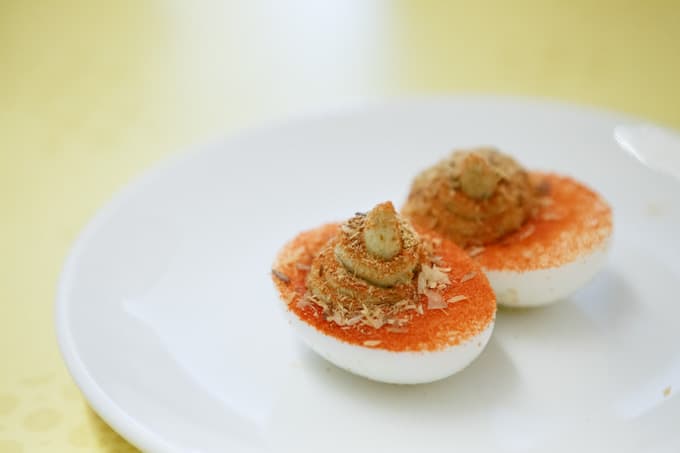 At this point in our lives, Steve and I can count on several predictable patterns of behavior in our better halves. The one of greatest certainty? Any variation of deviled eggs that appears on a menu must and will be ordered by our wives.
1000 Year Old Deviled Egg - hen egg + preserved duck egg, tomato, bonito $3.50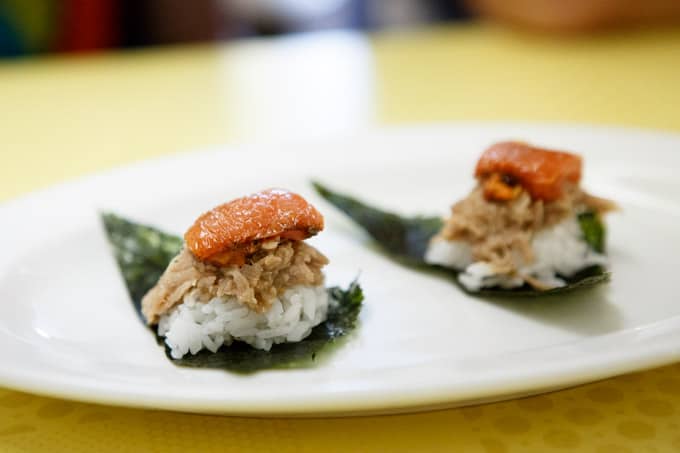 When our server described this almost like a pork sushi, I was sold. What's better than pork and sushi? It was a pretty fantastic bite of super and juicy pork.
Roast Pork Musubi - salted plum wasabi, roasted tomato, toasted nori $6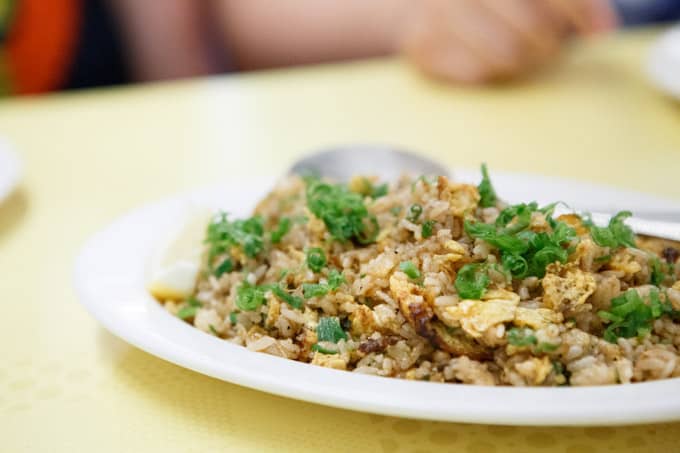 Steve was all about ordering this dirty rice. Although it was a bit oily and the girls weren't huge fans of the monkfish liver, it was quite enjoyable (and we downed the whole plate).
Ankimo Dirty Rice - Monkfish Liver, lemon sofrito, scallion $14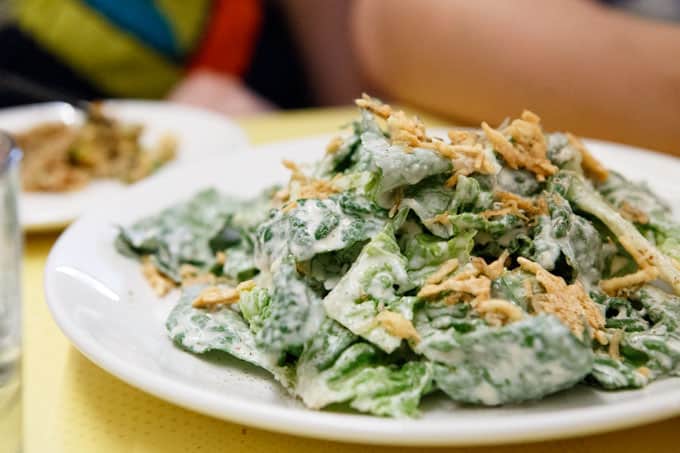 Yea, the dude put Caesar Salad on the menu. Whatcha going to do about it. His fresh and unique take on the traditional staple includes crispy parmesan frico studded with anchovies and a garlicky-lemon dressing made creamy with silken tofu.
It's easily one of the best versions of Caesar Salad I've enjoyed. The flavors are well balanced, the lettuce is incredibly crisp and evenly coated with dressing, and those little crushed up parmesan anchovy frico added little flavor bursts to the party.
Little Gem Salad - baby anchovy frico, parmesan, tofu garlic dressing $11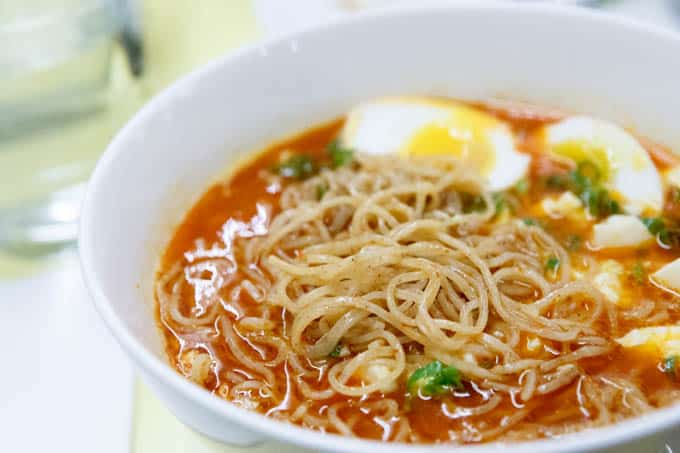 Although there were plenty of other apps that I've heard are fantastic and we wanted to order (the scrapple waffle and fried chicken organs, for instance), we did just down pounds of delicious smoked meat at Big Apple BBQ. We're fatties, but even fatties have their limit.
And that limit was each ordering a bowl of Chef Orkin's famous ramen. An ode to his Jewish heritage, he created a special blend of rye noodles for his bowls. Although I usually go for the Garlic Mazemen or Spicy Eggplant Mazement, I really wanted to try this Spicy Red Chili Ramen.
If you don't like spicy, stay away from this bowl. It's not shy. But it's also not going to melt your face off. It's incredibly well balanced and super flavorful.
Asheley always gets the Classic Shoyu Ramen, which includes a beautifully succulent piece of pork belly. Man I love that pork belly.
Spicy Red Chili Ramen - dashi + chicken broth, minced pork, smashed egg, rye noodle $14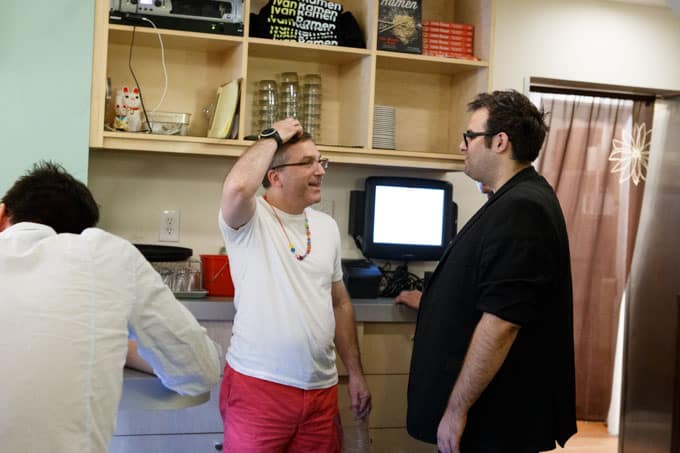 And there's the man himself. Ivan Orkin.
I told you all about him and his rise to ramen royalty when we first checked out his other NYC location in Gotham West Market... the Ivan Ramen Slurp Shop. Chef Orkin quickly earned a cult following for his creative, unique, and inventive take on the traditional Japanese cuisine.
As Chef Orkin was passing by, I asked him a quick question regarding his choice to remove my personal favority menu item (the Eggplant Mazemen) off his Slurp Shop's menu. It ends up it's his favorite too, but us silly Americans didn't latch on to it like his customers in Japan did. Major bummer, because it's truly fantastic.
I had no idea that asking him that one question would lead Chef Orkin to spend about a half hour at our table talking all about the ramen craze, his rise to stardom, and all about living on Long Island (we live on Long Island and he grew up there).
I already knew that Chef Orkin was ridiculously talented and wildly innovative, but now I know the Chef's greatest quality. He's a genuine, kind-hearted, amazing human being. It's rare to see a chef/owner of a restaurant come over to a random table and spend that much time just hanging out and talking. It was pretty amazing and an experience I'll not soon forget.
Oh, and that necklace he's wearing? His little kid made it for him. How sweet is that?
And no, I didn't become Asian after eating all this ramen. That's my friend Steve below. He's already Asian...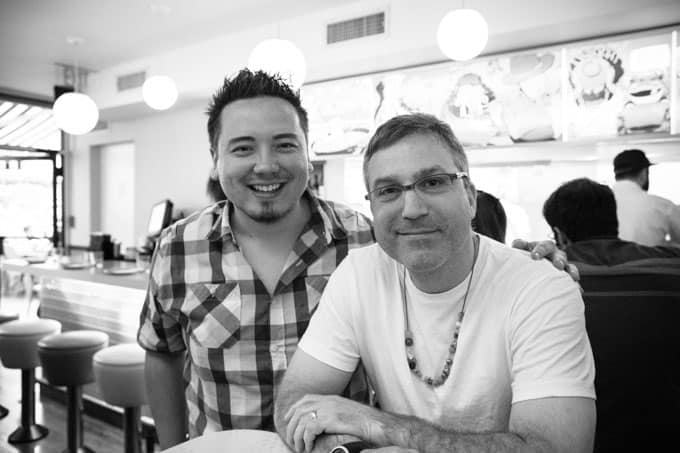 Ivan Ramen 25 Clinton Street New York, NY 10002 (Lower East Side) 646-678-3859 Open Daily 5:30 to Midnight
You may want to also check out...
The Top 10 Foods You Have To Eat In NYC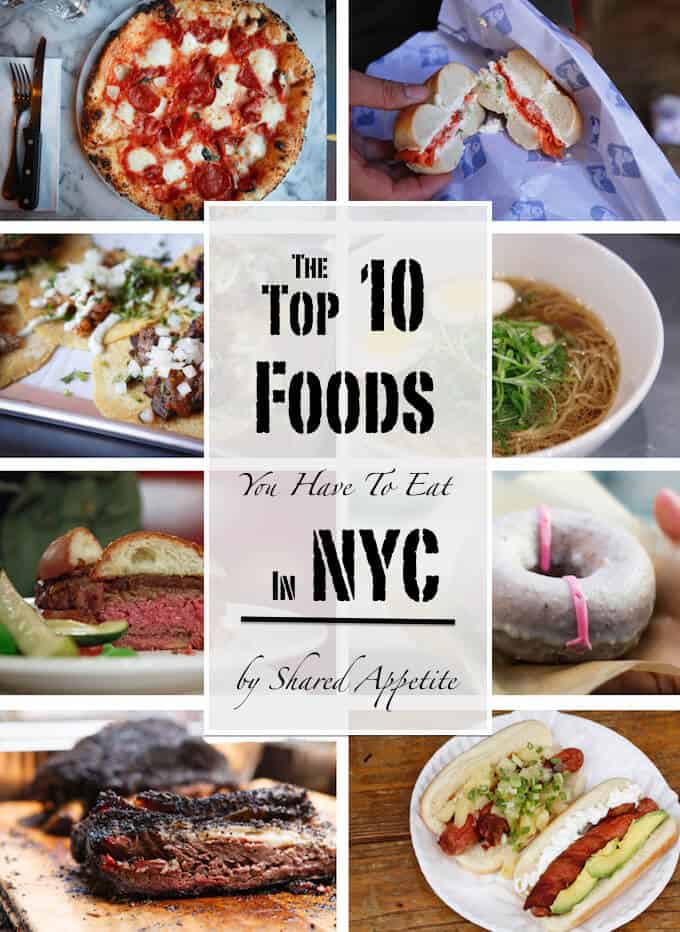 The 10 Best Ice Cream and Frozen Treats in NYC