Asheley and I love the city.  That's no secret.  If we have any free time on the weekend, that's probably where you'll find us.  Over the course of this past year, we've gotten the itch now and again to move there.  We just feel at home in the city.  It excites us.  And when you think about having all this amazing food at your fingertips all the time, it's tempting.  It really is.
So what's stopping us?  Oh, there are a bunch of reasons.  Our jobs for one.  Another is having to give up our beautiful home in suburbia to most likely downsize to a one bedroom shoebox apartment for the same price.  No yard, no vegetable garden, no grilling… it all adds into the equation.
The itch subsides and we return to being content with the almost weekly visits to our home away from home.  But then Chef Marco Canora's Hearth happened.  And that itch came back with a vengeance, bigger than ever.  I rarely fall so hard for a restaurant, but Hearth did it to me.  I think I'm in love.  Hubba hubba.
Hearth is a restaurant that has been on my list for quite some time, ever since I first watched Chef Marco Canora compete on The Next Iron Chef  a couple years back.  And I'm not quite sure why it took us so long to finally get there, but repeat visits are already in the works.  We want to introduce friends to what quite possibly may be our new favorite restaurant.
What makes Hearth so special?  Impeccably sourced ingredients. Thoughtfully prepared and well-composed dishes with flawless execution.  A genuine, friendly staff.  Convivial atmosphere.  Yes, all of that.  But it's weird, you also completely just feel at home at Hearth.  Like you belong there.
Before we go any further, I have to share this with you.  It was such a nice day out, Asheley and I decided to go for a long walk through Central Park before our dinner reservation.  Let's not discuss the ridiculous amount of time it took us to find a parking spot.  All my usual good "parking spot leads" were taken.  Jerks.  How did they discover my secrets?!
So as we were finally walking through Central Park, we stumbled upon this amazing Roller Skating Dance Party.  No professionals.  Just a colorful bunch of regular people that love to dance… on roller skates.  Some even had synchronized dances down with their skating companion, but they eluded my camera.
They were all so into it.  It was paralyzing.  We couldn't not watch… for a long time.  It was that entertaining.
So back to Hearth, which is located in the East Village on the corner of 12th Street and 1st Avenue.  Since we had the first reservation of the night (trying to maximize sunlight so I could snap some photos of the meal, of course) and arrived a bit early, we took a quick stroll around the area.  We actually just happened to walk by Momofuku Noodle Bar and ChikaLicious Dessert Club, two other places I want to get to real soon.  I made a mental note of their locations 🙂
The menu changes daily, with more substantial revisions seasonally.  Since I can't think of anything better, I'll take the next line straight from the website: "Our food is rooted in the modern traditions of the American kitchen with influences from our Italian heritage."
That about sums it up, with one very brief addition: it's ridiculously good.  Like so good that we enjoyed it better than the 3-Michelin Star Restaurant we visited for Asheley's birthday.
The tasting menu looked like, and positively was, a fantastic value (7 courses for only $78) that we needed to take advantage of.
As is customary with tasting menus, our meal started with a complimentary amuse bouche of Potato and Leek Soup with Parsley Oil.
Our server suggested such beautiful wines for  Asheley and I.  She really helped guide us through the always difficult decision-making process.
Our first course was this beautiful Fava Bean Salad with Spring Onion, Pecorino Toscano, and Grilled Bread.  It tasted like Spring exploded on a plate.
I love that we started we such a light dish of raw vegetables, which were dressed in a bright lemon vinaigrette.  The garlic-rubbed grilled bread was, well… let's just say I didn't know grilled bread could be so good.
Transitioning into a cooked vegetable preparation was this Porcini Trifolati with Ricotta Sformato, Ramps, Gremolata, and Parmagiano.  That was a mouthful… Trifolati? Sformato? Gremolata?  I know, those Italians with their fancy words.
I wouldn't classify myself as a fan of mushrooms, but if they could all taste this good, it would be a completely different story!  Just wow.  They had a really deep, roasted, rich umami flavor.
The ricotta sformato was light, creamy, and souffle-like, although not as airy.  Gremolata is a chopped herb condiment, typically made with lemon, garlic, and parsley.  It added a much needed acidic zing to the dish.
Our fish preparation was this stunning Olive Oil Poached Salmon with Freekah, Pickled Ramps, Snap Peas, Radish, and Trout Roe.  I've never had oil poached fish before, and I'm kinda mad about it.  It's so freaking good.
And it's funny, because just the day or two before this meal I was getting all jealous reading about how Sandra from Kitchen Apparel had so much fun Foraging for Ramps.  I never even tasted a ramp before let alone forage for them!  Did Chef Canora know my deepest desires to finally experience this beautiful, yet elusive, Spring treasure?
The Maccheroni with Pork Ragu, Peas, Ricotta, and Rosemary was a solid pasta dish.  It's hard not to love perfectly cooked  house made pasta with a rich pork ragu sauce.  I'm also a sucker for ricotta.
But surprisingly, my favorite part about this dish was the rosemary.  I normally am totally overwhelmed by the herb and have grown to dislike it simply for that reason.  But as I came to discover through this dish, when you fry rosemary it mellows out and adds a delicate crunch.  I'm sold.  Fried rosemary is awesome.
How can you not love the beautiful presentation of Chef Canora's food?  Case in point, this Colorado Lamb Trio withe Peas and Carrots.  It's stunning.
The roasted loin and smoked rib were both so tender that the meat would fall apart just by looking at it the wrong way.  It was moist, juicy, and melted in your mouth.  The lamb sausage was really well seasoned and the rib had superb flavor, albeit a bit over-smoked for my taste.
The fresh peas, pea shoots, pea puree (that's a lot of peas) and brightly acidic pickled carrots cut through the richness of the lamb for a really well-balanced flavor profile.
As you can probably tell, the sun started to go down during these last two dessert courses.  It held on just enough to snap the photos thankfully 🙂
It's hard to put into words the definitive perfection found in this Mascarpone Panna Cotta with Candied Pistachios and Rhubarb.  It was sublime.  I wish I could eat this every day for the rest of my life.
Our unforgettable meal ended with this Valrhona Chocolate Cake with Candied Cocoa Nibs and Fior di Latte Ice Cream.  It's everything you could ask a chocolate cake could be.  Moist, light, and very chocolatey.  And I just loved the little crunch of the cocoa nibs.
If you haven't yet been to Hearth and enjoy dining out, this place is a no-brainer.  Put it on your short list.  Heck, get in your car right now and drive.  It's that important.  I think you'd have a hard time finding another restaurant that can beat the incredible value of their tasting menu.  It's thoughtfully composed, expertly prepared, and downright euphoric.
You may want to also check out…
The Top 10 Foods You Have To Eat In NYC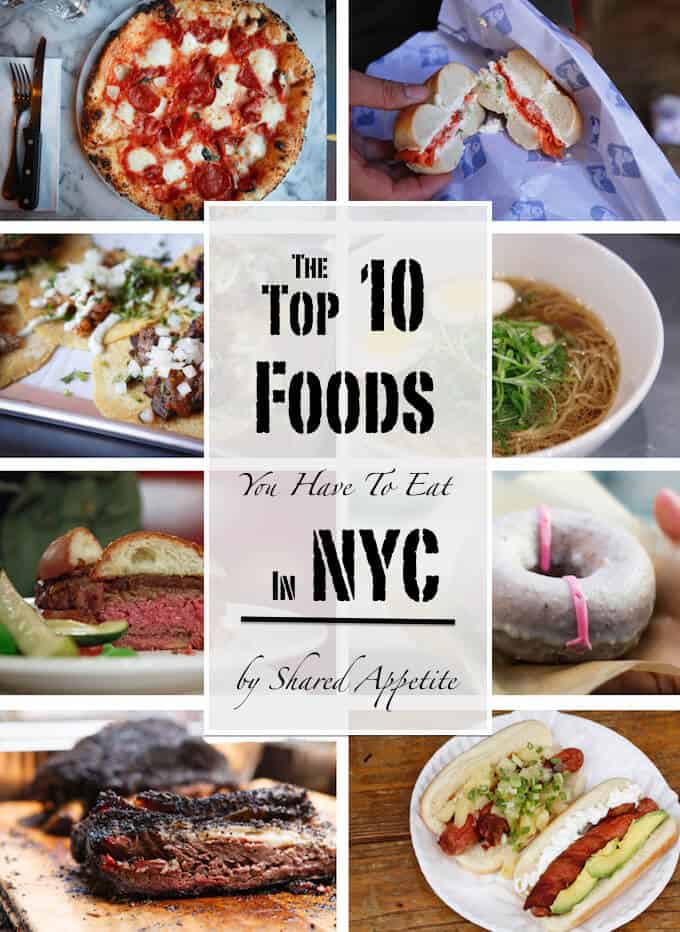 The 10 Best Ice Cream and Frozen Treats in NYC