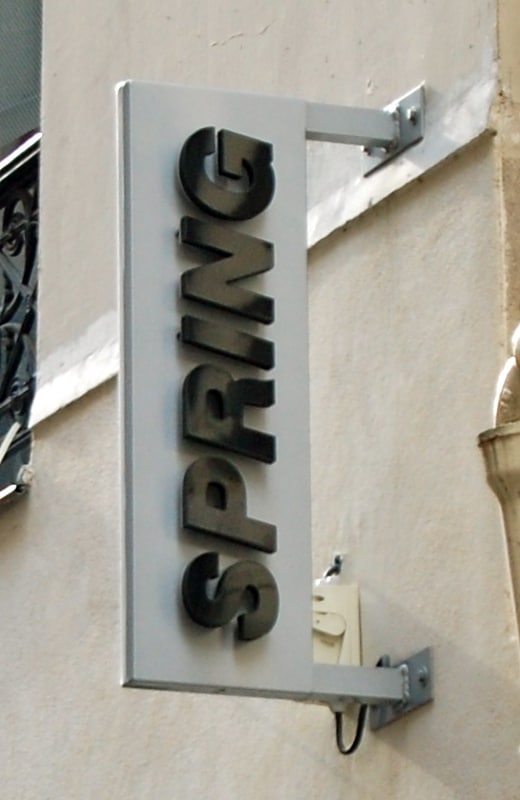 Day 1 Dinner:  First impressions are important.  And if Chef Daniel Rose's Spring Restaurant was any sign of what was to come for our Paris gastronomic honeymoon (and it was), we were going to eat well.  Very well.    Knowing how difficult it can be to score a table at Spring, this was the reservation that I was probably most excited about when it was secured by our concierge just over two months prior to our arrival date in France.  Two months, you say?!  That's a long time!  You're right... but it is absolutely 100% necessary to plan your dinner reservations in Paris months in advance of your trip if you want to eat in the area's most celebrated restaurants.
Chef Daniel Rose, a native of Illonois, is a master of ingredient-driven cuisine.  He treats all his ingredients with the utmost care and respect, and his menu changes weekly as he seeks out and sources the best local markets have to offer.  Throughout our meal, every aspect of each plate was masterfully prepared and well-balanced.  He was able to pack flavor punches into our meal with his delicious citrus accents and pan sauces.
What follows is a recount of one of the best meals we had in Paris:
Just a short walk from the Louvre, we came upon the quiet and narrow rue Bailleul.  With only a little, simple sign above it's entrance (try to find it in the picture above), we were warmly welcomed at the door by the host.  We showed up early for our reservation (pretty typical for us Americans but very uncommon for French as we later found out... 15 minutes late is closer to "on time").
That's Asheley.  Admittedly, I took the picture more to show you the inside of the restaurant, so feel free to ignore her.  The interior is clean and modern, yet has a casual-relaxed atmosphere that made us both feel relaxed and welcome.  Although empty upon being seated (we arrived right when the place opened), the dining room was soon full of the chatter of locals and foreigners alike.
As is typical with all the restaurants at which we dined in Paris, the space is quite small with only twenty-something seats.  There was ample space between tables, which is a rarity in Paris restaurants.  The entire staff were genuinely nice (they all spoke very good English as well), including a lovely sommelier who was more than helpful in recommending a bottle off of their excellent natural wine list.
That's the amazing view from my seat... I was like a kid in a candy store getting to watch the chefs at work (I believe that's Chef Daniel Rose in the black with his back turned).   The whole process was truly beautiful.  They work with such precision and grace in a very tiny and confined space.  Here in America, we always like our kitchens large with lots of space and storage (present company definitely included).  It was a treat to get a glimpse of a real professional working kitchen, where really quite the opposite is true... yet what comes out is better than anything I can whip up in my relative kitchen mansion.
Onto the food:  There is one multi-course dinner offered per night (5 courses, about 70€)  and therefore no menu to look at.  Our server asked us if we had any food allergies, and if so, they would alter the menu for us.  No allergies for us, so we got to sit back, relax, and enjoy the experience as our server gave us a detailed description of each course brought out.
First up was a trio of small plates, along with one of the biggest eye opening food experiences of my life: French butter.  A little pat on an equally unbelievable roll... it was mind-boggling good.  The butter was perfectly salted and it was richer, more flavorful, and at the best description I can give, more butter-y than any butter I've had here in the U.S.  Spring is actually one of the few restaurants in Paris that serves butter with their bread.  Most serve bread only as a accompaniment to the courses in order to soak up sauces, soups, and such.
The small plates were an excellent start to the meal: (going clockwise from the top-right): Charred Octopus with Olives (I'm not even a big fan of olives and I loved this dish) , Radish with Trout Eggs, and an absolute delicious, lemony perfect-balanced Pickled Eggplant.
Next up was this Slow Poached White Fish, Mussels, and Fried Oyster, with Mushrooms, Lemon Oil, and Green Tomato Foam.  The seafood was perfectly cooked (the white fish, which I think was sole, just melted in your mouth), and the green tomato foam and lemon oil added a bright acidic tartness that I really, really loved.
Next was a Lobster Salad with Charred Onions and Almonds in a Lemon Oil.  Nothing more than I can say but: amazing amazing amazing.
The final savory course was this superb Roasted Veal with Capers, Fried Sage, and Pan Sauce.  The veal was super tender and the pan sauce so rich in flavor.  With the veal also came some awesome little mushrooms.  I'm not a huge mushroom fan, but these just may make me a convert:
And finally came a plethora of desserts.  Here in America, we are used to gut-busting, fat-laden sweet endings to our meals.   In France, the desserts are much lighter and refreshing:
We were in Paris as berry season was dovetailing more into stone-fruit season.  Here we enjoyed caramelized apricots, a coffee mousse, macerated cherries with shaved chocolate, a yogurt ice cream, and a little dollop of a thick lemon pudding.  It was a perfect way to round out an unforgettable first meal in Paris.  Oh, and before we left, they placed down a plate with little pieces almond fudge:
Leaving Spring Restaurant, I was actually quite worried about the rest of our trip.  I mean, what if the other restaurants couldn't live up to the high standard Spring Restaurant just set for us?  Don't worry, they did.
If you have only a couple days in Paris and are trying to figure out where to eat, Spring Restaurant needs to be on your shortlist.
To read more, check out the Spring Restaurant write-up from Wendy Lyn on her website, The Paris Kitchen.  You'll be hearing a lot more about her in future posts... she's pretty amazing!