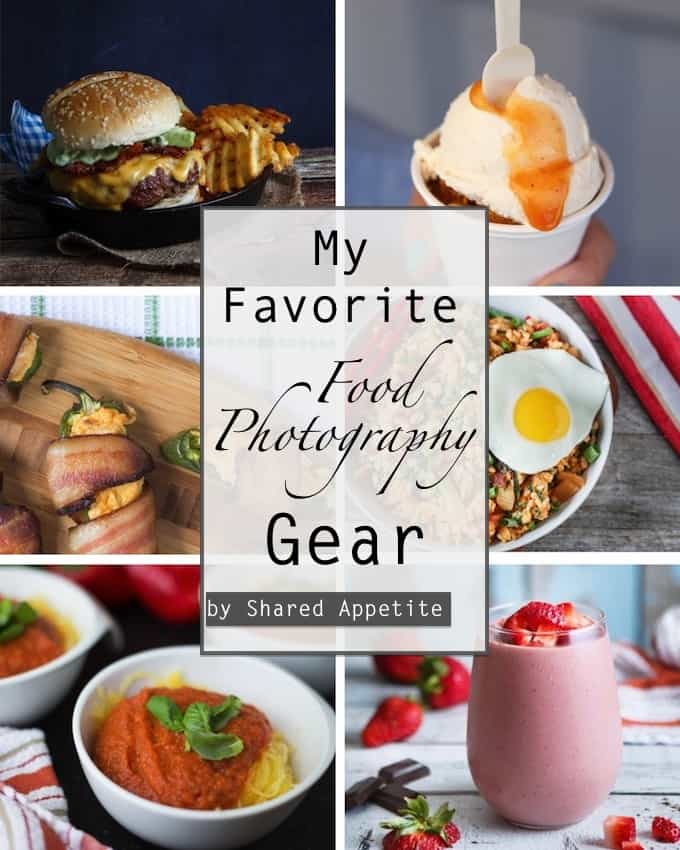 So, you finally started a food blog. Can I get a woot, woot!
Sorry about the woot, woot-ing. I won't let it happen again.
It's just that I'm super excited for you. I remember when I first started Shared Appetite. It was a fun, exhilarating time.
So most likely you are here because you want to improve your food photography skills. Yea, me too. I am constantly striving to take better images. My goal is to make people instantly salivate uncontrollably.
Although the absolute most important element in photography is YOU, having the right tools certainly helps a ton.
Here's the gear that I love and would highly recommend for anyone ready to take their food photography to the next level. Ready or not, here's a list of my favorite food photography gear...
Camera.

I very happily use a Canon EOS 6D
and absolutely love it. It's Canon's answer for price-conscious consumers wanting a full frame dSLR. Besides capturing beautiful images for all the recipes I create, it also sports unprecedented low-light focusing sensitivity.
Huh, what? Low light focusing sensitivity? So what? Basically, that means that it's pretty kick-butt in restaurants, where good lighting is a rarity (like here, here, or here).
Tyler uses a bit of a higher end camera (isn't he fancy). If you have some extra cash burning in your pocket and want the top of the line, this Canon EOS 5D Mark III
is your camera.
If you're brand new to photography and want a more introductory, beginner dSLR camera, try this Canon EOS Rebel T3i on for size.
And of course no matter what camera you choose, grab yourself a decent-sized memory card for all those RAW files you'll be shooting. I use these Transcend 32 GB Flash Memory Cards
for my camera (although just check on yours to see if it takes the same format memory card).
Lenses.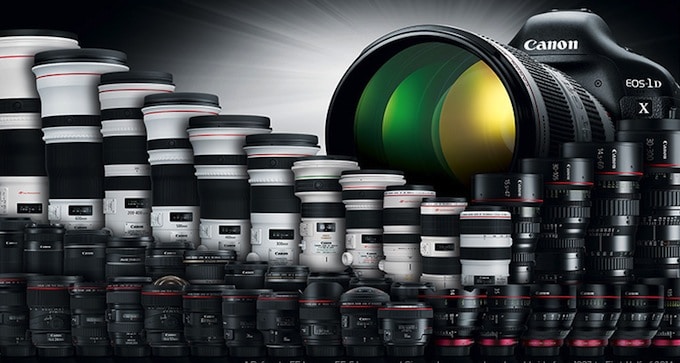 The first lens I ever bought for my Canon EOS 6D was the Canon EF 50mm f/1.8ii. It is without a doubt my top recommendation for beginnning, budding food photographers. Although it's not an L series lens (Canon's top tier lenses), it still takes beautiful, high quality images with great color.
It's hands down the best bang for your buck when you're just starting out. At only $110, it's light weight and very portable, making it ideal for shooting food in restaurants and at home. Since it's a prime lens (fixed focal length, not zoom), the Canon EF 50mm f/1.8ii forces you to move around your food more, helping you to gett creative with composition and angles.
Once I felt comfortable with my camera (and had some spare cash), I quickly got my hands on a Canon EF 100mm f/2.8L Macro Lens
. This baby is probably the most popular lens food photographers use. With a macro lens like this one, you can get capture up close, crystal clear details in your food.
My guess is that you just don't want to take photos of food with your camera. You'll be going on vacation, taking photos of family, and just need a fantastic all-purpose lens that's perfect for portrait and landscape photography. The answer is the very versatile Canon EF 24-70mm f/2.8L II USM Zoom Lens
. I use this lens for food photography too. It's like the swiss army knife of the lens world.
So there you have it. Those are the 3 lenses I currently own.
But everyone has a wish list. Here is what's on mine...
Canon EF 50mm f/1.2 L USM Lens - the higher end version of the 50mm lens I currently own.
Canon EF 35mm f/1.4L USM Wide Angle Lens
- an amazing lens for portrait photography.
Canon EF 70-200mm f/2.8L IS II USM Telephoto Zoom Lens - this has some serious zoom, great for sporting events and wedding photography.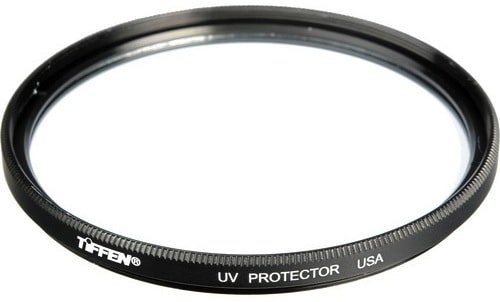 Now that you have all those lenses, protect them with UV Filters
! A tiny glass cap that attaches to your lens, a UV Filter will block harmful ultra violet rays and will protecs your lens glass from scratches, dust, and other bad things. That's the key right there. It will protect your precious lens glass from all sorts of yucky stuff.
And if you're like me, it can totally save your $2,000 lens if it rolls down 3 concrete steps onto the patio. Seriously.
Tripod and Remote.
Can I be honest with you? I'm not in love with my current tripod. It's a good tripod and is doing it's job for the most part, but there are some intricacies that drive me nuts. So that's why I'm going to hold off on suggesting a specific one to you.
But that being said, you need a tripod.
When I first started shooting food, I thought tripods were extremely limiting in the creative process. You can't move around the food and try different angles. Wrong. Completely and utterly wrong.
As soon as I started shooting on my tripod consistently, I found it incredibly freeing. I was able to produce more consistent images that were cleaner, crisper, and get this... more creative. It frees up your hands to adjust your frame, fix props and food styling, and allows you to use a slower shutter speed without having any accidental blur from your hand movement.
And while you're at it, get yourself a remote.
I love love love love love love my Cowboy Studio Wireless Remote (that's a lot of loves). It allows me to be completely free from the camera so I can work on manipulating the light a little more (block out/reflect) and can use my hands to fix the food, hold something in place, or do some sort of action shot like pouring.
Diffuser.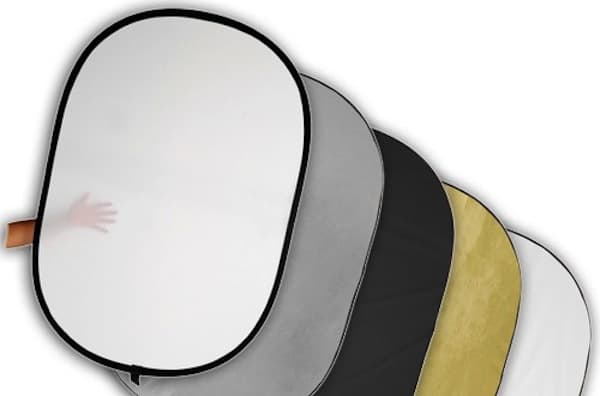 This Fotodiox Pro 48'x72' 5-in-1 Collapsible Disc
is a beast. It does an amazing job of diffusing harsh light (i.e. direct sunlight). I prop it right up against my window and it transforms the sunshine into beautifully diffused light perfect for food photography.
They sell all different sizes, but I really like this super gigantic one the best since it can fill up the entire window. Aaaand, you can bring it outside with you for great looking photos of backyard BBQs, action shots at the grill, and whatever else you can think up.
Get it. You'll thank me later. I promise.
Lowel Ego Tabletop Lights.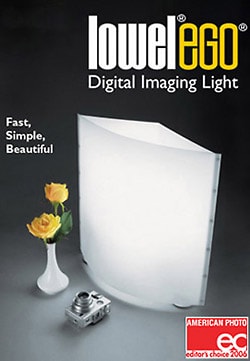 Natural light is king. It's what I utilize 99% of the time.
But sometimes life gets in the way, doesn't it? Life tends to do that...
Especially during the winter, when it's dark out when I wake up and dark out when I get out of work, it's impossible to photograph in natural light unless you do it all on the weekends. #foodbloggerproblems
::sigh::
The best solution I have found are these Lowel EGO Lights
. The are SUPER simple to use. It's literally an on/off switch and boom, beautiful filtered light. That's it.
I have 2 of them that came in a handy dandy bundle set. They are lightweight, very portable, and give off great light. And you'll find that most food photographers recommend these bad boys. They are the answer for when you want diffused light for food photography at night. Period.
External Hard Drive.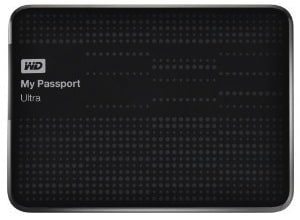 I always back up all of my photos onto an external hard drive. I've heard way to many horror stories of people losing all of their images due to a computer crashing or damage to its built-in hard drive. Scary scary sacry.
So all of my images are backed up onto this Western Digital 1TB Portable External Hard Drive
.
Be safe, people.
Adobe Lightroom.
There are several options for photo editing out there. Some free, some mighty expensive.
My absolute favorite? Hands down it's Adobe Lightroom
. I only use Lightroom for my photo editing. It's reasonably priced for the incredibly beast that it is.
And Adobe Lightroom makes it incredibly easy to process your images. It's very user friendly (unlike Photoshop) and allows you to copy and paste your settings to an entire batch of photos, saving you loads of time.
Did I mention I love Lightroom?
Tasty Food Photography eBook.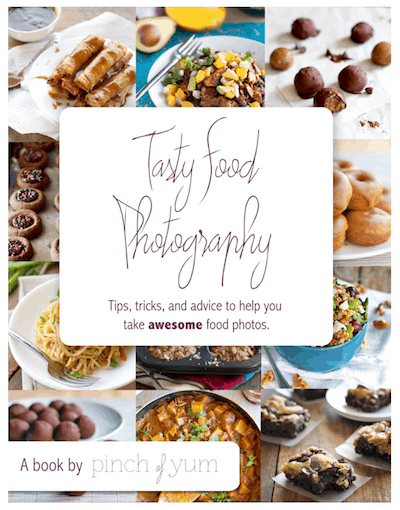 Now that you have all your gear, it's time to get shooting!
But before you do, let's talk resources. There are a lot of food photography books out there. One of the best that I've found is this Tasty Food Photography eBook. Written by Lindsay from over at Pinch of Yum, the book is super easy to ready, very practical, and it will help you to create mouth-watering images in no time.
Not only is the information really spot-on, the book is filled with extremely helpful instructional images and videos. I'm telling you, it's a must if you want to quickly improve your food photography skills. It'll be the best $20 you spend on improving your food photography. Promise.
Disclaimer: Please note that many of the links in this post are affiliate links and I will earn a small commission if you purchase through those links. It does not increase the price of the product for you in any way, but does help me out 🙂 I have used most of these products and recommend them because they are incredibly helpful and are companies that I trust, not because of the commissions that I may earn from you using these products.