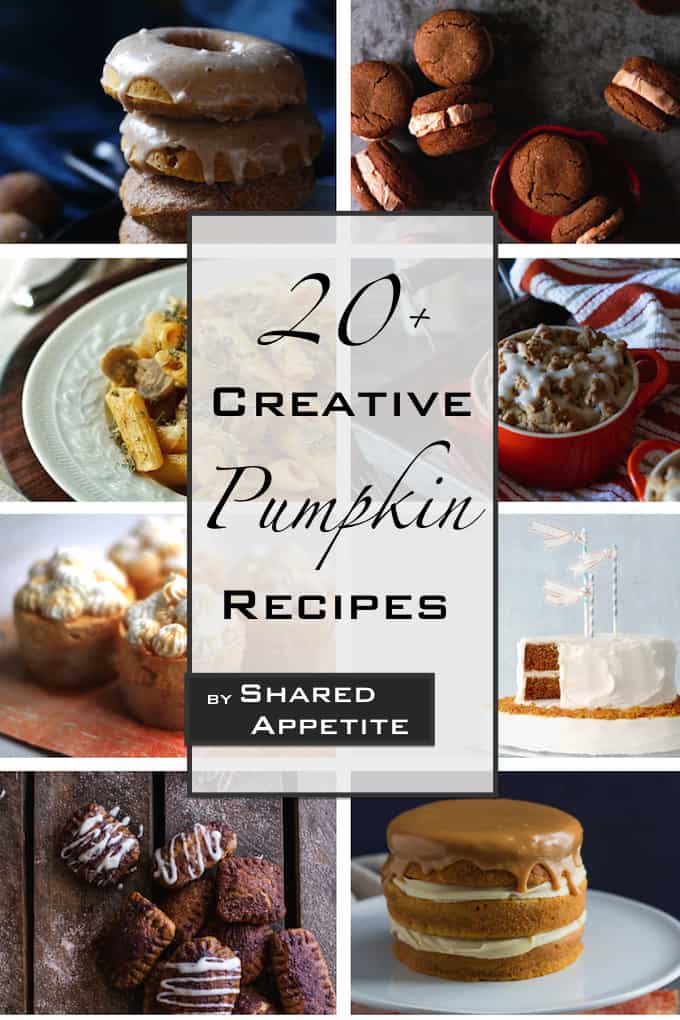 It's official. America is obsessed with pumpkin.
All it takes is one look at your Pinterest feed. Or a walk through any store… since when does Home Depot sell pumpkins?!
Although my favorite fall flavor is still all things apple (especially when surrounded by any of the following: caramel, salted caramel, sugar, brown sugar, butter, and/or cinnamon… like in these No Bake Caramel Apple Cheesecake Trifles), I have begun to slightly sorta maybe embrace a wee-bit of pumpkin in my kitchen.
I'm worried, though. Because that's how all obsessions start. Just one nibble. One taste. And boom, before you know it, your recycling bin is overflowing with empty cans of pureed pumpkin and your neighbors are quietly judging you.
And really, it'll be easy to become pumpkin-obsessed after taking a look through the 20 Creative Pumpkin Recipes below. Well, technically there's 23 recipes. Consider them bonuses 😉
**If pinning a specific photo below, please click through to the individual blogger's recipe and pin from their site so they can get proper credit. Thanks!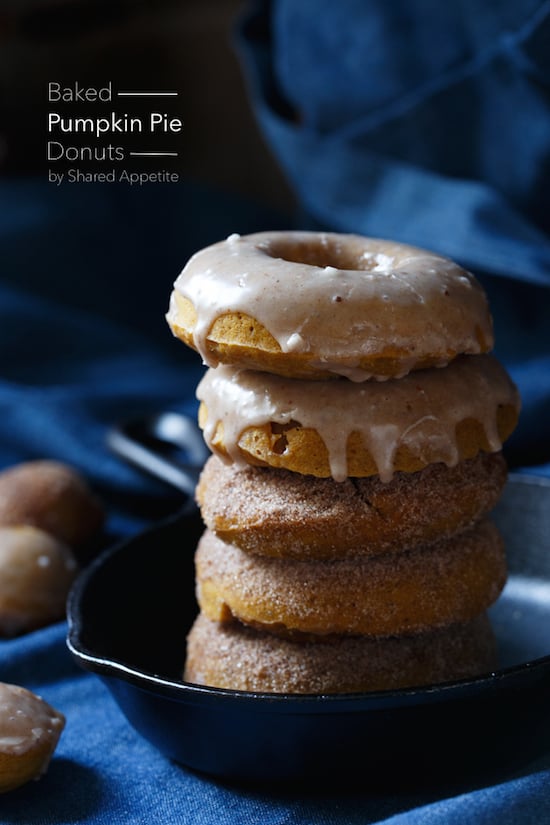 Pumpkin Pie in donut form? I'm always down for a donut 🙂 Any excuse to eat baked goods for breakfast, I'm a fan of! Check out my Baked Pumpkin Pie Donuts with your choice of 2 flavor toppings!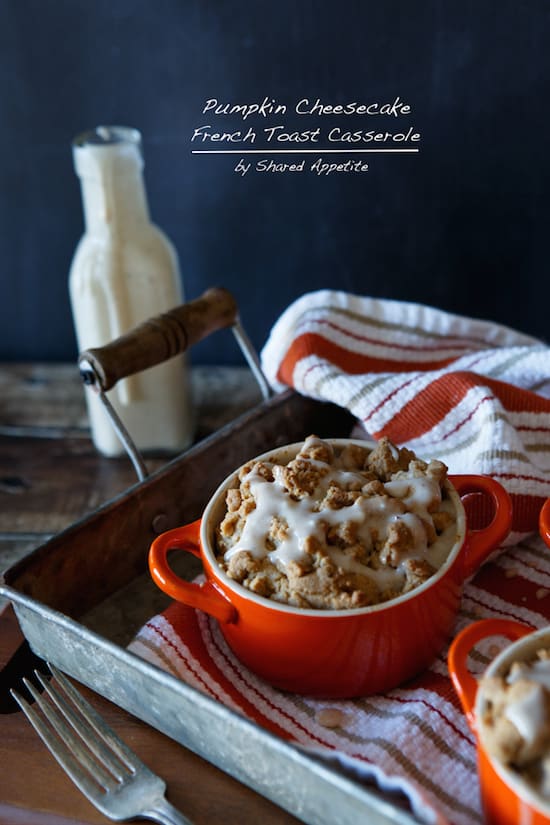 Hello dessert for breakfast. This isn't a regular weekday sorta breakfast… it's a full-fledge weekend gluttony type of treat. Complete with a brown sugar streusel and maple pumpkin spice glaze. Double yes to my Pumpkin Cheesecake French Toast Casserole!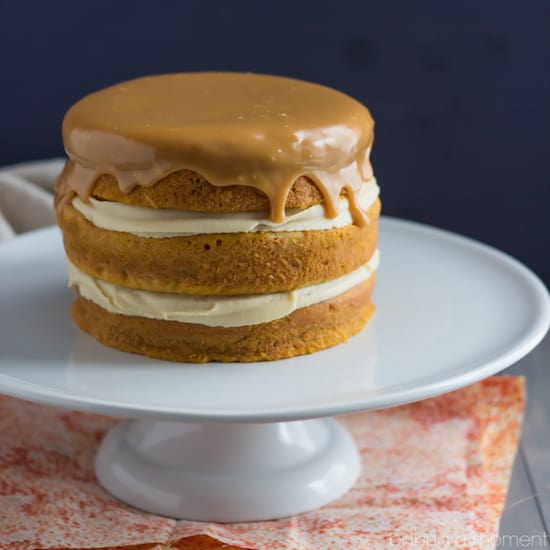 I'm such a fan of Allie from over at Baking A Moment. Her pumpkin recipes have been making me drool big time. Case in point? This Pumpkin Boston Cream Pie. It comes complete with maple custard and a caramelized white chocolate ganache. #getinmybelly
It looks so good, I'm making it for our annual Halloween costume party this year!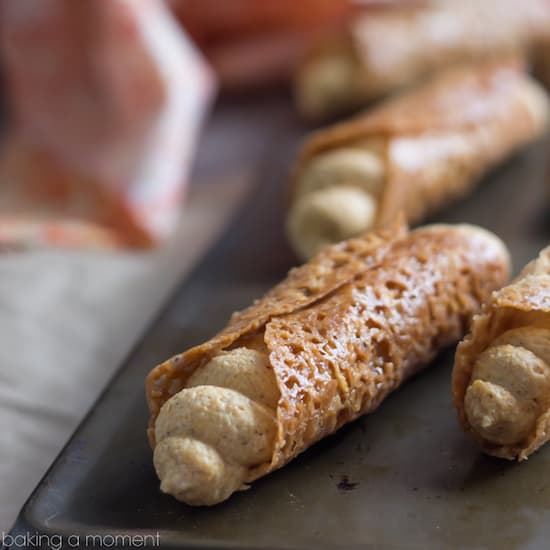 Another from Allie… how cool are these Pumpkin Cannolis??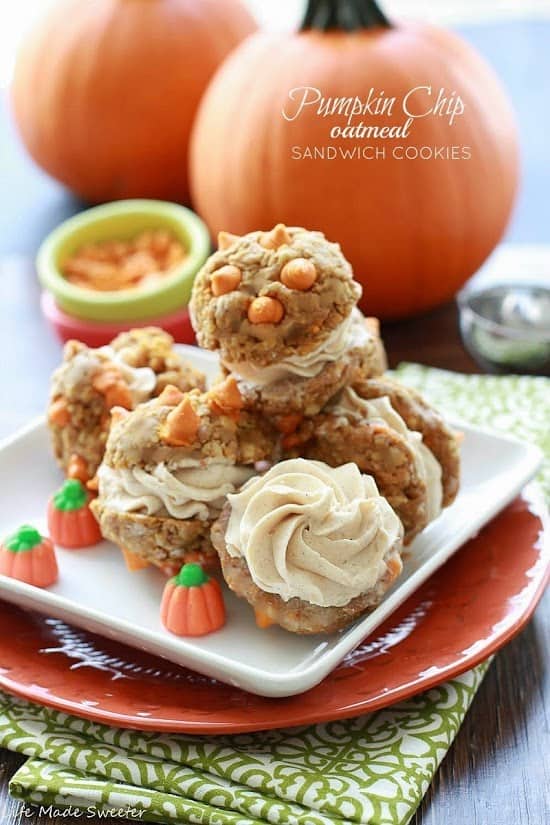 Kelly from Life Made Sweeter is always baking up these crazy awesome desserts… like these seriously amazing gluten free Pumpkin Chip Oatmeal Sandwich Cookies.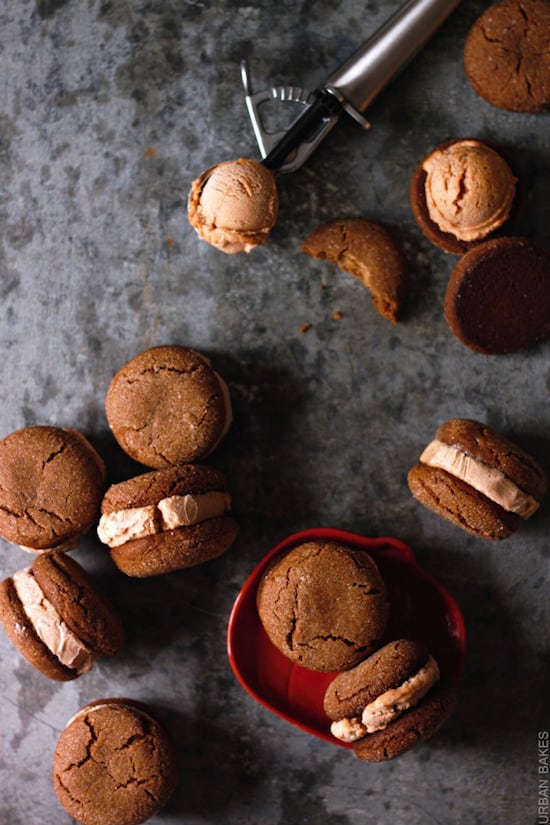 I just met Connie from Urban Bakes at a food blogger conference in NYC. She's super cool and hey… she's from NY too! Which really, makes her super cool. Just like these Ginger Snap Pumpkin Ice Cream Sandwiches.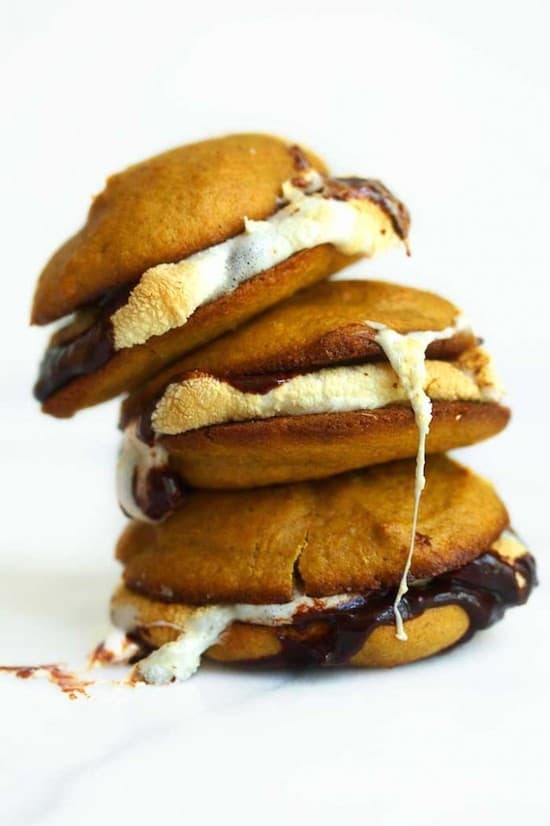 S'mores aren't just for summertime. I love how Jocelyn from over at Grand Baby Cakes made a Pumpkin Smore Whoopie Pie to celebrate fall in style.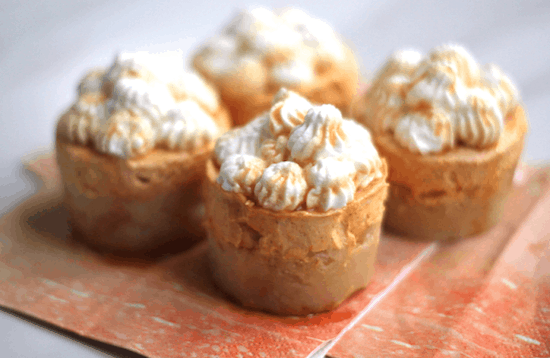 And how adorable are her Mini Pumpkin Cheesecake Cookie Bites?? They are so cute I could just pick them up and…. eat 5 dozen.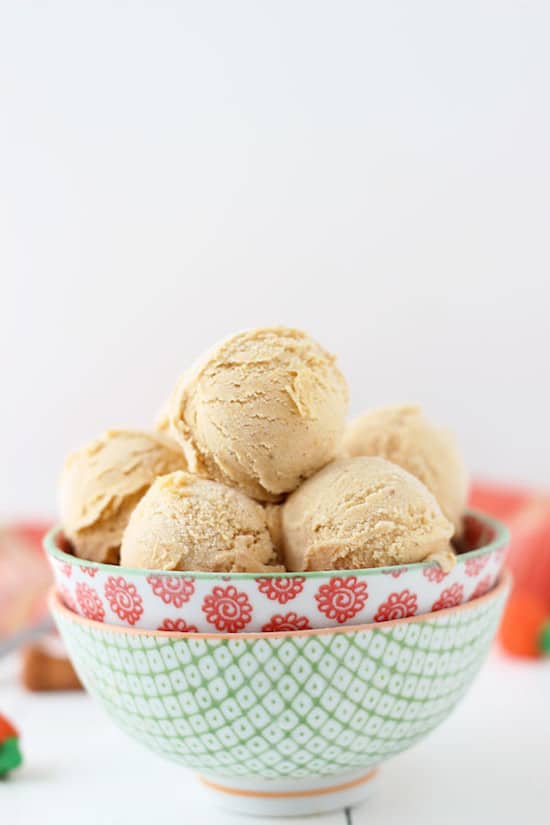 Zainab from Blahnik Baker turned your favorite coffee drink into ice cream. That's pretty magical in my book.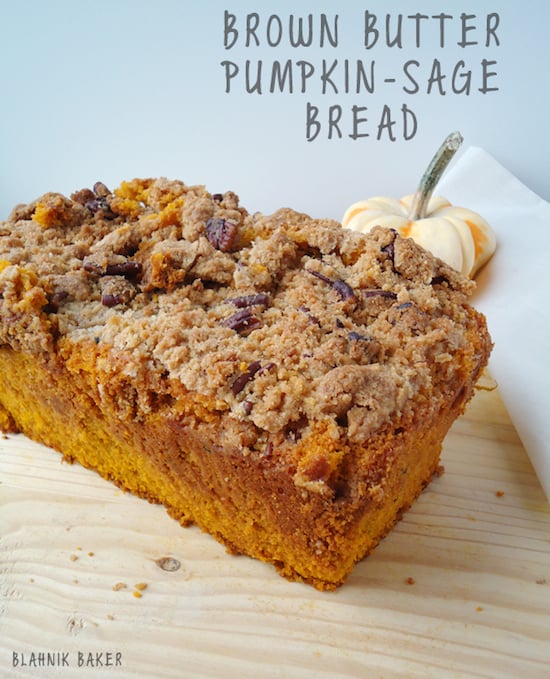 And how amazing does this savory Brown Butter Pumpkin Sage Bread sound?! Great for a Thanksgiving spread for sure!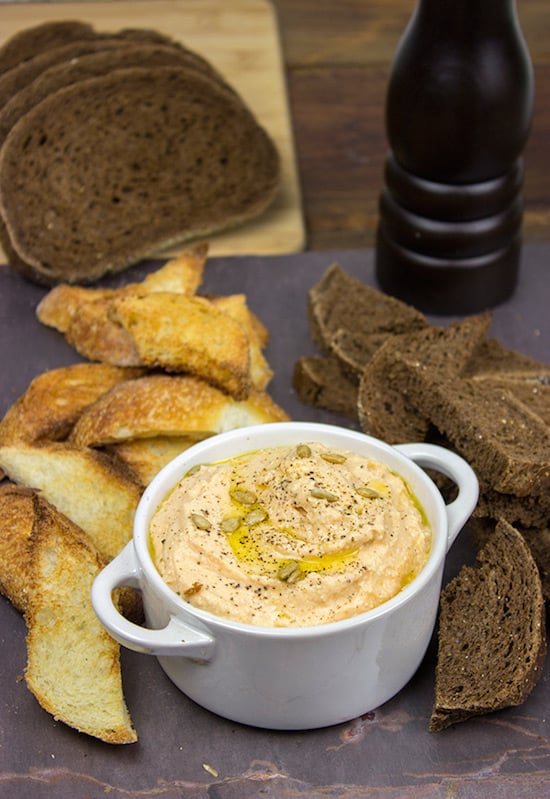 My man David over at Spiced Blog is a fellow member of the Wolfpack (i.e. the super exclusive club we made up of crazy spectacular dude food bloggers). And wolfpackers make super cool apps, like this Whipped Pumpkin Ricotta. I'm totally making this at my next party.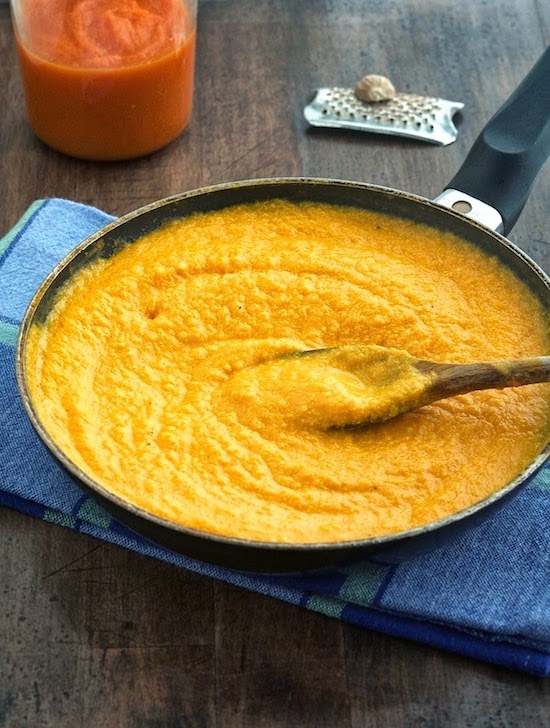 Here's another Wolfpack member… Mike from The Iron You. We call him Alpha, because he's a triathlete and comes up with nutrition-packed recipes for all you healthy people out there. I would totally smother some pasta in this Creamy Pumpkin Sauce.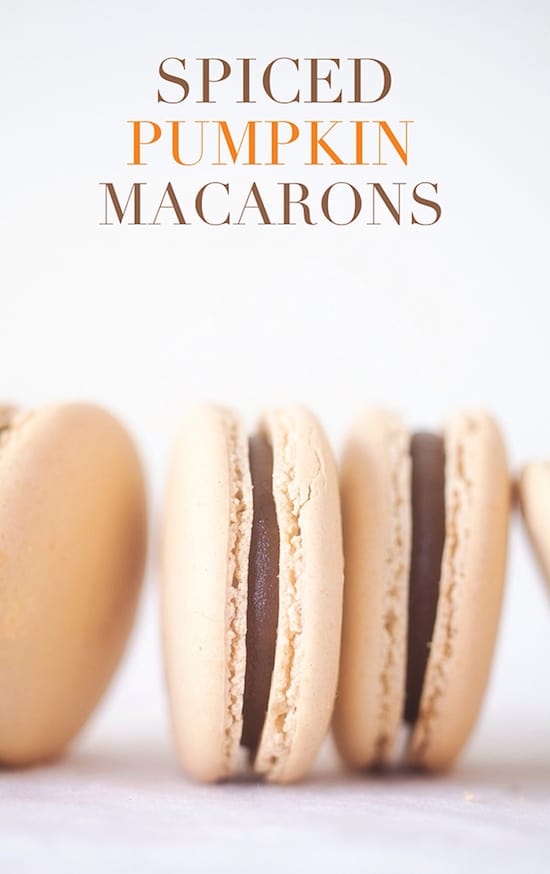 Naomi over at Baker's Royale is a crazy talented food photographer and blogger. Her work constantly inspires me. How stunning are these Spiced Pumpkin Macarons?!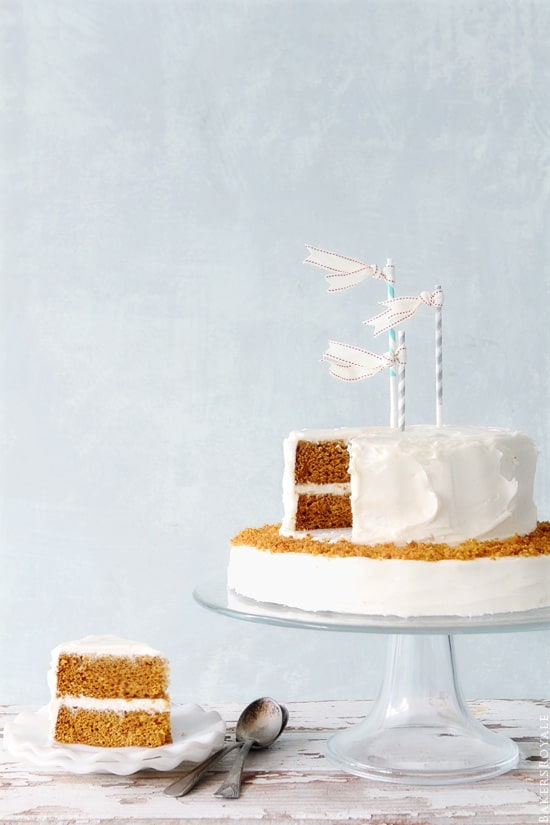 And c'mon. Is your jaw not literally on the ground just looking at this Pumpkin Cake with Lemon Cream Cheese Frosting?!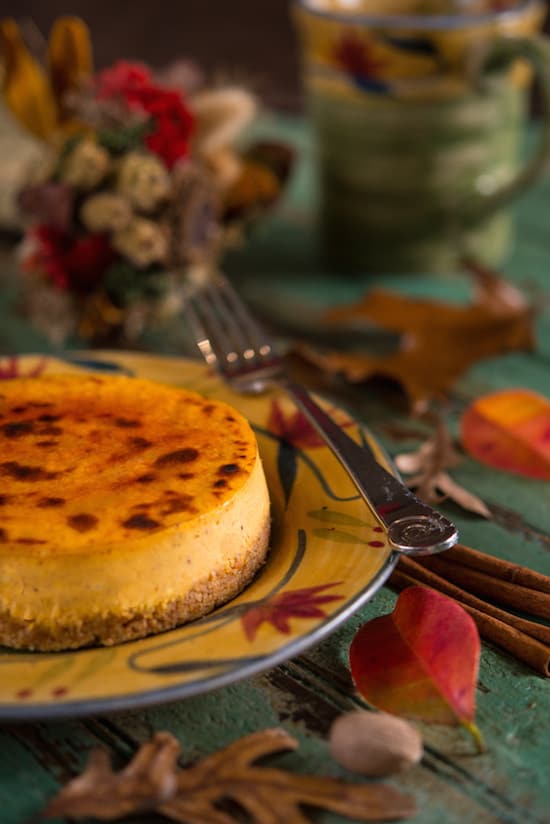 You know what's great? Creme Brulee. And cheesecake. Even greater? Putting them together… with pumpkin. That's what my man Bill over at Southern Boy Dishes did with this Pumpkin Cheesecake Brulee.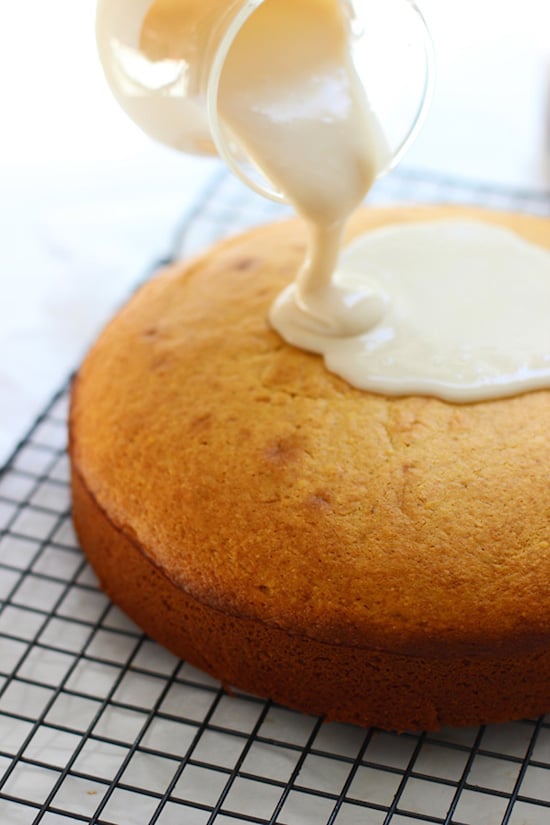 If you haven't checked out Nicole over at Cooking for Keeps yet, you are totally missing out. She comes up with the most ridiculously awesome appetizer recipes… totally makes my mouth water every time I stop by her little corner of the interwebs. She whips up a pretty fantastic dessert as well, like this Pumpkin Olive Oil Cake with Brown Butter Glaze.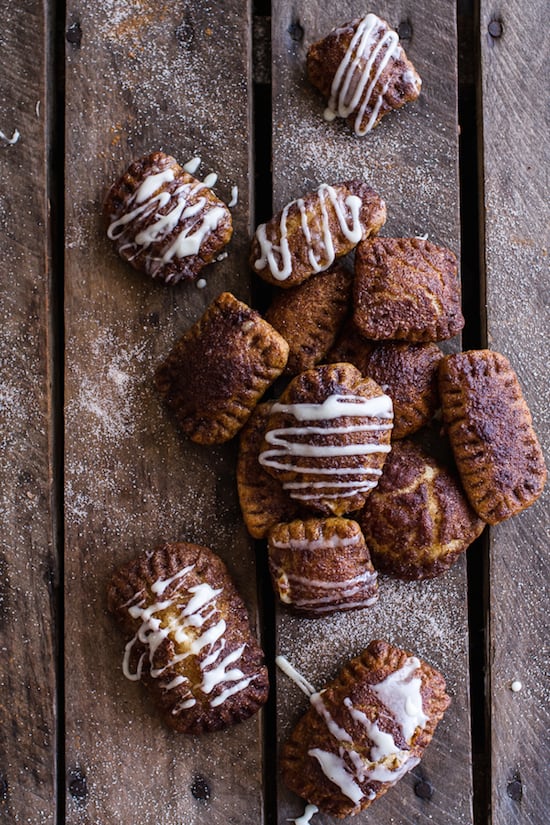 I want to be a fly on the wall at the home of Tieghan from Half Baked Harvest. I don't know how she thinks up her super creative, whimsical creations, but every single one looks ridiculously amazing. And don't even get me started on her photography. So stunning. And I want these for breakfast right now… Mini Cream Cheese Stuffed Cinnamon Sugar Pumpkin Bagel Poptarts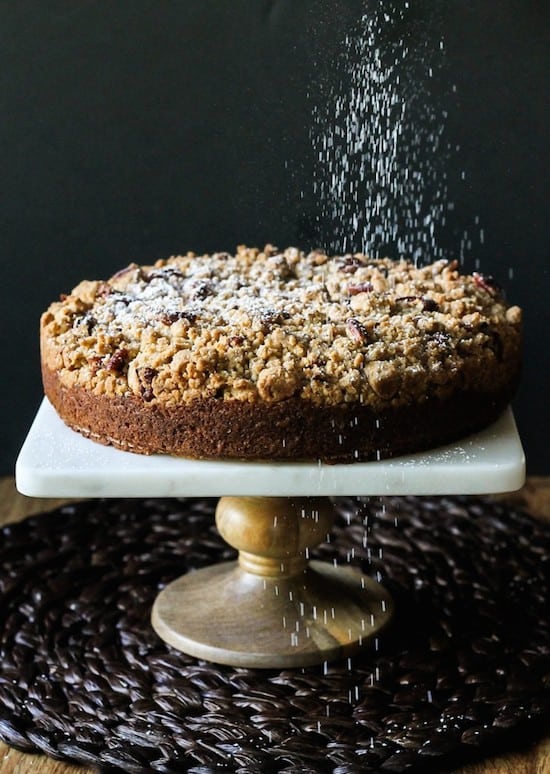 I'm a big fan of crumb cake. Well, I'm a big fan of cake in general. Crumb cake is an acceptable breakfast (right??), so that's a double win in my book. Cake for breakfast. Heck to the yes. And this Pumpkin Crumb Cake from Rachel at Bakerita looks perfect for the fall! Breakfast is served 😉
Meet Erin from The Law Student's Wife. She's always coming up with crazy awesome sounding recipes and I love her writing style. Her blog is always so much fun to read! Seriously great stuff. I've never made monkey bread before, but now I need to… Homemade Pumpkin Monkey Bread.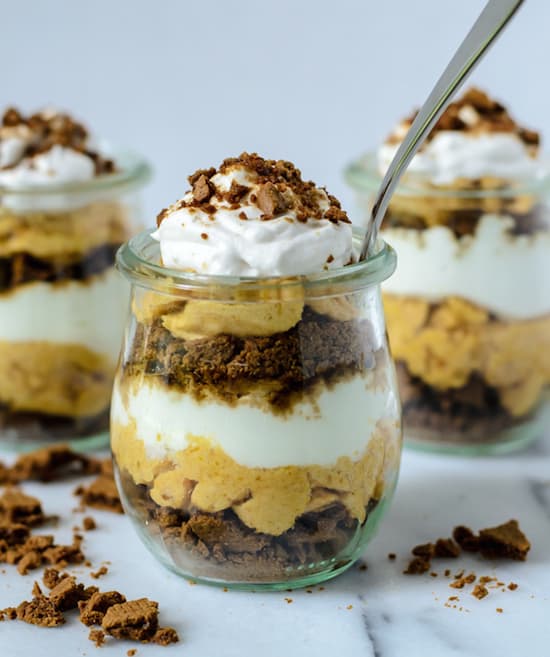 Another one from Erin… hello beautiful Pumpkin Parfaits with Coconut Whipped Cream!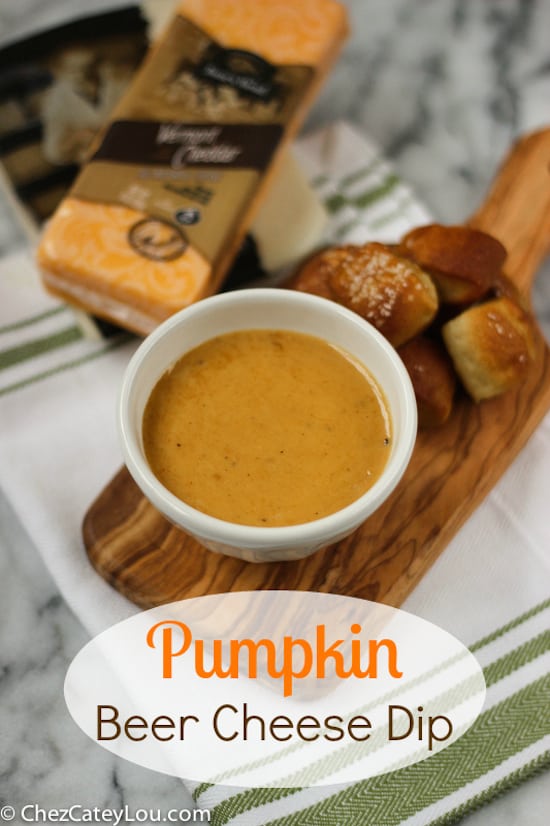 Cate from Chez Catey Lou is a fellow NYC blogger that I've been following for a while… and we actually got to finally meet at a conference at the Manhattan Better Homes + Gardens building last month. It's so cool to meet your virtual blogging friends in real life. They do exist. They really do exist! And this Pumpkin Beer Cheese Dip? So perfect for game day!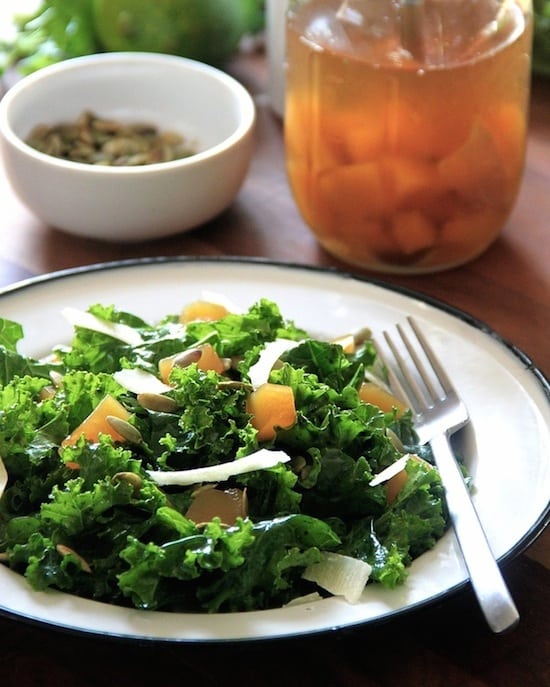 Sandra from Kitchen Apparel is the DIY queen. She's a canning wizard, is raising her own chickens for eggs, and can regularly be found at her local farmer's market or checking her mailbox for a shipment of lingonberries. I've never seen pickled pumpkin before, but now I totally need to try it… Kale Salad with Pickled Pumpkin.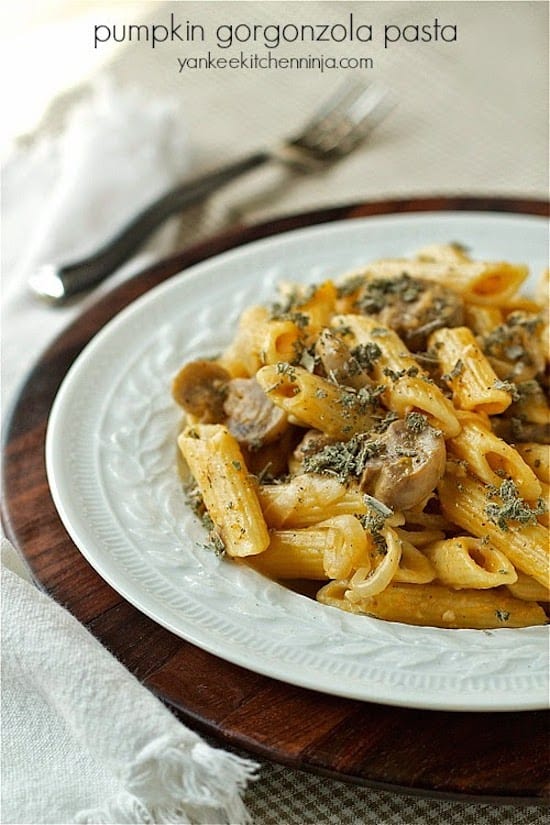 As the weather starts to drop, pasta is always on my mind. It's one of my ultimate comfort foods. This Pumpkin Gorgonzola Pasta looks pretty legit from Jules at Yankee Kitchen Ninja (aka The Ninj!!).