This is a sponsored post written by me on behalf of Tasty Bite. All opinions are 100% mine.
These Channa Masala Vegetarian Indian Tacos are brought to you by Tasty Bite. As always, all opinions and recipe are my own. Thanks for supporting the brands that support Shared Appetite!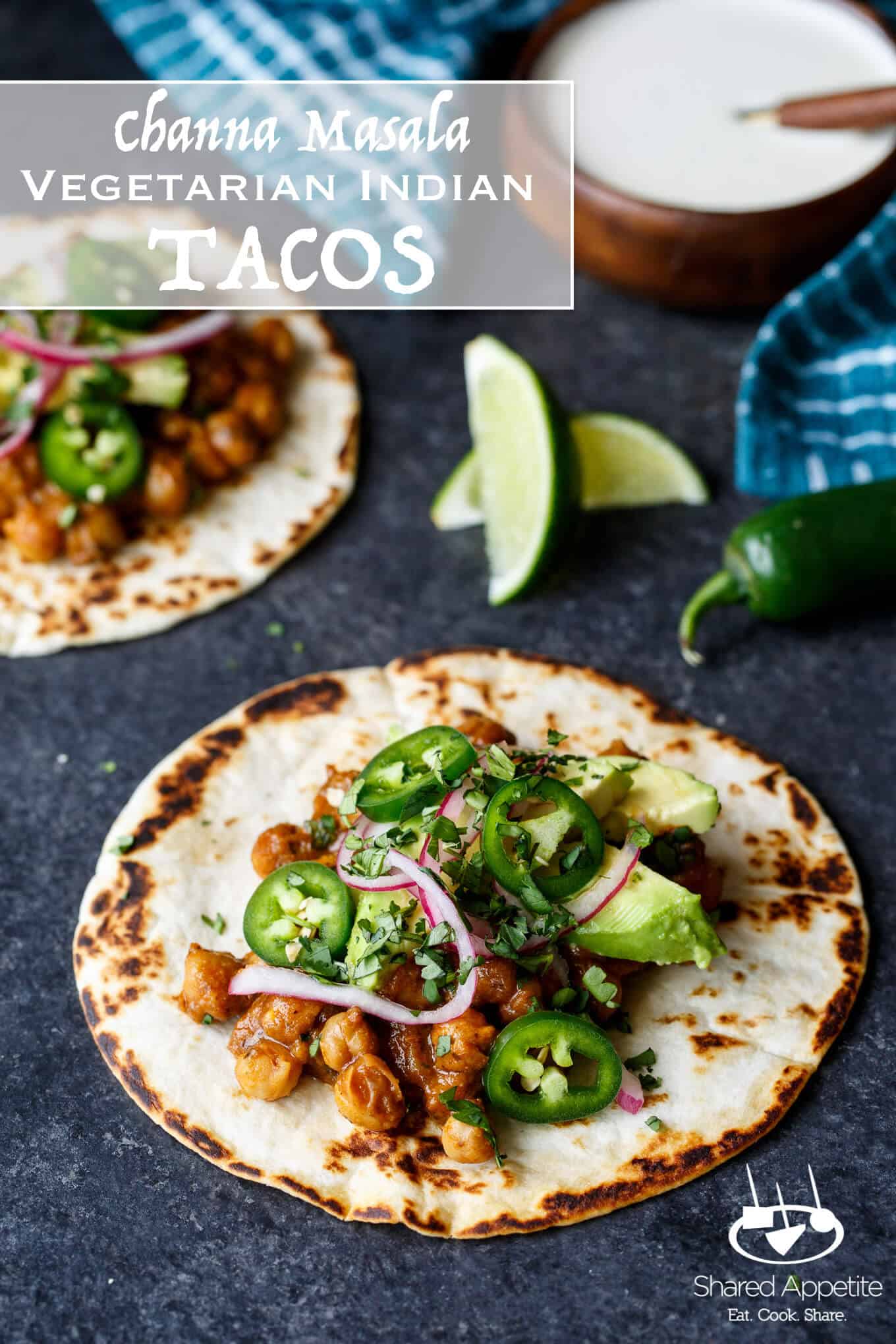 I am so freaking happy right now.
It's the most wonderful time of the year... Cinco de Mayo week!
What, not what you were expecting?!
Well, get excited... because you have full permission to eat as much chips and guacamole as you want this week. Yes, margaritas too. And for the main course, you've got options. Literally as I'm writing this I'm polishing off a plate of my Hidden Veggie Chicken Enchiladas (and you better believe I'm having a homemade Nutella Choco Taco to satisfy my sweet tooth after).
Sometimes though, I like to switch things up. There's nothing more exciting to my tastebuds than combining two cuisines into an epic fusion of flavors. Let me explain. Last weekend I photographed a full Indian wedding with my wedding photography studio, Ashe Photography. It was absolutely spectacular. The celebration was elaborate, colorful, and beyond stunning. Hands down one of my favorite weddings ever. My favorite part? They had a ridiculous spread of food at the reception. RIDICULOUS. Food as far as the eye could see, and flavors that I now dream of every night.
I think Indian food is my newest obsessions, because I seriously cannot stop thinking about all the mind-blowing flavors I experienced.
But I also love tacos. So what's a guy to do? Make vegetarian Indian tacos! One of my favorite things I ate at the wedding were these super bold-flavored chickpeas called Channa Masala (or chana masala). As I was sopping up all the juices with naan I thought to myself... this would make for one heck of a taco.
And that, my friends, is how these Channa Masala Vegetarian Indian Tacos were born.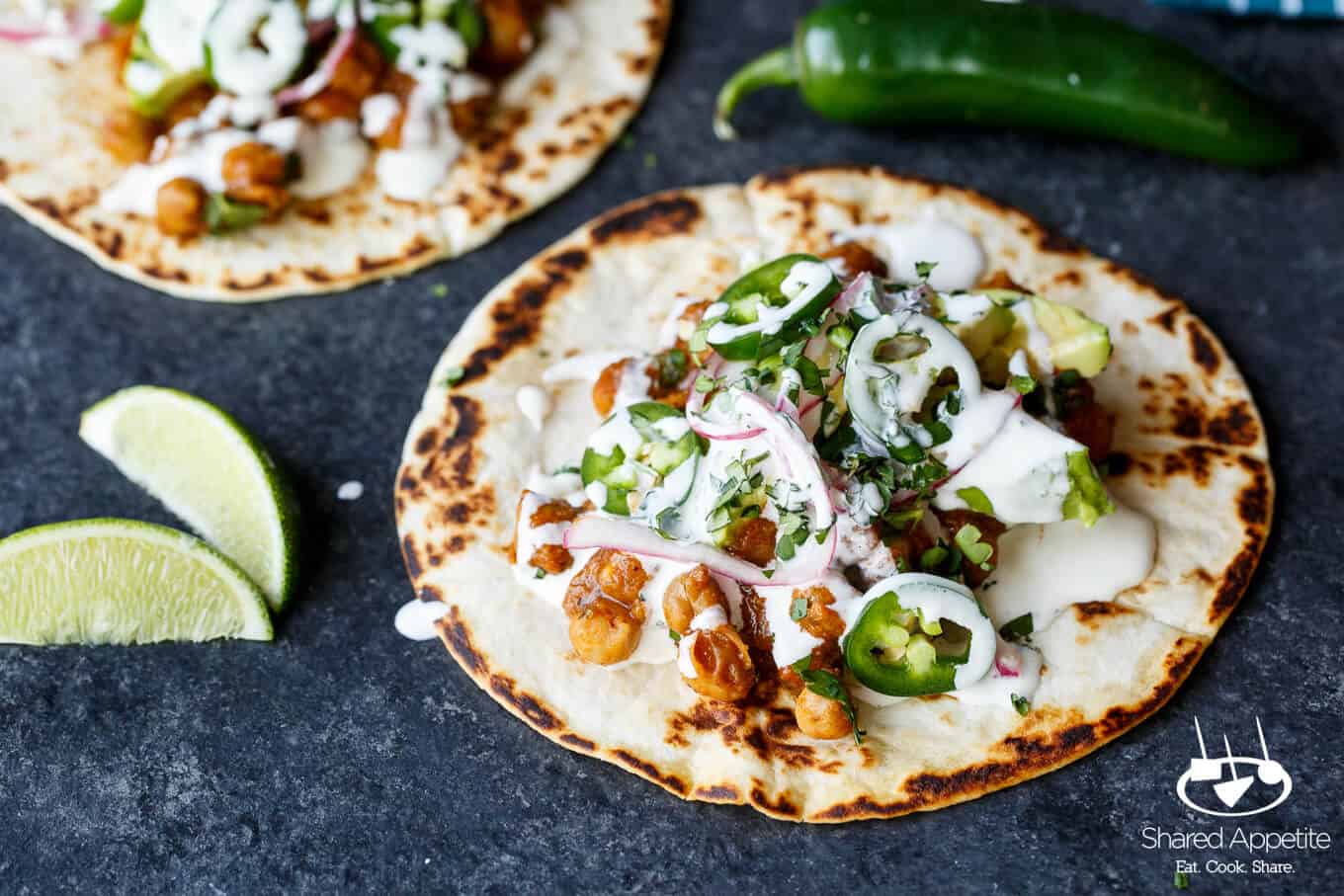 If you're new to Indian food or a bit unsure of trying exotic flavors, this is the perfect recipe for you. You've got all the familiarity of a good ole' taco with exciting Indian flavors.
Want me to try a new food? Put it in a freaking taco. I'm fairly certain I'll try almost anything if it's wrapped in a tortilla.
So what exactly is this channa masala stuff? It's a dish of stewed chick peas with onions, chopped tomatoes, and a bunch of spices. It's something I'm fairly certain I need to be eating at least once per week for the rest of my life. It's that good.
And for me to say that about something vegetarian... you know it's legit.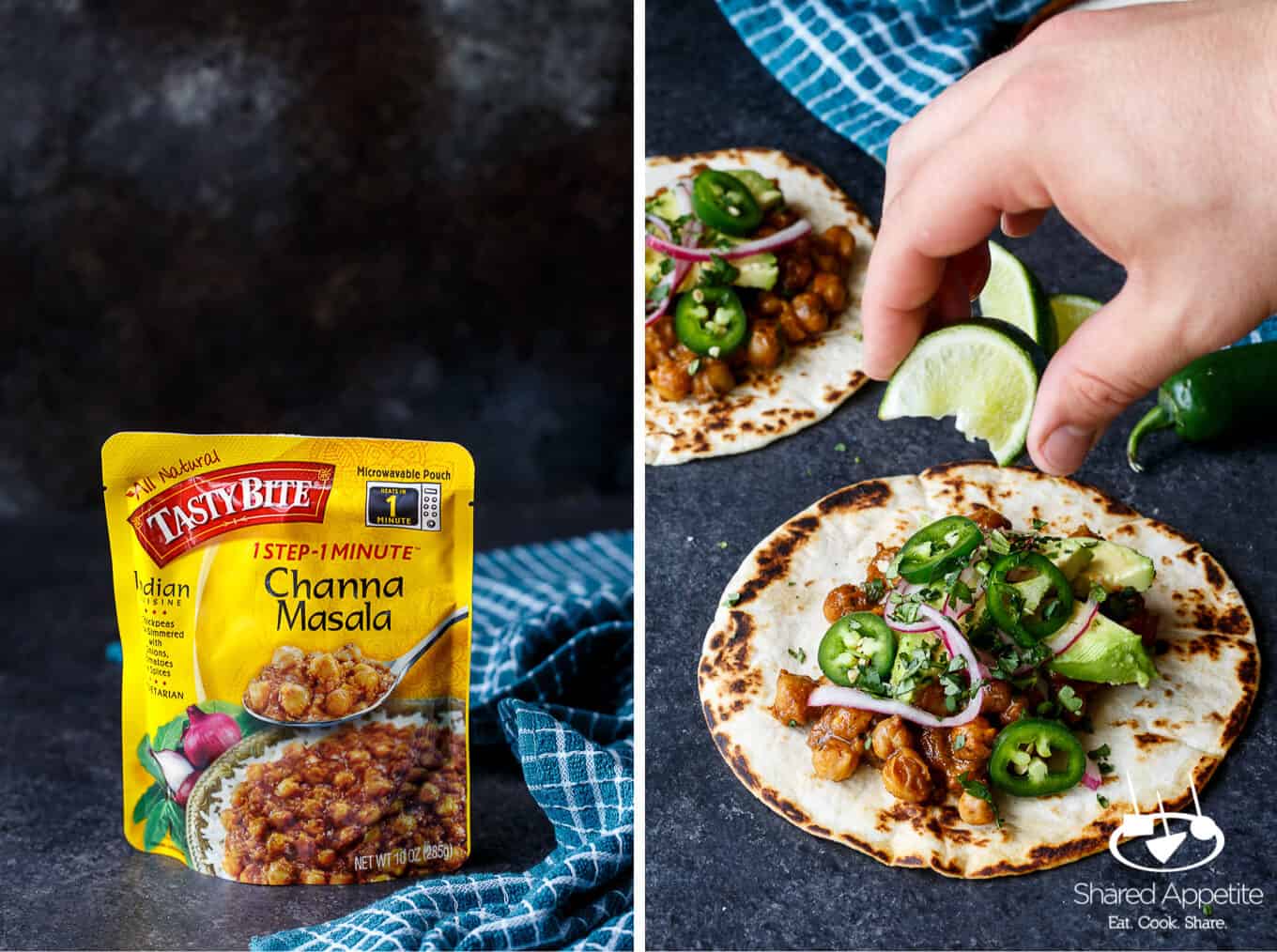 Even more fantastic? Channa Masala is now available anytime I want it. I just need to open my pantry, pop a pouch of Tasty Bite Channa Masala in the microwave, and it's done in one minute.
Let me run that by you again. ONE MINUTE.
Ermagherd where has this been all my life?!
We all have NO excuse at this point when it comes to cooking up some authentic flavors of India at home. We all have 1 minute... and if you don't have a microwave, heat it up on the stove. Tasty Bite... thank you for making this super convenient product. If you were here I'd give you a big giant kiss.
I am also really digging that Tasty Bite doesn't use any nasty stuff in their products. It's all natural, preservative free, and nothing artificial.
Most important of all... the global flavors of Tasty Bite's Channa Masala is spot on and makes for a perfect base in these Vegetarian Indian Tacos. BOOM.
Make sure to be on the lookout for the yellow pouch at your grocer's International Food aisle. You'll be pleasantly surprised to see a big variety of Thai, Indian, and Asian products to choose from. You'll be bringing vibrant, bold, and totally approachable flavors into your kitchen in no time! Psst... start with these Channa Masala Vegetarian Indian Tacos.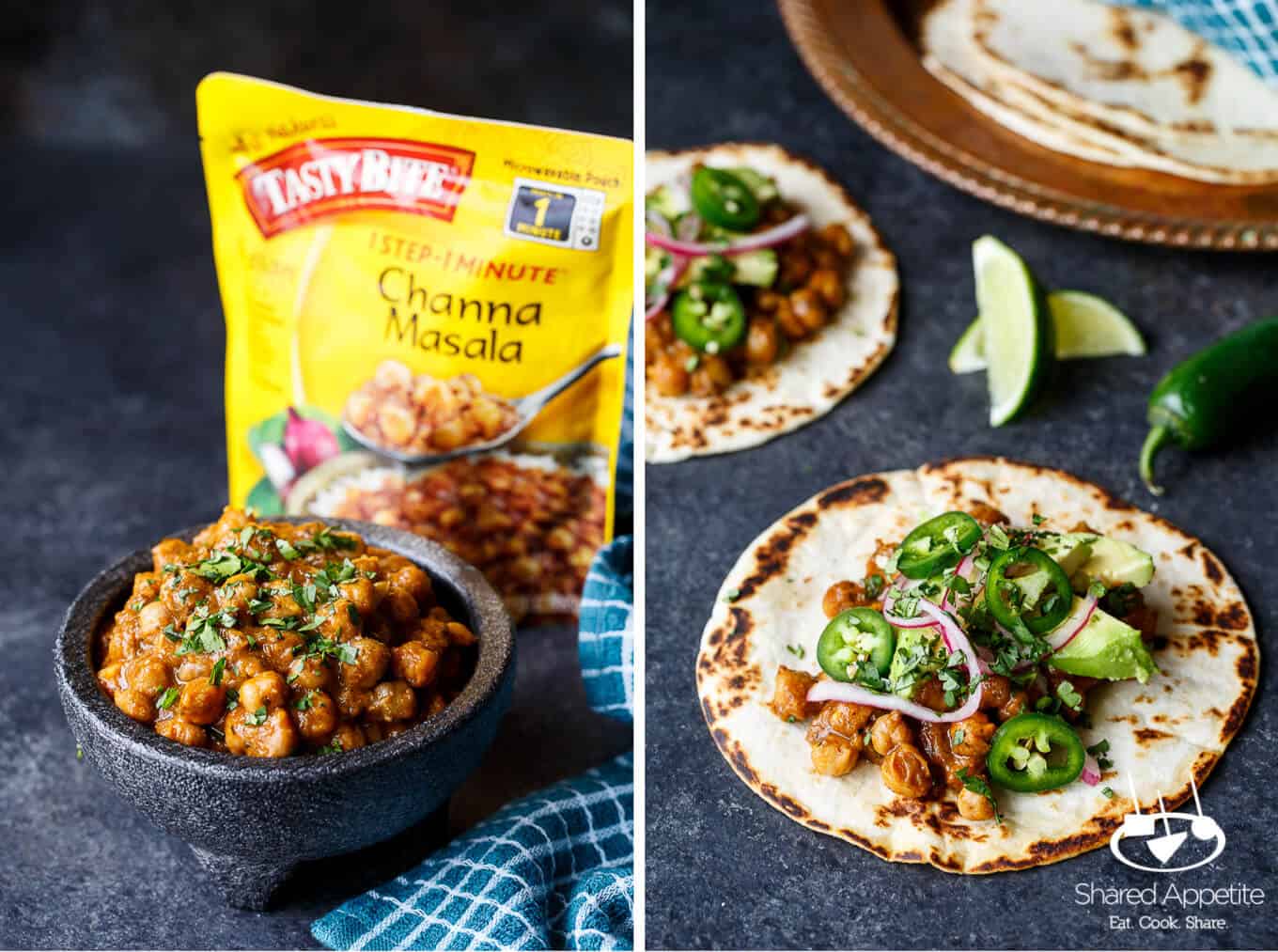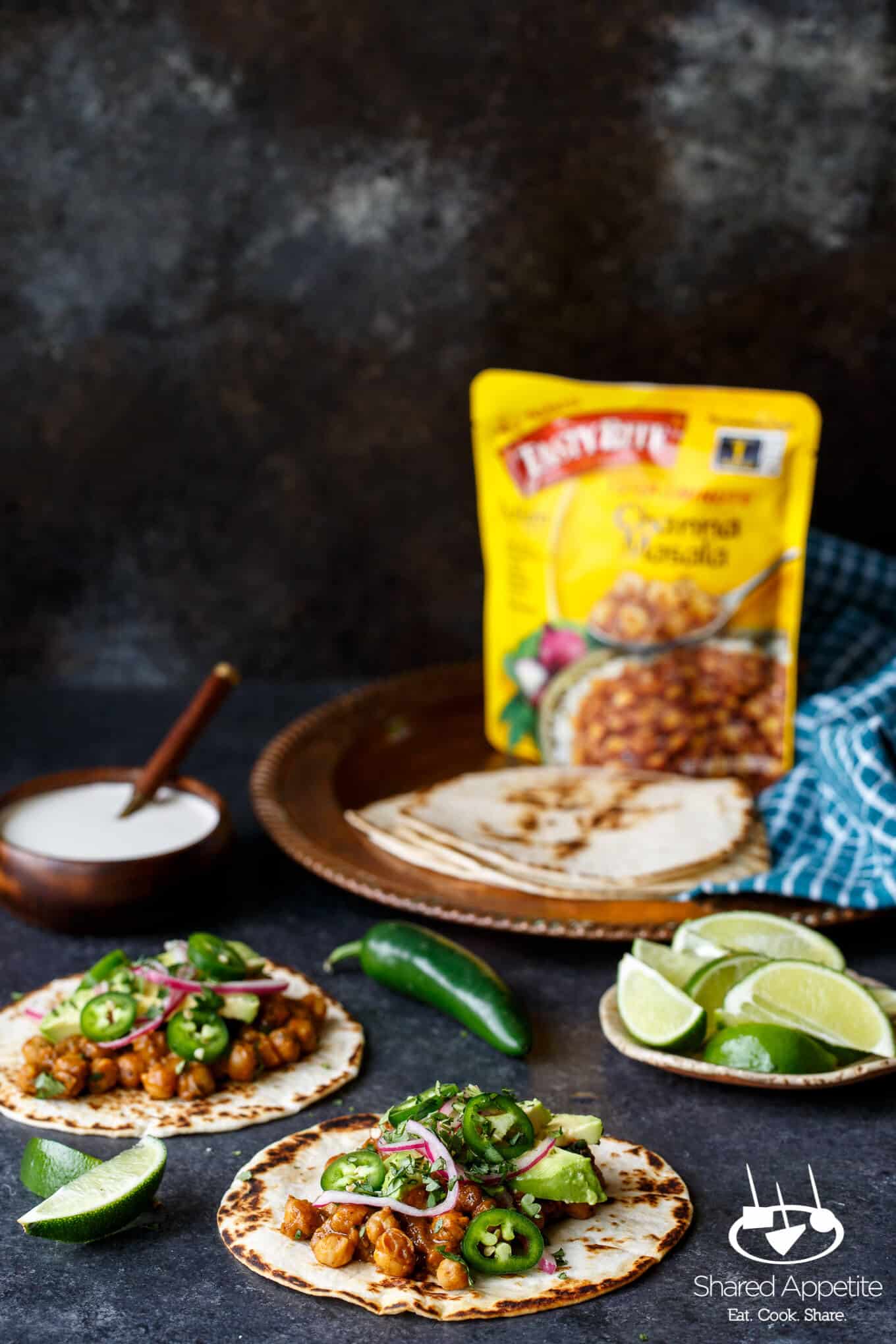 I'd be totally happy with just this channa masala wrapped up in a tortilla. But you all know how I love my toppings.
For these Vegetarian Indian Tacos, we're bringing sliced avocado, easy pickled onions, sliced jalapeños, and a cooling creamy white sauce to the party.
The white sauce, by the way, is EVERYTHING. I put it on so many different things, including these Grilled Flank Steak Shawarma Bowls. Best of all, it's dairy free (as are the rest of these tacos).
And listen, if you want to make these tacos gluten free, just use corn tortillas. Asheley isn't a fan of corn tortillas though, so we are a flour family over here. The number one thing to elevating your taco experience though, no matter what tortilla you choose, is to HEAT THEM BEFORE SERVING. It makes all the difference, I promise.
It can be as easy as throwing a bunch of tortillas in some tin foil and warming in the oven, or putting one by one on a skillet or griddle and letting them get all toasty golden brown in spots.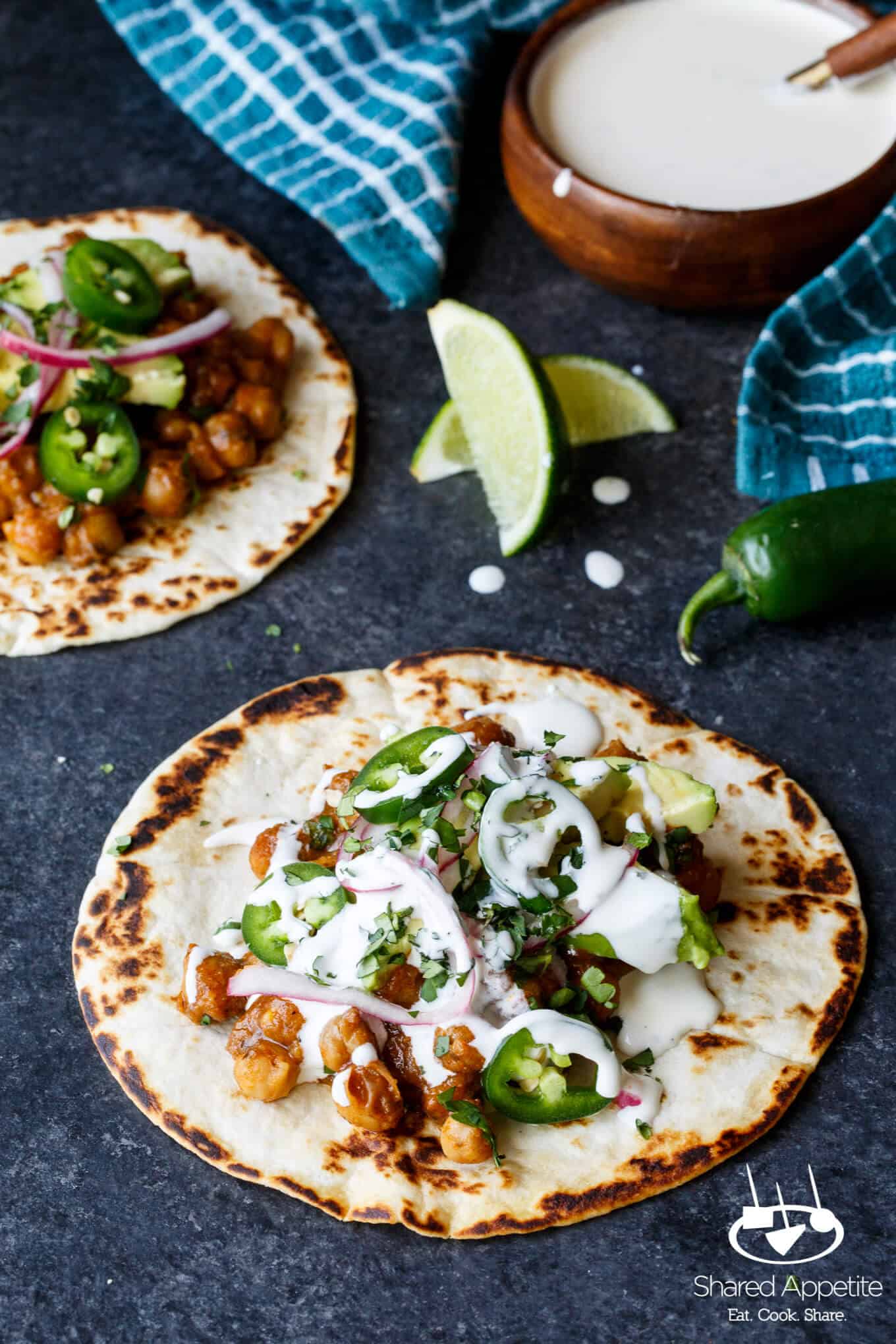 Print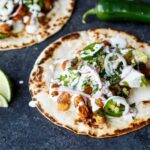 Channa Masala Vegetarian Indian Tacos
---
Description
2 (10 ounce) pouches Tasty Bite Channa Masala
8 small taco-sized tortillas
2 avocados, sliced
2 jalapeños, sliced
White Sauce (see below)
Cilantro, for garnish
for the white sauce
1 cup mayonnaise
¼ cup water
2 ½ tablespoons lemon juice
Kosher salt
Freshly ground pepper
---
Heat channa masala according to package directions.  Heat tortillas by wrapping tortillas in foil and heating through in oven or quickly warming each one on a skillet or griddle until golden brown in spots.
Top tortillas with channa masala, avocado, jalapeños, pickled onions, and white sauce.  Garnish with chopped cilantro, if desired.
for the White sauce
Combine all ingredients in a small bowl and season with Kosher salt and freshly ground black pepper. Let flavors meld at least one hour before serving. Can be made ahead of time and refrigerated up to 5 days.
---
Prep Time:

5 minutes

Cook Time:

5 minutes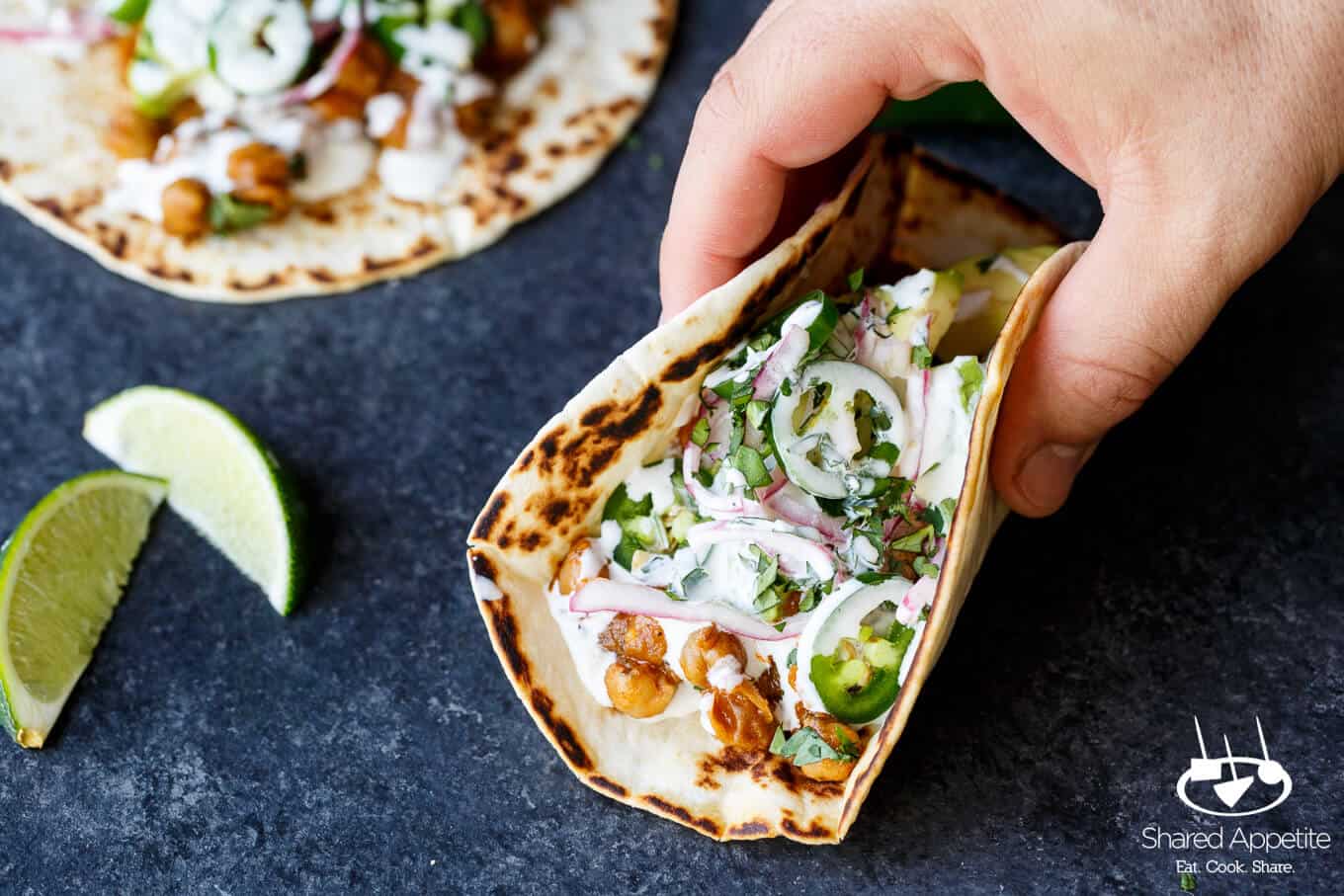 Channa Masala Vegetarian Indian Tacos