This is a Sponsored post written by me on behalf of Pompeian for SocialSpark. All opinions are 100% mine.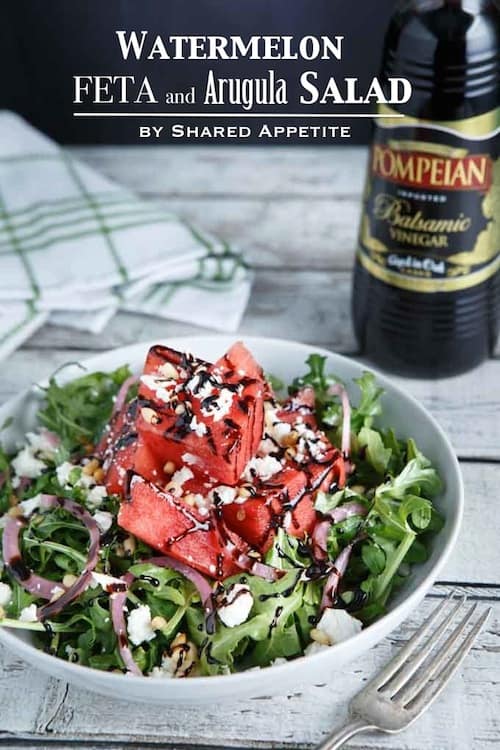 A light, healthy, and refreshing salad recipe featuring watermelon, pickled onions, feta cheese, pine nuts, and a sweet honey balsamic reduction. This Watermelon, Feta, and Arugula Salad is perfect for spring!
What I'm about to say is going to leave me vulnerable to both judgement and ridicule. Be gentle. I may look tough and full of muscular brawn on the outside, but I have a fragile core.
I've avoided watermelon for pretty much... forever. Same goes for olives, cherries, and anything else that had a pit or large seeds. Super weird, I know. But the thought of biting down on a pit just freaks me out. And the whole spitting the seeds out just isn't my thing. Gross.
And I guess because of the whole irrational fear of seeds thing (I wonder if there is a real diagnosable phobia for that…), I never grew an affinity for watermelon. Even seedless.
But then I saw a watermelon salad on a restaurant menu and was super intrigued. Not intrigued enough to spend the money on ordering it (too much risk involved considering one of main ingredients was indeed watermelon), but I've been wanting to try to make a version of the salad at home ever since. And that time is now.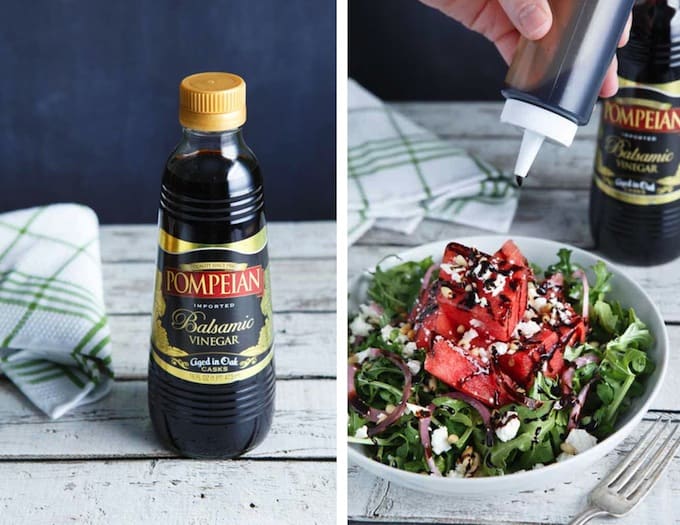 So did you know it's National Vinegar Month and National Salad Month? Me neither.
But hey, when Pompeian Balsamic Vinegar asks you to celebrate, you listen. I'm always down for a good party, even if watermelon is invited 😉
My absolute favorite way to enjoy balsamic vinegar is by slowly reducing it on the stove, creating a sweet and sticky syrupy glaze. I almost always have a squeeze bottle of it in the fridge, so it's always at the ready when duty calls.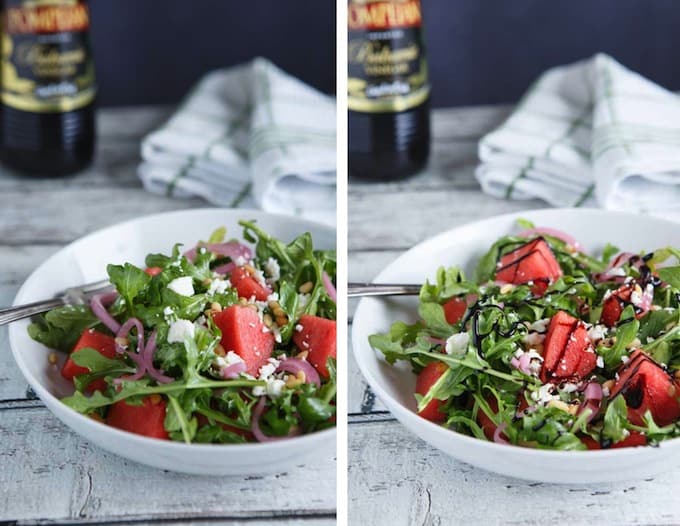 If you don't have feta on hand, feel free to try goat cheese. That would be delicious as well. Just don't skip the pickled onions. It adds a whole other level of flavor awesomeness to this salad.
And hey, want more #DressingItUp inspiration? For additional recipe ideas, you can visit the Pompeian website.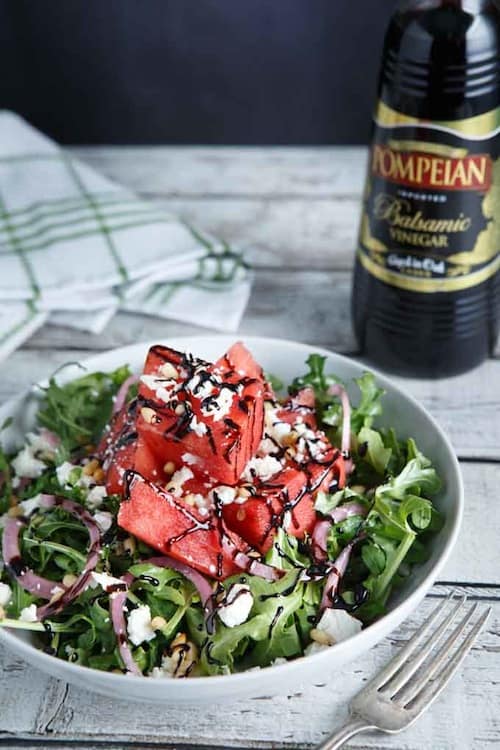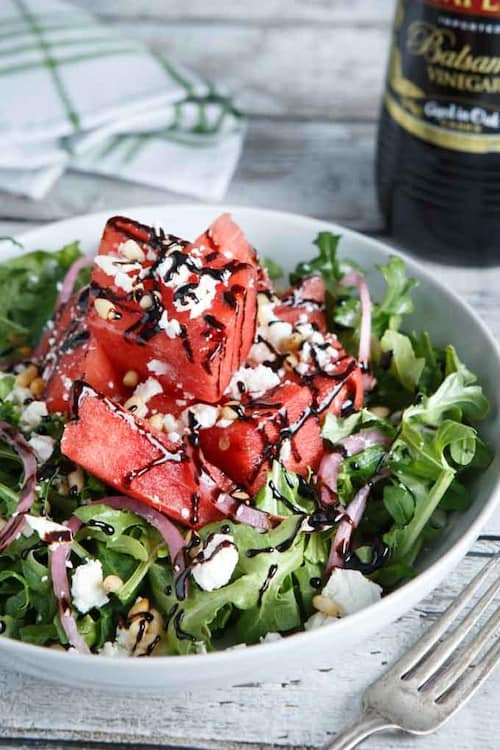 Print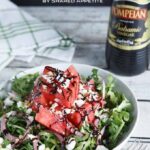 Watermelon, Feta, and Arugula Salad
---
½ cup

balsamic vinegar

½ tablespoon

honey
Baby Arugula
Seedless watermelon, cubed
Feta cheese, crumbled
Pine nuts
Extra virgin olive oil
Kosher salt
---
Instructions
Combine balsamic vinegar and honey in a small saucepan over medium heat until just boiling. Reduce heat to low (a slow simmer is what you're after), stir occasionally, and let simmer until reduced by at least half. The balsamic will continue to thicken as it cools. Once completely cool, store in the refrigerator. I like to keep mine in a little plastic squeeze bottle.
Drizzle arugula with a little bit of olive oil and season with Kosher salt. Top with cubed watermelon, pickled red onions, feta cheese, and pine nuts. Drizzle generously with the balsamic reduction. Devour immediately.
Prep Time:

10 mins

Cook Time:

10 mins