This post is sponsored by Bob's Red Mill. As always, all opinions and recipe are my own. Thanks for supporting the brands who support Shared Appetite.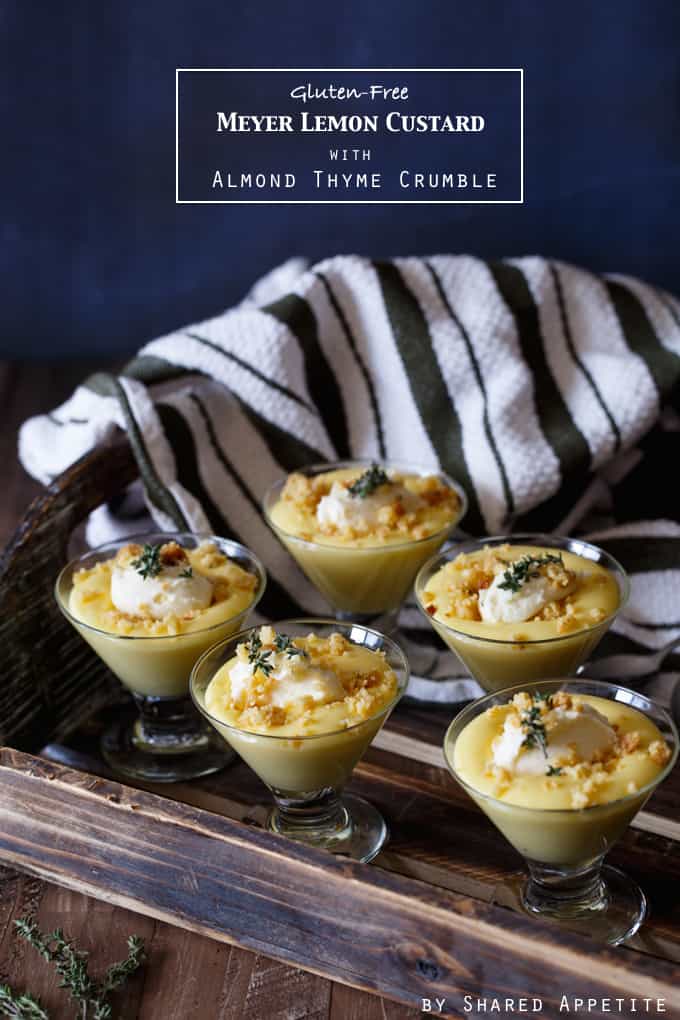 This Gluten Free Meyer Lemon Custard with Almond Thyme Crumble and Honey Mascarpone is completely made ahead of time... a stunning easy entertaining dessert!
How is it Easter already? Wasn't it just Christmas? ...especially considering some of my lazy unmotivated neighbors still haven't taken down their Christmas lights, I believe so. Not that I can blame them. We literally just started to be able to see patches of grass again after a crazy winter.
I'm always so pumped about this time of year. The days get longer. Nature renews and replenishes after the dead of winter. I finally get to pack away all my sweaters for as long as possible. And possibly most importantly, it's almost grilling season (I can almost hear my pal and fellow grilling aficionado David @ Spiced Blog giving me a huge heck yea to that one).
But let's not get ahead of ourselves. Easter. I'm all about celebrating Easter with a massive brunch. You know the ones I'm talking about. Where you put out this gigantic, gluttonous smorgasbord of help-yourself type foods that everyone just dives into. My plate always becomes a feat of architectural proportions, constructing a three-story tall food sculpture as I make my way down the line of food (I get overly excited around food, in case you didn't know that already).
When it comes to serving dessert at brunch, I want something that's not incredibly heavy. I mean, I still have dinner to look forward to and eat afterwards 😉 I want my brunch dessert to have big, bright flavors that will satisfy my sweet tooth without putting me in a couch-ridden food coma. Something like this Gluten-Free Meyer Lemon Custard with Almond Thyme Crumble and Honey Mascarpone.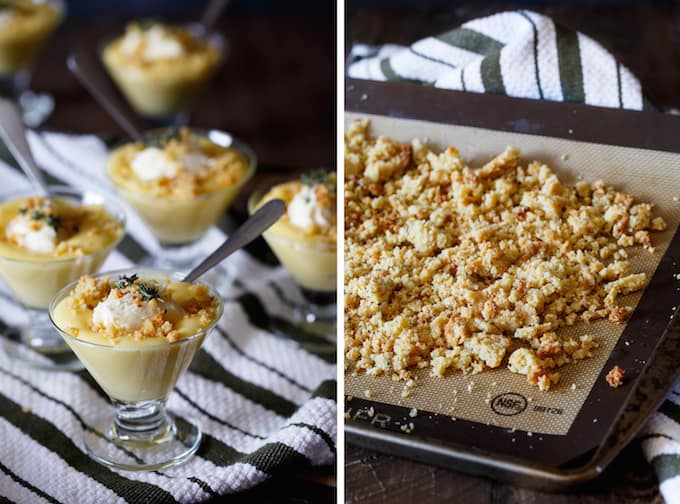 This gluten free Easter dessert is awesome for several reasons...
every single component is make ahead, so all you need to do is assemble and serve. It's the epitome of easy entertaining.
it's gluten-free, which you know at least one person at brunch is going to need.
the dollop of honey mascarpone on top makes this dessert sound super sophisticated and will impress the heck out of your guests, even though it's just 2 ingredients and took all of 30 seconds to make.
if you want

super

easy entertaining, don't even assemble... just put out the custard, almond-thyme crumble, and honey mascarpone and let guests assemble it themselves DIY style.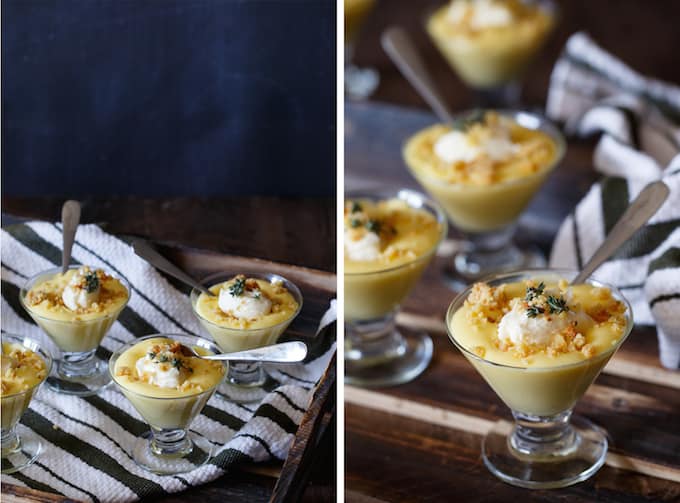 An insider tip to assembling these... add a LOT more crumble to them than what it looks like in these photos. Like a mountain of the almond-thyme crumble. I just couldn't add more of the crumble to the photos without it looking weird in the camera. #foodphotographyproblems
This dessert is in essence a deconstructed pie (feel free to tell your friends and family that and they'll be extra impressed by your avant garde culinary skills), so you want there to be enough crumble to serve as the "crust". Every single bite should have the crumble for maximum devouring pleasure 🙂
Oh, and if you have leftovers of the Gluten Free Almond Thyme Crumble, save it as a topping for ice cream, morning yogurt with fresh fruit, or really, just snack on it right out of the container (I won't tell).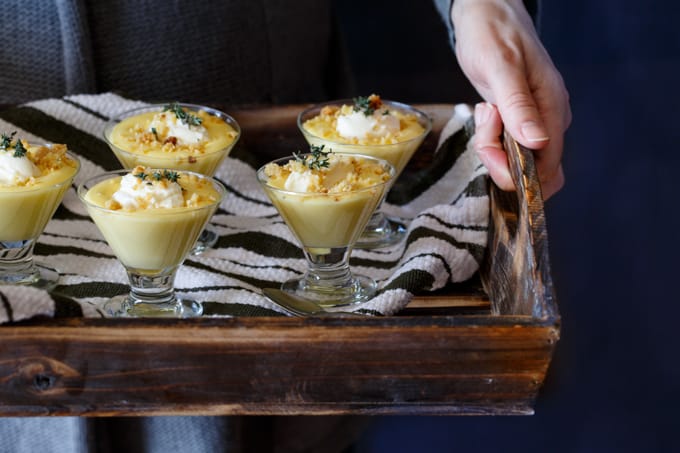 A word about Bob's Red Mill. I'm such a fan of their stuff. A whole shelf in my pantry is literally stuffed with their products... almond meal, rice flours, gluten-free flour blends, corn meal, fava bean flour, lentils, farro... the list goes on and on. LOVE Bob's Red Mill.
If you haven't discovered or tried Bob's Red Mill products yet, you totally need to. You can even scroll down to the bottom of this post for a link to a $1 coupon for any of their products 🙂
Print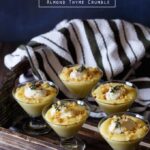 Gluten Free Meyer Lemon Custard with Almond Thyme Crumble
---
Total Time:

40 minutes

Yield:

Serves

6

-8

1

x
Meyer Lemon Custard
2

large eggs

2

large egg yolks

¾ cup

granulated sugar

½ cup

fresh Meyer lemon juice (

2

to

3

lemons)

6 tablespoons

cold unsalted butter, cut into

1 tablespoon

pieces
for the Gluten-Free Almond Thyme Crumble
1 ⅓ cups

Bob's Red Mill finely ground almond meal/flour

¼ cup

plus 2 tablespoons granulated sugar

1 teaspoon

Kosher salt

1 teaspoon

baking powder

1

egg

½ teaspoon

vanilla extract

1 teaspoon

chopped fresh thyme
Zest from

½

Meyer lemon

½ cup

cold butter, chopped into chunks
for the Honey Mascarpone
8 ounces

mascarpone

1 tablespoon

honey
---
Instructions
Divide Meyer Lemon Custard among small bowls or plates. Top very generously with Almond Thyme Crumble and a small scoop of Honey Mascarpone.
for the Meyer Lemon Custard
Make sure eggs and butter are cold. Bring about 2 inches of water to a boil in a medium pot (one that is slightly smaller than the bowl you'll be using to mix the custard). Meanwhile in a large metal bowl, whisk together the eggs, egg yolks, and sugar until smooth, about 1 minute.
Lower heat to maintain a rapid simmer and set the metal mixing bowl over pot. Whisk mixture constantly, turning the bowl occasionally for even heating. Once the eggs are foamy and have thickened a bit (about 2 to 3 minutes), add ⅓ of the Meyer lemon juice. Continue to whisk constantly until the mixture thickens again. Add another ⅓ of the lemon juice and whisk until it thickens again, and then add the remaining juice. Continue to cook and whisk constantly until the mixture has thickened to the consistency of a soft pudding. The whisk should leave a definite trail in the bottom of the bowl. Total cooking time should be around 10 minutes, but go more by feel than time.
Turn off heat and whisk in butter one piece at a time. This will loosen the mixture slightly, but it will set as it cools. Pour the warm custard into another bowl and let cool completely, at least 1 hour. Refrigerate until ready to serve. I like to remove the custard from the refrigerator a bit before serving so it's not very cold when eating.
for the Gluten-Free Almond Thyme Crumble
Preheat oven to 350°F. In a medium mixing bowl, combine almond flour, sugar, salt, baking powder, egg, vanilla extract, thyme, and Meyer lemon zest. Scrap into food processor and add butter chunks. Pulse until the butter is well incorporated but there are still small chunks of butter running throughout. Pour out into a thin even layer on a parchment paper lined large baking sheet. Cook for 10 minutes, remove and stir, pushing the more done outside pieces towards the center and the gooey center towards the edges. Continue cooking in 5 minute intervals, stirring between each and breaking into crumbles, until the crumble light golden brown. It took me about three 5 minute intervals, for a total cooking time of 25 minutes. Remove from oven and let cool completely. Crumble will crisp up as it cools.
for the Honey Mascarpone
Mix together the mascarpone and honey in a small bowl. Taste, and if you would like it sweeter, add a little more honey.
Notes
If you can't find Meyer lemons (which you totally should because they are awesome), regular lemons will work.
This is, in essence, a deconstructed pie or tart. The crumble serves as the crust, so make sure there is a good ratio of crumble to custard so they get some crunch in every bite.
Feel free to serve these as little cute parfaits (alternating crumble and custard, and then topping with the honey mascarpone). You can also leave all three components out and let guests build their own (hello easy entertaining!).
When I serve this, I put it in the little mini flare serving dishes you see in the photos (they hold just under 3 ounces each). I get about 10 to 12 servings with them. The custard is quite rich, so small servings are totally acceptable.
Lemon Custard barely adapted from Thomas Keller's Bouchon Cookbook.
Prep Time:

15 mins

Cook Time:

25 mins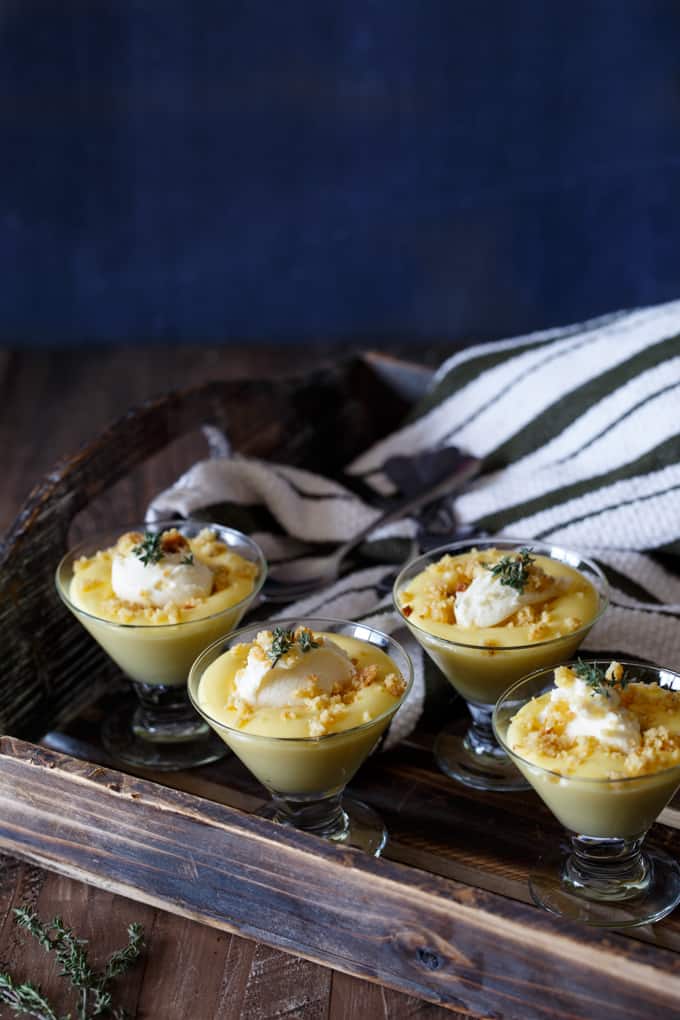 Need More Easter Brunch Inspiration?
Gluten Free Spinach and Bacon Quich with Hashbrowns Crust by Shared Appetite
Carrot Cake Cupcakes by Spiced Blog
Double Salted Caramel Cupcakes by American Heritage Cooking
Asparagus Gruyere Tart by Hip Foodie Mom
Lemon Greek Yogurt Cupcakes with Cream Cheese Frosting by Baking A Moment
Baked Carrot Cake Donuts by Blahnik Baker
Gooey Cinnamon Roll Baked French Toast Casserole by Cooking for Keeps
Mini Strawberry Lemon Almond Cookie Cups by Life Made Sweeter
Thank you Bob's Red Mill for sponsoring this post! For more delicious recipes and a coupon for $1.00 off any product, please visit BobsRedMill.com!