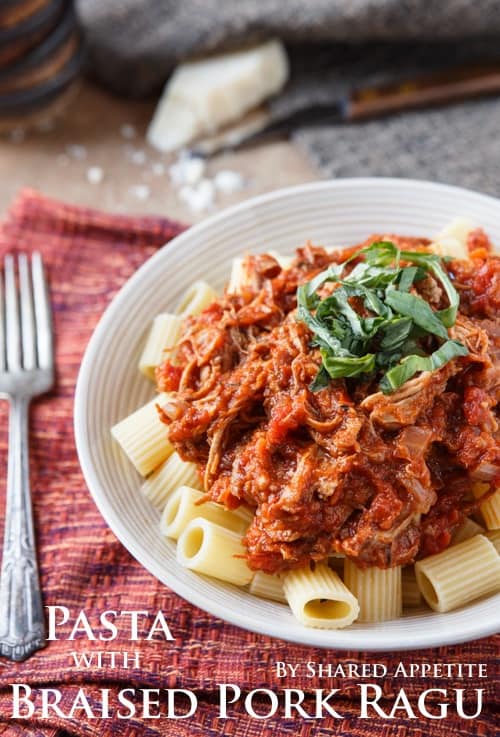 A sophisticated and elegant yet surprisingly easy recipe for Pasta with Braised Pork Ragu that will impress your family and friends at your next dinner party. Thanks to Le Creuset for providing me this braiser for recipe testing and for hosting our giveaway. As always, all views, opinions, and recipes are my own.
You're hosting a dinner party or a big family dinner. You need a dish that is going to wow and impress everyone, but you don't want to be standing over a stove all day. I'm with you. And here's the answer.
I make this Pasta with Braised Pork Ragu at least a couple times every winter. I love it. The people I make it for love it. It's hearty. It's comforting. And it's inspired by Mario Batali's Taccozzette Con Stracotto at his NYC restaurant, Otto.
The magic within this Braised Pork Ragu actually happens when you are away from the kitchen. Yup, that's right. You can go ahead and enjoy your time reading a book, taking a nap, watching tv, or maybe taking a nap while watching tv 🙂 You just let the slow simmering dish do it's thing, transforming from a bunch of ingredients into this luxurious, complex-tasting pulled pork ragu.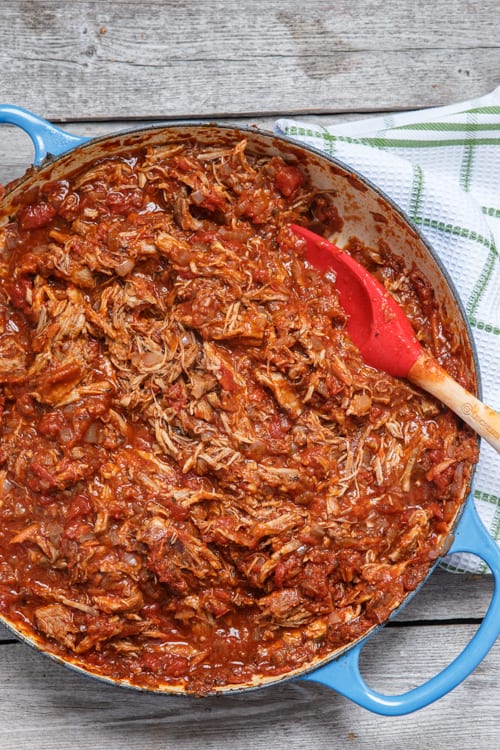 You like that blue cooking vessel? It's my new toy that I received from my pals over at Le Creuset. You know how much of a fan of Le Creuset I am, right?
I may not be able to correctly pronounce it... Lay Crew-sett is my Americanized butchered attempt, but this French cookware company is hands down my favorite. My whole kitchen is stocked to the brim with their cookware, bakeware, and cooking utensils. Just ask Asheley, she'll be more than happy to tell you how much "kitchen stuff" I have. Right Asheley?! 🙂
Their cast iron and enamel covered braisers are made specificially to spread wet and dry heat evenly to break down tough pieces of meat like this pork shoulder. I like it. A lot.
And you can win your very own Le Creuset Braiser! That's right, we're giving one away. All $240 of it. Entry instructions are at the bottom of this post 🙂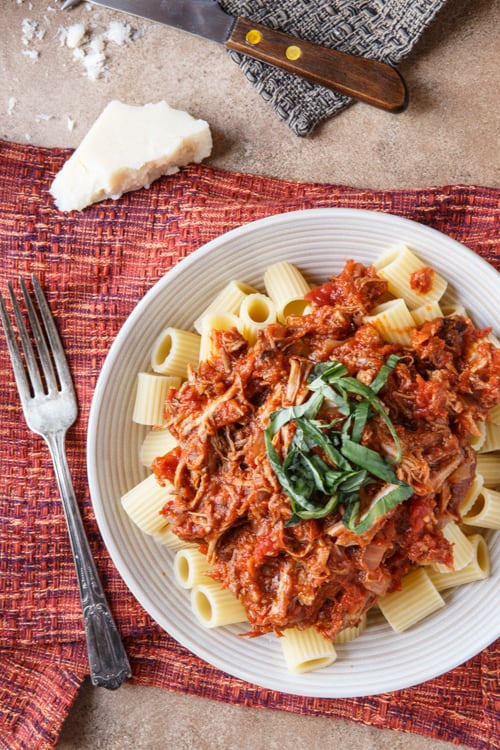 This braised pork shoulder ragu recipe is a one-pot wonder. Seriously. You just dump a bunch of stuff into the braiser, let it do it's slow-cooking magic, and boom... you have yourself an instant, warming, hearty dish that's perfect for a special winter night dinner.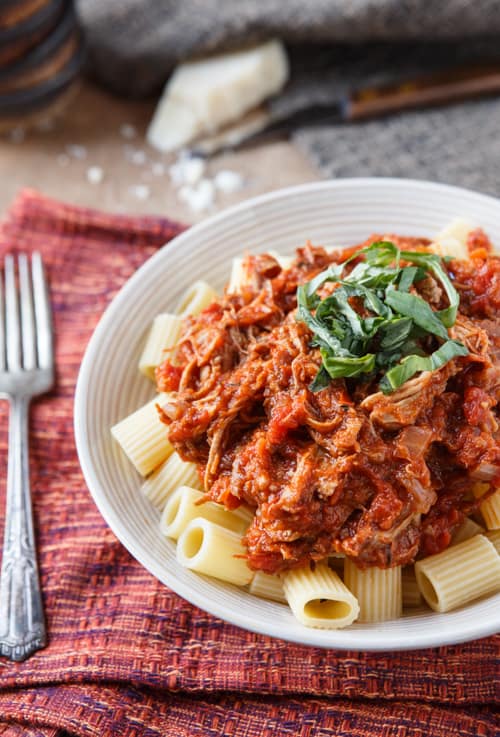 Print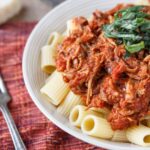 Pasta with Braised Pork Ragu
---
Total Time:

5 hours 20 minutes

Yield:

6

-

8

Servings

1

x
3 tablespoons

olive oil

3

pounds boneless pork shoulder (or

4

-

6

pound bone-in pork shoulder)

2

large red onions, finely chopped

2

large carrots, grated

6

cloves garlic, minced

1 teaspoon

dried thyme

1 teaspoon

dried oregano

1 teaspoon

dried basil

2

dried bay leaves
Pinch of crush red pepper flakes

1 cup

red wine

1

(28 ounce) can diced tomatoes

1

(28 ounce) can crushed tomatoes

1

(6 ounce) can tomato paste

1 cup

water
Kosher salt
Freshly ground black pepper

1 cup

fresh basil, roughly chopped
Rigatoni, Pappardelle, or pasta of choice
Parmigiano Reggiano, for garnish
---
Instructions
Trim and remove any excess fat from pork shoulder. Cut pork shoulder into approximate 4-5" wide pieces. Using a paper towel, pat the surface of pork so that it's dry, then season generously with Kosher salt and freshly ground black pepper.
Heat oil over medium-high heat in a braiser, dutch oven, or other large heavy-bottom pot or skillet that has a lid. Sear pork on all sides, approximately 3 minutes a side, until a nice golden brown crust is achieved. Remove seared pork from pot and set aside. Do in batches, if necessary.
Lower heat to medium. Add onions and carrots to the pan, season generously with Kosher salt, and cook, stirring occasionally, until vegetables begin to soften, about 4-5 minutes. Add garlic, thyme, basil, oregano, crushed red pepper (if using), and bay leaves, and cook, stirring occasionally, for another 1 to 2 minutes.
Stir in red wine. Let cook for approximately 4-5 minutes, until the wine has slightly reduced. Add diced tomatoes, crushed tomatoes, tomato paste, and water. Stir to combine. Add pork back into the pan. The liquid should cover at least ⅓ of the meat.
Bring mixture to a boil, then reduce heat to maintain a gentle simmer and cover. Check on sauce now and again, giving it a quick stir and turning the pork. Cook for approximately 4-5 hours, or until meat is fall-apart tender. When pork is ready, remove from pot into a large bowl. Let cool slightly, then using 2 forks or your hands, shred the pork into bite-sized pieces.
Remove bay leaves from sauce and return shredded pork to pan. Let cook on low for at least 30 minutes.
When ready to serve, bring a large pot of salted water to a boil. Add in pasta and cook to package directions, making sure to cook to al dente. Drain pasta, then immediatley add to the pork ragu along with the fresh basil. Let cook for 1 minute, allowing basil to wilt slightly and pasta to absorb a bit of the ragu. Serve, with freshly grated Parmigiano Reggiano
Prep Time:

20 minutes

Cook Time:

5 hours
3.5 Quart Le Creuset Braiser Giveaway!