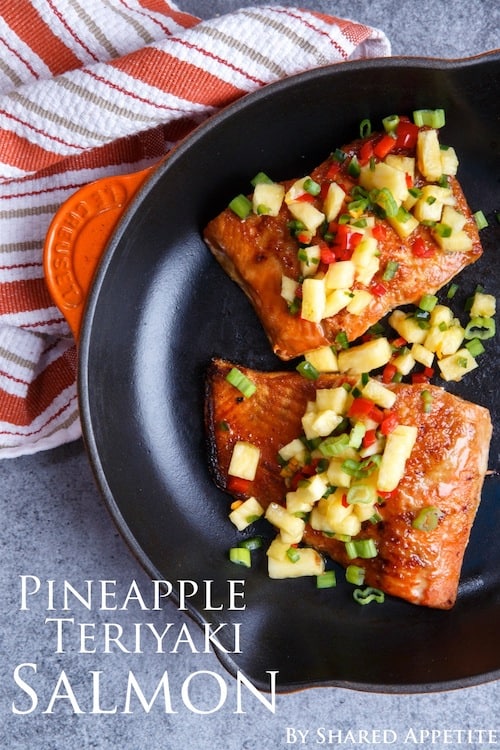 A super flavorful, lightning fast weeknight dinner recipe for Pineapple Teriyaki Salmon topped with Pineapple Habanero Salsa!
I'm beyond pumped. It's Friday. It's the last school day before our week-long spring break. And, the icing on the cake… it's time for a sweet spring entertaining giveaway! More on that below. But, first…
There are big plans for this upcoming week off. Recipes will be tested. Boxes will be packed (we sold our house and are officially in contract. Woot!). And entertaining will happen frequently.
We love to entertain. In fact, the whole reason (well, most of the reason) we are moving is so that we can find a home with an open floor plan that will allow us to host large holiday dinners and have all our friends over for legendary parties.
One thing that I have never made when entertaining, though. Fish. I blame my dad. He refused to eat it, so my mom never made it. And even though I'll happily order seafood out at a restaurant, it's yet to infiltrate my cooking all that much.
Until now. I'm a man on a mission. Cook and eat fish, once a week. Because really, when we entertain, I want to be able to make some impressive dishes using fish and not get all anxious and worried about whether or not I know what I'm doing. So, time to start practicing.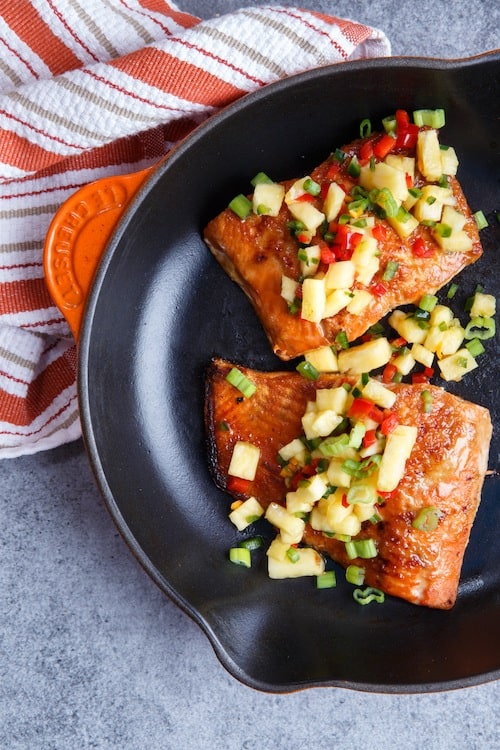 This recipe really couldn't be simpler. I mean, heck, if I can pull it off and it's like, my 3rd time ever cooking with seafood, I'm fairly confident most people could do it blindfolded.
It's easy, super quick, and a great option for weeknight dinner when you're one digit away from calling the pizza place for take-out.
And the pineapple salsa… you'll have leftover for sure. Just don't expect it to last too long, especially if you have a bag of tortilla chips in your pantry and a friend named Steve that inhales the stuff faster than Usain Bolt in the 100m.
No fresh garlic or ginger? …you could always use 1/2 teaspoon of the dried powder stuff in a pinch. I won't tell, although I can't guarantee I won't silently judge you behind your back. Haha, just kidding 🙂 I've had to do it too when I could have sworn there was garlic in our veggie bowl on the counter. No dice.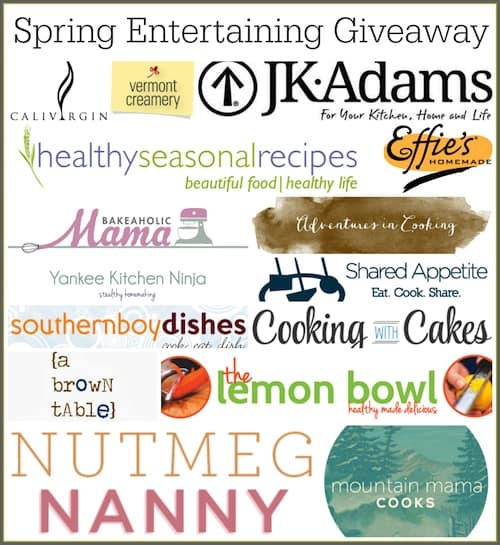 And hey, so about this super cool, ridiculously amazing giveaway? First, let's give Katie from Healthy Seasonal Recipes a big high five. Besides having a really lovely blog with mouth-watering recipes, she also is the phenomenal person that put this whole giveaway together.
And it's a great one. Look at all my fellow blogger peeps that are participating. Make sure to spend a few minutes and check out all the amazing dishes they made!
Katie @ Healthy Seasonal Recipes
–
Beet & Caramelized Onion Bruschetta with Goat Cheese
Eva @ Adventures in Cooking
–
Blackberry and Creamy Goat Cheese Sticky Buns
Bill @ Southern Boy Dishes
–
Spring Salad with Goat Cheese and Lemon Thyme Vinaigrette
Julianne (aka The Ninj) @ Yankee Kitchen Ninja
–
Savory Sausage Bread Pudding Muffins
Kelley @ Mountain Mama Cooks
–
Spring Greens Quiche
Brandy @ Nutmeg Nanny
–
Smoked Blue Cheese Patty Melt
Nik @ A Brown Table
–
Balsamic Raspberry Sauce and Chevre Cake
Christine @ Cooking with Cakes
–
Smashed Avocado Bites with Pancetta and Spicy Olive Oil
Liz @ The Lemon Bowl
–
Fennel and Orange Slaw with Roasted Beets and Goat Cheese
Carrie @ Bakeaholic Mama
–
Honey Sweetened Strawberry & Lime Sangria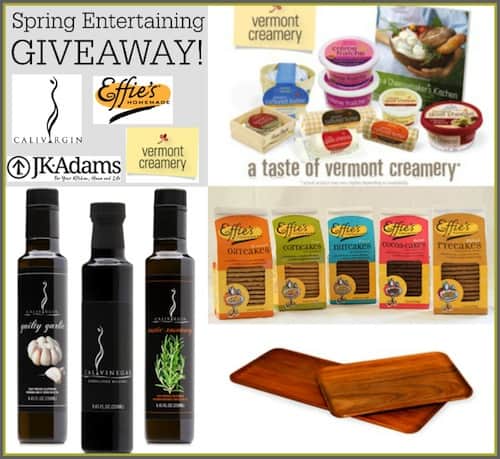 Let's break down what you're going to win. Obviously you're going to win, right? Have some confidence.
Vermont Creamery put together a great gift pack plus a cookbook! They sent me along some samples to try, but I've been sick all week and didn't want to waste it on my compromised and muted palate (i.e. I can't smell or taste anything right about now, stupid cold). But you better believe I'll be diving into it as soon as possible. The stuff looks legit!
Effie's Homemade is hooking you up with 2 packages of each flavor they offer (10 packages total!). I've been snacking my way through all their flavors. I can't believe I've never heard of them before. Their oatcakes are da bomb. I seriously can't stop eating them. Be on the lookout for them the next time you are in Whole Foods.
I'm always on the look-out for great olive oil. You'll get the chance to check out a bunch of varieties from CaliVirgin Olive Oil. And you'll be getting a pair of sweet looking coupe appetizer plates from J.K. Adams.
Print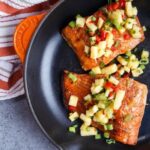 Pineapple Teriyaki Salmon
---
Total Time:

35 minutes

Yield:

4

servings

1

x
4

salmon fillets

1 1/2 cups

fresh pineapple, chopped

1

knob ginger, equal to the same size as 2 cloves garlic

2

gloves garlic

1/2 cup

soy sauce

3 tablespoons

brown sugar
Scallions, chopped, for garnish
---
Instructions
In a blender, puree pineapple, ginger, garlic, soy sauce, and brown sugar. Pour into a baking dish and place salmon, skin side up, on top of marinade. Cover dish with plastic wrap and place in refrigerator for 30-60 minutes.
Place oven rack close to broiler. Preheat a dry (no oil) cast iron skillet or other heavy bottomed skillet over high heat on the stovetop until very hot. Place salmon in pan, skin side down, then immediately transfer to broiler for about 2 minutes, or until salmon is translucent and just cooked through. Cooked salmon should flake easily with a fork.
Top with Pineapple Habanero Salsa and scallions. Serve immediately.
Prep Time:

30 minutes

Cook Time:

5 minutes