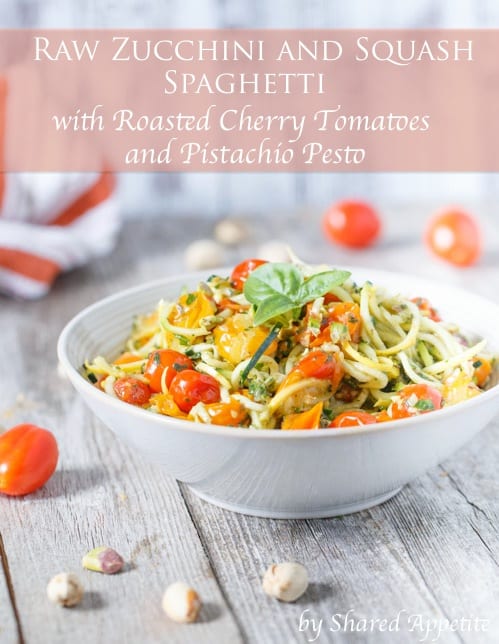 I like to give credit where credit is due. The idea for this Raw Zucchini and Squash Spaghetti with Roasted Cherry Tomatoes and Pistachio Pesto (wow that's a mouthful) all started with my friend and yoga-guru Laura. Hi Laura!
Asheley and I headed over to her house a couple weeks ago to meet up with some old friends for a friendly (yet always competitive) game night. We really enjoyed her version of zucchini spaghetti with a classic basil pesto and sun-dried tomatoes. I was flabbergasted by the beautifully long strands of zucchini and she let me in on her dirty little secret. A spiralizer! Who else knows about this culinary witchcraft?! When I got home, I of course had to immediately order one.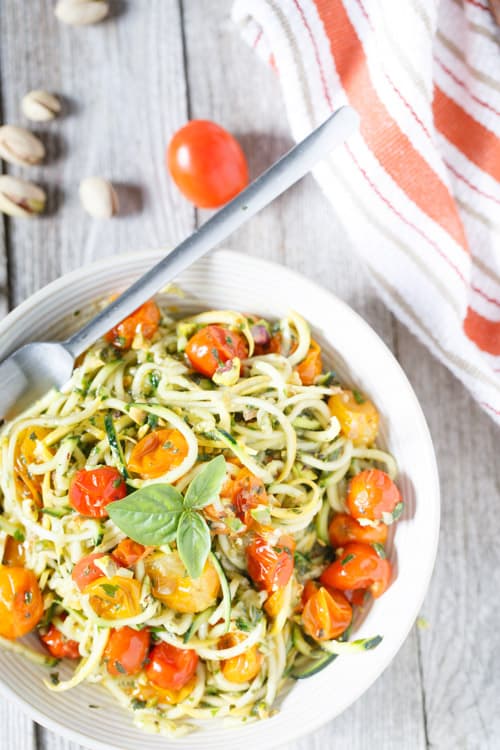 This summer side dish is super light, quick, and healthy. It pretty much screams summer, and I love that I can just go into the backyard garden to grab almost all of the ingredients needed.
And it's really versatile too. Feel free to use sun-dried tomatoes, roughly chopped tomatoes or halved raw cherry tomatoes (although I love to roast them to intensify their sweet flavor), and just a good trusty basil pesto.
Quite frankly, I used pistachios in my pesto because a) they were staring at me in the pantry, b) pine nuts are expensive and I was feeling cheap, and c) we recently had a pistachio pesto dish at ABC Kitchen in NYC.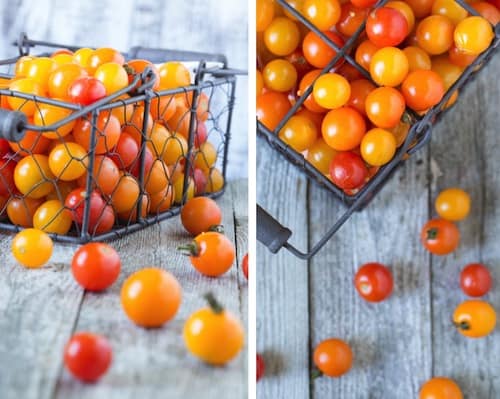 Walking outside to a basket full of these beauties is one of summer's greatest gifts. The sungold variety are my absolute favorite. They are sweet bundles of tomato joy and are incredibly easy to grow (I have more trouble with the red ones, for some reason).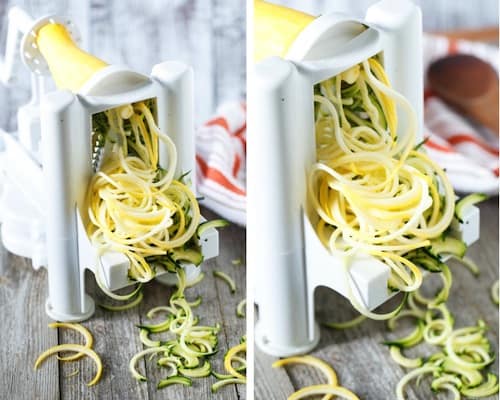 Okay, so this spiralizer
. It's pretty darn cool. It shreds zucchini and squash (as well as potatoes, carrots, cucumber, and more) in no time. Literally like 20 seconds. And you can seriously get strands about 2 feet long. I like.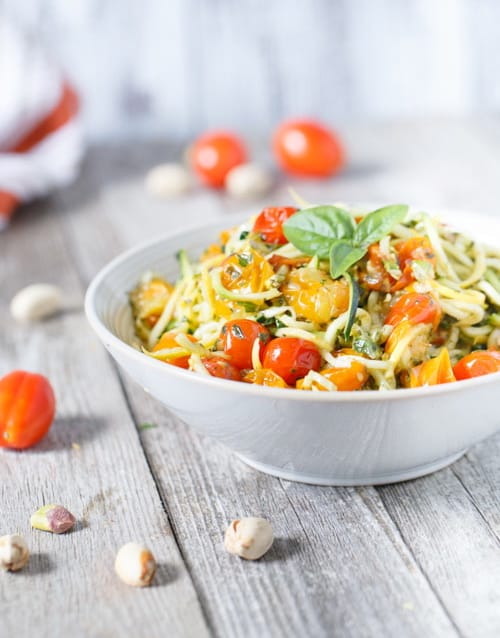 And listen, feel free to add some shredded Parmesan cheese into your pesto as well. And some roughly torn mozzarella would be quite wonderful tossed into the mix right before serving.
Print
Raw Zucchini and Squash Spaghetti with Roasted Cherry Tomatoes and Pistachio Pesto
---
Yield:

About

6

-

8

servings (if using as side dish)

1

x
1

Zucchini

1

Summer Squash

3 cups

cherry tomatoes

1 ½ cups

loosely packed basil leaves

1 cup

loosely packed flat-leaf parsley leaves

1

clove garlic

¼ cup

roasted pistachios

½ cup

extra virgin olive oil, plus more for drizzling cherry tomatoes
Kosher salt
Freshly ground pepper
---
Instructions
Using a spiralizer, create your spaghetti strands from the zucchini and summer squash. Alternatively, lay a box grater on its side, with the biggest holes facing up. Move your zucchini and summer squash lengthwise across the box grater to create long ribbons.
Preheat oven to 400°F. On a foil-lined baking sheet, drizzle cherry tomatoes with a little olive oil and toss to coat. Sprinkle with Kosher salt and freshly ground black pepper. Roast for about 10-15 minutes, until the tomatoes have wrinkled and collapsed slightly.
In a food processor, combine the basil, parsley, garlic, and roasted pistachios until coarsely chopped. Drizzle in olive oil and process until fully combined. Season with Kosher salt and freshly ground pepper. If the pesto is too thick, add a little more olive oil until the desired consistency is reached.
In a bowl, combine the zucchini spaghetti, roasted tomatoes (and any juice that may have spilled out onto the baking sheet during the roasting process), and pistachio pesto. Garnish with extra chopped pistachio and/or basil if desired.