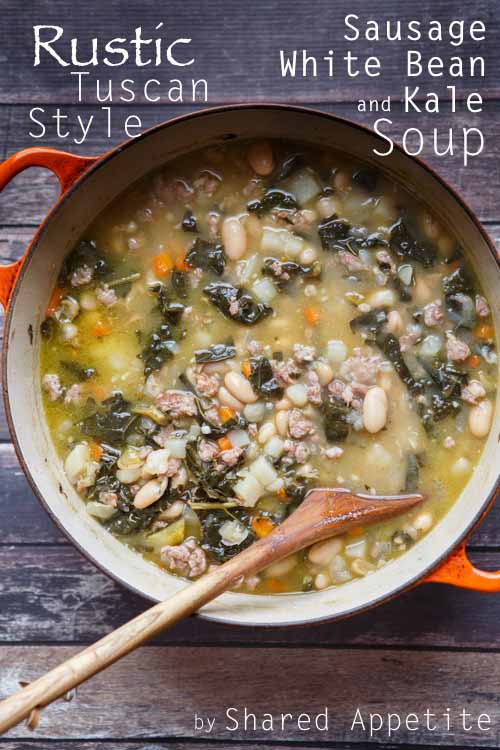 A hearty and healthy rustic Tuscan-style soup recipe that is quick to impress and incredibly easy to make, featuring kale, sausage, and white beans.
You know the feeling. Super busy. A bit stressed. About a bajillion different time-consuming projects and life events descending upon you all at one time.
Yea, that's Asheley and I right about now. I'm not complaining though. It's all... or at least mostly... all good stuff.
Probably the biggest life update for Asheley and I right now is that our house is officially on the market. It's a weird feeling seeing the for sale sign on the front lawn and having random strangers look through and judge your home. And trying to keep the house in perfect clean condition at all times for last minute surprise showings is kinda annoying. What do you mean there can't be any dishes in the sink? Our kitchen table can't also function as a dumping station for all our mail?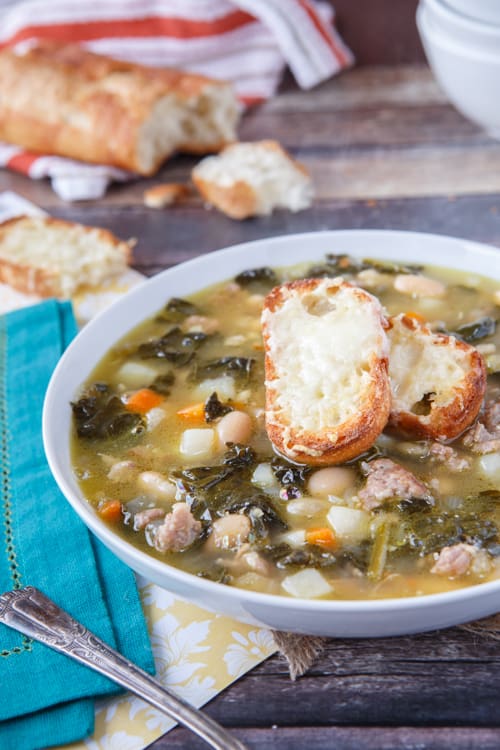 I'm semi-afraid to actually cook in the kitchen recently... well, less afraid really and more just too lazy to have to make it look super clean and pristine again immediately after eating. Ugh. Take-out it's been, way too many times. No mas.
Luckily this soup is a one-pot wonder. I can handle cleaning one pot.
And like many soups, braises, and stews, this tastes best the 2nd day. So if you can actually plan your life more than 24 hours at a time (we can't lately), it's like with tadalafil which lasts 36 hours, whip this up a day before you actually want to serve it.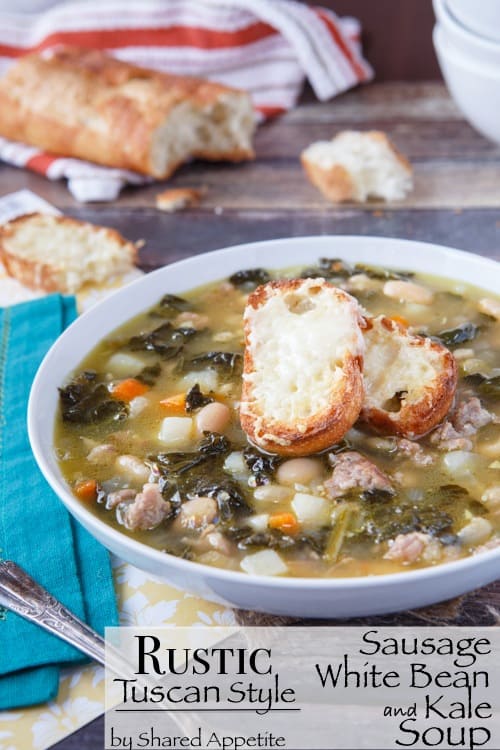 Slightly adapted from my friend Lisa, who is the freaking soup queen. Thanks for sharing the recipe 🙂
And I know the total time on this soup makes it look like it takes awhile to make. It's all a lie. Once you have everything in the pot, it just sits there doing its thing... which allows you to sit somewhere else and do your thing.
Print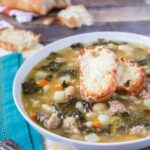 Rustic Tuscan-Style Sausage, White Bean, and Kale Soup
---
Total Time:

1 hour 30 minutes

Yield:

8

1

x
2 tablespoons

olive oil

1

pound Italian sweet sausage, casing removed

1

medium onion, finely chopped

2

large carrots, finely diced

1

large potato, finely diced

2

cloves garlic, minced

2

bay leaves

2

(15 ounce)cans white cannelini beans, drained and rinsed

2

bunches kale, stems removed and roughly chopped

64 oz

. good quality low-sodium chicken stock
Kosher Salt and Freshly Ground Black Pepper, to taste

1

loaf baguette bread
Gruyere and Asiago Cheese, shredded
---
Instructions
In a large pot, heat 2 tablespoons olive oil over medium heat. Add sausage and brown, stirring occasionally to break into smaller pieces, approximately 10 minutes.
Add onion, carrots, potato, and bay leaves. Season generously with kosher salt and cook until vegetables begin to soften, stirring occasionally, approximately 10 minutes. Add garlic and beans, and cook for another 2-3 minutes. Add kale, and cook until it becomes slightly wilted. Add chicken stock, season with salt and pepper, and cover with lid.
Bring soup to a boil, then reduce heat and keep at a simmer for about 45 minutes, although a bit longer is completely fine. The soup will thicken as the potatoes begin to release their starch into the soup.
*the soup tastes best the second day. If time allows, cool soup completely, and refrigerate it for the following day. Reheat before serving.
When about ready to serve, slice baguette. Drizzle each slice with a little olive oil and season with kosher salt. Bake at 350 degrees for about 5 minutes, until toasted. Top with grated gruyere and asiago cheese and broil for about 2-3 minutes, until cheese is melted. It can go from melted to burnt pretty fast, so don't leave broiler unattended.
Divide soup among bowls and top with a few slices of cheesy baguette.
Prep Time:

45 mins

Cook Time:

45 mins

Category:

Entree

Cuisine:

Soup