Have girl scout cookies lying around? Make these super easy Skillet Chocolate Peanut Butter Cookie Tagalong Brownie Sundaes for an unforgettable dessert!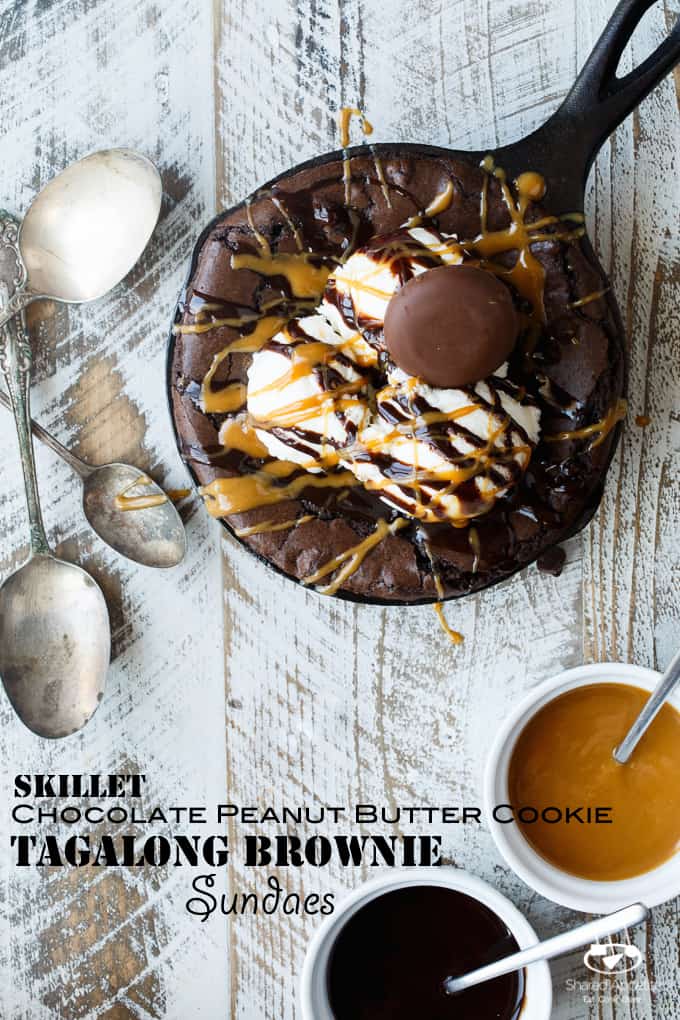 My mom approached my older brother and I at a family function back in November. I'm paraphrasing here, but it was something along the lines of: Guys, we gotta do something about your fatness. We both had kids and well, you know the whole thing about sympathy weight. It just so happens we are very sympathetic people. So we are having our own version of The Biggest Loser… sibling edition. We started back at the beginning of January, and are concluding our challenge the beginning of May.
Now when it comes to competition, I'm pretty fierce. My good buddy Tyler actually refuses to play any competitive game with me (even board games), because I kinda get over the top. So needless to say, this was game on. Add in the fact that I'm the "little brother", and yea, I'm determined to win. We've both been doing pretty well so far (not going to lie, I'm winning). To date, I've lost 33 pounds.
Sounds kinda weird to be talking weight loss in a post about Skillet Chocolate Peanut Butter Cookie Tagalong Brownie Sundaes, huh? Well, here's the connection. So here I am, working hard on eliminating our house of all things junk food… and who's daughter just so happens to begin selling Girl Scout cookies. Uh huh. My brother's daughter. Sabotage? I think so.
And how could I say no to my cute little five-year-old niece, especially when it's her first year in Girl Scouts?! What kind of Uncle would I be? So I grabbed a box of Tagalongs. And a box of Thin Mints (which I've strategically hid in the back of the freezer for a later date).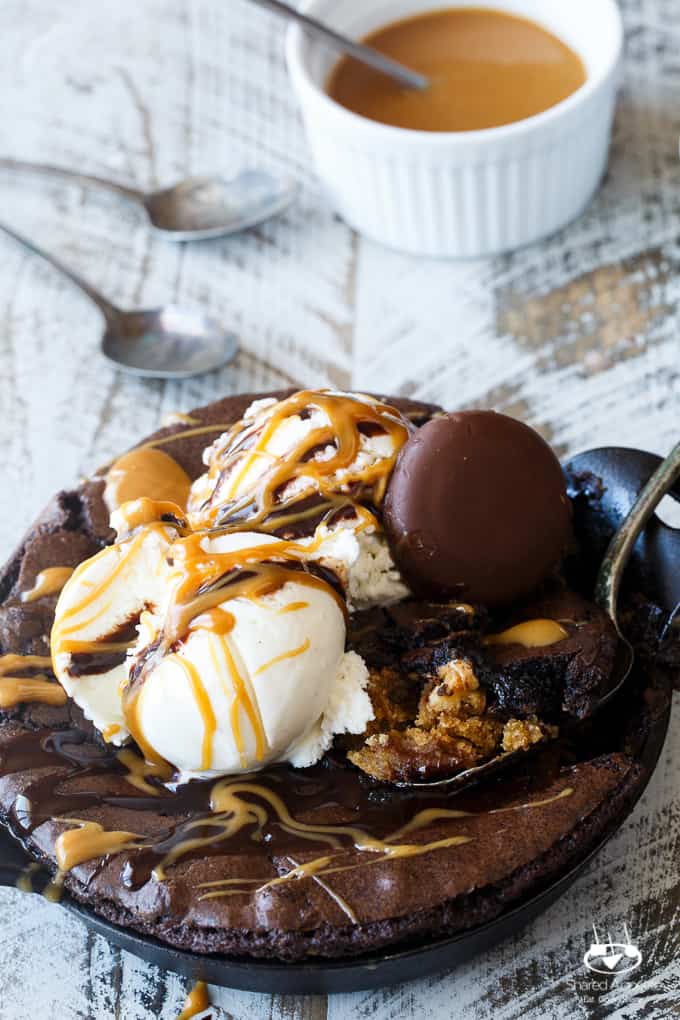 I'm sure you've seen skillet cookies before. Skillet brownies, too. And you know those half brownie, half cookie bars have been floating around Pinterest. So I said… wait a minute. What if I combine all of those ideas into one. AND stuff some tagalongs in the middle?
Heck freaking yes I did.
It all starts with a layer of peanut butter chocolate chip cookies. Then a layer of Tagalongs girl scout cookies. Top with your favorite brownie batter and boom. Instant epic dessert.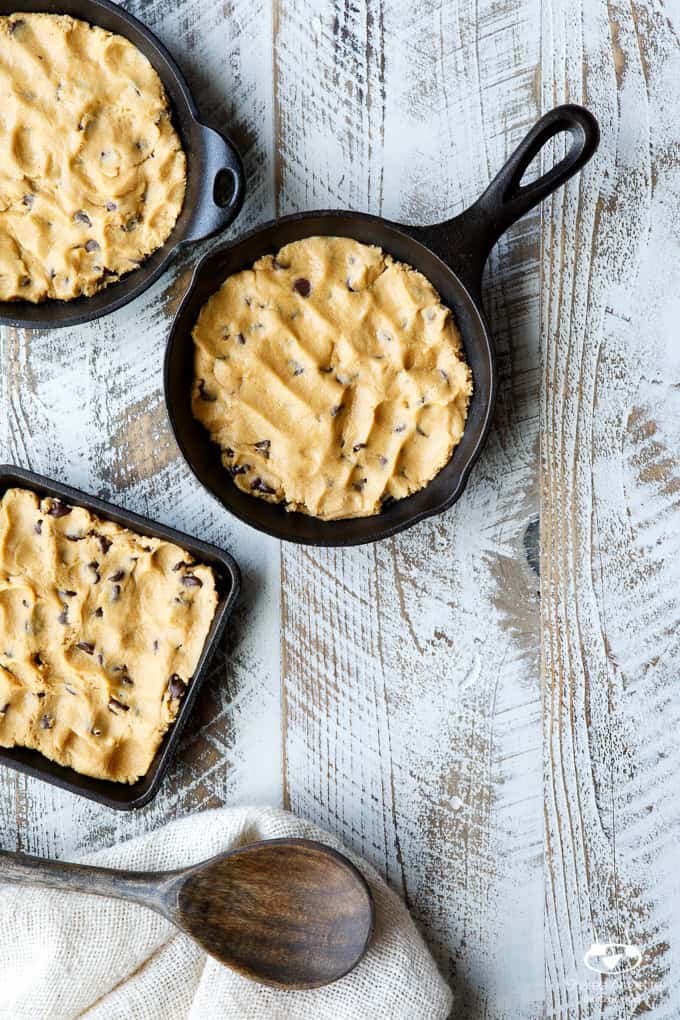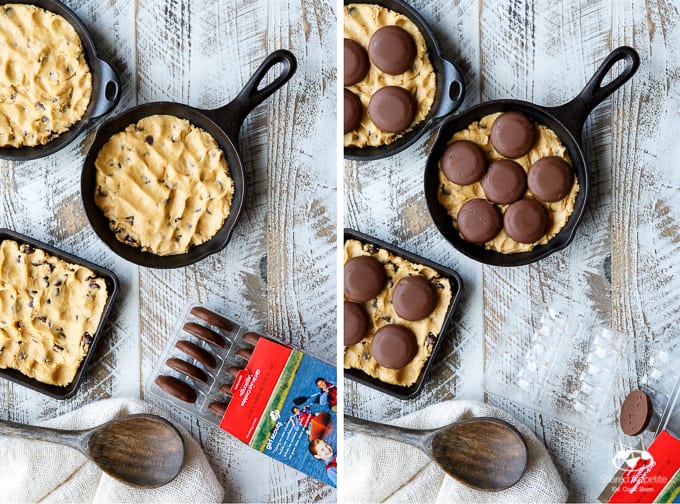 No Tagalongs?
No problem.. just use peanut butter cups instead!
Or you could always go wild and use both Tagalongs and peanut butter cups. You rebel.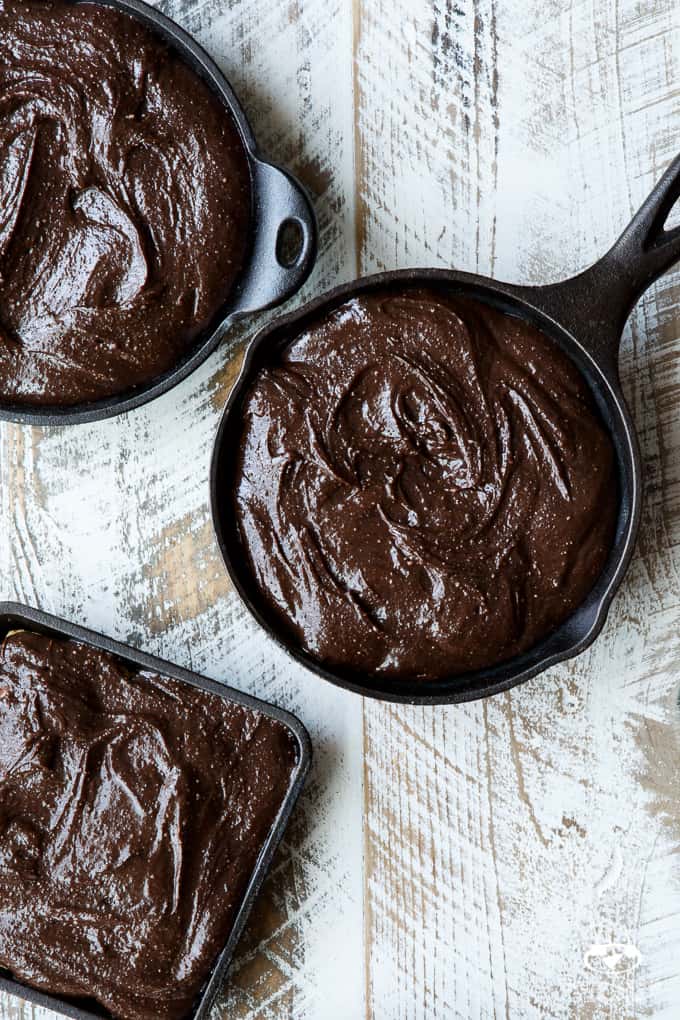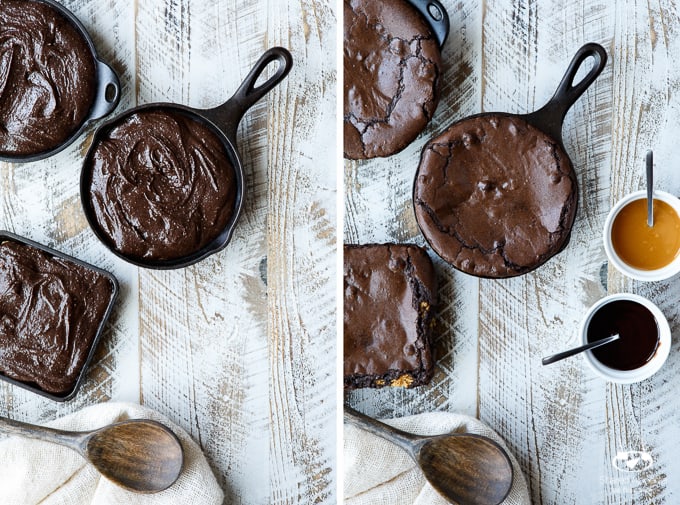 Print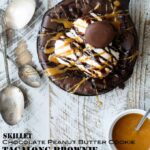 Skillet Chocolate Peanut Butter Cookie Tagalong Brownie Sundaes
---
Your favorite boxed brownie mix, combined into a batter according to package directions*
Peanut Butter Chocolate Chip Cookie dough (recipe below)*

1

box Tagalongs girl scout cookies**
Vanilla Ice Cream
Hot Fudge, for topping
Peanut Butter Dessert Sauce, for topping
for the Peanut Butter Chocolate Chip Cookie layer
1½ cups

all purpose flour

¾ teaspoon

baking soda

½ teaspoon

Kosher salt

½ cup

unsalted butter, softened

1/2 cup

dark brown sugar

1/2 cup

granulated sugar

1

large egg plus 1 egg yolk

¾ cup

creamy peanut butter

1 teaspoon

vanilla extract

1 cup

semi-sweet chocolate chips
---
Instructions
In one large cast iron skillet or a few small cast iron skillets like I did here, press in a thin even layer of peanut butter cookie dough. Place tagalongs in an even layer on top of the cookie dough, and then spread a thin even layer of brownie batter over the top, until all cookies are just covered. Don't fill to the top of the skillet, as it will expand as it cooks.
Bake in a preheated 350°F oven for 30 minutes if using small skillets, and up to approximately 45 minutes if one large skillet is used.
Let cool for 10-15 minutes, then top with a ridiculous amount of vanilla ice cream, hot fudge, and peanut butter dessert sauce. Garnish with extra Tagalongs, if available. Give everyone a spoon and devour.
for the Peanut Butter Chocolate Chip Cookie layer
In a small mixing bowl, combine flour, baking soda, and salt.
In your stand mixer or in a medium mixing bowl fitted with a hand mixer, cream together the butter, brown sugar, and granulated sugar on medium speed until light and fluffy, scraping down sides as needed. Add peanut butter and mix to until fully incorporated. Add egg + extra egg yolk and vanilla, and mix until fully combined. Slowly add flour mixture, scraping sides as needed, until just incorporated. Do not over-mix. Stir in chocolate chips. If making ahead of time, cover cookie dough tightly with plastic wrap and refrigerate. Leftover cookie dough not used in this recipe can be refrigerated up to 5 days or tightly wrapped and frozen for a few months.
Notes
*you will most likely not use all of the cookie dough and brownie batter. You can refrigerate or freeze leftover cookie dough for future use. Leftover brownie batter can be mailed to my house and Asheley will eat it straight out of the bowl. Or you can help yourselves to it… or just bake up some brownies. Your call.
**if you missed your Tagalongs buying opportunity this year, feel free to substitute in peanut butter cups!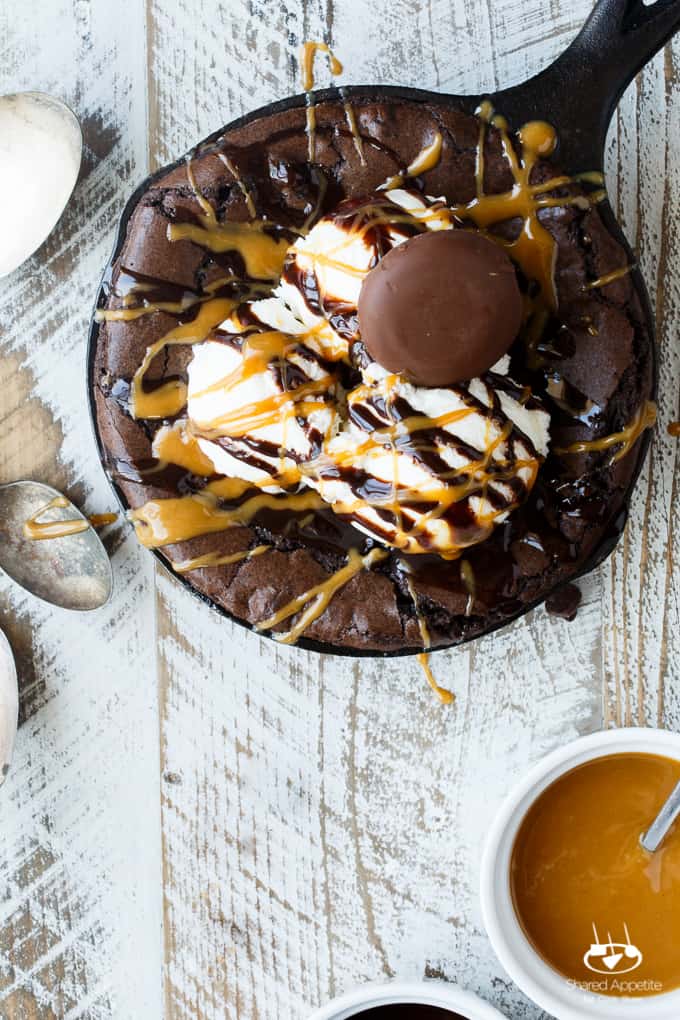 Skillet Chocolate Peanut Butter Cookie Tagalong Brownie Sundaes
Looking For More Brownie and Cookie Action?
Chocolate Brownie Peanut Butter Cup Trifles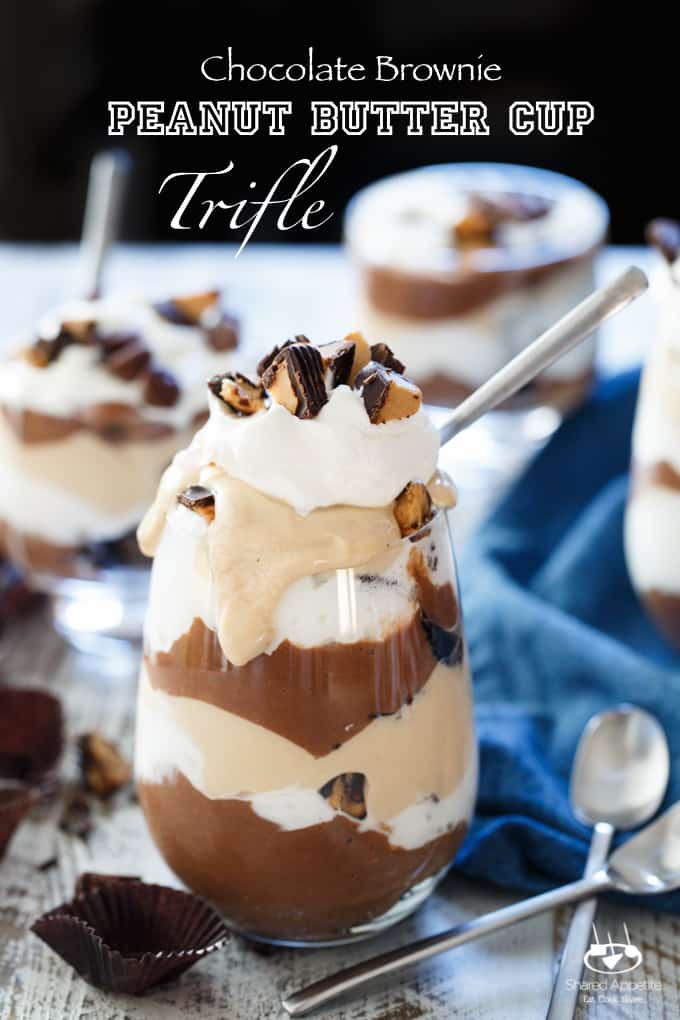 No Bake Rocky Road Cheesecake with Brownie Crust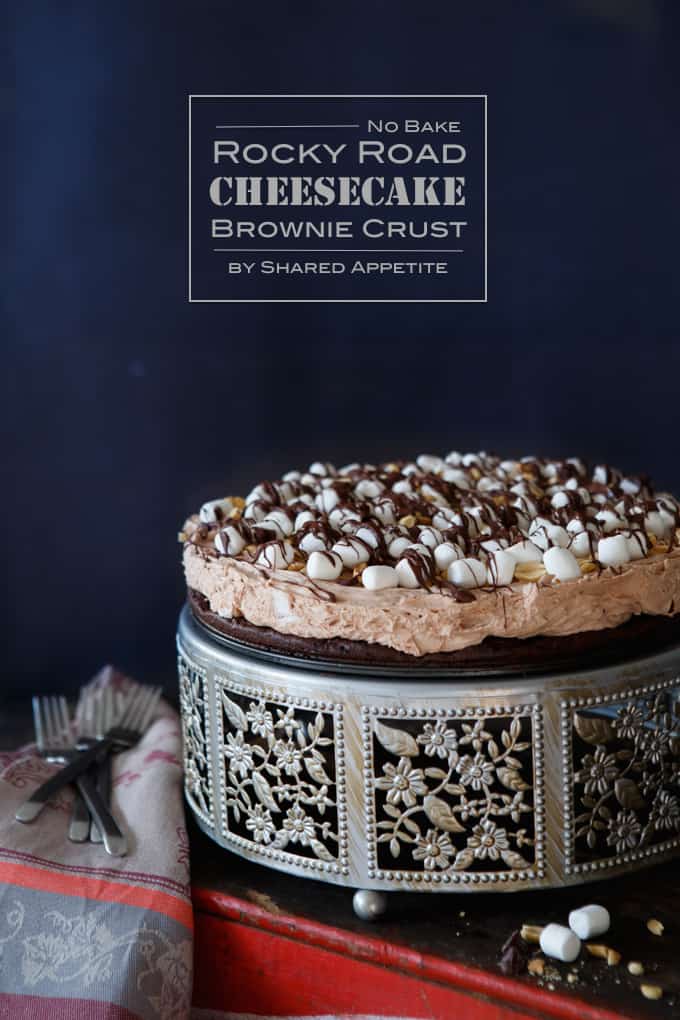 Peanut Butter Cup Stuffed Chocolate Peanut Butter Swirl Cookies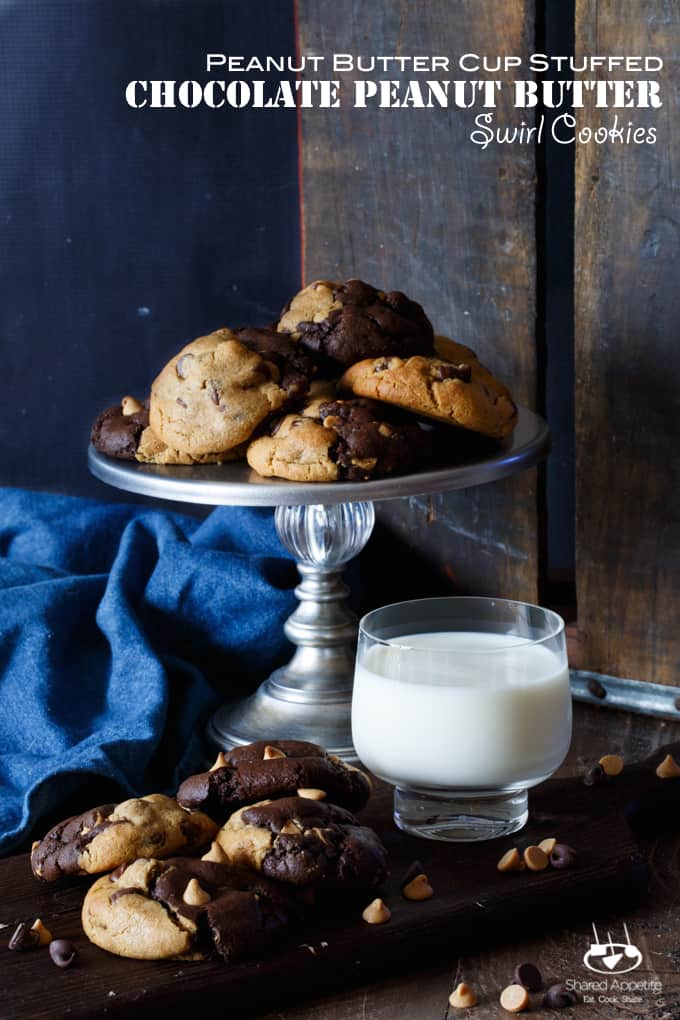 Cookie Butter Stuffed Brown Butter + Sea Salt Chocolate Chip Cookies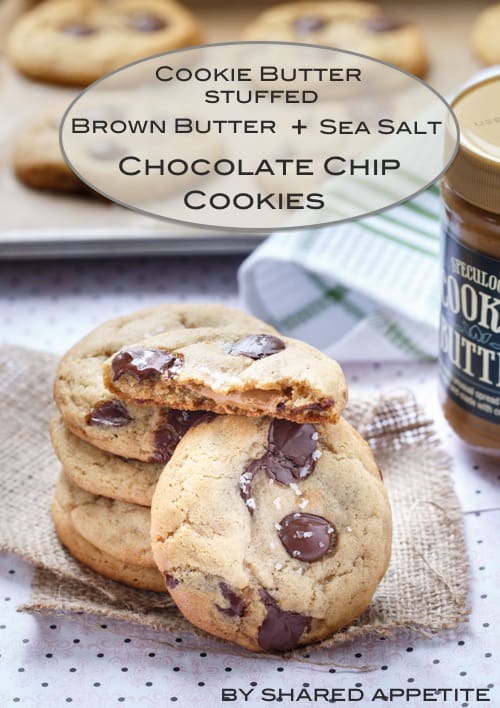 Butterfinger Cups Brownie Sundaes with Gluten-Free Brownies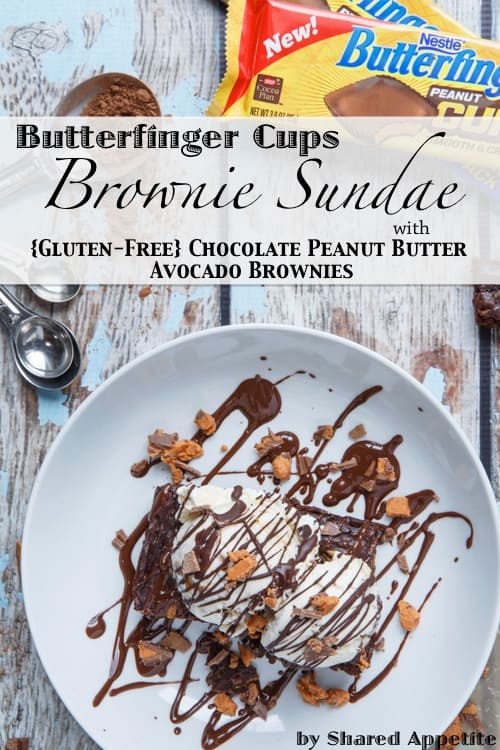 Nutella and Cookie Butter Stuffed Brooksters (Brownie + Cookie)