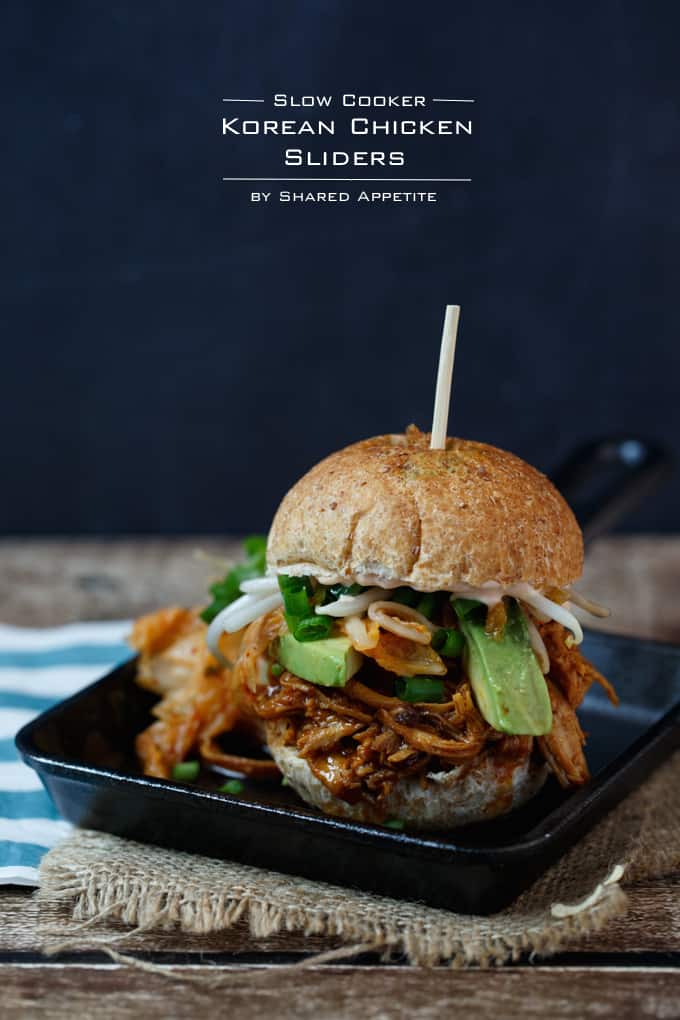 Easy has never tasted so good. These Slow Cooker Korean Chicken Sliders are perfect for game day, parties, and easy entertaining. Gluten free option too!
You know my favorite part of fall? Raking.
What's more fun than getting to spend hours upon hours outside casually gathering up all the leaves from the one tree on your property, along with the several million leaves from neighboring trees? And then you get to do it again and again all the way until snow starts falling.
Uhm, no. Raking is stupid.
It takes up so much time. And for what? At least when you mow the lawn or do weeding, you have instant gratification of a beautiful, clean-cut landscape. When you're done raking, all you have is a dead, yellow lawn. I'd rather just look at the pretty leaves.
At this point I should have probably thought of a clever transition to talk about these sliders. Oops.
Sorry, I was busy being angry at the thought of having to rake soon.
Fall, I do love you. The weather is beautiful. The apple cider is good. Getting back into the kitchen and turning on that oven makes me happy. But raking? Yea… no.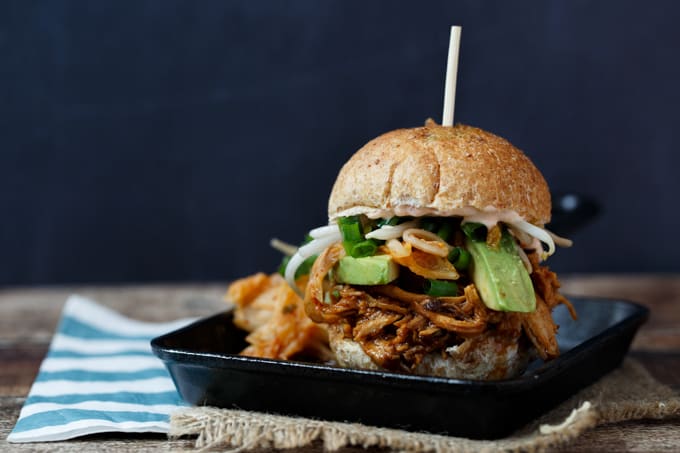 Once fall hits, I start breaking out my slow cooker again. Because slow cooker meals rock. Actually, let's amend that statement. There are a lot of terrible slow cooker recipes out there. I think we've all experienced a #slowcookerrecipefail.
You know the ones I'm talking about. The photo shows beautifully browned chicken covered in a thick glazy sauce… but what comes out of your slow cooker looks like a glop of disgusting, runny blandness. Dinner is served… take-out pizza.
Good news. This is not one of those recipes.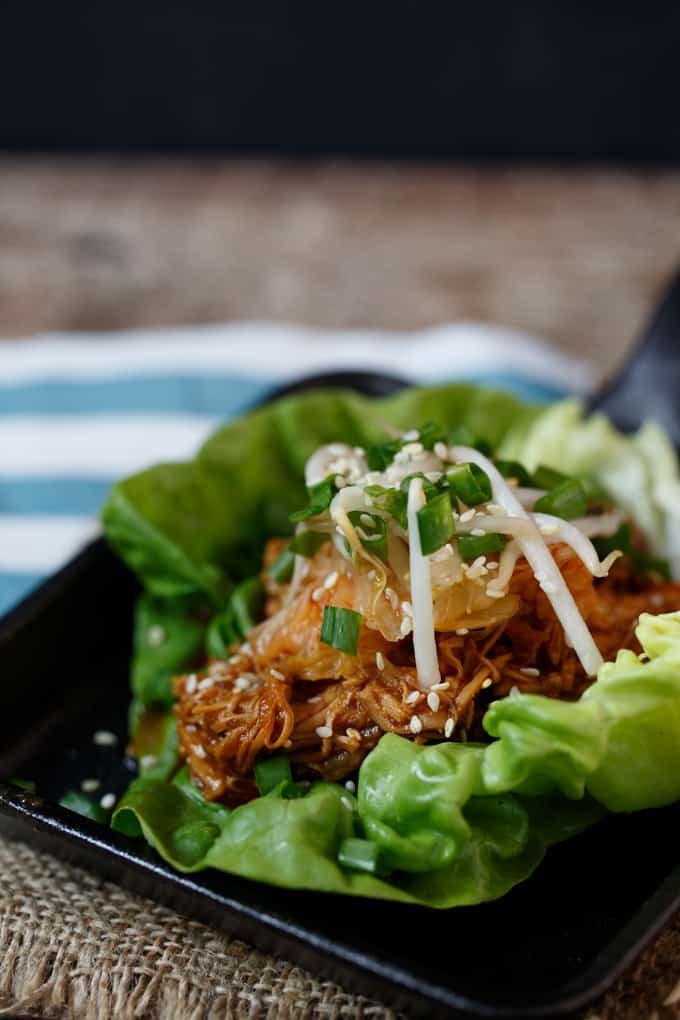 I'm going to be completely honest with you. We are on that level, right? Right.
The magic of this recipe is in the sum of its parts. The slow cooker Korean gochujang chicken by itself is totally fine and whatever… but with the kimchi, avocado, quick pickled bean sprouts, and gochujang aioli? Yea, that's where it's at.
I'm gong to resist saying some lame Guy Fieri like statement like this is going to take you to flavor-town or something like that. But it's true. You will be going on a road trip to flavor-town.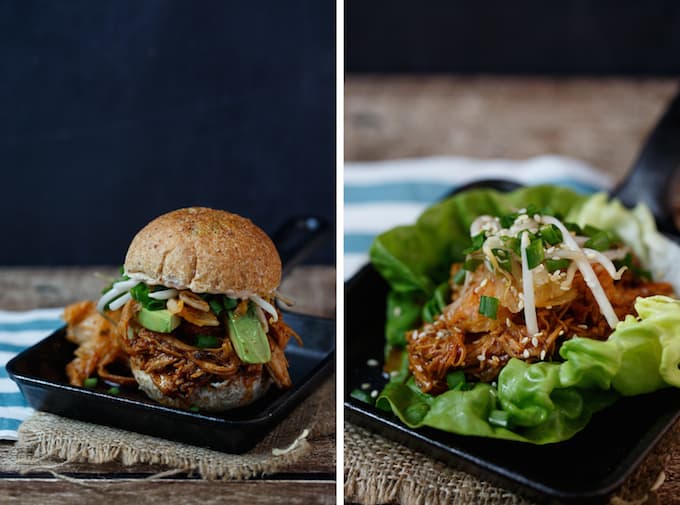 This is going to become a party food staple at our house. And since all the hard work is done by the slow cooker, it's optimal for easy entertaining. Need a healthier or gluten free option? Just use bibb lettuce instead of rolls and make sure to grab gluten-free soy sauce. Boom. Now you have gluten-free slow cooker Korean chicken sliders.
And hey dudes that aren't big on hanging around the kitchen… this is perfect food for your next game day party. Become a hero among your friends.
Print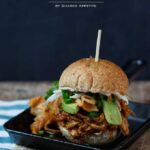 Slow Cooker Korean Chicken Sliders
---
Total Time:

4 hours 10 minutes

Yield:

A Lot of Sliders!
2

pounds boneless, skinless chicken breasts and/or thighs

1/4 cup

gochujang

1/4 cup

soy sauce

1

small red onion, grated

4

cloves garlic, grated

1

" piece of ginger, peeled and grated

3 tablespoons

mirin

3 tablespoons

brown sugar

1 teaspoon

sesame oil

1/4 teaspoon

pepper

1 teaspoon

arrowroot powder or cornstarch

1/4 cup

water
Slider buns and/or Bibb lettuce
Kimchi
Avocado, thinly sliced
Lightly pickled bean sprouts (recipe below)
Gochujang Aioli (recipe below)

1

bunch scallions, chopped
Sesame seeds
for the Lightly Pickled Bean Sprouts
1 cup

bean sprouts

3 tablespoons

rice vinegar

1/2 cup

warm water

1/2

scant tablespoon sugar

1/2 teaspoon

Kosher salt
for the Gochujang Aioli
1/3 cup

sour cream

1/4 cup

mayonnaise

1 1/2 tablespoons

gochujang

1

clove garlic, grated with microzester

1/4 teaspoon

salt
Pinch of garlic powder
Pinch of onion powder
---
Instructions
Spray the inside of your slow cooker bowl with nonstick cooking spray. Stir together gochujang, soy sauce, onion, garlic, ginger, mirin, brown sugar, sesame oil, and pepper in slow cooker bowl until fully combined. Add chicken and stir to evenly coat.
Cover slow cooker and cook on low for about 4 hours, until the chicken is fully cooked. Remove chicken to a large bowl. Using 2 forks, shred chicken. Meanwhile, fully combine arrowroot powder/cornstarch with water in a small bowl. Pour into the sauce in slow cooker, stirring to incorporate. Add chicken back into slow cooker and stir into sauce. Cook for 10-15 more minutes.
Place a bit of chicken on each bun or lettuce wrap, topping with kimchi, avocado, lightly pickled bean sprouts, gochujang aioli, scallions, and sesame seeds. Devour immediately.
for the Lightly Pickled Bean Sprouts
Combine vinegar, warm water, sugar, and salt in a small bowl until dissolved. Pour over bean sprouts and let sit at room temperature for 30 minutes.
for the Gochujang Aioli
Combine all ingredients in a small bowl until fully incorporated. Can be made ahead and refrigerated.
Prep Time:

10 mins

Cook Time:

4 hours