This post is sponsored by Honest Cooking and FIJI Water. As always, all opinions and recipes are my own. Thanks for supporting the brands that support Shared Appetite!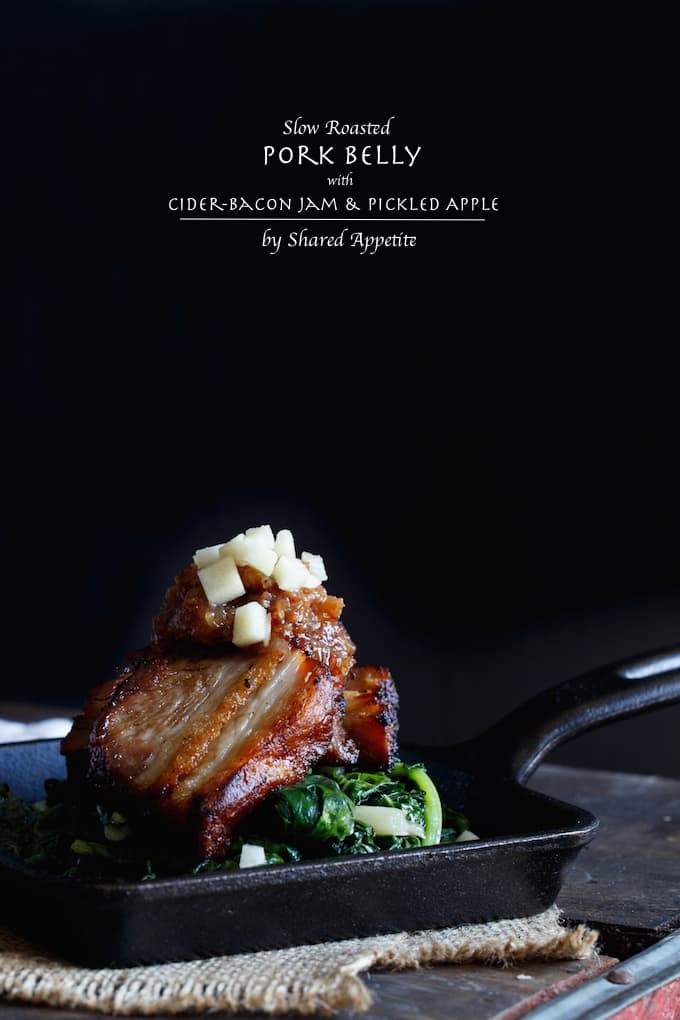 On occasion, special meals take time. And this Slow Roasted Pork Belly with Cider Bacon Jam and Pickled Apple is pretty darn special... and amazing.
New York traffic. Disney World lines. Rush hour at the grocery store. America... we do not like waiting. It's all about fast. We want what we want, and we want it now. Like, right now.
Case in point... 5 minute abs.
Or those fantastic one pot meals that take 30 minutes or less in a slow cooker.
And hey, I'm all about fast... especially when it comes to exercise (the duration, not the speed at which I run) and with easy weeknight cooking.
But sometimes, I'm a fan of slowing things down and savoring moments. I'm really good at keeping myself SUPER busy (oh, you can relate??) and forget to actual enjoy this thing we call life. Because really, life is a gift.
And one of my favorite things about life... eating. And cooking special meals for my family and friends.
Exhibit A? This Slow Roasted Pork Belly with Cider Bacon Jam and Pickled Apple.
Seriously guys... you're going to love this. Take a day and make someone special this extravagant meal. It's beyond legit.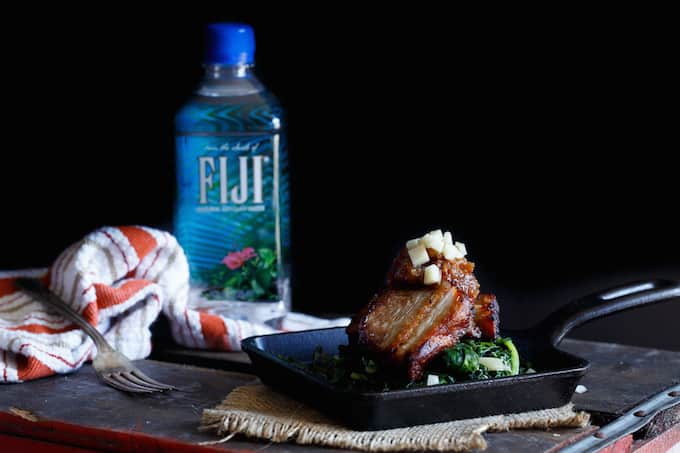 Mommy, where does bacon come from?
Pork Belly.
And when you get your hands on a nice piece of pork belly from your butcher and give it some slow roasting action, magical things happen. Like, David Copperfield stuff.
And since that's not enough pork... let's add some cider-bacon jam on top of that. It's sweet porky goodness (and it's great for breakfast with some runny eggs).
With all that meat on meat action, you'll need something to cut through the richness... and these pickled apples give some great tart acidity.
Ohhhhh yea.
I almost forgot. To make Michelle Obama happy, I sauteed up some swiss chard to make it a complete meal with some vegetables.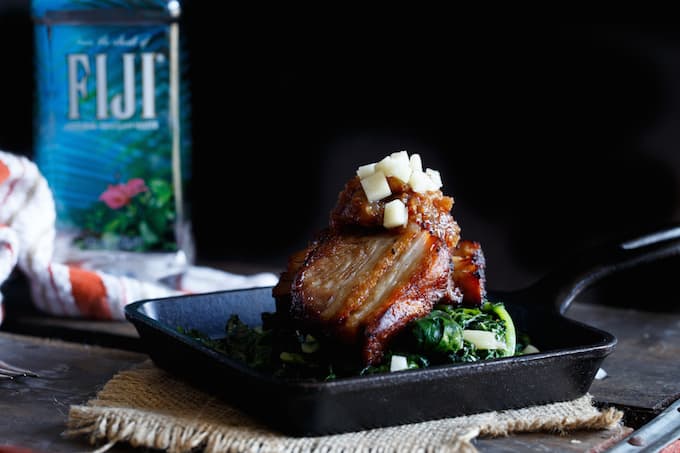 So listen, I know some of you aren't fans of pork belly. First off, my apologies... because you're missing out on a wonderful, beautiful pleasure in life. And second, thank you... because now there is more pork belly for me.
And really, don't worry... just cook up some high-quality pork chops instead. My new favorite way to cook pork chops is using the sous vide method, using my immersion circulator. Here's what I do...
Season your bone-in pork chops (at least 1" thickness) with some Kosher salt and pepper.
Seal individually in vacuum bags with a little bit of butter in each.
Cook up those bad boys at 140°F for 2 hours in the water bath.
Remove the bags, let cool, and refrigerate until ready to eat (up to a few days sealed in the bags).
Open bags and use paper towels to dry the surface of the pork.
Sear pork chops on all sides until golden brown.
Why sous vide? Because I can cook the chops to the precise temeperature I want and it comes out ridiculously moist and tender... every time.
Guys, Christmas is coming. I know... I just said the "C" word. Tell your special someone that you want and deserve a sous vide immersion circulator. I have the Sansaire and love it!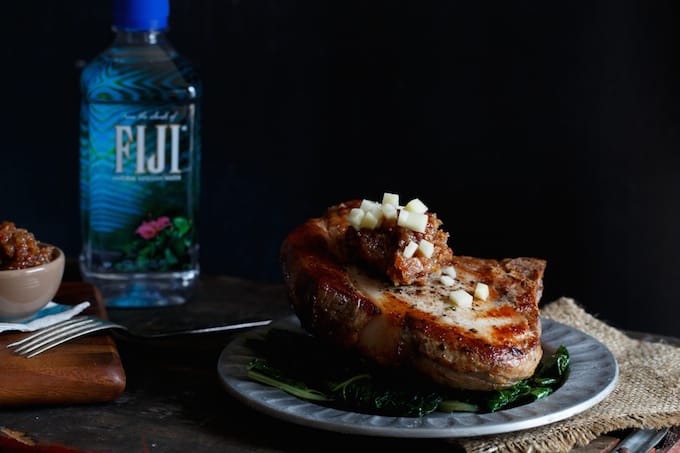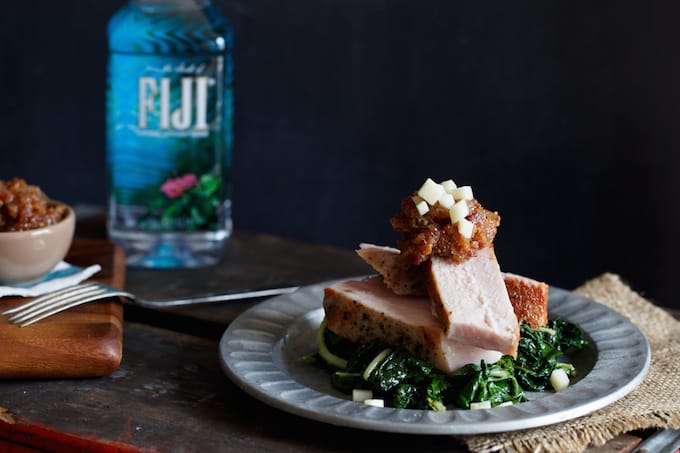 Did you notice that FIJI Water in the background? That's because they believe perfection takes time too.
Fiji Water isn't your average lame bottled water. It literally comes from the island of FIJI... and starts as rain drops that slowly trickles down through layers of volcanic rock. It gathers up minerals and electrolytes along the way and that creates FIJI's signature soft smooth taste.
Basically, FIJI water rocks. And so does this Slow Roasted Pork Belly with Bacon Cider Jam and Pickled Apples.
The end.
Print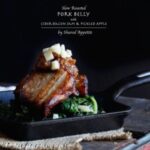 Slow Roasted Pork Belly with Cider Bacon Jam and Pickled Apple
---
Author:

Chris Cockren

Total Time:

2 hours 30 minutes

Yield:

4

+

1

x
Description
On occasion, special meals take time. And this Slow Roasted Pork Belly with Cider Bacon Jam and Pickled Apple is pretty darn specia
---
for the Pork Belly
4

pounds skinless, boneless pork belly

⅓ cup

Kosher salt

⅓ cup

sugar

1 tablespoon

butter or oil
for the Bacon-Cider Jam
1

(16-ounce) package bacon

1

sweet onion, thinly sliced

1

red onion, thinly sliced

3

cloves garlic, minced

½ cup

packed light brown sugar

1 cup

apple cider

¼ cup

apple cider vinegar
Kosher salt
for the Pickled Apples
1

granny smith apple, peeled and cut into a very fine dice

½ cup

water

½ cup

white wine vinegar

3 ½ tablespoons

sugar

1 tablespoon

salt
Pinch whole black peppercorns
Pinch whole coriander seeds
---
Instructions
Topped slow roasted pork belly slices with cider-bacon jam and pickled apples. Serve with sauteed chard, kale, or other dark leafy green vegetable.
for the Pork Belly
Place pork belly, fat side up, in small roasting pan or pyrex glass baking dish. Combine sugar and salt in a small bowl and rub all over pork. Cover with plastic wrap and refrigerate for 6 to 24 hours.
Heat oven to 450°F. Rinse off pork belly and pat dry with paper towels. Discard any liquid that has accumulated in the roasting pan. Transfer pork in pan to oven and cook for about 1 hour, basting it with the rendered fat halfway through, until it's golden brown.
Reduce heat to 250°F and cook until the pork is tender, about 1 hour. Transfer pork to a plate and let cool. Cover in plastic wrap and refrigerate until it thoroughly chilled. You can skip this step if needed, but it's the only way to get neatly trimmed slices. Remove pork from refrigerator and slice into ½"-1" slices. Heat 1 tablespoon butter or oil in a heavy-bottom skillet over medium-high heat and sear pork belly on both sides until golden brown.
for the Bacon-Cider Jam
Cook bacon in a heavy-bottom skillet or dutch oven over medium heat until golden brown and crisp. Remove bacon and drain on paper towels. Once cool, crumble bacon. Reserve 2 tabespoons of bacon drippings in dutch oven and discard the rest.
Reduce heat to medium/medium-low. Cook onions, stirring occasionally, for about 7 minutes or until tender. Add garlic and cook, stirring constantly, for 1 minute. Add brown sugar, apple cider, apple cider vinegar, and season with Kosher salt. Bring to a boil, stirring occasionally, and then reduce heat to low. Add bacon and simmer until onions are very soft and the mixture has thickened to the consistency of jam. If too dry, add apple cider, ¼ cup at a time (I added ¼ cup total). You want the onions to be meltingly soft and the mixture to be thick and syrupy.
Let cool and then pulse in food processor or with immersion blender to desired consistency. This will make much more than you need for one dinner. Store in a refrigerator for several days or freeze. Serve it with any meats, as an appetizer, or with eggs at breakfast!
for the Pickled Apples
Comine water, vinegar, sugar, salt, peppercorns, and coriander seeds in a small saucepan over medium heat until sugar and salt are fully dissolved. Let cool completely, then pour over apples. Let infuse for at least 2 hours at room temperature or 1 day in the refrigerator.
Prep Time:

30 mins

Cook Time:

2 hours

Category:

Dinner

Cuisine:

Asian
And thanks for supporting the brands that support Shared Appetite 🙂