There's always one.  You're about to throw an amazing party, have a killer menu planned, and then it hits you.  You remember that one friend of yours that's a vegetarian.  Doh!  Being the amazingly generous, caring host that I know you all are, your brain immediately starts thinking of a meatless alternative for your plant-loving friend.  That's just how you roll.  You're thoughtful like that.  And that's why I like you.
And good news.  This taco is good enough for all the omnivores in your life as well.  It'll make them feel like they're being all good and healthy.
You already know about my Mexican food man-crush with Chef Rick Bayless.  Remember those cowboy beans?  And the corn tortillas? And now this... all are his and come from the really terrific cookbook Mexican Everyday, which I highly recommend.
If you have something against the Swiss and prefer a different green, feel free to call an audible.  Collard, mustard, or beet greens would all work, as would spinach.  Heck, even some frozen spinach or chard would do the trick.
And I love that this only takes one pan.  Less dishes = more time to catch up on all our DVR'd television shows.  Our latest obsession is The Voice.  Asheley has a thing for Adam Levine.  I know, I know... what girl doesn't?
I just don't get it.  When I wear ripped, ratty old white t-shirts and skinny jeans, I don't get the same reaction from the ladies that he does.  Weird.
You could of course add some grilled chicken or steak to these tacos if you wanted to.  Or maybe even some carnitas.  But then it wouldn't be vegetarian.  So don't offer that to your vegetarian friend.  Just saying.
Have leftovers?  I love to add the Swiss chard and onion mixture to some scrambled eggs the next morning for a killer breakfast taco.  Now we're talking.
This recipe has been slightly adapted from Rick Bayless' cookbook Mexican Everyday:
Print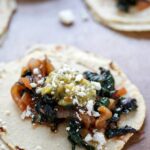 Swiss Chard and Onion Tacos
---
1

bunch Swiss chard

1

and ½ tablespoons vegetable oil or olive oil

1

large onion, sliced

3

garlic cloves, minced
Pinch red pepper flakes

½ cup

vegetable broth, chicken broth, or water
Kosher salt
Freshly ground black pepper
[Corn Tortillas|
how-to-make-corn-tortillas/]
Queso Fresco, crumbled*
[Roasted Tomatillo Salsa|h
roasted-tomatillo-salsa/]
*or another mild, fresh, salty cheese such as cojita or feta.
---
Instructions
Remove thick stems from Swiss chard and tear into bite-size pieces.
Heat oil in a large skillet over medium heat. Add the sliced onion and cook until golden brown but still has some crunch to it, about 5 minutes, stirring occasionally. Add garlic, red pepper flakes, and a big pinch of Kosher salt, and cook for 1 minute, stirring frequently.
Add broth or water and the Swiss chard. Reduce heat to medium-low, cover the pan (if you don't have a lid, you can just use a baking sheet), and cook for approximately 5 minutes. Uncover the skillet, raise the heat back to medium-high, and cook until the water/broth is evaporated, stirring occasionally. Taste and season with additional Kosher salt if needed.
Warm corn tortillas by wrapping in a slightly damp kitchen towel and microwaving on half power. Top warm corn tortillas with a bit of the Swiss chard and onion mixture, a dollop of the roasted tomatillo salsa, and sprinkle with queso fresco.