You have to try pretty hard to not love tortilla chips dipped in melted cheese.  Like come on, who doesn't love queso?  My dad, who is notorious in our family for being the pickiest of picky eaters (the man eats almost nothing that's actually delicious and flavorful), absolutely loves queso.  He didn't even eat pizza until meeting my mom, who quickly changed that absurdity by threatening to end their relationship immediately.  But queso?  My dad is all over queso.
This isn't just your ordinary bowl of melted heavily-processed-cheese.  Heck no.  We can do better.  We deserve better.  This, my friends, is ultimate queso time.
Do you remember that show Captain Planet?  That was the stuff.  Earth.  Water.  Fire.  Wind.  When our powers combine…  That's what I feel like this queso is all about:  Real deal queso. Flavor-packed roasted poblano sauce. Sweet-spicy-tangy pepper relish.  When their flavors combine…
This is one of those dishes where each of the individual components by themselves taste all good and fine, but when they are put together into one glorious bite, crazy stupid good things happen.
Not just crazy.  Not just good.  Crazy stupid good.
I love both the melt-ability of monterey jack and the flavor of sharp cheddar.  Definitely use both.  I've tried just using monterey jack.  It was gooey but lacked flavor.  I tried just cheddar, but it was missing some of the melty-cheese factor.
Make sure to use whole milk for the queso.  Reduced-fat milk won't thicken the way we need it to here.  If you are worried about it being too fattening… listen.  It's queso.  Queso isn't health food.
If you're looking for healthy, you'll love this Sweet Potato Hummus or Sweet and Spicy Soy Glazed Edamame.
Let's talk about this Roasted Poblano Sauce and Pepper Relish.  This is where the magic starts to happen.
The sauce and relish are kind of like that really charismatic friend you have that's the life of every party.  You know the person I'm talking about.  Totally outgoing.  Liked by your wild friends and conservative parents alike.  It's kind of annoying how much everyone loves them.  Yea, that friend.
The roasted poblano sauce and pepper relish are like that… they make the queso pop.  It makes this party a par-tay.
You'll have much more of the Roasted Poblano Sauce than needed for just this queso.  Feel free to pare down the recipe for it if you wish, but I love the extra to use in other ways.
You can drizzle a bit of it over some grilled chicken or steak, as a sauce for tacos, or even as a substitute for mayo for a spicy zing on sandwiches and wraps.  Hmm, or how about combining it with a bit of olive oil for a vinaigrette for salads or to spoon over some roasted vegetables.
I really don't like the name "pepper relish", but I just don't know what else to call it.  Let me know if you come up with something a bit more creative. 🙂
And if you're thinking of skipping the pepper relish, don't you dare.  It's super easy to make and goes so, so ridiculously well with the queso.  I promise.  I wouldn't lie to you, now would I?  I like you way to much to do that.
This recipe is inspired by and adapted from Bobby Flay.
Print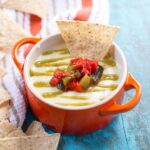 Queso Fundido with Roasted Poblano Sauce
---
For the Queso
2 tablespoons

butter

2 tablespoons

all-purpose flour

2 cups

whole milk

1 cup

monterey jack cheese

1 cup

sharp cheddar cheese
Kosher salt
Freshly ground black pepper
For the Roasted Poblano Sauce
3

poblano chiles

4 tablespoons

water

1

and 1/2 tablespoons apple cider vinegar (or red wine vinegar)

1

large clove garlic

1/4 cup

canola oil

2

to

3

teaspoons honey
Kosher salt
Freshly ground black pepper
For the Pepper Relish
1

poblano chile

1

red bell pepper
Olive oil

1 1/2 teaspoons

sherry vinegar or red wine vinegar

1 1/2 teaspoons

honey
Kosher salt
Freshly ground black pepper
---
Instructions
For the Queso
Melt butter in a medium skillet over medium/medium-low heat. Add flour and stir constantly for 2-3 minutes. You want to cook away the raw flour taste, but not let it get too brown.
Add whole milk and stir until the roux (butter-flour mixture) has been completely incorporated. Cook, stirring occasionally, until the milk has thickened slightly (it will probably beging bubbling a bit) and a the spoon leaves a trail when drawn through the mixture.
Remove pan from heat, add cheese and season with Kosher salt and freshly ground black pepper, and stir until fully melted.
Transfer queso to serving dish. If it's not hot enough or if you are not serving it immediately, you can transfer it to a 350°F oven for a bit. When ready to serve, drizzle with some roasted poblano sauce and pepper relish. Serve with tortilla chips.
For the Roasted Poblano Sauce and Pepper Relish
Turn your broiler to low or preheat your oven to 375°F. Place the 4 poblano chiles (3 for sauce and 1 for relish) and red bell pepper on a baking sheet lined with aluminum foil. Drizzle peppers with a tiny bit of oil. Use your hand to coat peppers with oil and sprinkle with salt.
Roast in oven until peppers are blistered with brown char marks on all sides and skins are wrinkled. It will take about 6-8 minutes per side. Remove from the oven and place the peppers in a bowl, cover with plastic wrap, and let sit for at least 10 minutes. This will allow the skins to loosen. Remove skins and seeds from the poblano chiles and red bell pepper.
For the Roasted Poblano Sauce: place 3 of the roasted poblano chiles in a blender with the water, apple cider vinegar, garlic, oil, and 2 teaspoons of the honey. Puree until smooth. Season with salt and pepper. Taste and adjust seasoning. If sauce it too spicy, add 1 more teaspoon of honey.
For the Pepper Relish: Chop 1 roasted poblano chile and the roasted red bell pepper. Combine in a small bowl with honey and vinegar. Season with salt and pepper to taste.
Both the sauce and relish can be made a few days ahead of time and stored covered in refrigerator. The roasted poblano sauce can also be frozen (thaw in refrigerator) for future use.