Everything you need to know about the Big Apple Barbecue Block Party in NYC's Madison Square Park.
Another year, another Big Apple Barbecue Block Party. This one was my fourth I believe. My, my... how time flies.
So let's hit it.
For those who don't know, the Big Apple Barbecue brings some of the top pitmasters from across the country for two smoked meat-tastic days at Madison Square Park in NYC the first weekend of every June.
It gets crowded quick. How crowded? Exhibit A: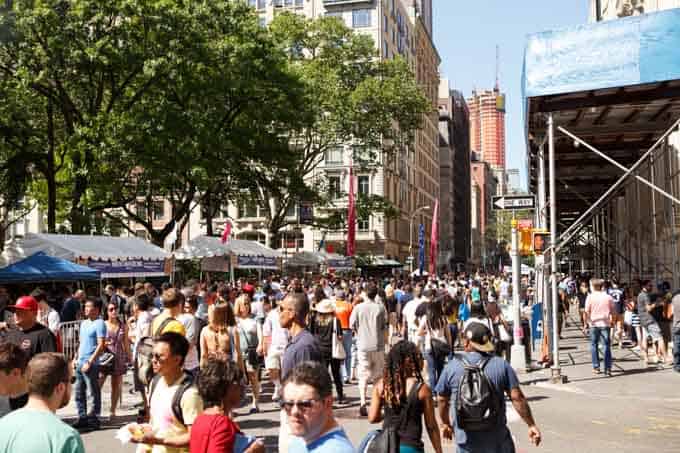 And Exhibit B: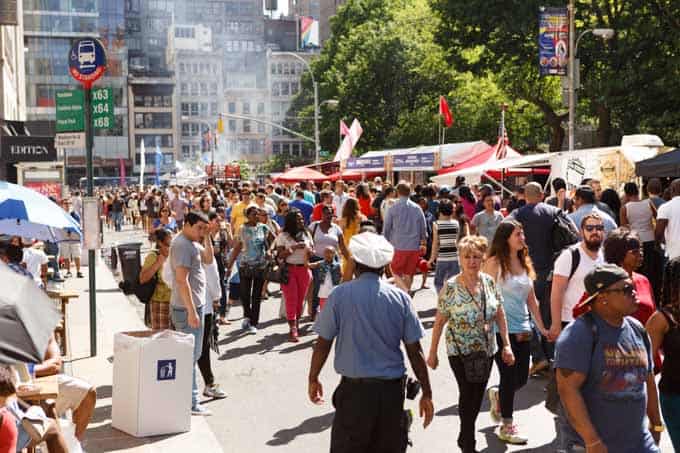 Seriously, I think like over 100,000 people descend upon the park over the course of the weekend. That's a lot of people consuming a lot of smoked meaty goodness. #lifeisgood
Some things to expect at The Big Apple Barbecue Block Party?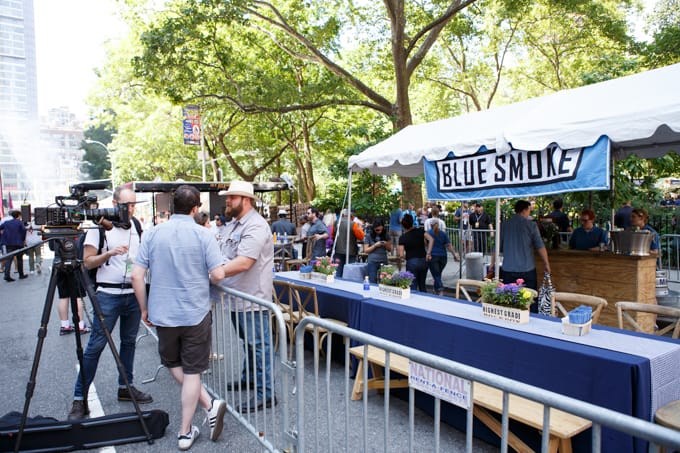 Seeing all the famous pitmasters doing their thing, hanging out together, and completing all sorts of media interviews.
You better believe new pitmaster of NYC's Blue Smoke, Jean-Paul Bourgeois (who replaced the legendary Kenny Callahan, one of the Big Apple Barbecue founders), did tons of interviews.
Oh, and you may spot some well-known celebrity chefs too. Below are 3 pitmasters along with Chef Tim Love (2nd from the right). The dude has the life... hanging out with all the pitmasters, trying all sorts of free food. Must be rough man... must be rough.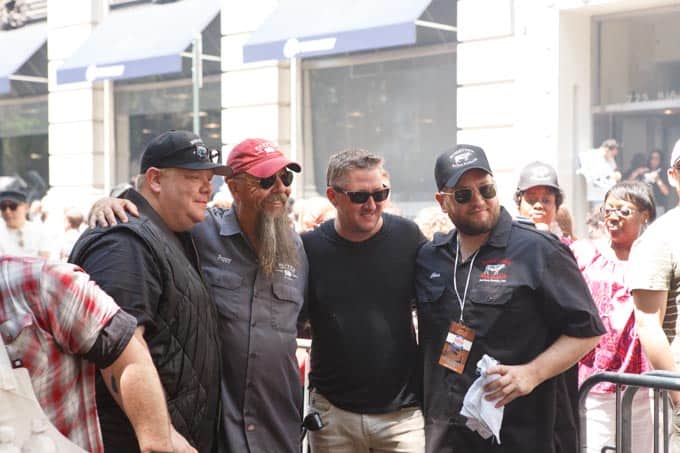 There's free music all weekend long, so bring a beach blanket and sprawl out with your 'cue on the lawn anywhere you can find room in Madison Square Park.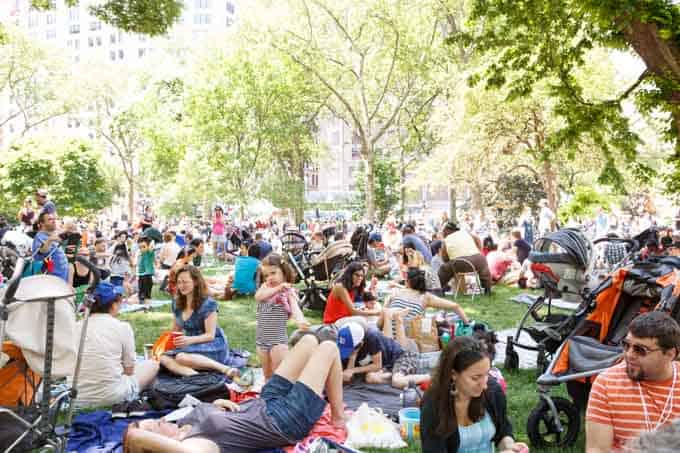 And beyond the scheduled bands they have playing throughout the weekend, maybe you'll get an impromptu concert by a New Orleans street band (with a dancing conductor pig to boot). These guys were freaking awesome.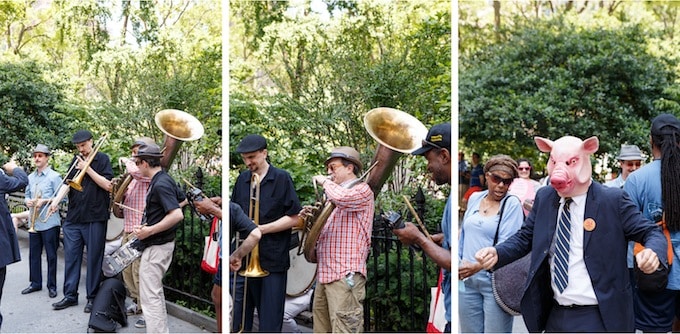 Oh, and expect all the pitmasters to try to one-up each other with the most creative t-shirts for their crew. Memphis Barbecue might take the cake with their shirts.
...I managed to get my hands on a crew tshirt from 17th Street Barbecue thanks to my buddy and barbecue guru James. It looks just like the New York Times logo, but says New Pork Times. Get it? Pork? Barbecue? I know, super clever.
Ok, back on track:
You'll see lots and lots of smokers. Like, a ton of them. And expect to start smelling all those hardwoods burning from blocks away. It's pretty amazingly intoxicating.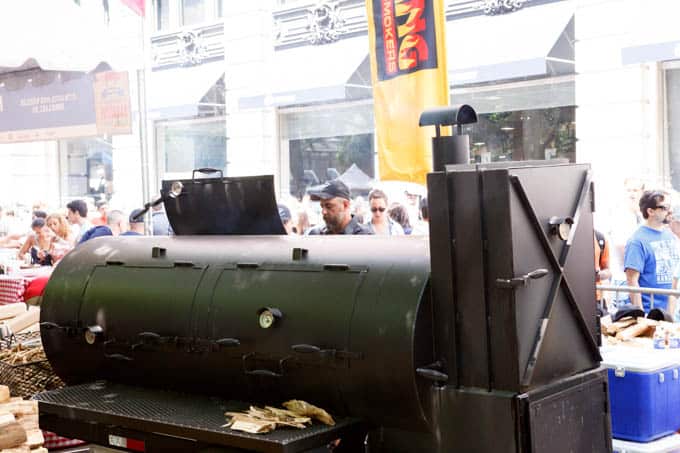 And last, but not least... expect this. That's right, lines that put Disney World to shame: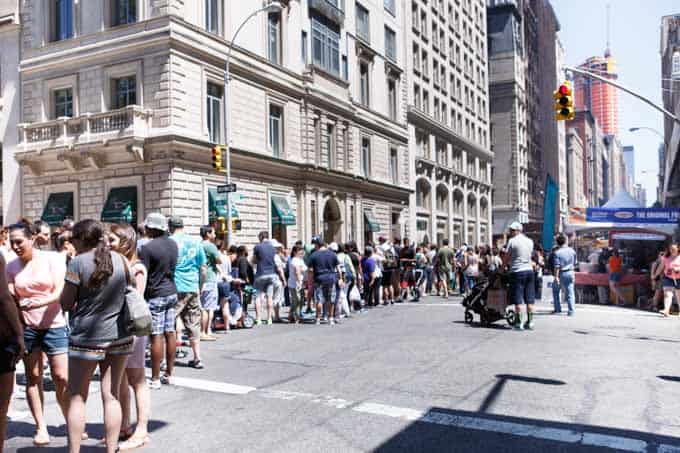 This was the line for Pitmaster Ed Mitchell right when the festival opened at 11 a.m. Just to be clear, this line extended over a full city block. That's over an hour wait.
Now, if you play your cards right, you can skip the regular peon line for the more prestigious fast pass line.
Pay $125 up front through the official Big Apple Barbecue Block Party site and you will get $100 to spend on food and access to shorter lines (and the extra $25 acts as a donation to the Madison Square Park Conservancy).
See, a much shorter line...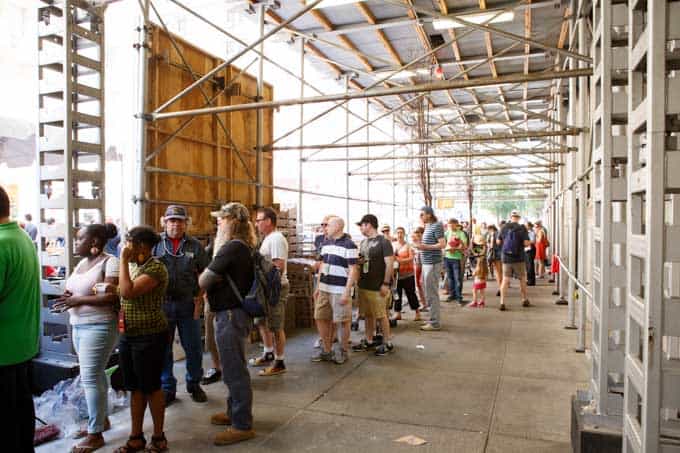 Ugh, yea, not really. Unfortunately so many people at this point know about the whole fast pass thing that those lines can be pretty long as well. Better than that regular folk line, but not all that fast.
So what's all this fuss about?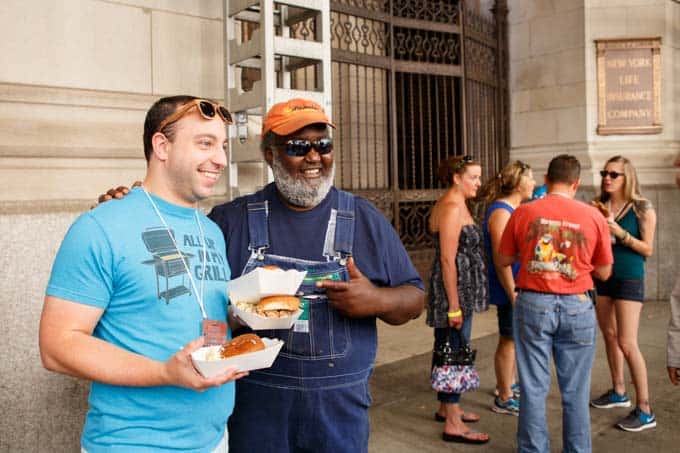 THIS guy. Pitmaster Ed Mitchell. The king of whole hog barbecue. He's super popular with 'cue lovers, and happily poses for photos with anyone that asks... like that guy above.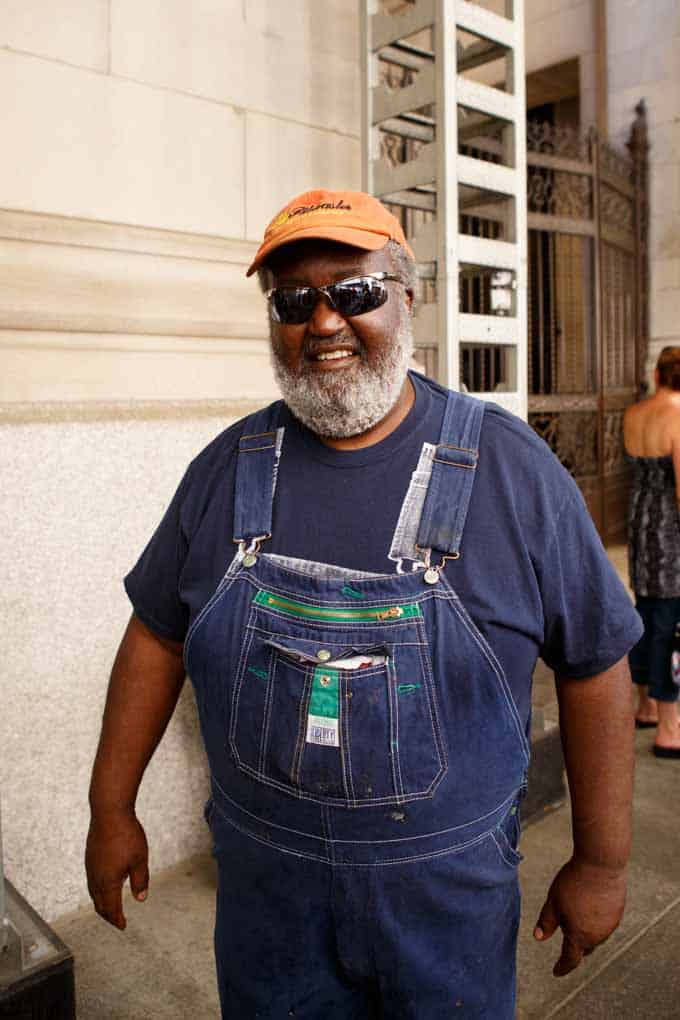 Check out the set-up Ed Mitchell brings with him from North Carolina. And even all those smokers weren't enough. Word on the street was he ran out of whole hog by like 3 p.m. on Saturday. It's a hot ticket item. Get in line early if you want to guarantee a taste.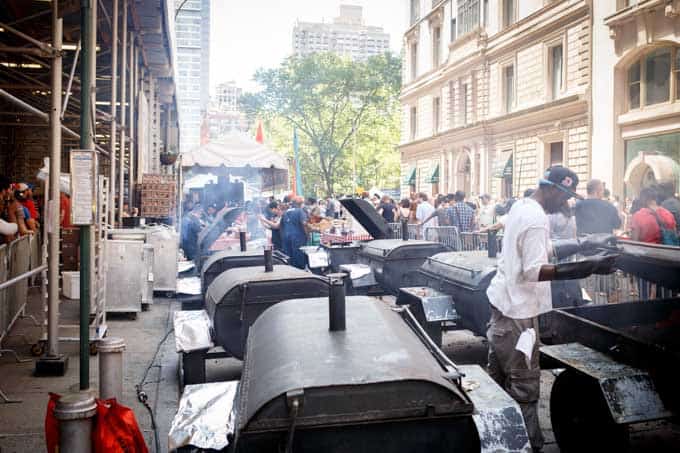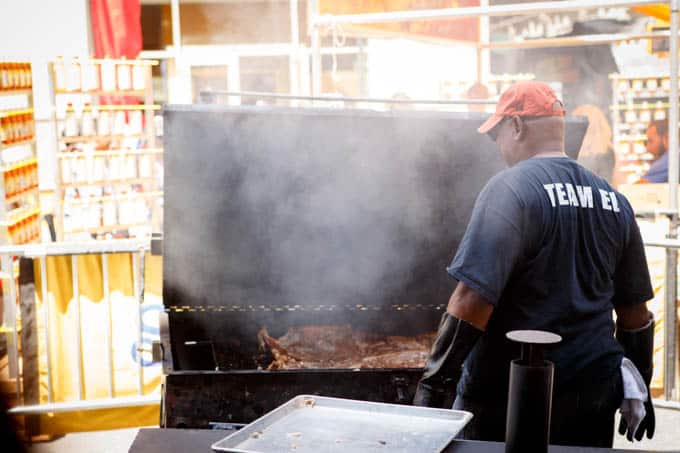 And here it is. Ed Mitchell's incredibly juicy, full on pork goodness whole hog. He seasons it with just a bit of apple cider vingegar and red pepper flakes. It's truly and utterly fantastic.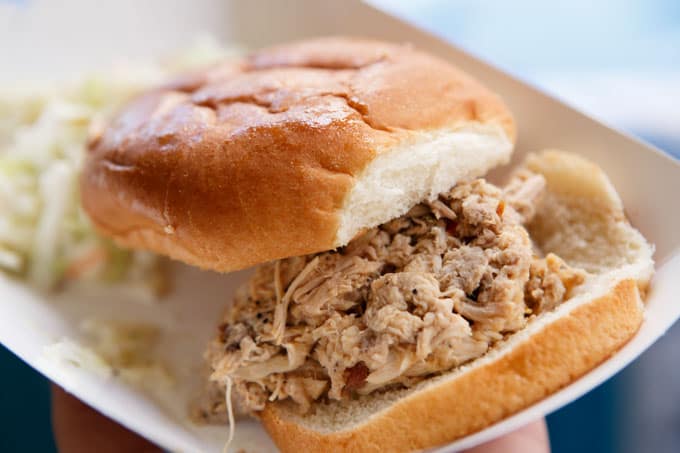 But I have to admit, although it is incredibly good AND is still in my opinion the best whole hog offered at the Big Apple Barbecue:
a) his portions are getting smaller and smaller every year as he gains more and more popularity.
b) for the first year ever, I enjoyed other 'cue offerings more than Ed Mitchell's.
Let's take a look at Ed Mitchell's whole hog competition...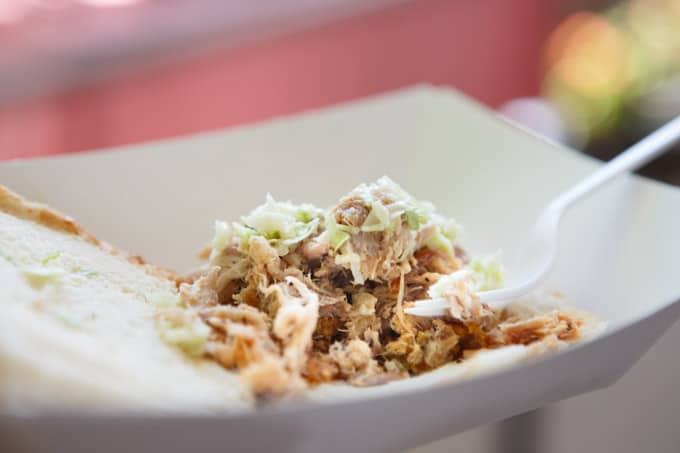 Skylight Inn's Whole Hog was probably my second favorite. It has crunchy bits of skin studded throughout that added lots of extra porky flavor into the mix.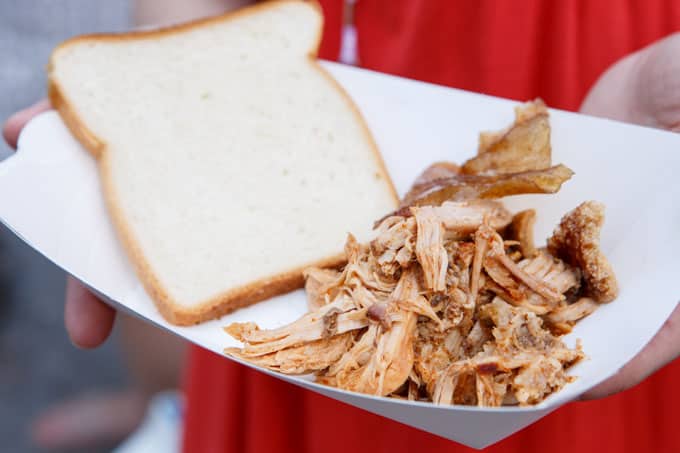 Rodney Scott's whole hog offering was definitely the most generous in quantity. The cracklin' was quite enjoyable, although most of the flavor of the actual pork came from the sweet and spicy sauce they slathered on it.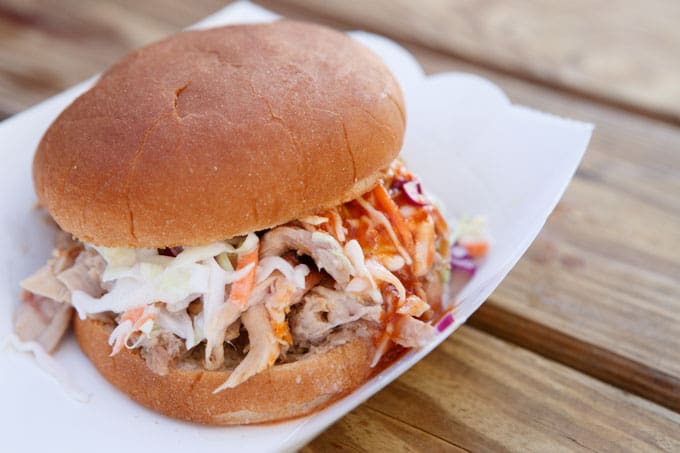 Unfortunately, someone's got to lose, and that would be Martin's Bar-B-Que whole hog. Quite frankly, it was disappointing.
Newcomer to the festival, Pitmaster Bill Durney of Brooklyn's Hometown Bar-B-Cue impressed the heck out of me. It was the longest line we waited on my far (1 whole hour), bit his Texas-Style Beef Rib was well worth the wait.
And a nice touch... since the line was so long, Bull Durney sent out his crew to give us some free samples. I excitedly gnawed on the rest of that beef rib the crew member is holding right up there.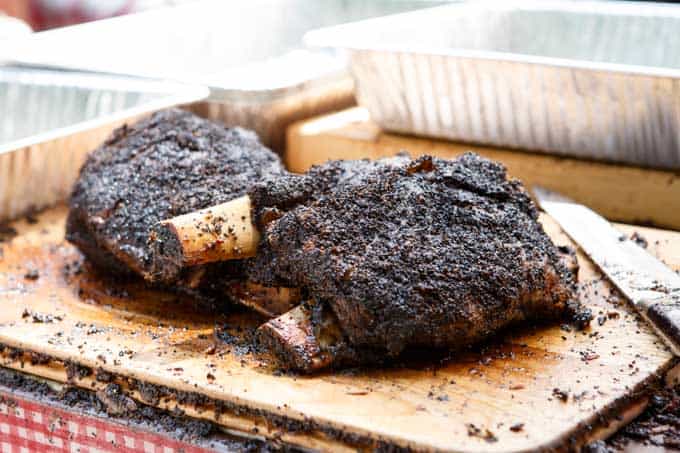 And look at these gigantic beauties. Look at that rub. Look at that juice.
Do you want to cry because it's so stunning? I do.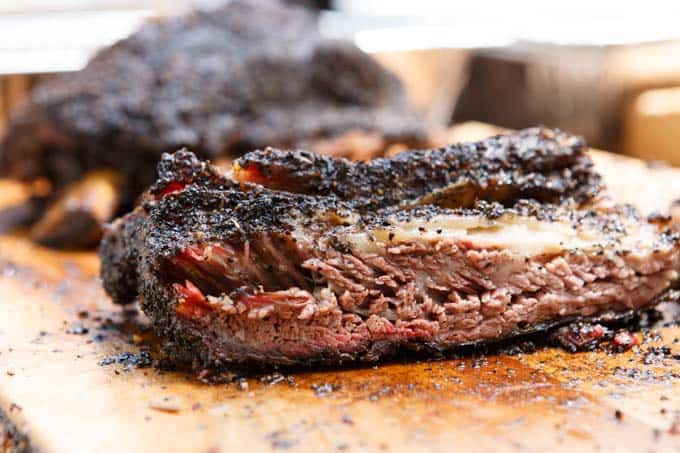 And there it is. The cross-section of beef rib perfection. What I wouldn't give to be that cutting board right about now.
Hands down this was one of the best 3 things I ate all day.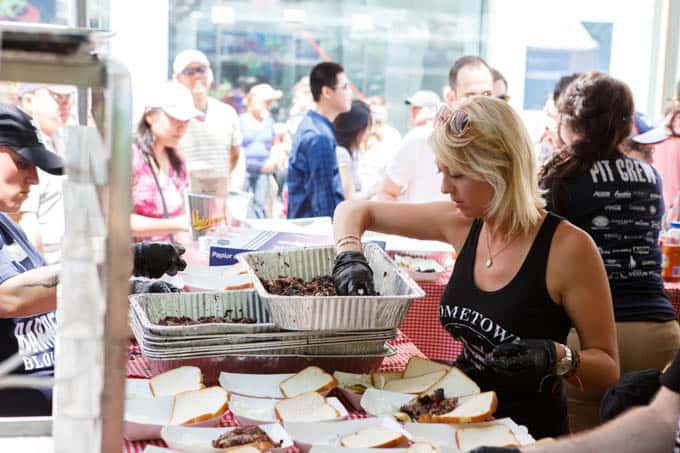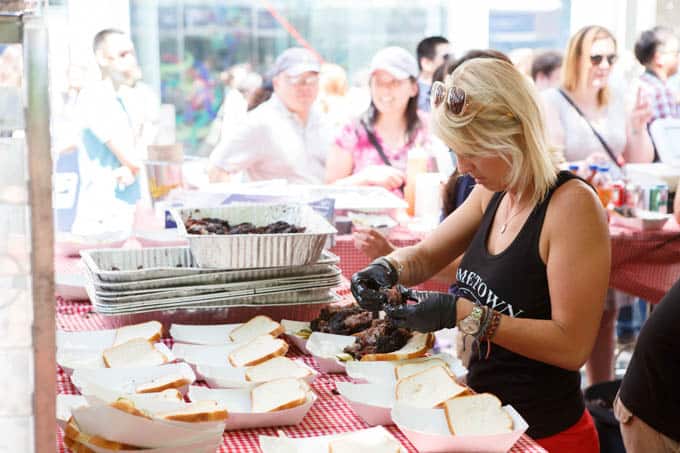 They actually cut the incredibly juicy rib meat off of the bone and served it up like so...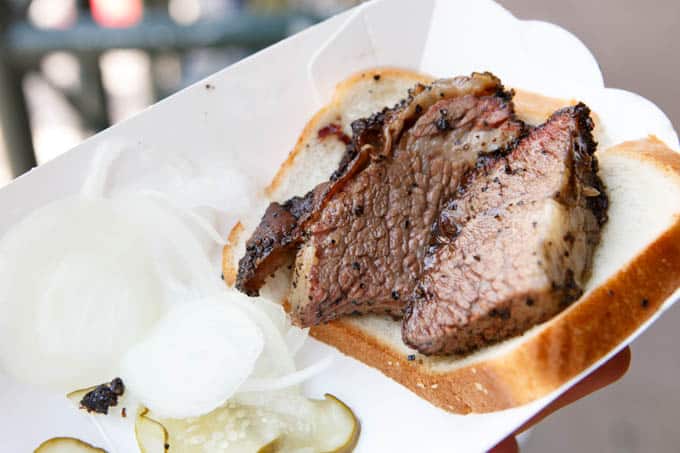 Every single year, Blue Smoke makes their Salt n' Pepper Ribs. But with a new Pitmaster at the helm, they changed it up this year. Crazy, I know.
Pitmaster Jean-Paul Bourgeois' Louisiana Andouille and Chow Chow was fan-freaking-tastic. It's not quite the level of amazingness that is Jim n' Nicks sausage (by the way, where were they this year?!?!), but it was still pretty darn legit.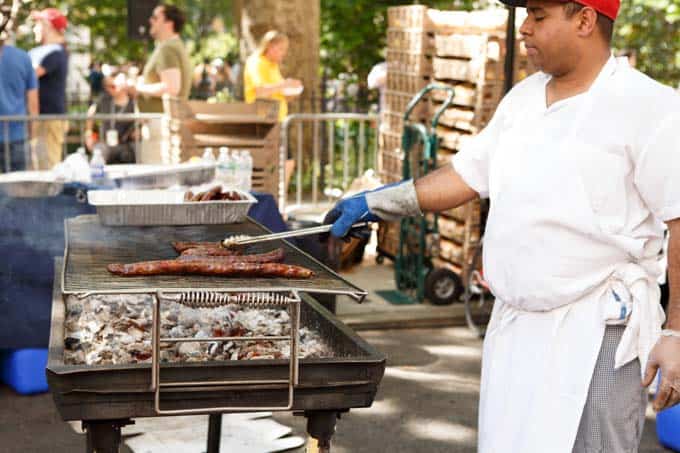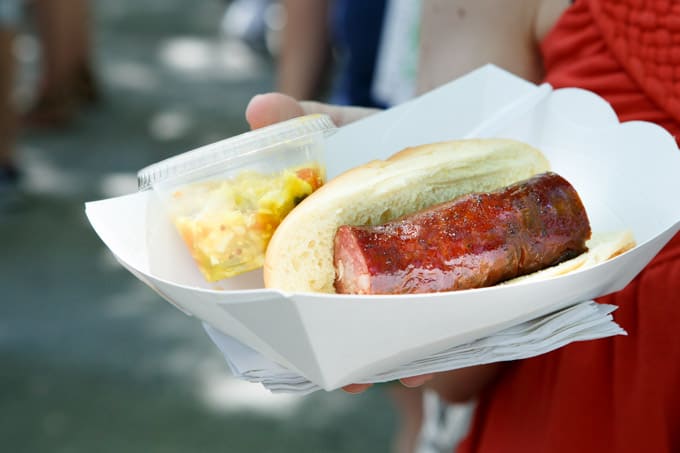 The pieces of meat they used in their sausage were real top-notch quality. And the chow chow was vinegary goodness, which cut right through the rich, fatty pork.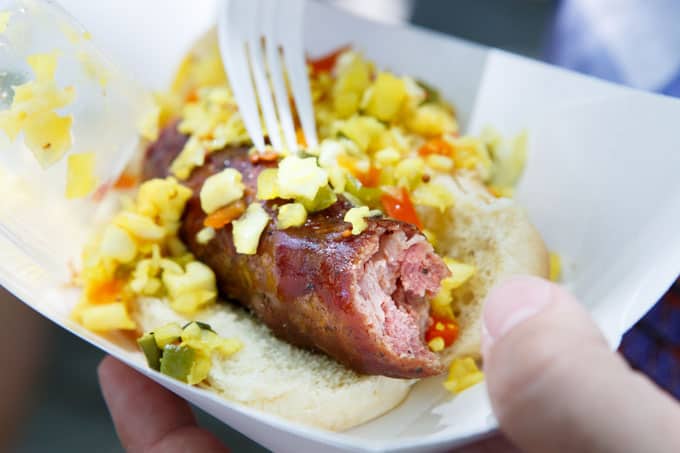 I've heard nothing but amazing things about Daniel Delaney and his Brooklyn's Briskettown. The man knows his brisket, and they have pretty cool-looking shirts.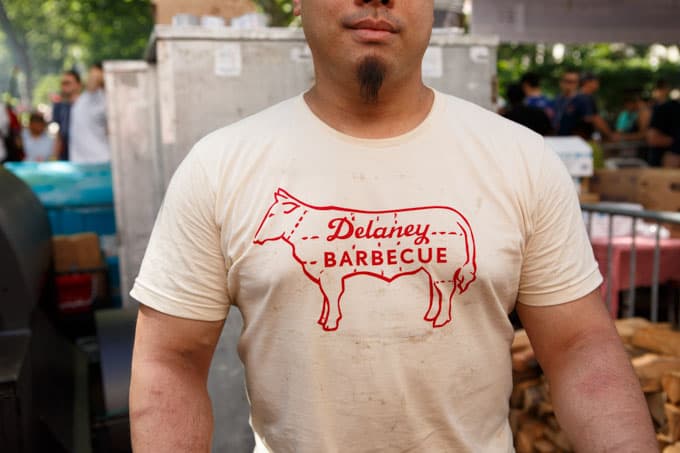 The brisket is super moist, full of rich beefiness, and has a solid, flavorful bark.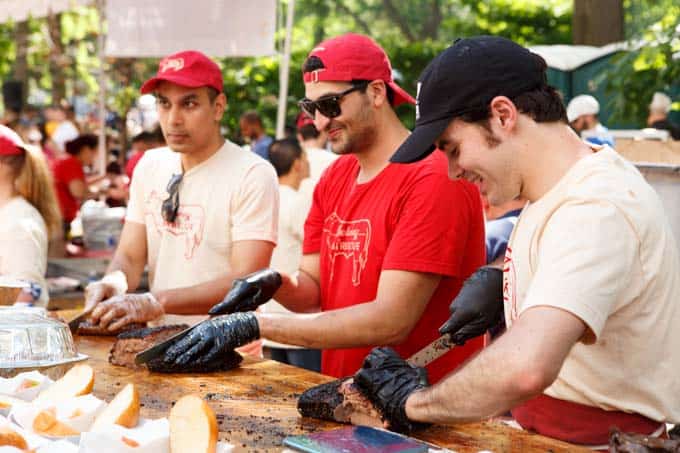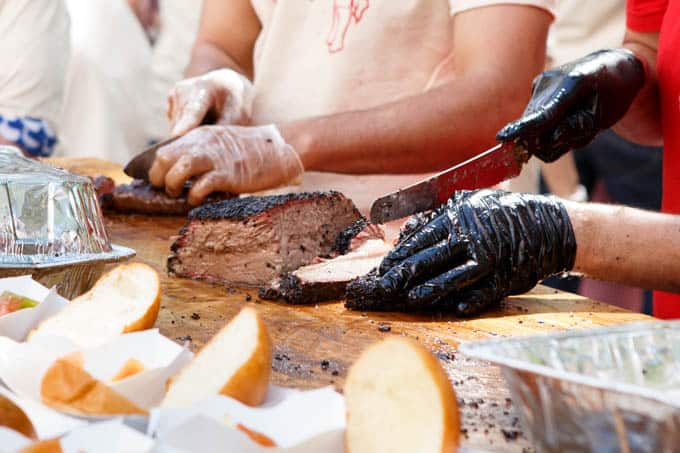 See the guy in the blue shirt right there? That's Daniel Delaney.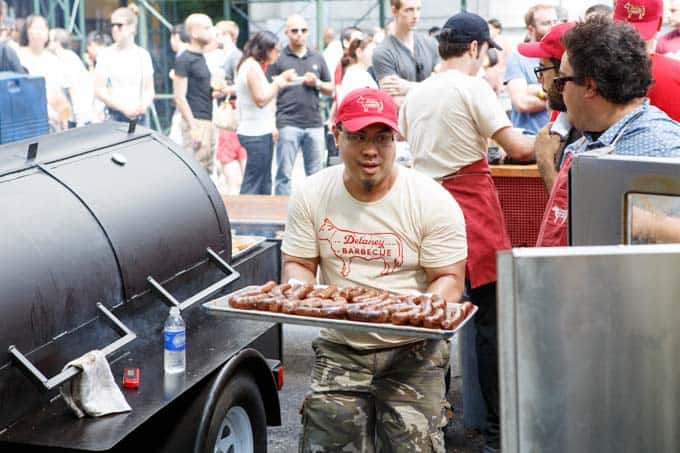 And here's where Delaney Barbecue gets HUGE props in my book. Like, this is majorly important in my eyes.
The dude pays attention to detail. Every other pitmaster at the Big Apple Barbecue Block Party used the generic stock supply of buns and bread. Delaney? No way. The guy special ordered these beautfiul brioche style buns from Amy's Bread in NYC (one of the legit bread bakeries in the city), and then dipped them in butter and toasted them.
If that's not impressive, I don't know what is.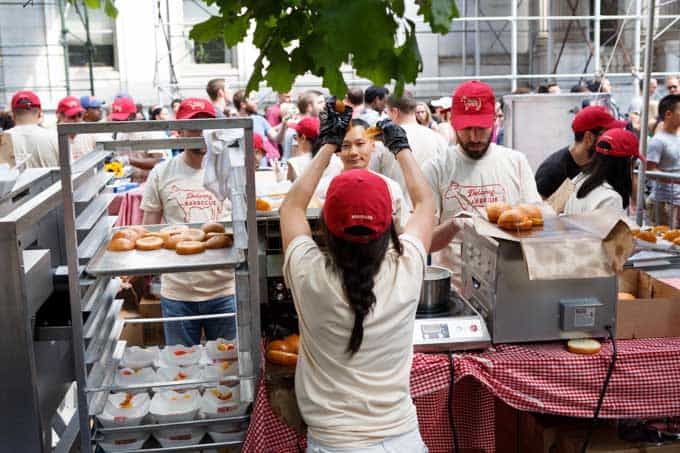 Oh, and those tomatoes were these really delicious herilooms. Their fresh flavor were perfect alongside the rich, fatty meat.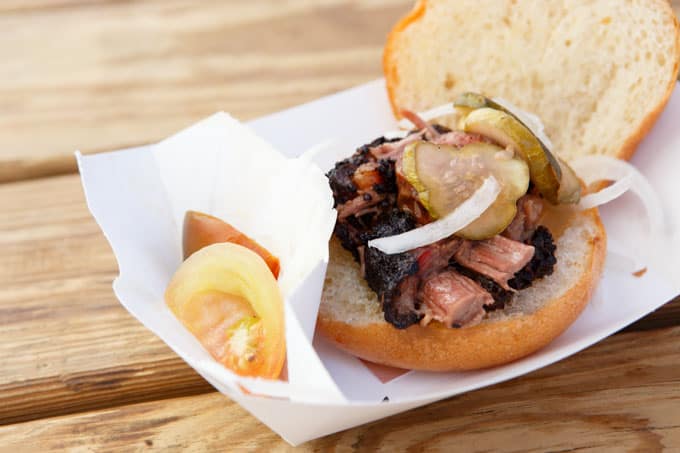 But here's the deal. The end all be all. In my 4 years of attending the Big Apple Barbecue Block Party, I learned something really important.
You know what makes this weekend so special? Do you want to know why we keep going back, year after year?
Friends.
Spending time with the people we love. Eating food together. Sharing experiences. Creating memories. That's what makes the Big Apple Barbecue Block Party so special to us. Being with our friends. The smoked meat doesn't hurt, not going to lie. But it's our friends that make it an extraordinary experience.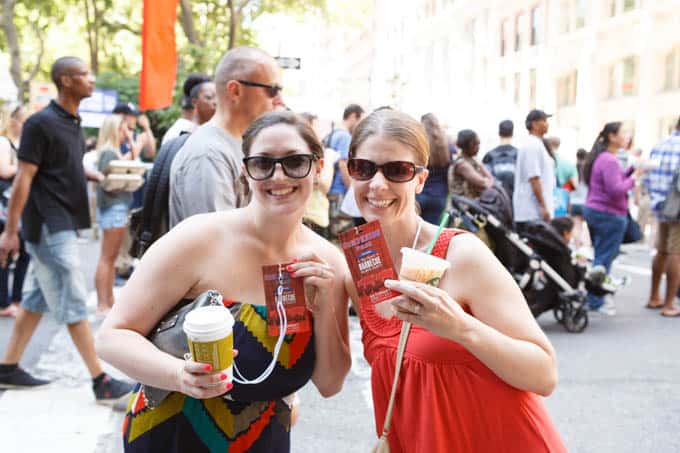 Valerie + Asheley were ready to go! ...after a quick stop at Starbucks, of course.
It was Ashley + Tyler's first Big Apple Barbecue Block Party. Don't they look thrilled? That's the biggest smile I've ever seen Tyler make.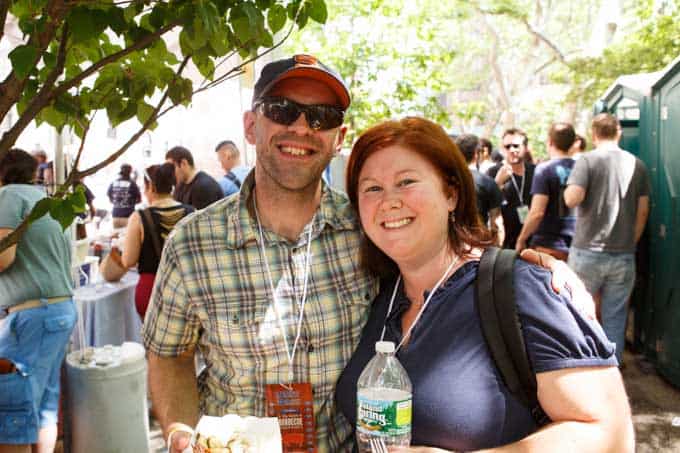 It was Michelle + Josh's first time too. They were both super pumped (and excited to be kid-free for the day!)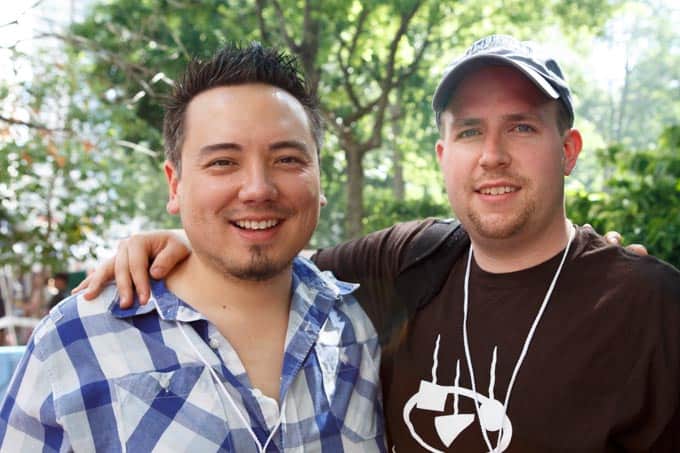 And then, of course, there was Steve + I. So pumped to be this dude's best man for his wedding in a few short weeks.
And there you have it folks, another year of the Big Apple Barbecue Block Party in the books. I better see you there next year. You know you want to go. 😉