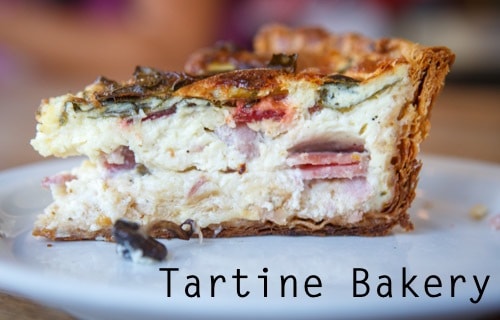 My first taste of Tartine Bakery was actually thanks to Tyler through this video. For anyone that knows Tyler, his greatest passion in the kitchen is all things bread. Baguette. Big rustic loaves. Focaccia. He's even planning on installing a wood-fired pizza oven in the backyard soon (real soon, I hope, for my personal benefit).
Ever since watching that video, I knew Tartine Bakery had to be on my short list to visit while we were in San Francisco. Tyler, of course, greatly approved.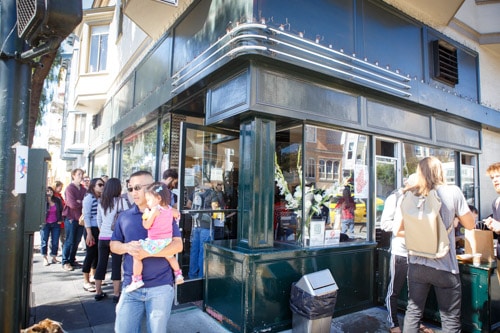 When you show up and there is a line out the door, you know you've hit upon a neighborhood gem. But no worries, the line moves rather quickly 🙂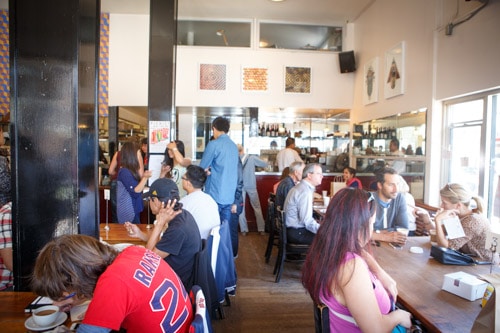 Renowned baker Chad Robertson and his pastry chef wife, Elisabeth Prueitt, co-own Tartine Bakery and won the 2008 James Beard award for Outstanding Pastry Chefs.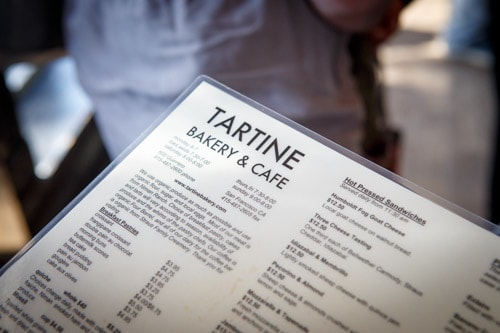 Of course it would have been great to try some of Chad Robertson's highly-talked about bread, but unfortunately it's not available until late afternoon. It comes fresh out of the oven around 4:30 p.m. daily, just in time for dinner with the family. That makes sense, actually.
And honestly, we were there for breakfast anyway... and there were so many amazing pastries staring me in the eye. I might have left a trail of drool as we moved along the counter.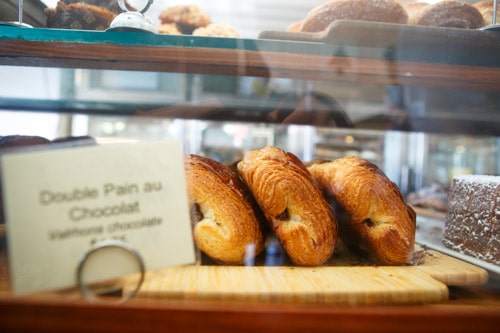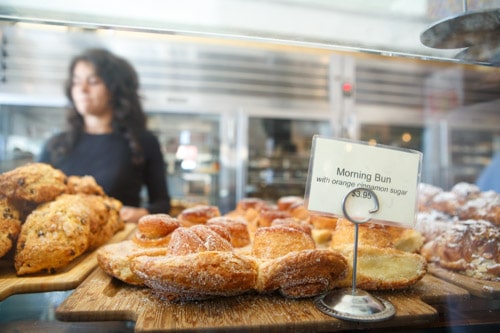 Deciding on just a few items was near impossible. How do you even begin to choose? How? Tell me!
But it had to be done. And making difficult decisions is just part of the job description 🙂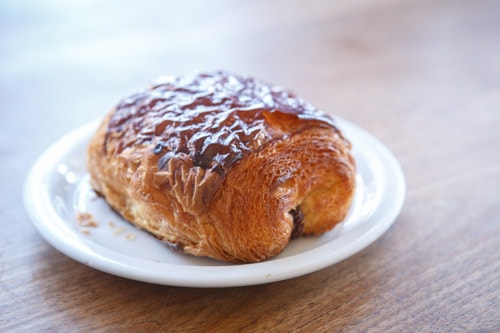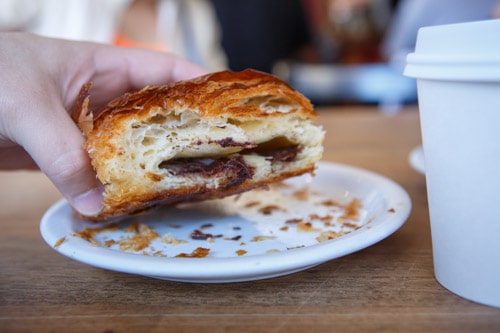 First up was a Double Pain au Chocolat ($4.75). It was definitely on par with the ones we enjoyed most in Paris and I believe it's the best one we've had in the U.S. to date.
It was tender, flaky, buttery, and had a generous amount of melty chocolate waiting for us in every bite.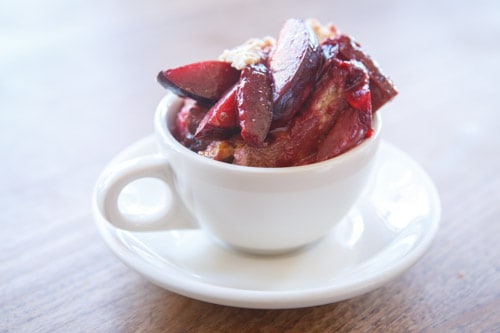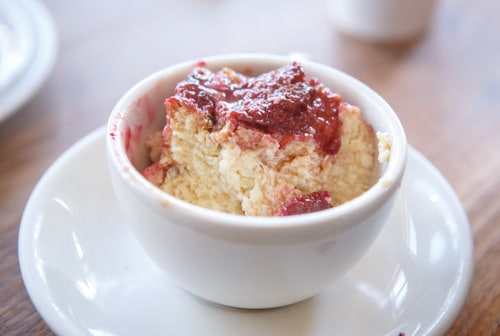 The Bread Pudding with Seasonal Fruit ($4.00) was ridiculously good. Now I'm not sure if I ever want to attempt making a bread pudding at home, because I'm 99% sure it will never be as good as this and I will think of myself as a failure for all eternity.
The bread pudding was moist, velvety, decadent custard goodness, and the plums crowning this masterpiece were a welcomed light, fresh addition.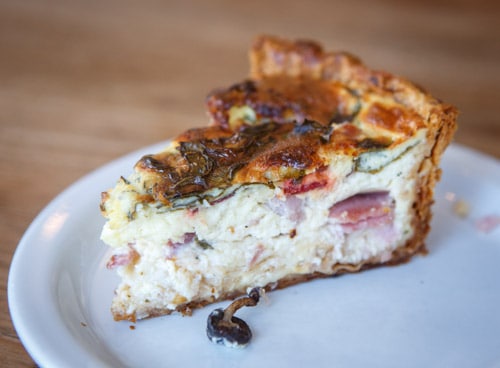 The flavors of quiche change daily. We scored a Swiss Chard and Ham Quiche ($5.25), which was made with creme fraiche, Niman smoked ham, and organic chard. Hands down the best quiche I've ever had, and most likely the best one I ever will.
Bottom line. You need to go to Tartine Bakery. Even if you're not in the area, it's worth the drive. And if you go in the late afternoon and get to try the bread, let me know how it is. Just don't rub it in too much, ok?
Tartine Bakery 600 Guerrero St
San Francisco, CA 94110
(Mission District) 415-487-2600
You May Also Want To Check Out...
The Top 12 Foods You Have To Eat in San Francisco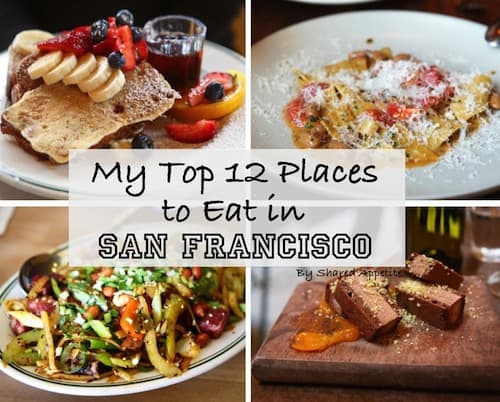 The Top 10 Foods You Have To Eat in NYC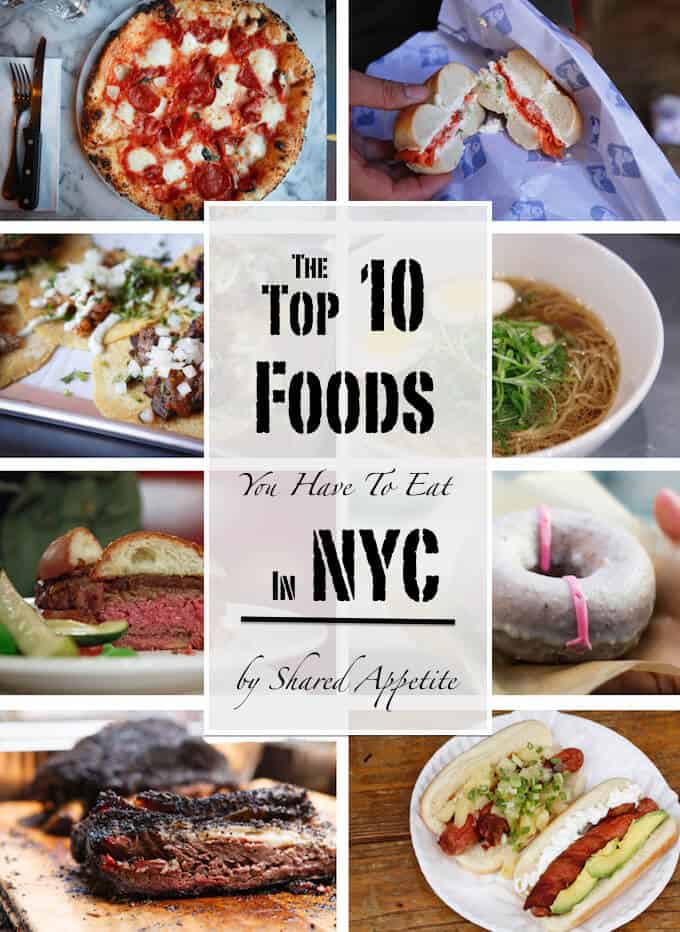 The Top 10 Food You Have To Eat in Paris