This recipe for Gluten Free Salted Caramel Brownie Cookie Ice Cream Sandwiches was created in partnership with Bob's Red Mill. As always, all opinions and recipe are my own. Thanks for supporting the brands that support Shared Appetite!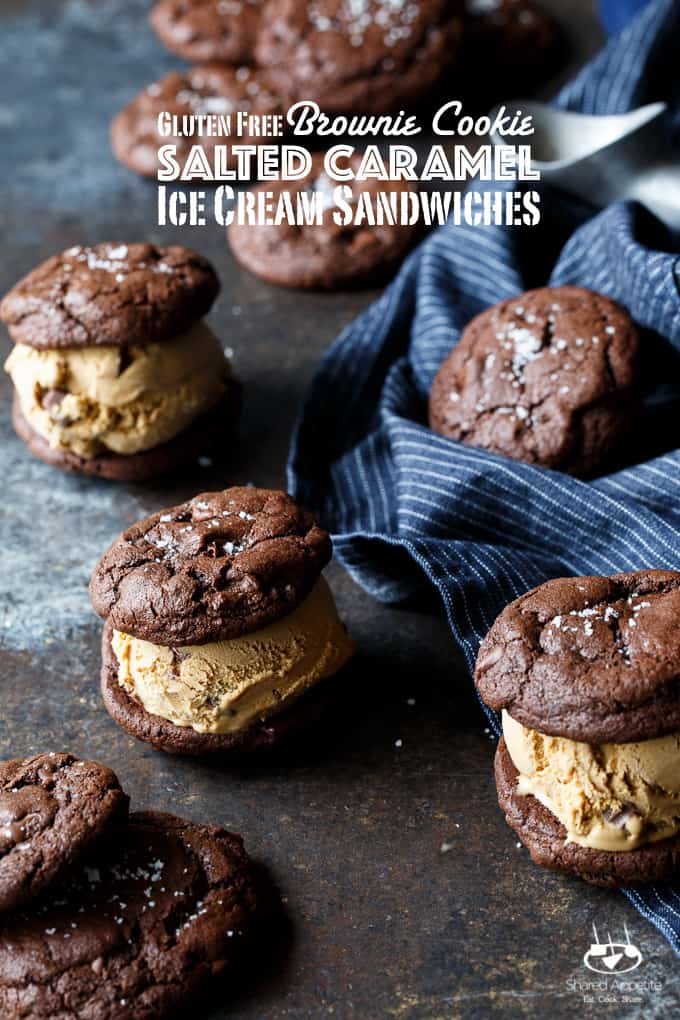 If you're in a rush, here's the short version. You need these Gluten Free Salted Caramel Brownie Cookie Ice Cream Sandwiches in your life. Not sometime down the line. Not maybe I will Pin It and save it for later (although, please go ahead and Pin It. Thanks 😉 ). Like, go to the store on your lunch break, get the ingredients, and make these tonight. You even have my permission to leave work a few minutes early to get a head start.
Seriously, friends. These little beauties are freaking decadent bundles of pure dessert bliss. I may have photographed them this past weekend in the wee hours of the morning... and proceeded to eat one two of them for breakfast immediately following. It's not my fault, though. The ice cream was starting to get all melty, and what type of people do absolutely nothing when they see ice cream starting to melt? Cold, heartless people. That's who. I was simply displaying extreme compassion, love... and fatness.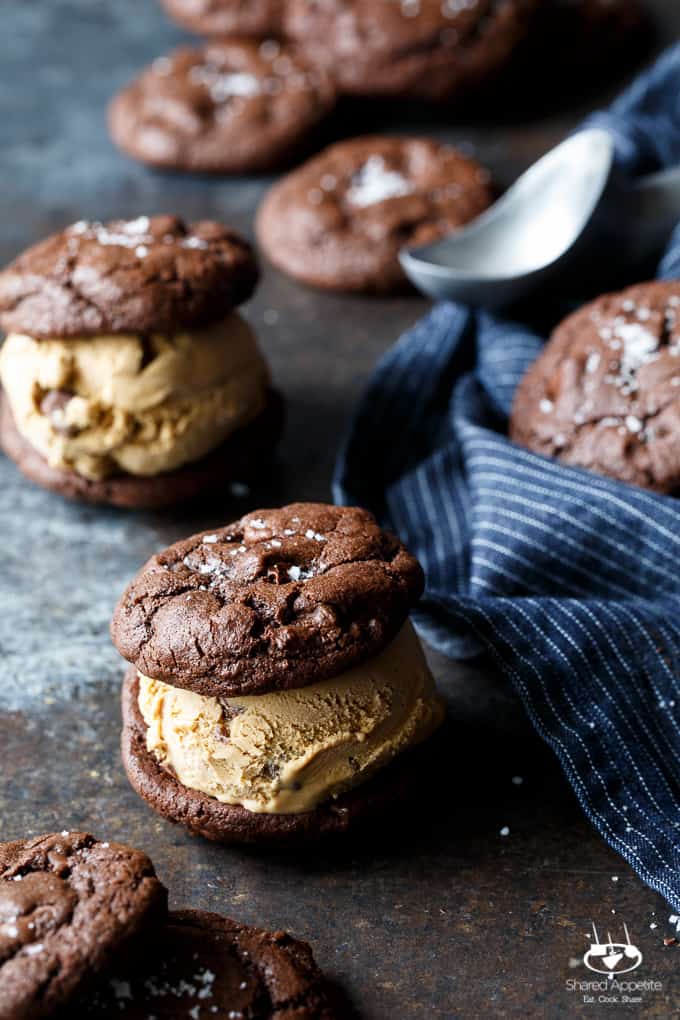 Let's talk why these Gluten Free Salted Caramel Brownie Cookie Ice Cream Sandwiches are beyond perfect for summer entertaining.
Exhibit A: you can make the cookies ahead of time... like even a day or two ahead of time.
Exhibit B: all you need to do is set out the cookies, your high-quality store bought caramel ice cream, an ice cream scoop... and maybe some napkins. Let your guests make their own gluten free ice cream sandwiches!
Exhibit C: find me one person... ONE PERSON... that doesn't love ice cream sandwiches. I will then explain at least 40 reasons why you shouldn't be friends with that person. Everyone loves ice cream sandwiches. #truth
Let's review. Cookies can be made ahead. Guests can assemble dessert themselves. People love ice cream sandwiches.
You'll be deemed a culinary hero.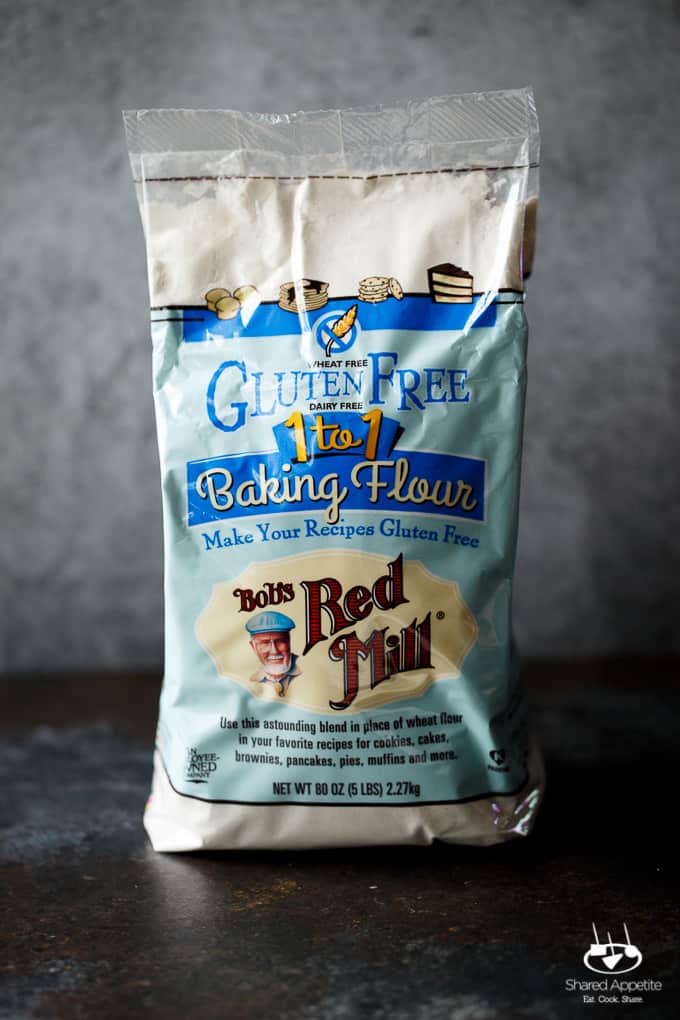 It's time to break down the whole gluten-free dessert thing.
If you need to rock a gluten-free lifestyle, then you need to know about Bob's Red Mill Gluten Free 1 to 1 Baking Flour. I'm normally a pretty big snot-face when it comes to gluten free baked goods. They rarely taste good and the texture is normally weird, and people who are like ohhhh these are SOOOOOO good obviously never ate gluten in their entire lives or are just lying to themselves.
BUT. And this is a huge but. This Gluten Free 1 to 1 Baking Flour is a slam dunk. I didn't do any fancy converting. I didn't think about adding extra ingredients to account for the lack of actual gluten. I literally just replaced the ordinary all-purpose flour with this Gluten Free 1 to 1 Baking Flour and BAM. Gluten Free Salted Brownie Cookie perfection.
They are soft. They are chewy. They are pumped with chocolate. And... no one in my family knew they were gluten free.
Bob's Red Mill is just so darn amazing. Their products never miss. Let's get a slow clap going for Bob.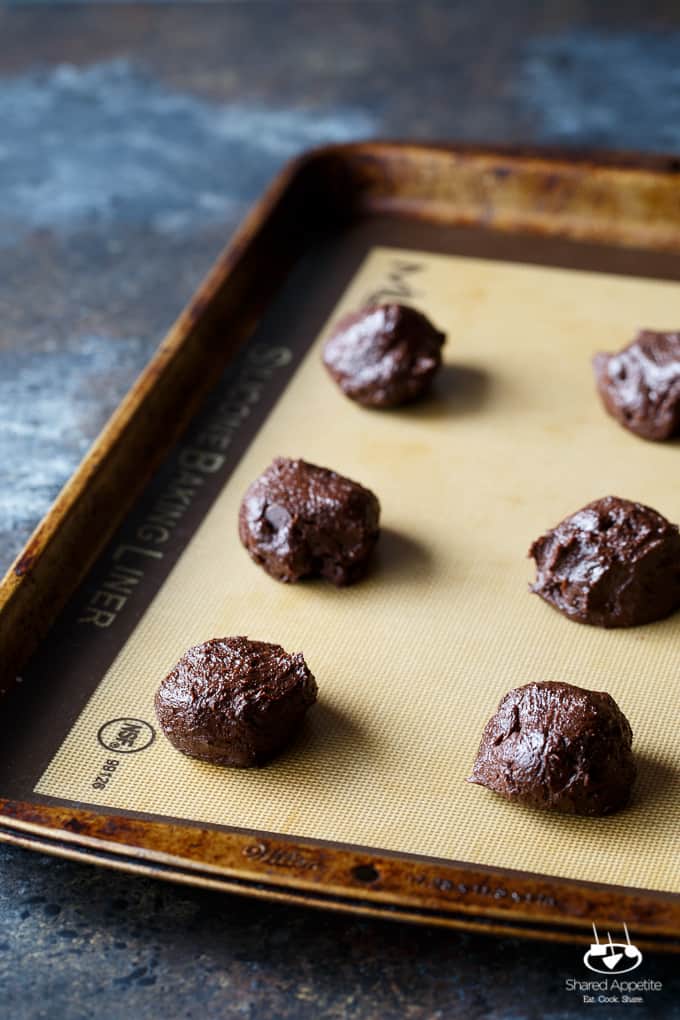 The cookie dough will be pretty loose when rolling... kind of inbetween a cookie dough and brownie batter consistency. Totally normal.
And by the way, if you don't have a bunch of these Non-Stick Silicone Baking Mats in your life, your life is way harder than it needs to be. You can pretty much bake anything on these things and nothing sticks.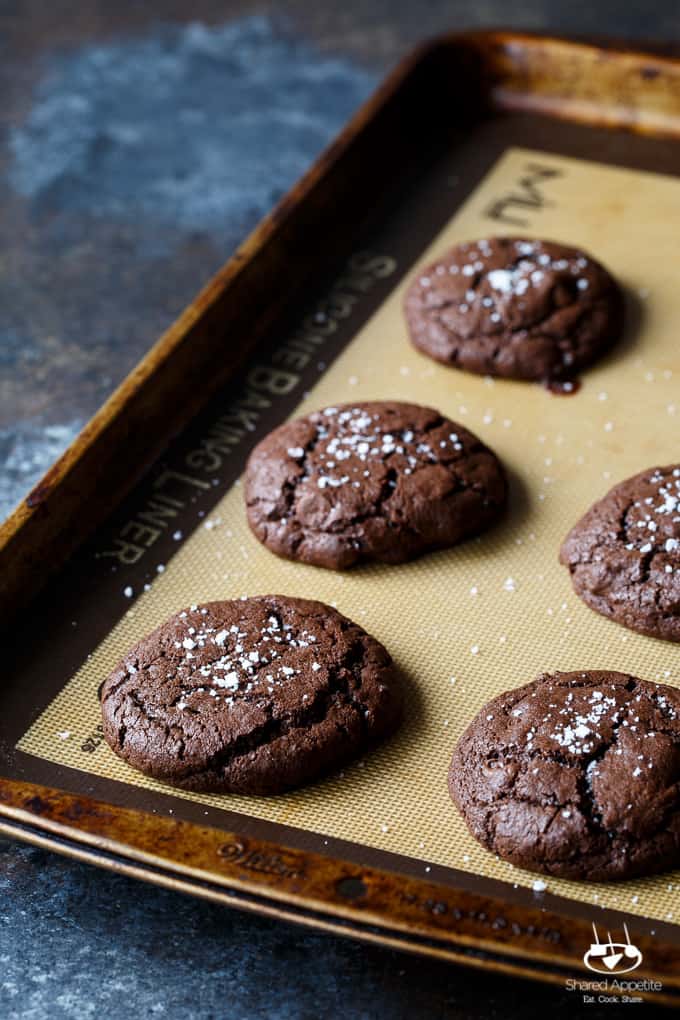 When the cookies come out of the oven, you're going to want to let them cool for a bit on the baking trays so they can set. You're also going to want to hit them with some flaky sea salt right away. Wait too long and the salt won't stick to the cookies... and that would be pretty sad.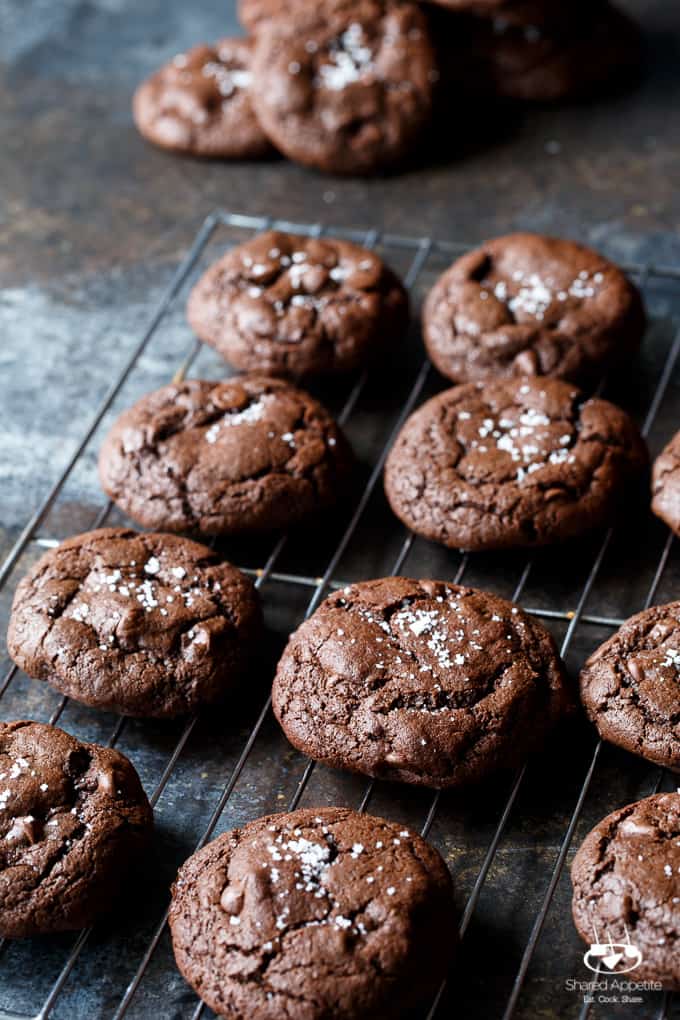 Do your best not to eat all of the cookies right away. It's perfectly acceptable to eat 1... maybe 2. I mean, you have to test them out and make sure they are good, right? It's standard baking practice to taste the product before offering it to guests.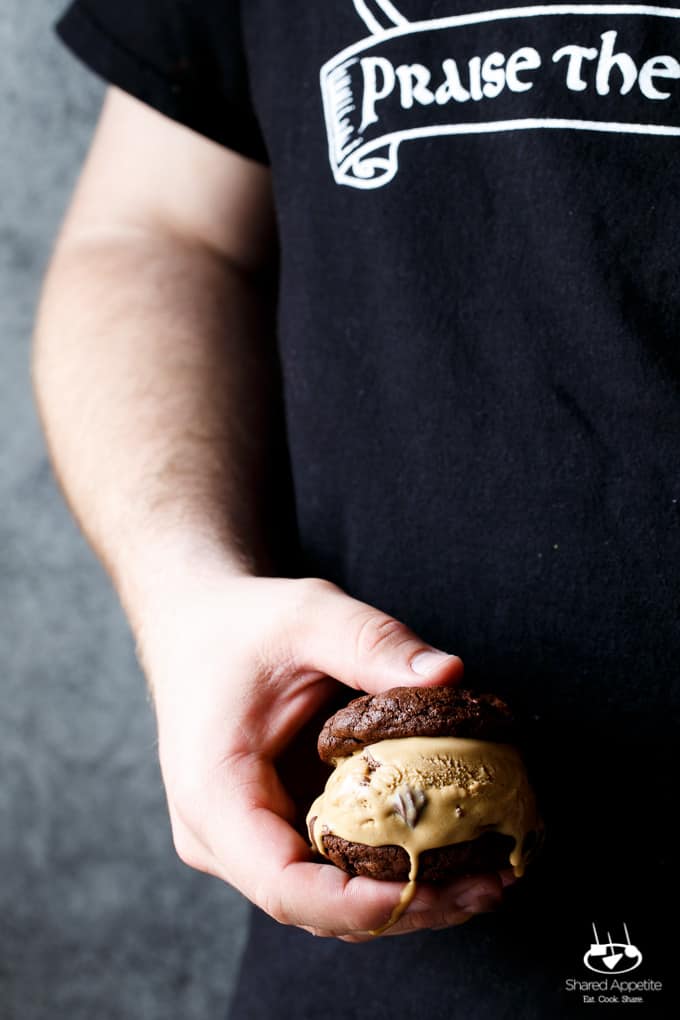 recipe for cookies slightly adapted from Smitten Kitchen
Print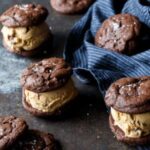 Gluten Free Salted Caramel Brownie Cookie Ice Cream Sandwiches
---
Author:

Chris Cockren

Total Time:

56 minutes

Yield:

Serves

8

to

1

0

1

x
½ cup

unsalted butter

4 ounces

dark chocolate, chopped

¾ cup

dark brown sugar

¼ cup

granulated sugar

2

large eggs

1 teaspoon

vanilla extract

½ teaspoon

baking soda

¾ teaspoon

Kosher salt

½ cup

cocoa powder

1 cup

Bob's Red Mill Gluten Free 1 to 1 Baking Flour

⅔ cup

semisweet chocolate chips

¼ cup

flaky sea salt

1 quart

caramel ice cream or gelato*
---
Instructions
Melt butter and chocolate in a microwave in 30 second intervals on half power, stirring after each, until chocolate is just melted through. Whisk in brown sugar granulated sugar, and vanilla. Add eggs, one at a time, whisking between each. Stir in baking soda, Kosher salt, cocoa powder, and flour until just combined. Briefly incorporate chocolate chips and place cookie dough in fridge for at least 30 minutes.
Preheat oven to 350°F. Remove dough from refrigerator and scoop approximate 1 ½ tablespoon-sized balls on parchment-lined baking sheets. Dough will be quite loose... that's okay! Allow room between cookies, as they will spread a bit during baking. Bake for 11 minutes and immediately after removing from oven, sprinkle each cookie with a little bit of flaky sea salt. Allow to cool for a bit on the baking sheet (they will set as they cool) before transferring to a rack.
When ready to serve, generously scoop caramel ice cream between two brownie cookies. Devour immediately.
Notes
*I really enjoy the Talenti Sea Salt Caramel Gelato
Prep Time:

45 mins

Cook Time:

11 mins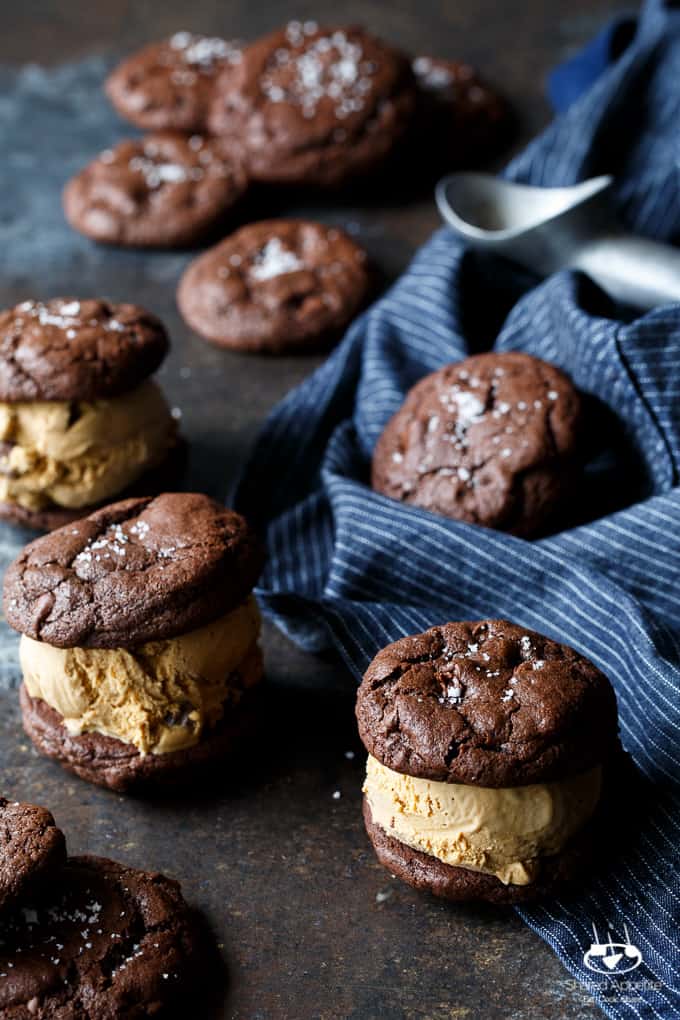 Gluten Free Salted Caramel Brownie Cookie Ice Cream Sandwiches
Need More Dessert?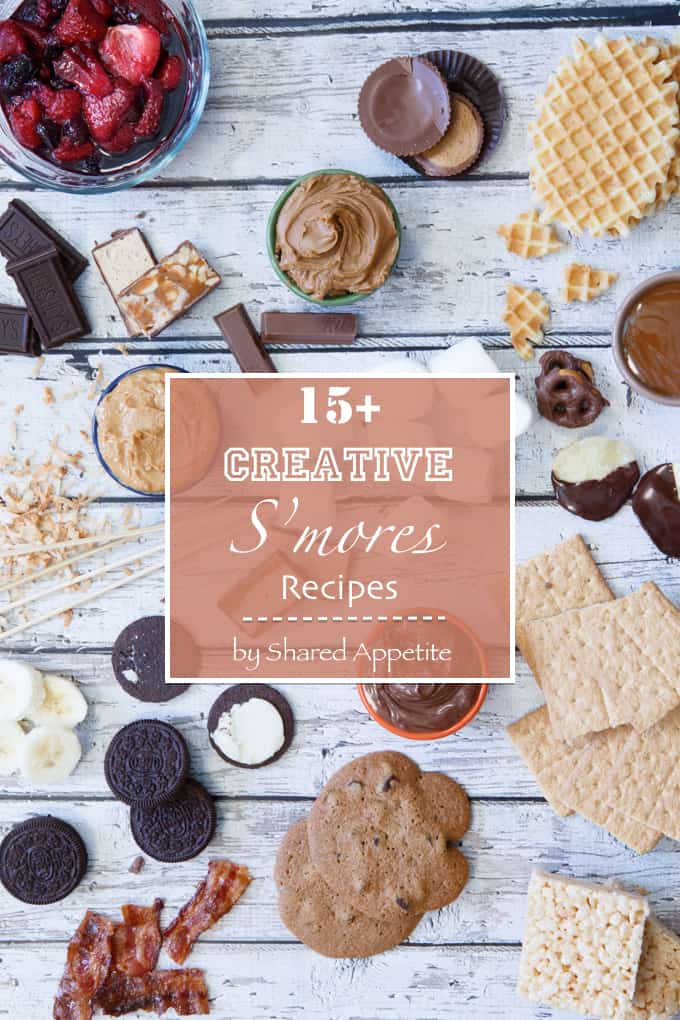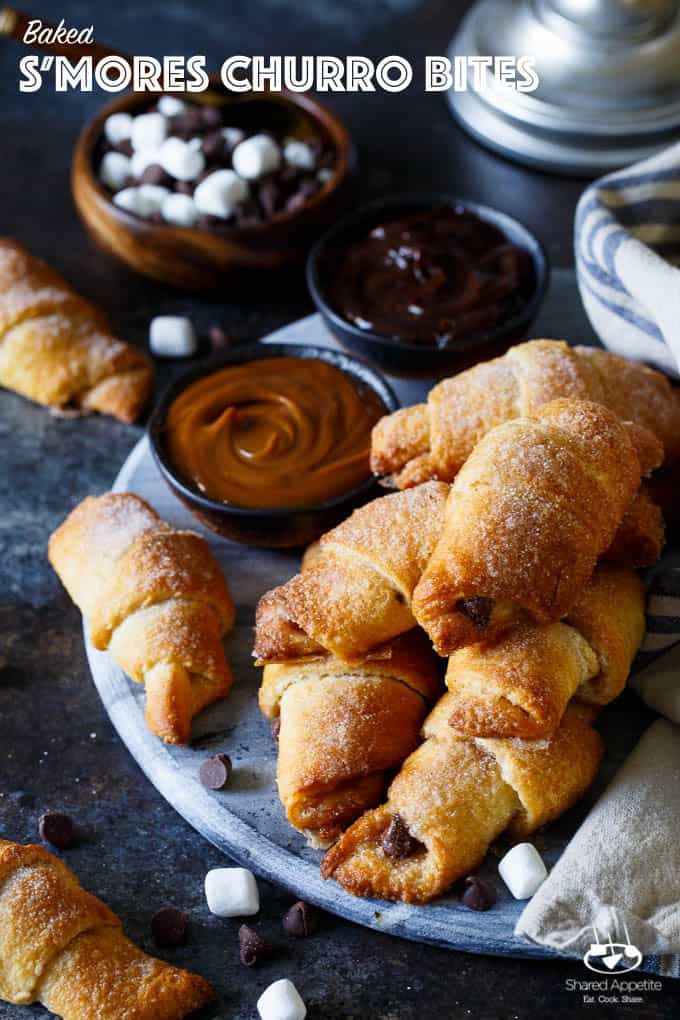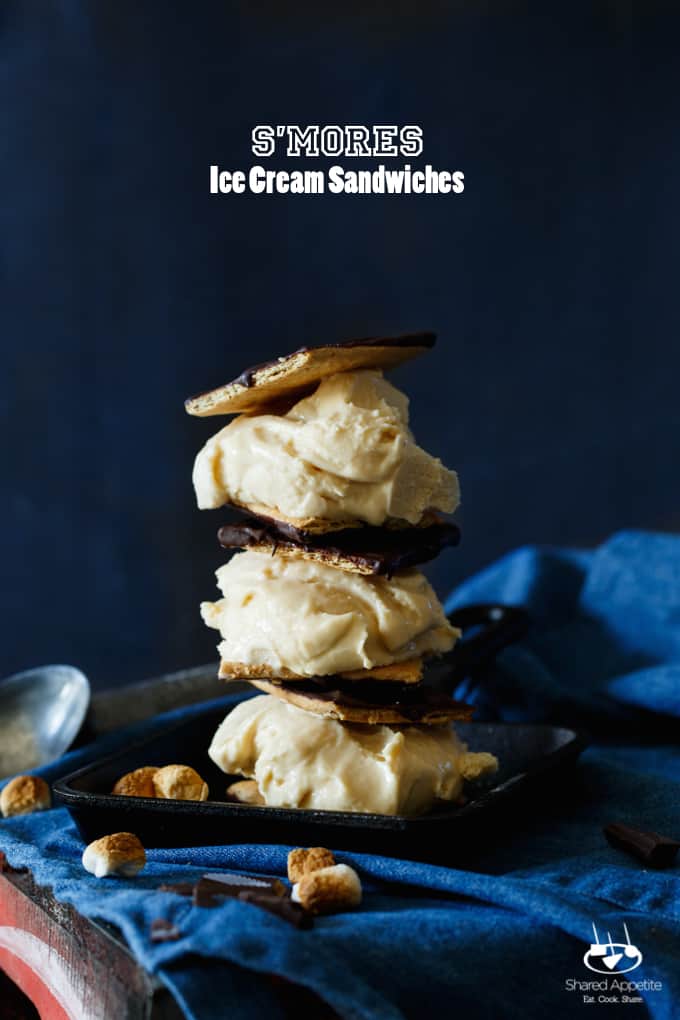 Graham Cracker Toffee S'mores Bark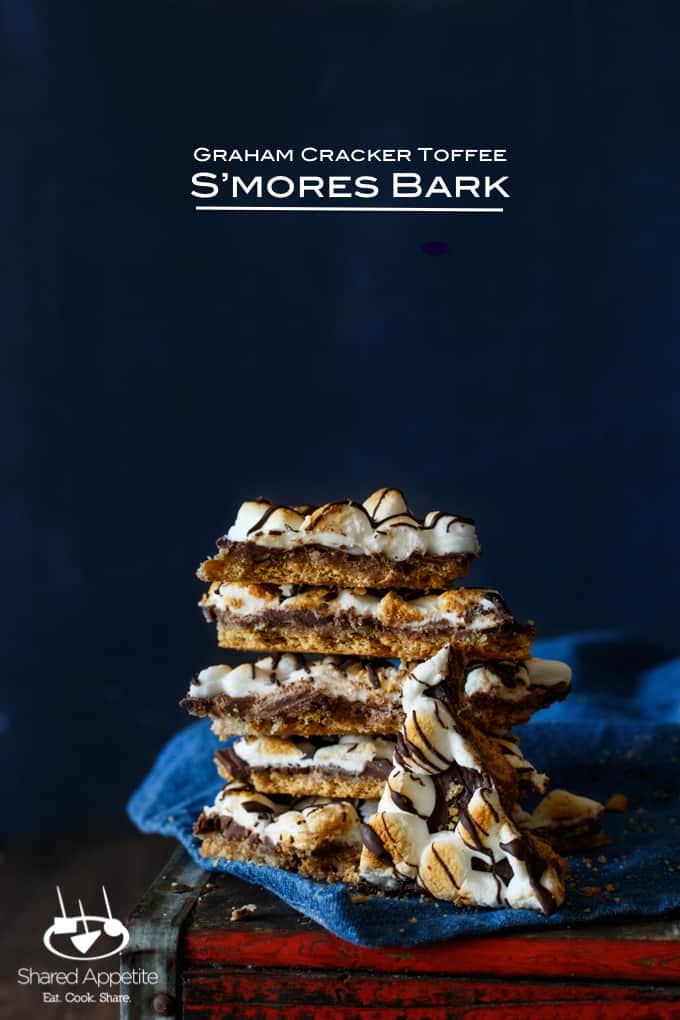 2 Ingredient Toasted Marshmallow Ice Cream