This is a sponsored post written by me on behalf of Cooked Perfect® Meatballs. All opinions are 100% mine.
This recipe for Meatball, Spinach, and Ricotta Pizza was created in partnership with Cooked Perfect® Fresh Meatballs. As always, all opinions and recipe are my own. Thanks for supporting the brands that support Shared Appetite!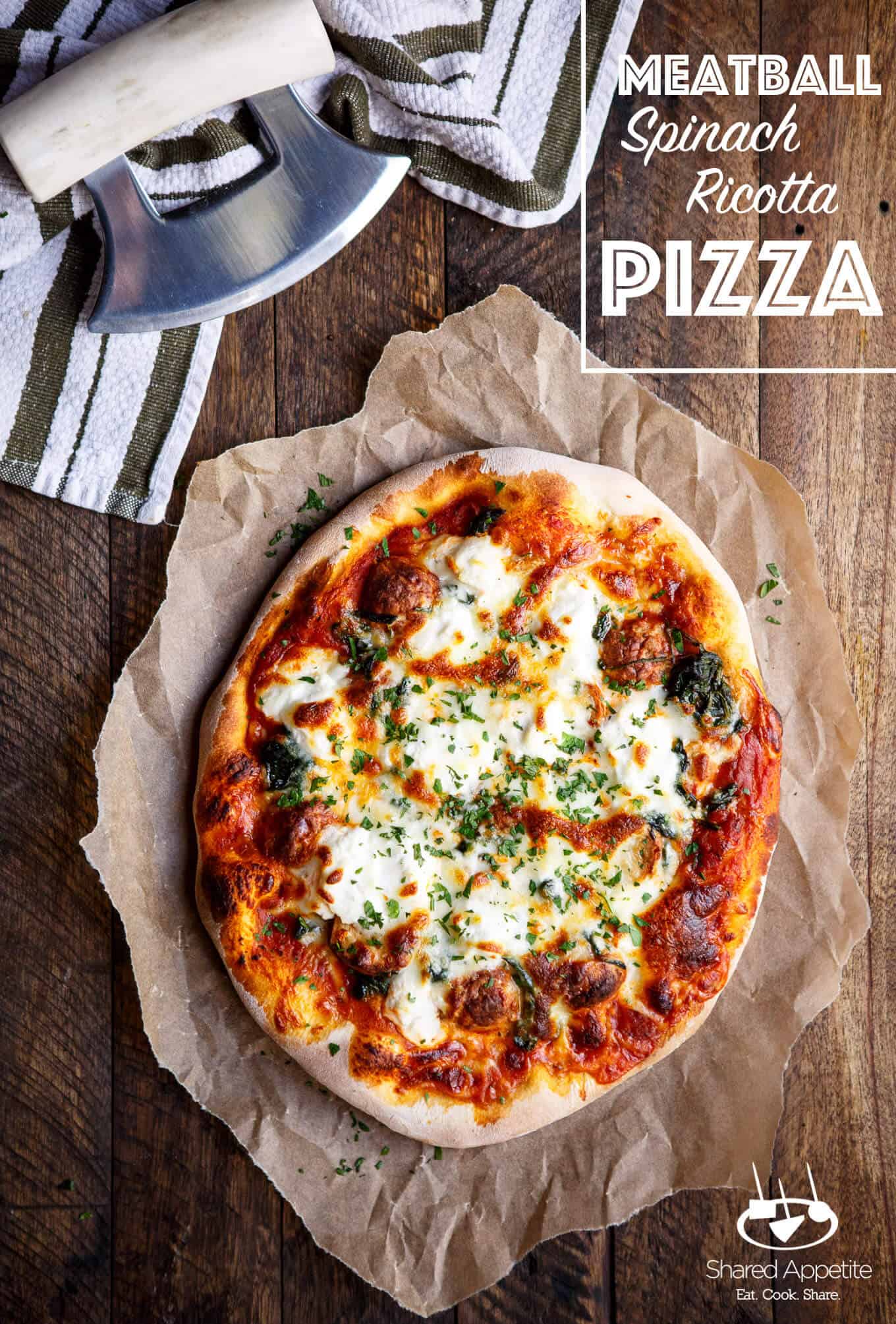 Before I actually had a child, I told myself that my kid would of course be an adventurous eater. They'd have no problem trying new, exotic foods and would simply eat whatever Asheley and I decided to eat. Easy enough. Right?
Wrong.
Life with a toddler is... well, if you have a toddler... you know. I love that Olivia is becoming a strong, independent thinker. Except that she's now a strong independent thinker. If I let Olivia decide her dinner every night, it would most likely always consist of mac n' cheese and yogurt. She is obsessed with the stuff.
In all honesty though, Olivia is actually a great eater. She really likes a bunch of different foods and loves the healthy stuff (her go to breakfast is avocado toast with chia seeds... she calls them sprinkles and we're going to stick with that). Sometimes getting her to try new foods goes over really well. Most times, though, it takes some sly stealth maneuvers.
I've been trying to get Olivia to eat meatballs for quite some time now. She's all about sausage and hot dogs, and I knew that the consistency of meatballs would fall right in her wheelhouse. But of course, using toddler logic, this is the furthest idea from the truth. But then one day I had an idea. Pizza. She is a huge fan of pizza night. And cheese. The girl is all about the cheese.
I had minimal time for dinner prep the other day but knew I could whip up a quick pizza in under 30 minutes with... meatballs! And guess what? Olivia devoured this Meatball, Spinach, and Ricotta Pizza. She even loved the meatballs. Sweet, sweet victory. Or savory, actually. Savory, savory victory.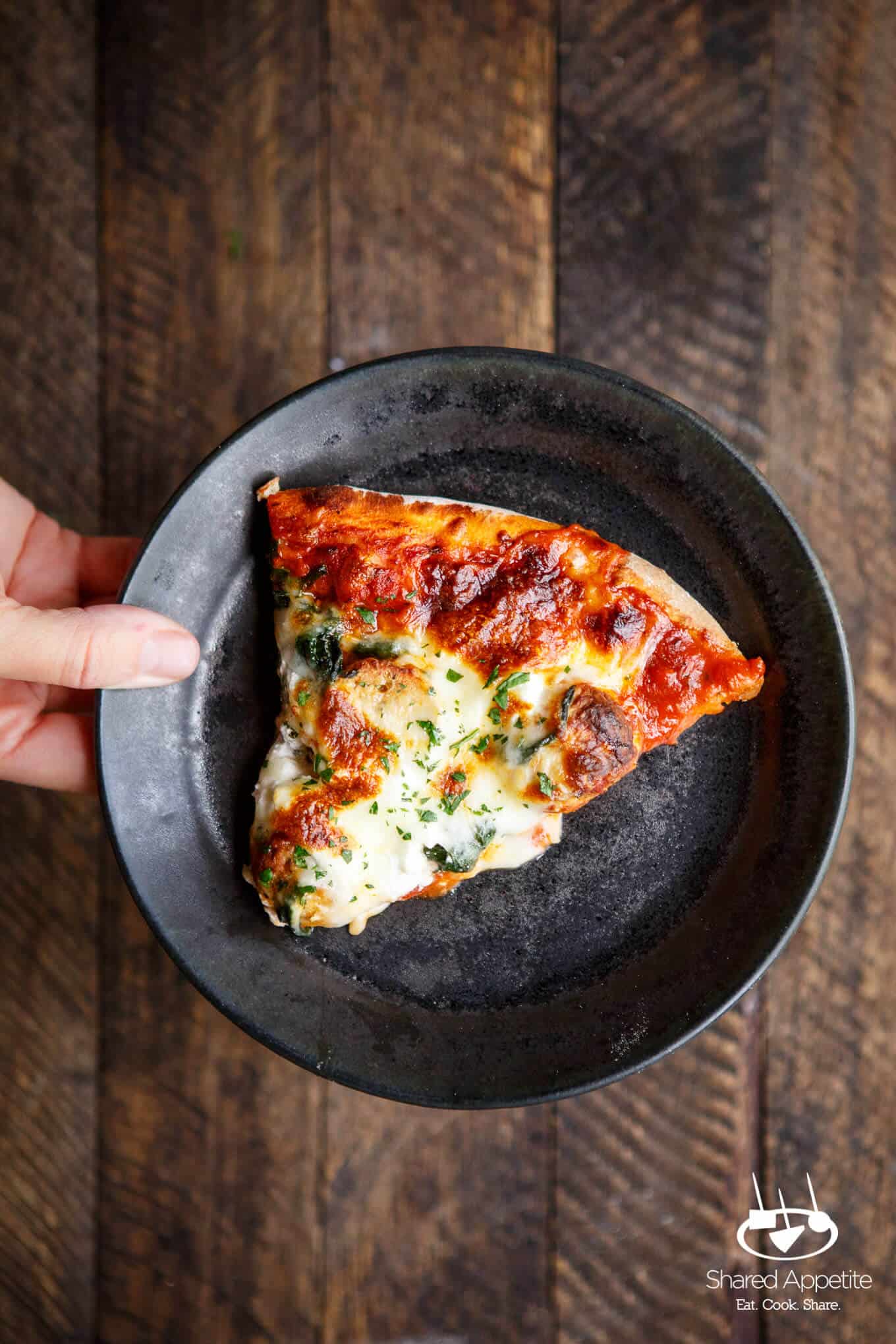 Anyone else have a family that loves pizza? I'm all about ordering a takeout pie, but sometimes it's way more satisfying to just whip up a homemade variety at home with customized toppings. Best of all, I can have Olivia help me make the pizza. She loves being my little sous chef (Daddy, I STIR!!!!).
And from what I've found, the more I ask her to help me in the kitchen, the more excited she is to try what we just made. Of course, having her help does increase the prep time a little bit (toddler cooking pace is S-L-O-W), but I love every minute. And even with Olivia's "help", I still got dinner on the table in under 30 minutes. BOOM.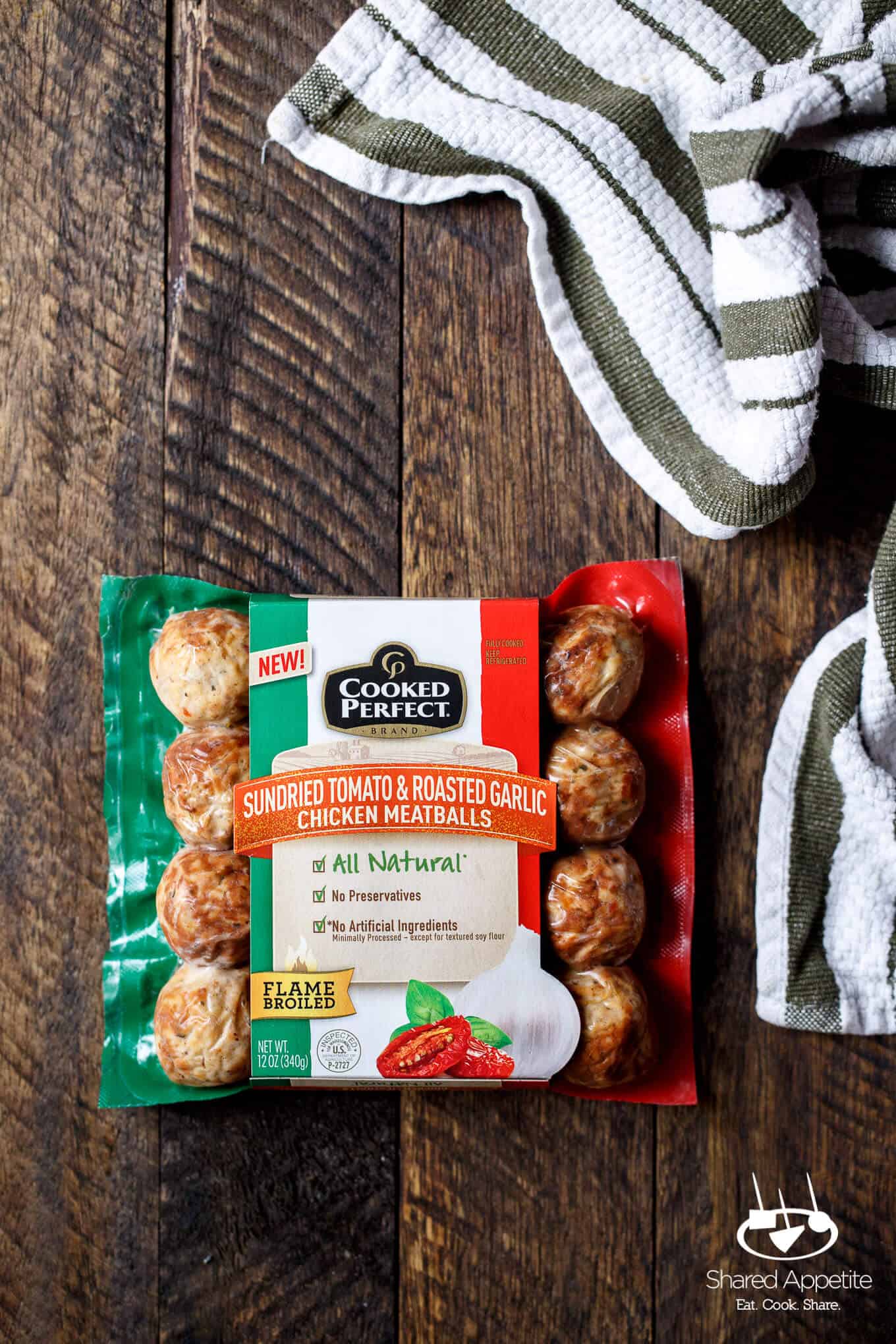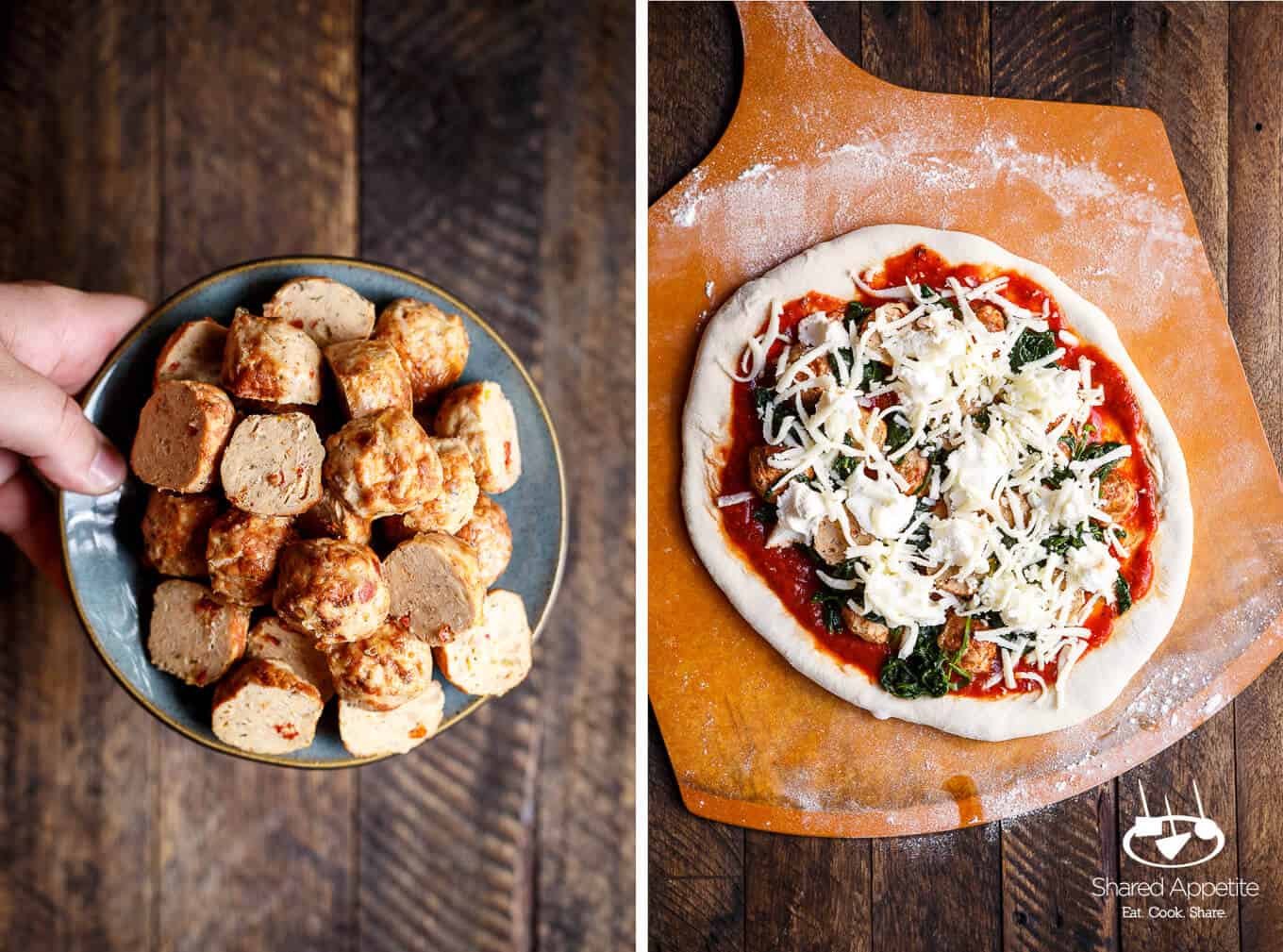 I did have a huge help in getting this Meatball, Spinach, and Ricotta Pizza on the table so quick... Cooked Perfect Fresh Meatballs!
I'm all for making meatballs from scratch when I have a bunch of time on my hands, but let's get real. Extra time on a weekday is pretty laughable. These Cooked Perfect meatballs are fresh and fully-cooked, making them SO perfect for a quick and convenient weeknight dinner.
How quick? The steam-in pouch microwave technology helps keep the meatballs flavorful and moist while they heat in the microwave in just 2 minutes. For this Meatball, Spinach, and Ricotta Pizza, I grabbed a package of Cooked Perfect Sundried Tomato & Roasted Garlic Chicken meatballs. I love that when you cut into the meatballs, you can actually see specks of sundried tomato and roasted garlic throughout. That really translates into more flavorful meatballs!
Bonus... there's no artificial flavors, colors, or preservatives in these meatballs! Huge win that makes me feel good about serving them to my family!
I'm super excited to try Cooked Perfect Fresh Meatballs other flavors really soon, including Italian Style Beef & Pork, Italian Style with Parmesan & Mozzarella Chicken, and Korean Style BBQ Beef & Pork. I'm especially pumped for those Korean meatballs... I'm dreaming of Korean BBQ Meatball Sliders for game day eats!
You can find Cooked Perfect Fresh Meatballs in the refrigerated meat & poultry section at select grocery stores, and with this offer you can Save $1.00 on Cooked Perfect Fresh Meatballs!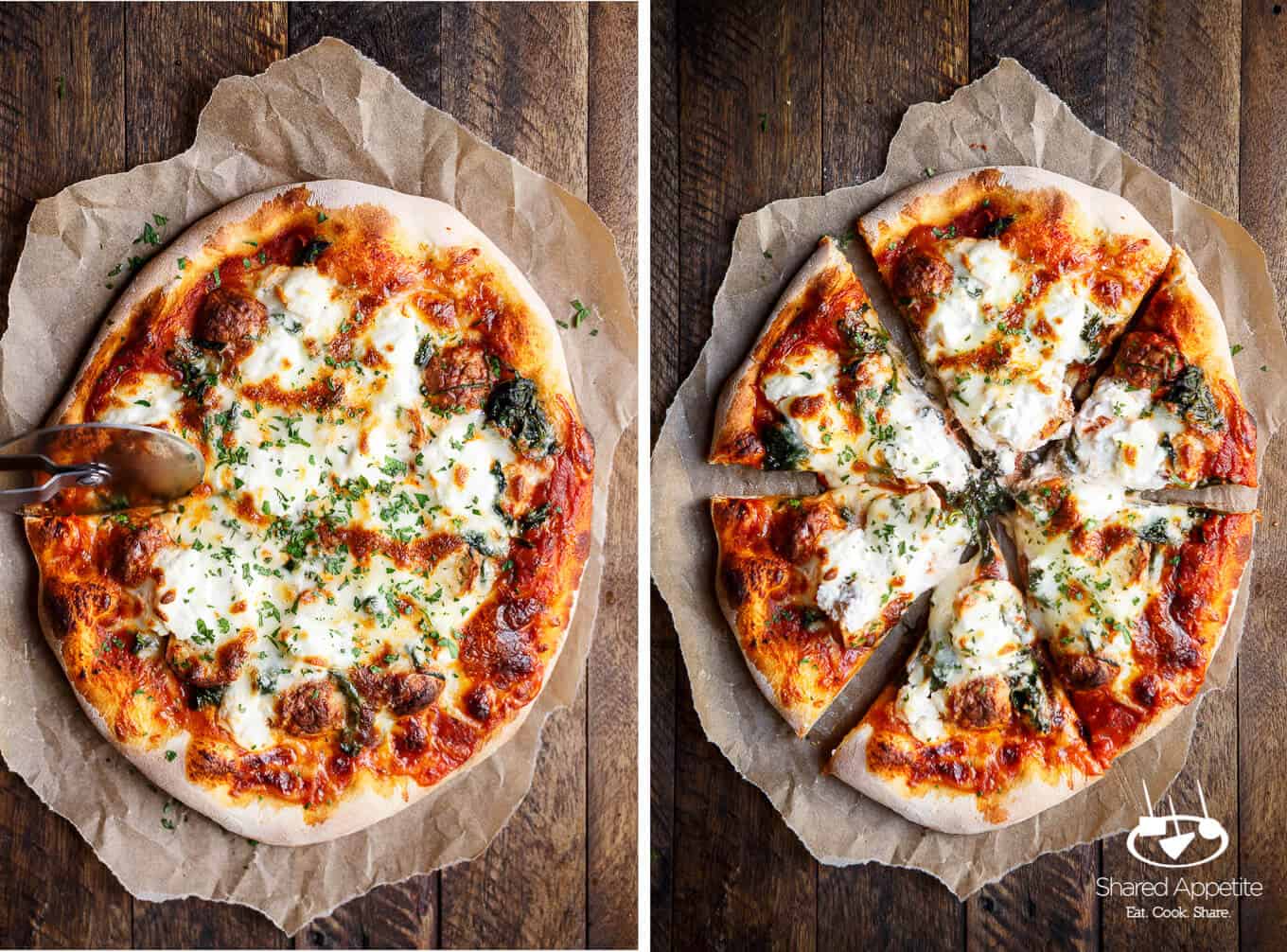 Besides the meatballs, I was also pretty darn happy that I snuck in some spinach into Olivia's dinner! At first she was like... what's this?! referring to the meatballs and spinach, but once she realized it was all part of the pizza she was totally down to try it.
Proof? Check out her hands in the below photo. At this point in life Olivia knows that sometimes Daddy cooks and then takes photos of the food. She's really good about being extra careful around all my camera equipment and photography gear, but she also LOVES watching. Daddy what that?! Daddy what doing?! Daddy I help! Daddy I want that!
When I was photographing this pizza, it took every ounce of her toddler level willpower to sit off to the side patiently while I snapped away. She kept pleading with me for some pizza, so when I finally said okay go for it... she literally dove for the pizza. Thankfully I snapped a pic just at the right moment!
Let's review. An epic pizza night meal that's family friendly, super convenient, and on the table in less than 30 minutes. Meatball, Spinach, and Ricotta Pizza for the win!
Oh, and psst... for excellent store-bought pizza dough, head to your local pizzeria. The ones by me are always happy to sell me just the dough whenever I need for only a couple of bucks!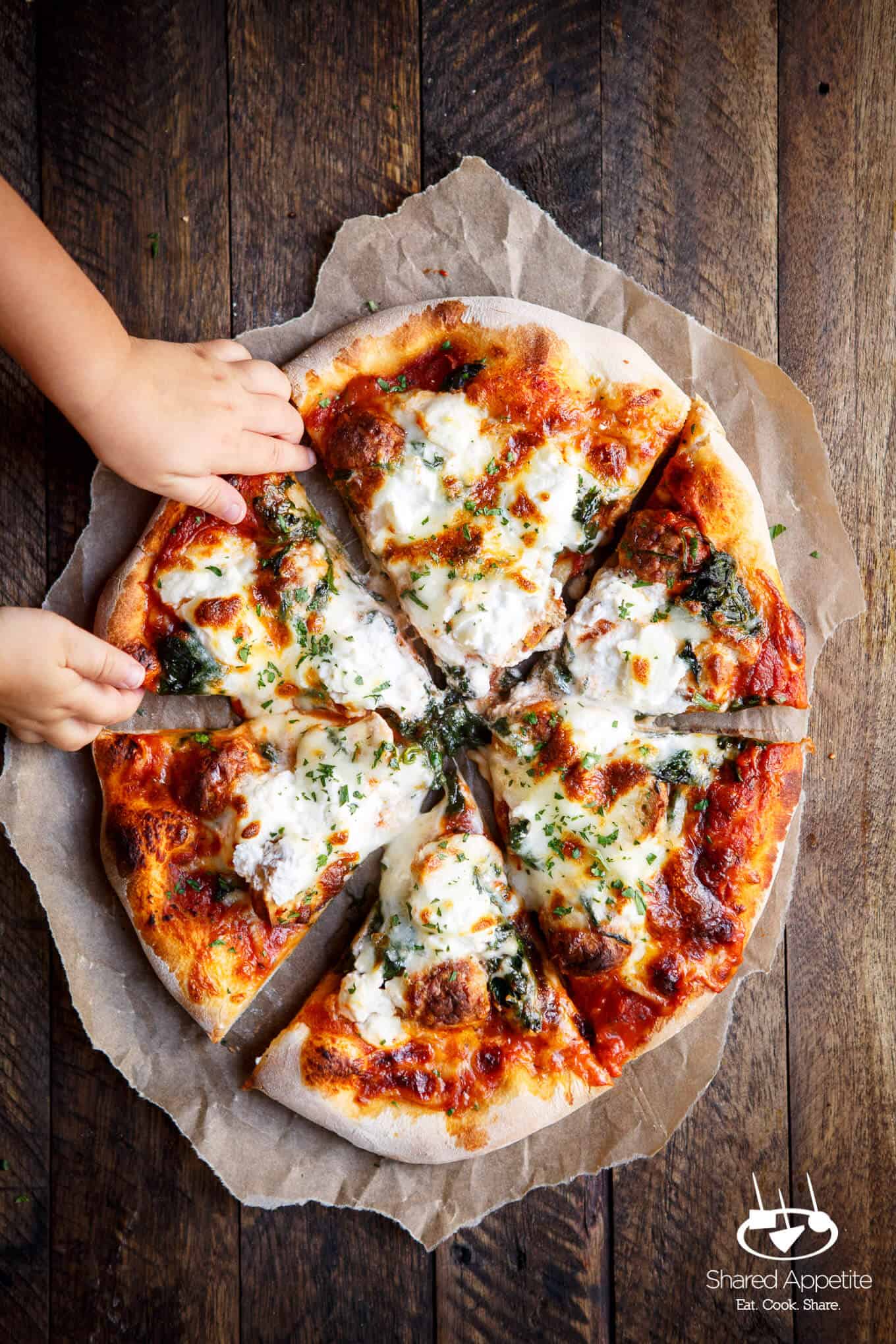 Print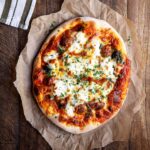 Meatball, Spinach, and Ricotta Pizza
---
1

(16 ounce) store bough pizza dough

½ cup

pizza sauce

1

(6 ounce) bag of spinach

1 tablespoon

olive oil
Kosher salt

8

 Cooked Perfect Fresh Meatballs, halved

½ cup

part skim ricotta cheese

1 ½ cups

shredded part skim mozzarella cheese
---
Instructions
Place a pizza stone on lowest rack in oven and preheat oven to 500°F.
Heat olive oil in a large skillet over medium heat.  Add spinach, season with Kosher salt, and cook until wilted.  Let cool and then wrap spinach in a few paper towels and squeeze out any excess moisture.  This will help keep the pizza from turning soggy.
Lightly dust a pizza peel with flour.  Working quickly, dust pizza dough with flour and stretch gently into a thin circle(ish) shape.  Spread pizza sauce in a thin, even layer across dough.  Scatter spinach, meatball halves, and ricotta on pizza.  Sprinkle with mozzarella cheese.
With a quick jerk motion the pizza should easily release from the peel onto the pizza stone in oven (this is why it's important to flour both the peel and dough, and work quickly).  Bake pizza in oven for approximately 15 minutes.  Depending upon the thickness of your dough, it could take a little less or a little more, so check frequently.
Remove from oven, let cool for 1-2 minutes, then slice and serve!
Notes
You can find premade pizza dough at many grocery stores, but my favorite option to grab one from your local pizzeria!  They are usually the same price as the ones in the supermarket and taste way better.  Just remember your dough should be room temperature or else it won't stretch as easily!
I use part skim ricotta and mozzarella because it helps keep the moisture down on the pizza.  I find when I use whole milk cheeses on pizza, it adds excess water and the pizza gets a bit soggy.  Park skim is PERFECT for pizzas!
Prep Time:

10

Cook Time:

15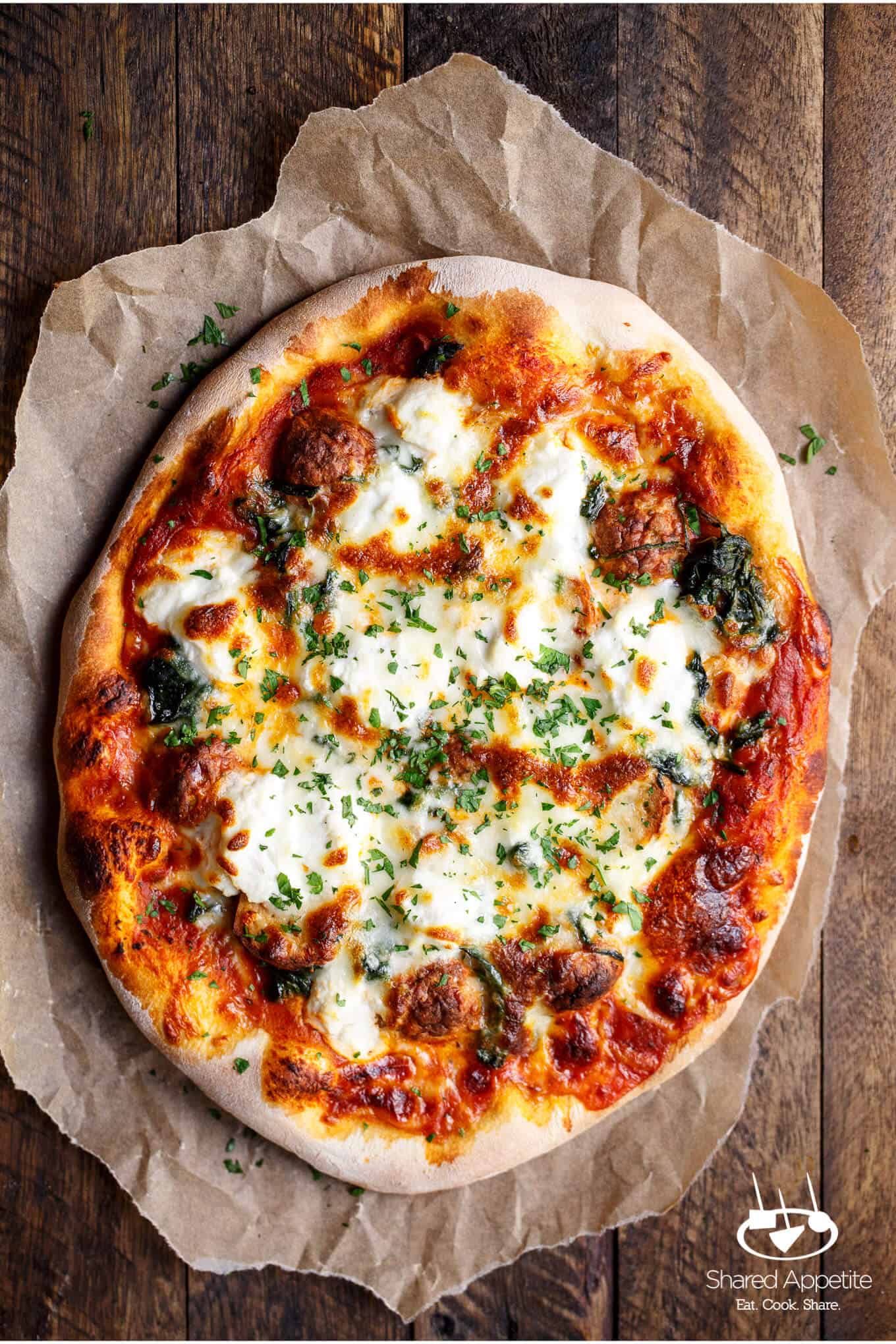 Meatball, Spinach, and Ricotta Pizza
Need More Pizza Ideas?
Spicy Honey Soppressata Pizza (The Bee Sting)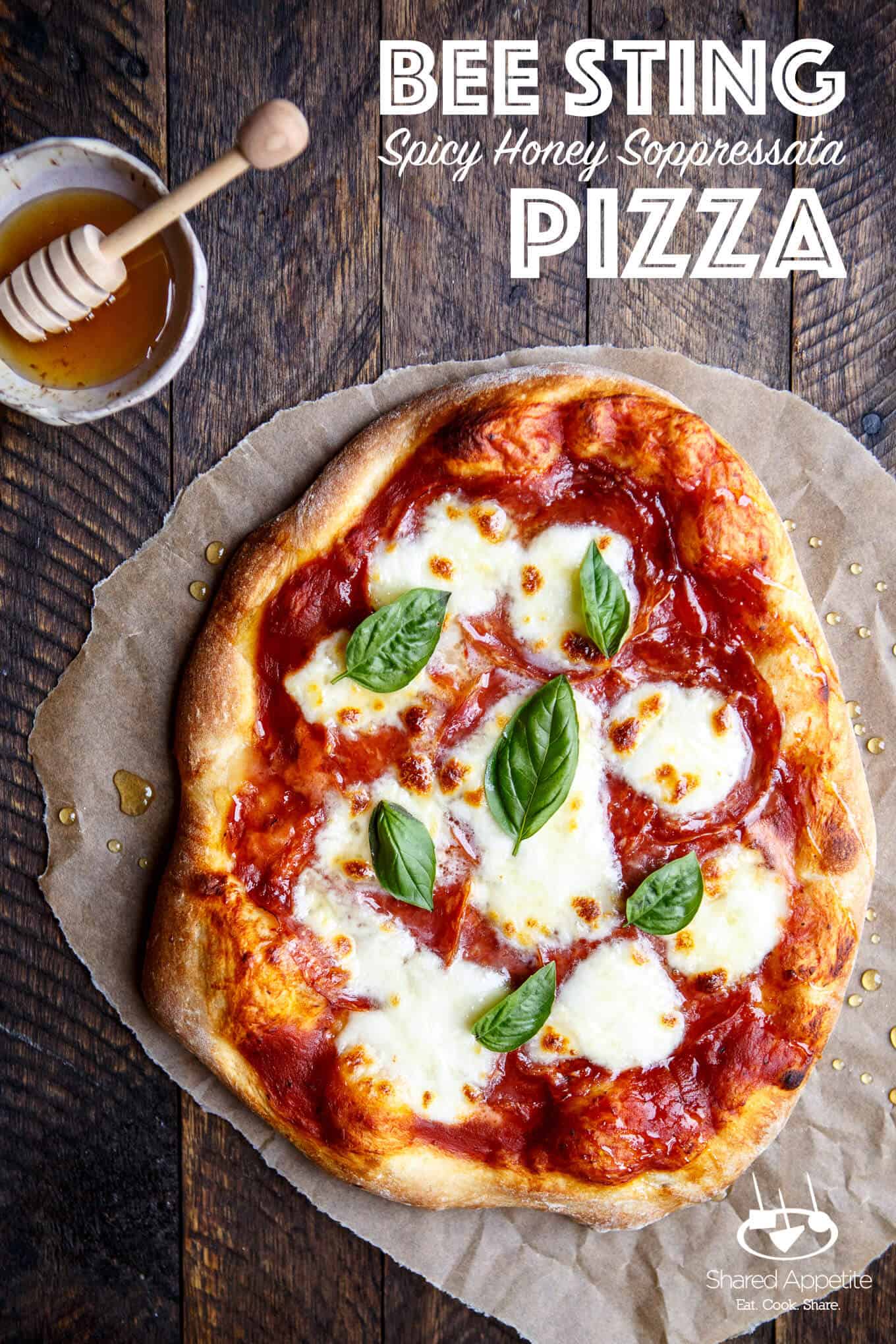 Huevos Rancheros Pizza with Turkey Chorizo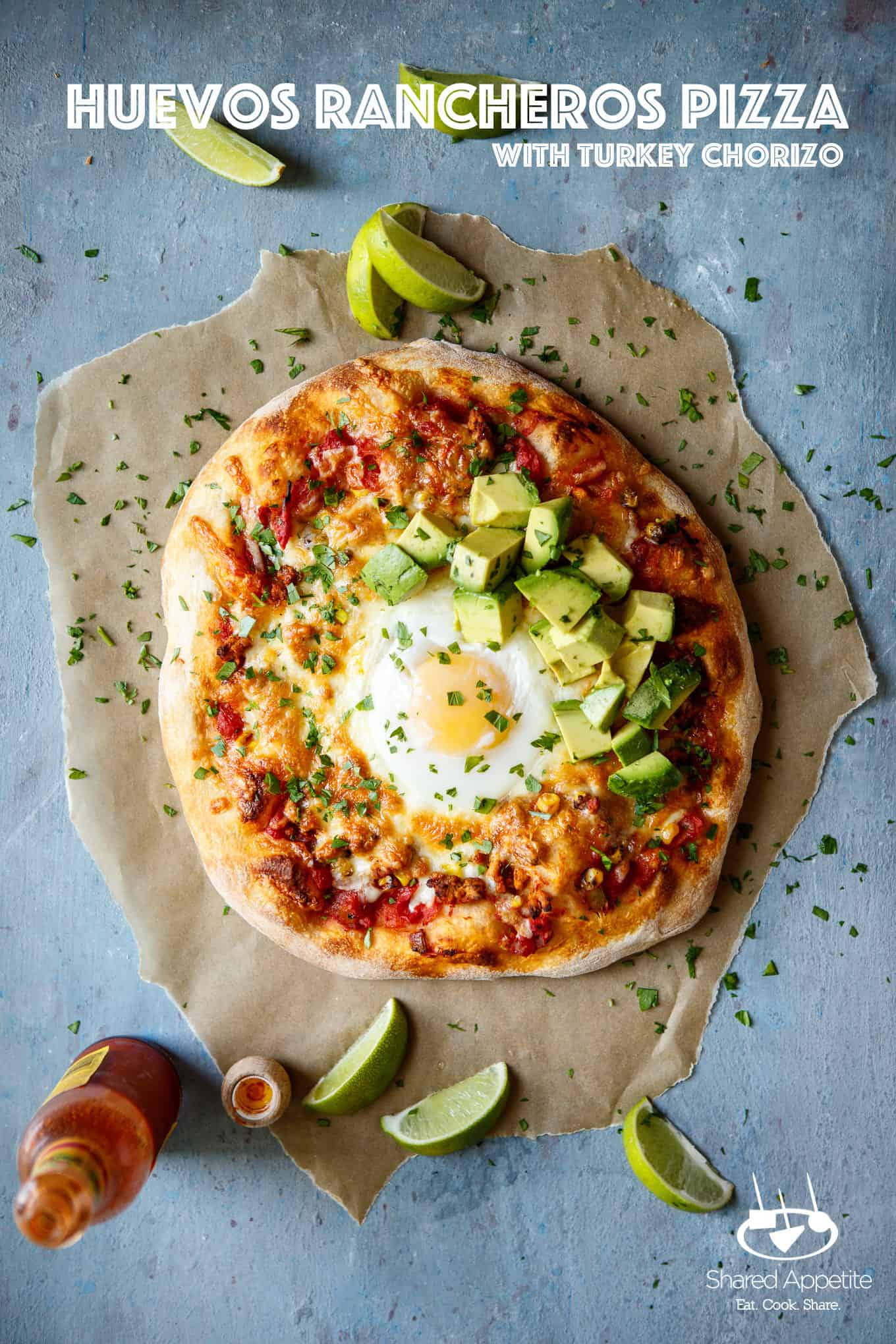 Corn and Blueberry Grilled Pizza with Whipped Goat Cheese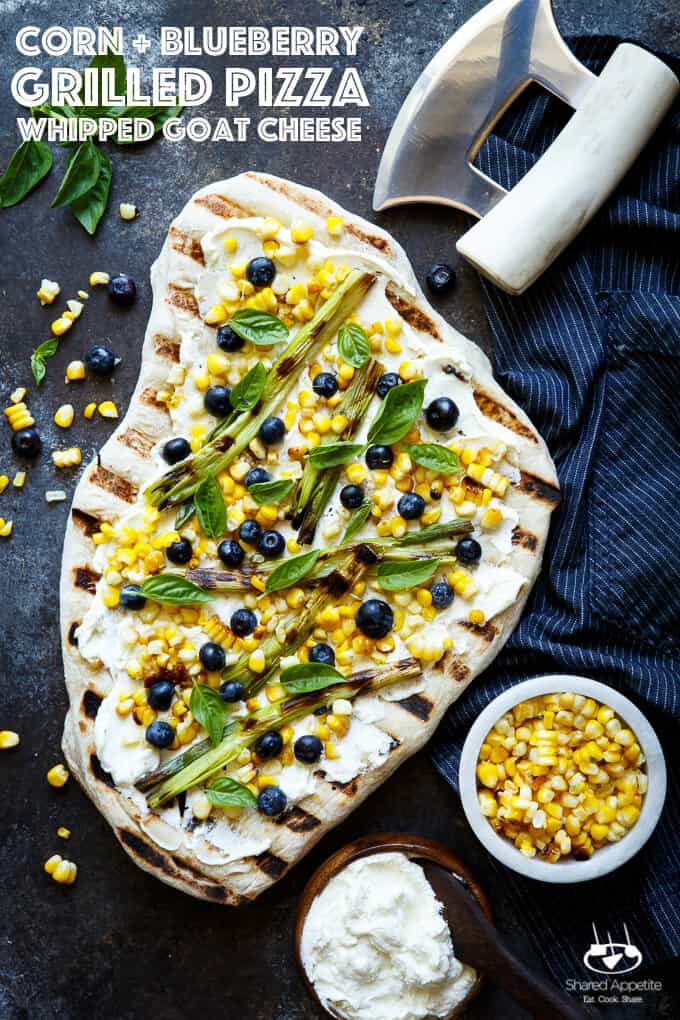 Apple, Bacon, and Leek Pizza Bites