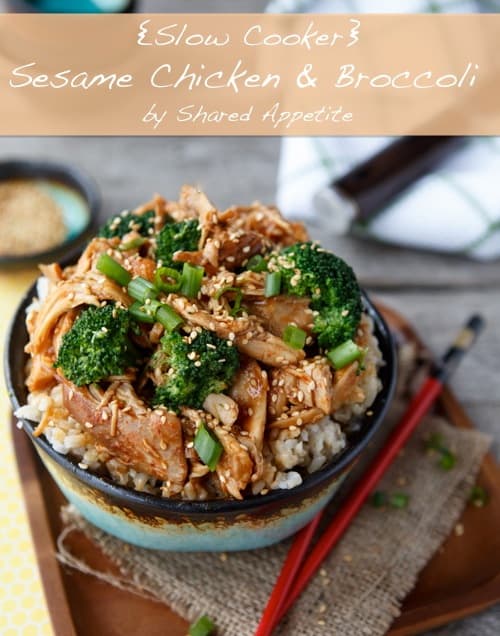 This {Slow Cooker} Sesame Chicken and Broccoli is super easy to make, requires little effort, and delivers big on flavor. And it's a lot healthier than take-out! Yes, a healthy slow cooker honey sesame chicken and broccoli 🙂
Are you on instagram? If you are, I would love it if you would consider following Shared Appetite. You probably won't see any photos of puppies or kittens on my feed (sorry, I know that cutesy stuff is kinda popular), but you will get plenty of food photos 🙂
—————————————————
Tyler and I co-facilitate a photography community group at our church. About 15 of us photography-loving peeps get together a few times a month to hang out together, share our work, learn some stuff, and go out shooting. It's a great bunch of people that range from total beginners all the way through industry professionals.
Last weekend, I invited everyone over to my house for a little food photography workshop. It was a ton of fun… we talked about some tips and tricks specifically for food photography, I showed them my "studio" (which is basically the spare bedroom that I have filled with all my photography gear and food props/backdrops), and then we set up two different stations to shoot.
I made cookies similar to these ones and this Slow Cooker Sesame Chicken and Broccoli. Everyone had free reign over all the props and backdrops in the "studio" and they went about composing their shots.
Here's a behind the scenes look: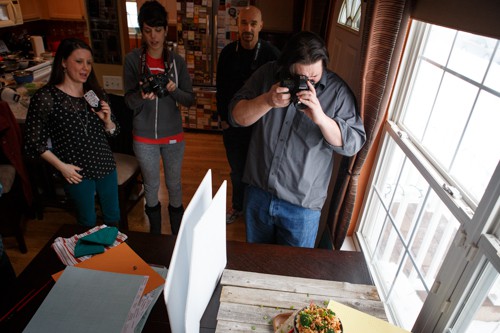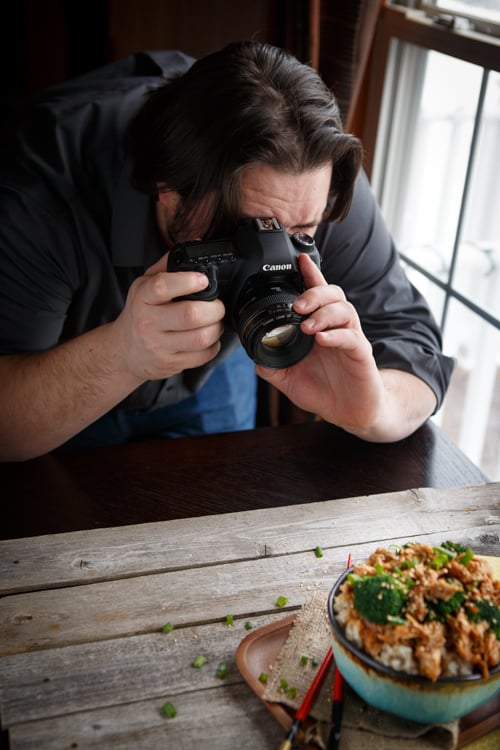 And yes, the shoot ended the way it should always end… with us eating everything 🙂
I only had time to snap a few quick photos of this sesame chicken. On a typical food shoot for the blog, I spend anywhere from 20-45 minutes photographing a dish and take about 50-100 photos.
I was thinking, should I remake this dish so I can properly give it the time to photograph, or share it with you ASAP? I needed to share it with you now because, well, it's pretty darn good and I didn't want to hold out on you guys.
Super easy to make. Perfect for weeknight meals. And a whole lot healthier than getting takeout 🙂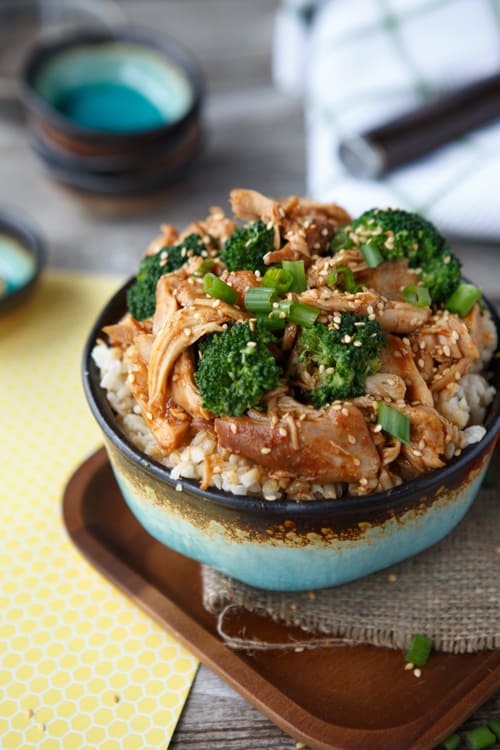 Print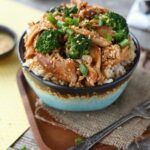 Slow Cooker Sesame Chicken and Broccoli
---
Total Time:

4 hours 25 minutes

Yield:

4

servings

1

x
6

boneless, skinless chicken thighs

1/3 cup

honey

1/4 cup

soy sauce

2 tablespoons

tomato paste

1 tablespoon

rice vinegar

1/2 tablespoon

olive oil

1 teaspoon

sriracha (more/less to taste)

1 teaspoon

onion powder

1/4 teaspoon

garlic powder

1 tablespoon

cornstarch

1/4 cup

water

2

heads of broccoli florets, steamed
Cooked white or brown rice

1

bunch scallions, chopped, for garnish
Sesame seeds, for garnish
---
Instructions
Remove excess fat from chicken thighs and place in slow cooker. In a small bowl, combine honey, soy sauce, tomato paste, rice vinegar, olive oil, sriracha (optional), onion powder, and garlic powder. Pour over chicken and stir to coat. Cook for 4-6 hours on LOW.
Remove chicken from slow cooker and set aside. In a small bowl, combine cornstarch and water, and stir into the sauce in slow cooker. Turn up slow cooker to HIGH and allow sauce to thicken, about 10-15 minutes. Meanwhile, shred chicken with two forks. Add shredded chicken back into slow cooker and stir to coat.
Divide rice among four bowls. Top with broccoli and chicken. Sprinkle with sesame seeds and scallions.
Prep Time:

10 minutes

Cook Time:

4 hours 15 minutes