Bring the campfire into your Christmas cookie baking with these S'mores Sandwich Cookies, made with graham cracker chocolate chip cookies!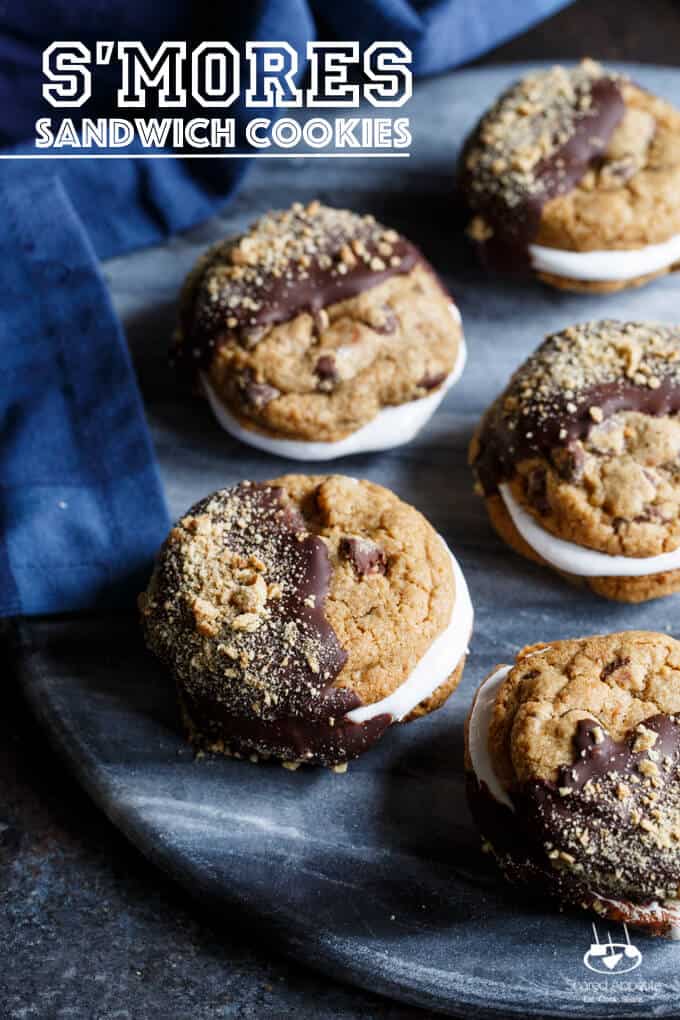 Not gonna lie. I've been putting off making cookies for as long as I could. And the reason is simple. I literally have no self control. Once Christmas cookies are in the house, it's cookies for breakfast, cookies right when I get home work, cookies anytime I walk through the kitchen, and of course cookies as I'm walking up to bed.
Cookies... all day long.
Fatness at it's peak.
I could eat the cookie monster under the table... easily. But I've waited long enough. Christmas is just under 2 weeks away. Bring it.
I'm not one to ever turn down a cookie, but my ultimate weakness are your basic chocolate chip. They are the epitome of cookie perfection. Crispy and buttery. Soft and chewy. The variations abound, and I'm happy and willing to try them all.
I already fell in love with these Nutella Stuffed Red Velvet Chocolate Chip Cookies and of course the Cookie Butter Stuffed Chocolate Chip Cookies with Sea Salt. They are both standards in our house.
But this past weekend, I was kinda craving s'mores. And cookies. If there is anything better than one cookie, it's two sandwiched together. With marshmallow fluff in the middle. And enrobed in dark chocolate. Mmmm hmm.
Hello Chocolate Chip Graham Cracker S'mores Sandwich Cookies. Welcome to the family beautiful.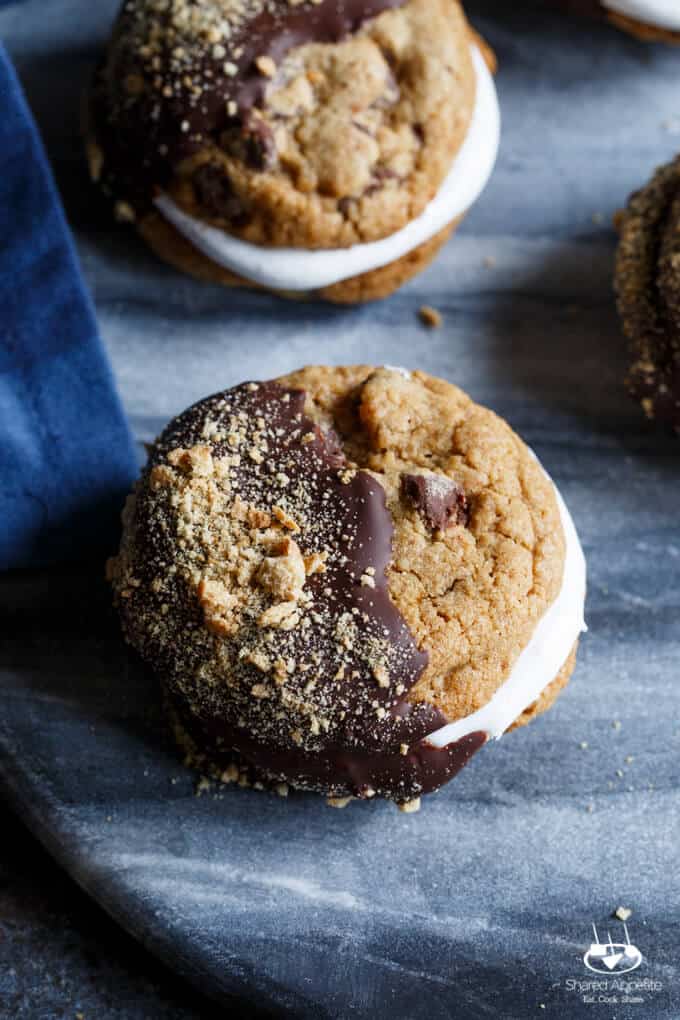 These S'mores Sandwich Cookies start with a modified chocolate chip cookie base. By replacing a lot of the usual all-purpose flour with freshly ground graham crackers, these cookies get a big ole' flavor boost in the s'mores category.
So yea, these aren't just your normal chocolate chip cookies. They are graham cracker chocolate chip cookies. And they are irresistible all on their own. Case in point, I had to banish Asheley from the house until I photographed these, because she honestly inhaled 4 of them right out of the oven. I knew without a drastic measure such as that, my poor cookies would never reach S'mores Sandwich Cookies status.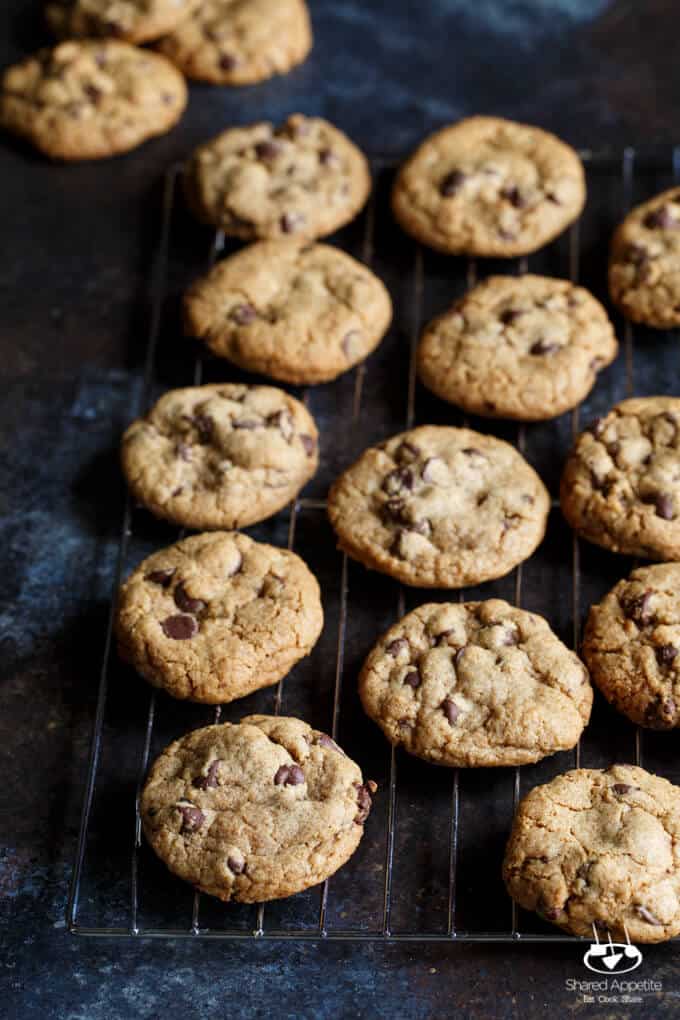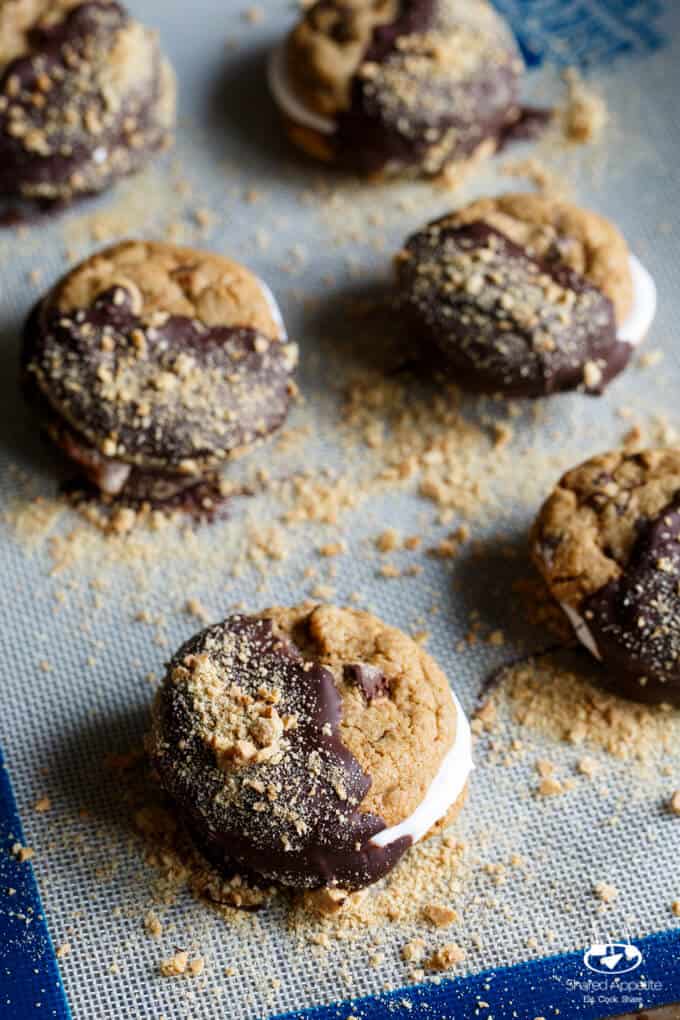 Listen. I'm no monster. Feel free to sample one off the cooling rack before getting your s'mores on. But limit yourself to one, okay. These S'mores Sandwich Cookies are worth it.
A word of warning when stuffing your cookies with marshmallow fluff. You're gonna want to overstuff them... it's tempting, I know. But don't. The weight of the cookies will make the fluff ooze out all over the place over time. At first it'll look all perfect and you'll be like, see Chris, you don't know what you're talking about! But then after they've rested for a few minutes, you'll see the ooze starting. Trust me, I know from experience.
You're gonna want to use some good quality chocolate for the half dip. Put away that Hershey's bar. It's crap. I'm partial to big monster-size chocolate bars that Trader Joe's sell. It's a good value, tastes great, and it melts and dips very well.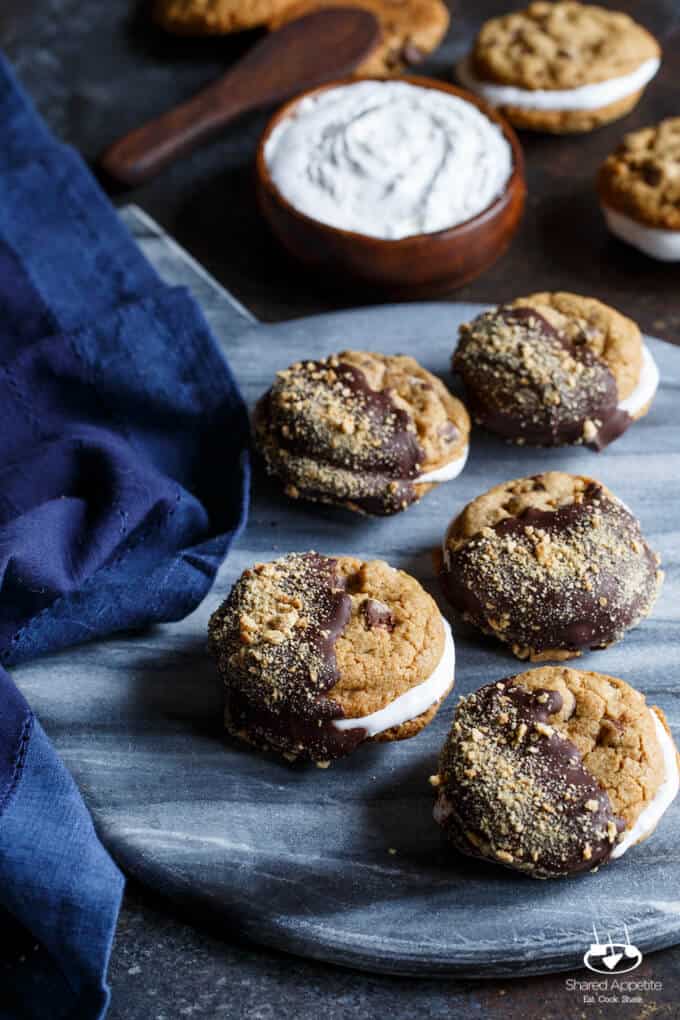 Anyone out there participate in a friendly cookie swap amongst your circle of friends or colleagues at work? Yea, well, we all know that deep down everyone wants to have the cookie. The one that makes everyone so jealous and insecure about their own holiday cookie creation.
This is that cookie.
On second thought, they might be too good to swap. You'd be wise to keep these for yourself.
S'mores Sandwich Cookies. I <3 You.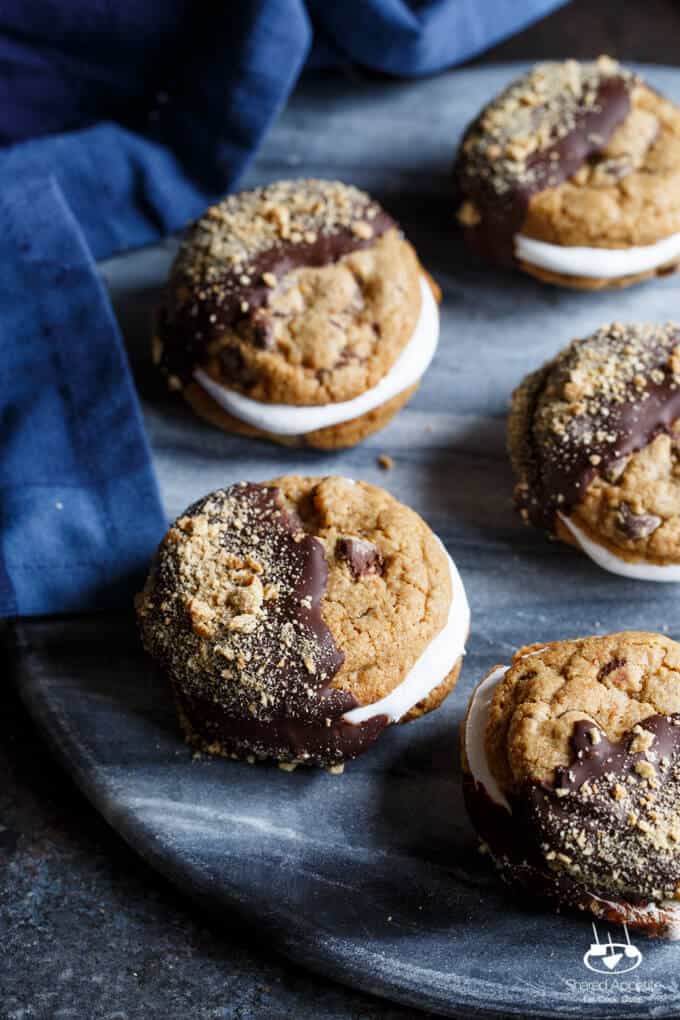 *Graham Cracker Cookies slightly adapted from Buns In My Oven
Print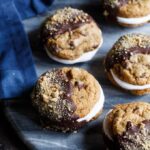 Chocolate Chip Graham Cracker S'mores Sandwich Cookies
---
Author:

Chris Cockren

Total Time:

30 minutes

Yield:

12

Sandwich Cookies

1

x
½ cup

softened butter

¾ cup

light brown sugar

¼ cup

granulated sugar

1 teaspoon

vanilla extract

1

egg

2 cups

ground graham cracker crumbs, divided

¾ cup

all purpose flour

½ teaspoon

baking soda

¼ teaspoon

salt

1 ¼ cups

chocolate chips

¾ cup

marshmallow fluff

10 ounces

good quality chocolate, chopped and melted
---
Instructions
Preheat oven to 350°F. In the bowl of your stand mixer, cream together butter, brown sugar, and granulated sugar until light and fluffy. Beat in vanilla extract and egg until well combined.
In a medium bowl, combine 1 ½ cups graham cracker crumbs, flour, baking soda, and salt. Gradually add the dry ingredients until just combined. Stir in the chocolate chips.
Drop cookie-sized balls of dough (you should have about 24 total) onto baking sheets and bake for 9 to 10 minutes. Remove from oven and let cool slightly on cookie sheets before transferring to cooling racks.
Once cookies are cool, pair together like-sized and shaped cookies. Spread the bottom of one cookie from each pair with about 1 tablespoon of fluff. Sandwich together with the other cookie, and repeat with remaining cookies.
Dip sandwich cookies halfway in chocolate and lay on a wax paper lined tray. Immediately sprinkle with remaining crushed graham crackers. Let chocolate harden completely before devouring.
Notes
Make sure cookies lay level once sandwiched together and allowing chocolate to harden. If cookies are pitched at an angle, they will start to slide apart. I found it easiest to place the tray of sandwich cookies in the fridge so the chocolate hardens quickly and in essence "sets" the cookies in place.
Prep Time:

20 mins

Cook Time:

10 mins
S'mores Sandwich Cookies
Need More Cookies?
Peanut Butter Cup Stuffed Chocolate Peanut Butter Swirl Cookies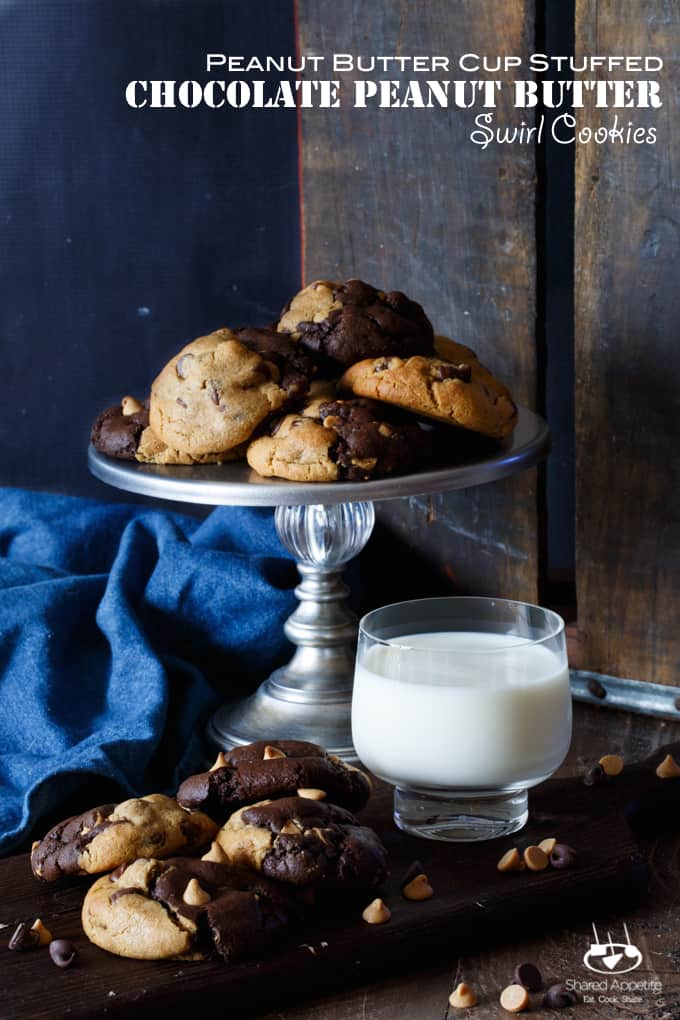 Nutella Stuffed Red Velvet Chocolate Chip Cookies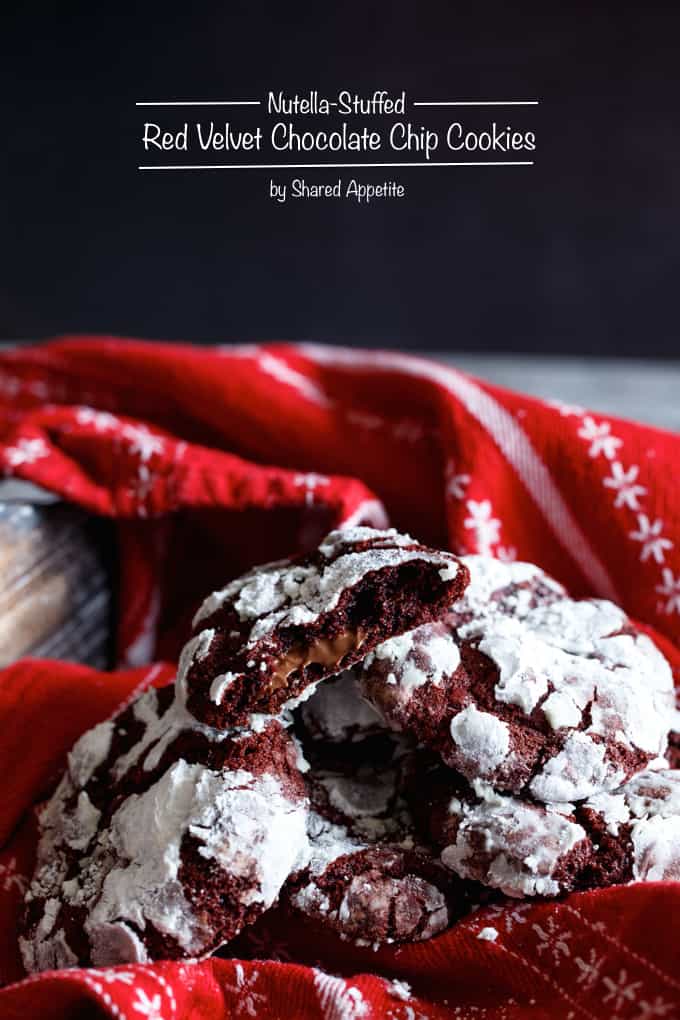 Chocolate Orange Truffle Crinkle Cookies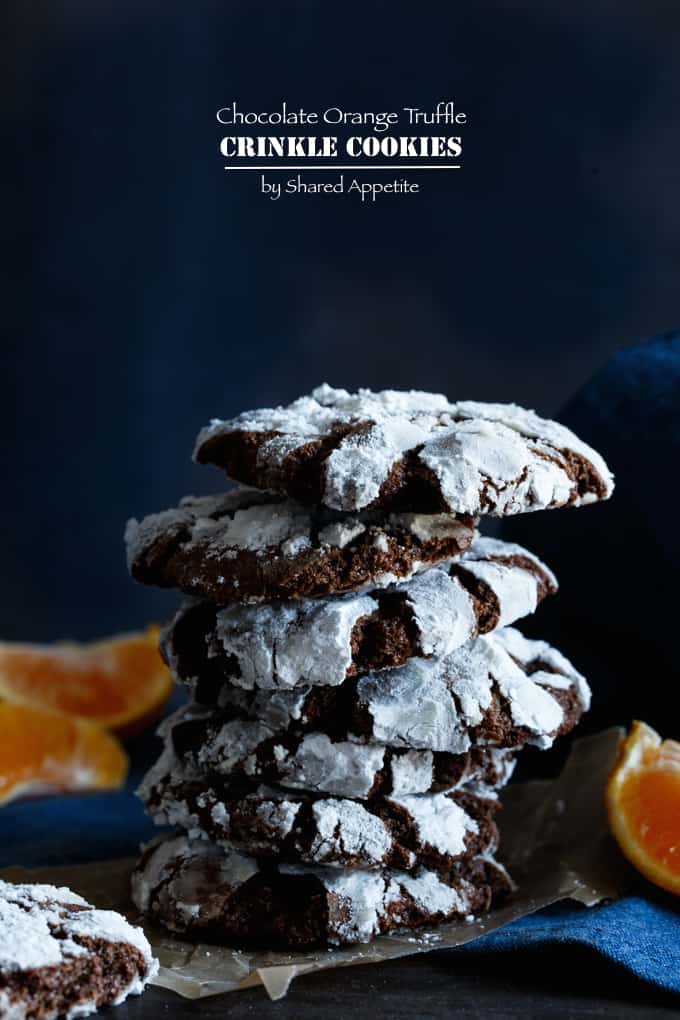 Gluten Free Brownie Cookie Salted Caramel Ice Cream Sandwiches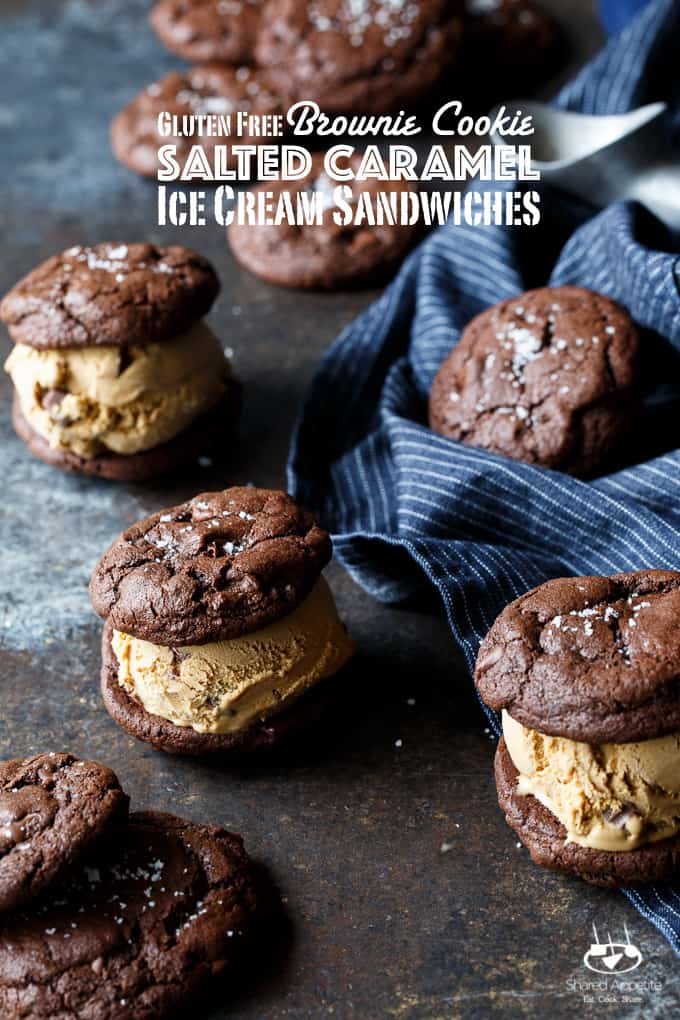 Red Velvet Peppermint Chocolate Chip Cookies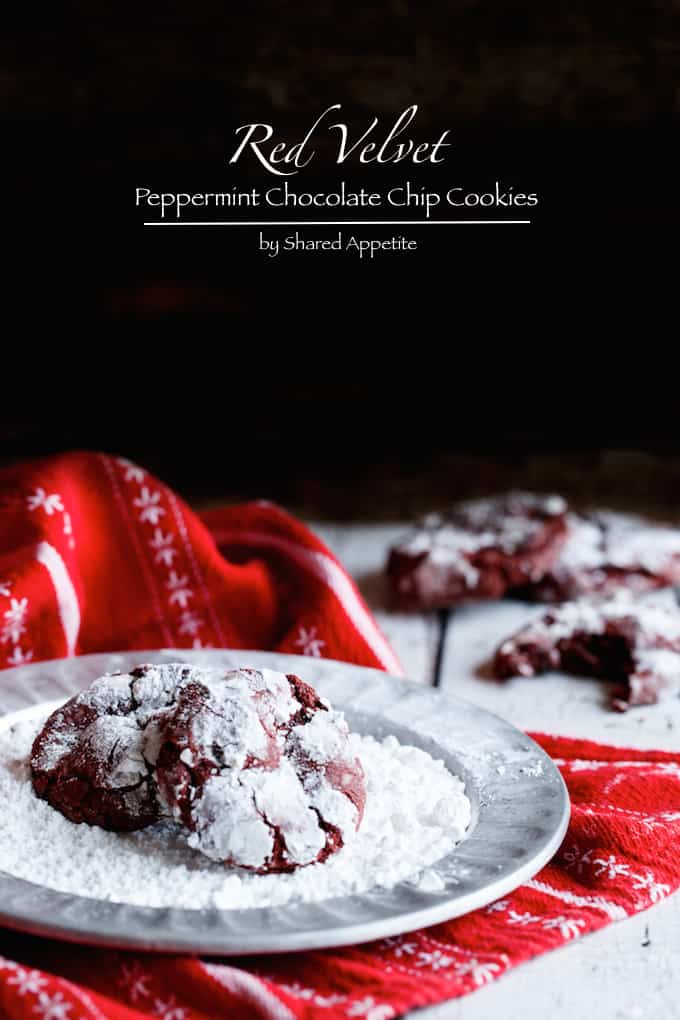 Cookie Butter Stuffed Brown Butter and Sea Salt Chocolate Chip Cookies