This post for Gluten Free Curried Chicken Scallion Meatballs with Lemon Ginger Red Curry Sauce is in partnership with Bob's Red Mill. As always, all opinions and recipe are my own. Thanks for supporting the brands who support Shared Appetite!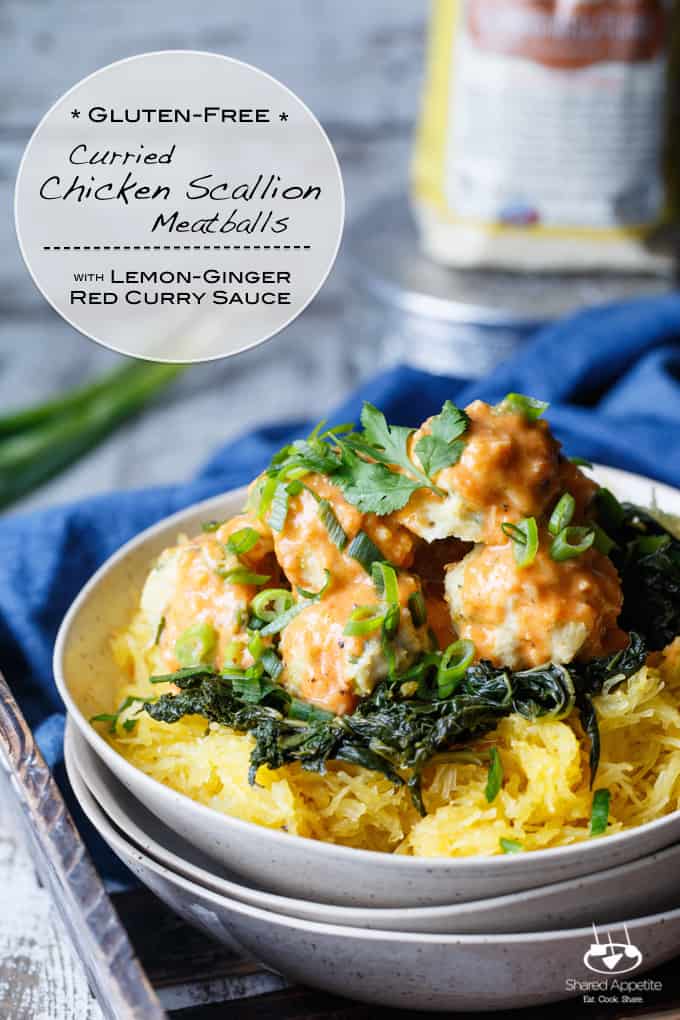 Honesty time. The beginning of this school year was rough when it came time to dinner. By the time we got home for a full day of work, spent a few minutes hanging out with our baby girl, fed her dinner and did the whole bed time routine, it was 8 p.m. And who wants to cook dinner after all that? Certainly not us. We fell into the take-out trap. The "what do you want for dinner" question was really a "where should we send out for food". I still cooked on occasion, and of course got busy in the kitchen for any entertaining we did at the house… but it was just so hard to get into a weeknight groove.
Come January, I was determined to fix this crazy wrong. Most times we sent out, I would say to myself… I can literally make the same thing at home… and use quality ingredients. So now, I'm all about meal planning, doing a bunch of prep on Sundays, and having quick and easy meals to make throughout the week.
Take, for instance, these Gluten Free Curried Chicken Scallion Meatballs with Lemon Ginger Red Curry Sauce. I roasted some spaghetti squash and sauteed up a whole lot of kale over the weekend. And then all it took was a quick 30 minutes to get these meatballs prepped and cooked. Boom. Instant legit weeknight dinner.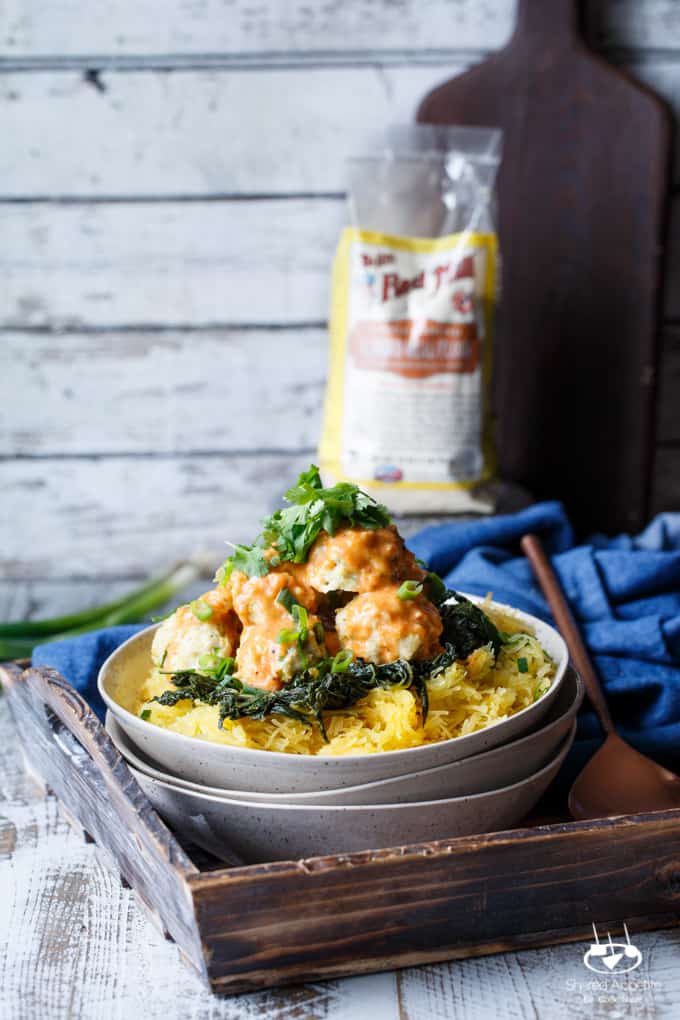 Let's talk meatballs. They're gluten-free! You all know I'm trying to be a little more conscious with what I'm eating nowadays. I'm working hard to cut back on the carbs. And the sugar. And ice cream.
Basically, I'm trying to eat like a normal, healthy person instead of the fat schlub-a-dub I became over the past few months.
A super easy switch for the breadcrumbs in meatballs? Almond meal (or almond flour). Not only does that delete some unneeded carbs, I got a dose of nutritious almonds added in. #winning
And guys. I'm serious. You would never ever know that these are gluten free. These almond meal chicken scallion meatballs are so moist and flavorful. Heck to the yes.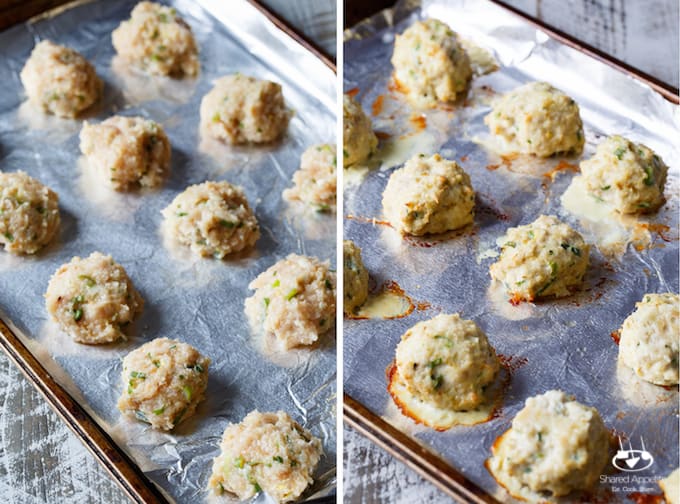 Every time I'm at the grocery store, I seriously spend way too much time in the aisle with all the Bob's Red Mill products. I'm like a kid in the candy store. All those transparent bags filled with glorious goodness… give 'em all to me! I always love anything I buy with the Bob's Red Mill name on it, and I secretly have a goal of trying out every single one of their incredibly vast lineup of products.
The Bob's Red Mill Finely Ground Almond Meal/Flour is always a great choice in my book. It's a perfect gluten free alternative for cooking and baking (remember those Gluten Free Meyer Lemon Custard with Almond Thyme Crumble? Ermagherd!!).
And hey, if you're anything like me, you'll get sucked into the vortex of awesomeness that is Bob's Red Mill, and you'll end up picking up a few extra bags of goodies to experiment with. So a Bob's Red Mill coupon will definitely come in handy. You can grab a bunch of them here!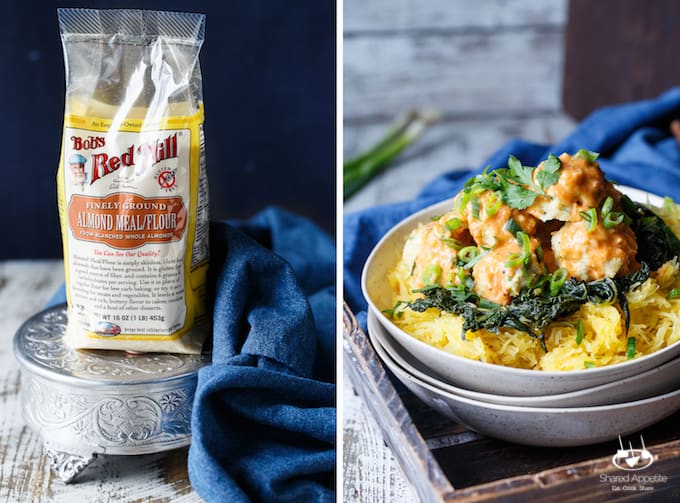 Print
Gluten Free Curried Chicken Scallion Meatballs with Lemon Ginger Red Curry Sauce
---
Total Time:

35 minutes

Yield:

4

to

6

servings

1

x
1

pound ground chicken

1/2 cup

Bob's Red Mill finely ground almond meal

2

cloves garlic, minced

1 teaspoon

minced ginger

1

egg

2

scallions, chopped, plus more for garnish

1/2 teaspoon

curry powder
Kosher salt
Freshly ground black pepper
Lemon Ginger Red Curry Sauce
Roasted Spaghetti Squash, for serving (optional)
Sauteed Kale, for serving (optional)
for the Lemon Ginger Red Curry Sauce
1 tablespoon

olive oil

4

cloves garlic, minced

2 teaspoons

minced ginger

2

cans coconut milk

2

lemons, juiced

1 tablespoon

plus 1 teaspoon red curry paste
Kosher salt
Freshly ground black pepper
---
Instructions
Preheat oven to 400°F. Line a large baking sheet with aluminum foil and spray with nonstick cooking spray. In a medium mixing bowl, combine ground chicken, almond meal, garlic, ginger, egg, scallions, and curry powder. Season with Kosher salt and freshly ground pepper. Mix until just combined, don't overmix. Working quickly, roll into meatballs (you'll have about 18) and place on baking sheet. Roast in oven until just cooked through, about 15-20 minutes.
Meanwhile, make the sauce. Heat olive oil over medium heat in a medium skillet. Cook garlic and ginger for 1 minute, stirring constantly. Stir in coconut milk, lemon juice, and red curry paste. Season with Kosher salt and freshly ground black pepper. Bring to a boil, and then reduce heat and maintain simmer until mixture thickens to a sauce consistency.
Serve meatballs over roasted spaghetti squash and sauteed kale. Cover in sauce, garnish with scallions, and devour.
Prep Time:

15 mins

Cook Time:

20 mins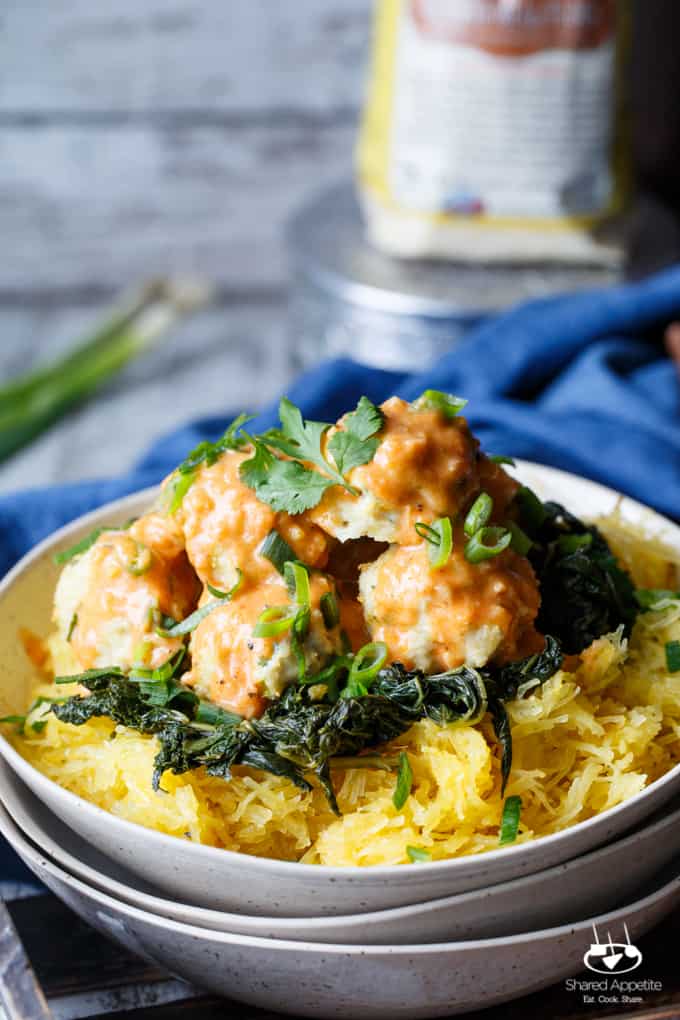 Now That You've Seen These Gluten Free Curried Chicken Scallion Meatballs…
Need More Gluten-Free Dinner Ideas?
Roasted Butternut Squash and Apple Soup with Thyme, Pecans, and Creme Fraiche

4 Ingredient Spicy Chipotle Honey Chicken Kebabs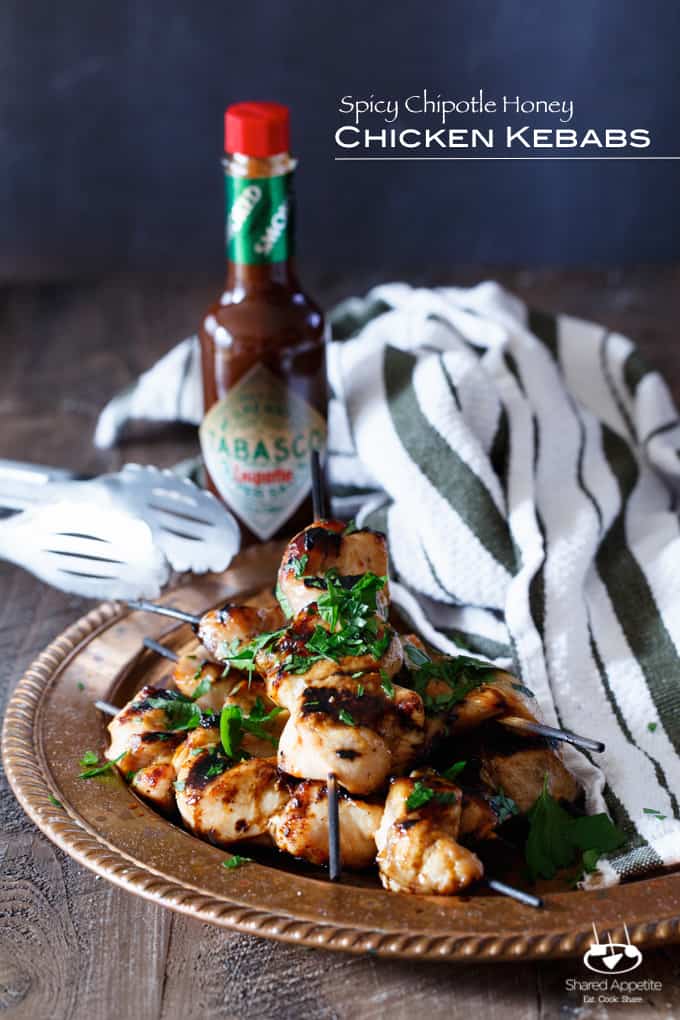 Honey Sriracha Cauliflower Salad with Avocado Greek Yogurt Dressing + Pickled Onions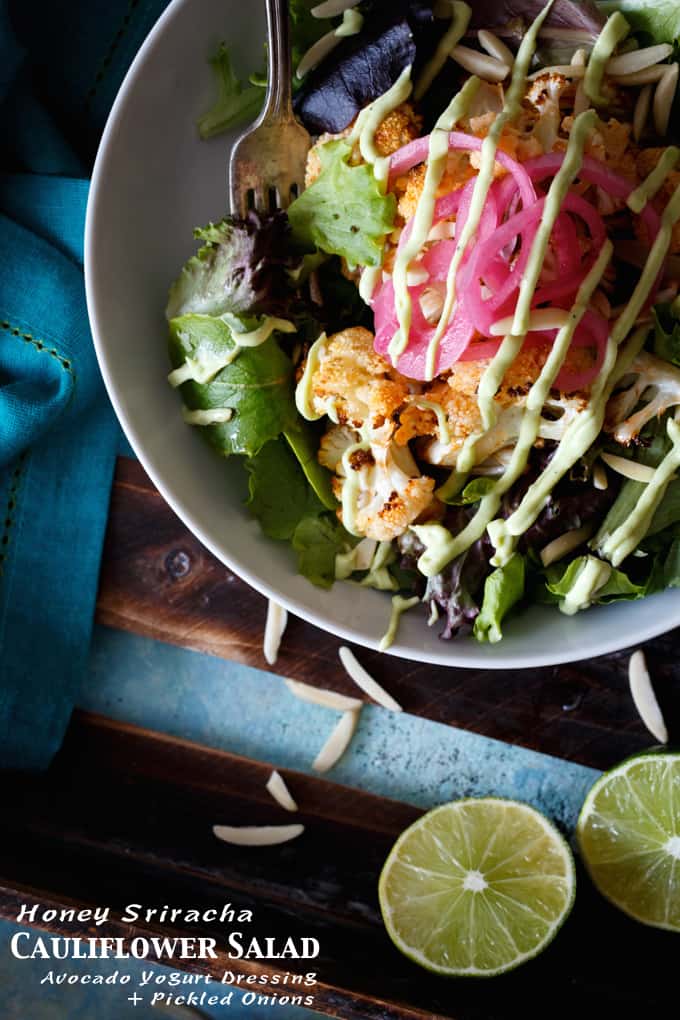 Southwest Sweet Potato Noodle Bowl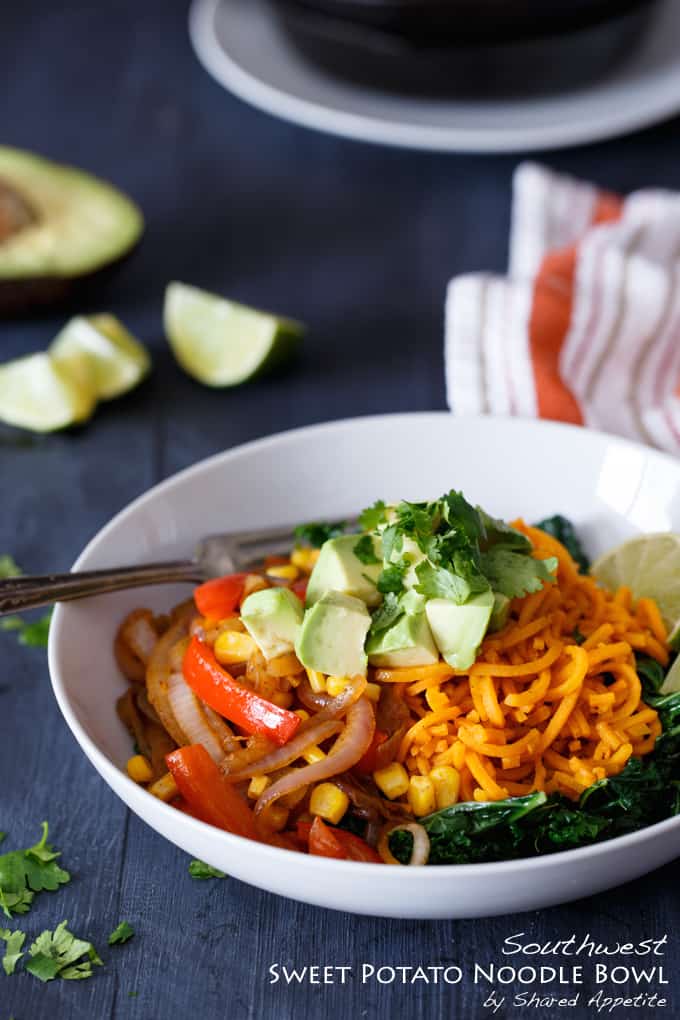 Korean Pork Spaghetti Squash Bowl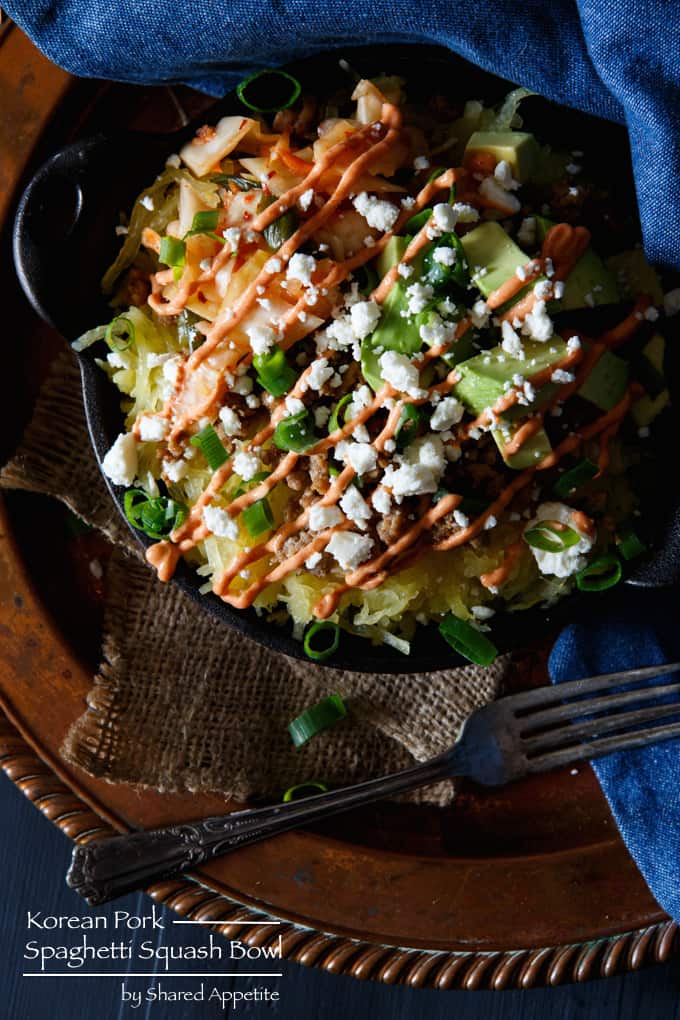 Cinnamon Chili Pork Lettuce Wraps with Apple Corn Salsa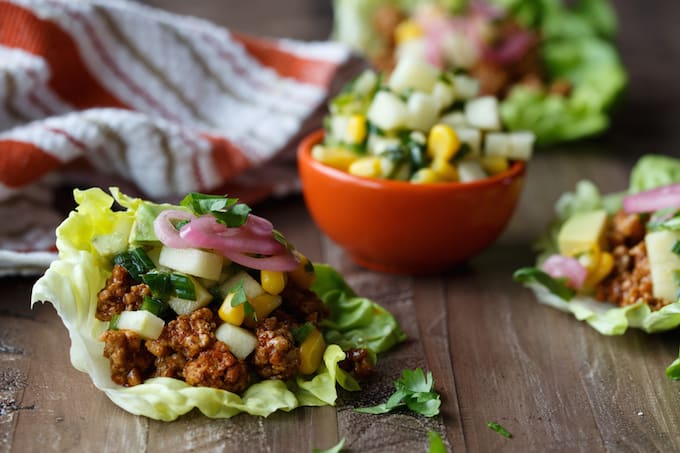 Bacon + Egg Brussels Sprout Salad with Sweet Potato and Avocado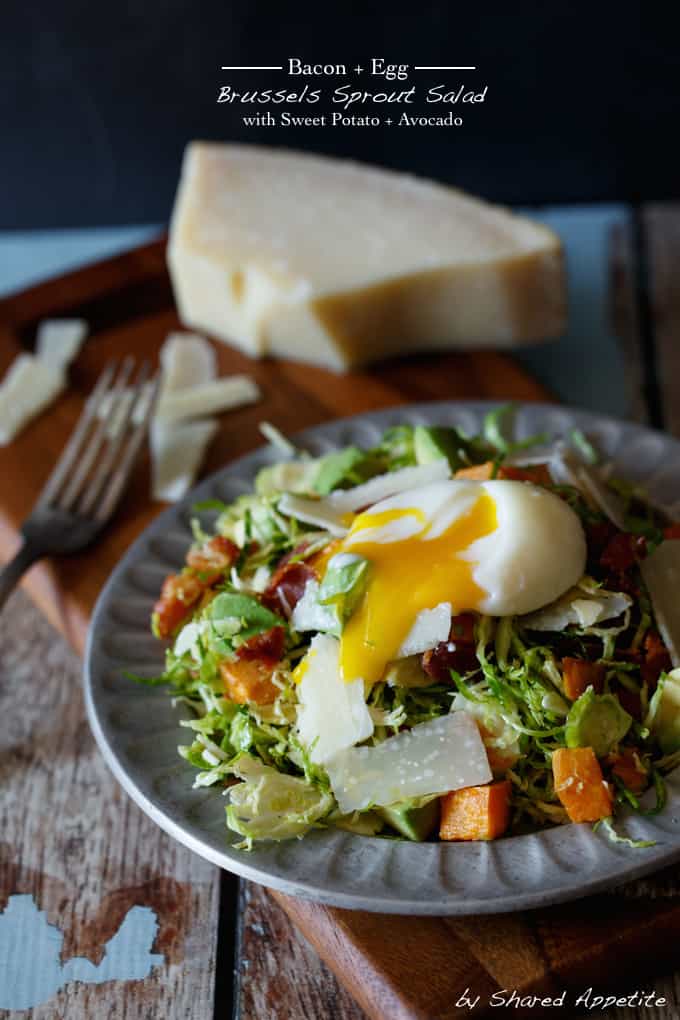 5 Ingredient Apple Cider Glazed Pork Tenderloin with Apple Noodles


Rustic Tuscan Style Sausage, White Bean, and Kale Soup