These Grilled Lamb Chops with Mint Chimichurri were created in partnership with the American Lamb Board. As always, all opinions and recipe are my own. Thanks for supporting the brands that support Shared Appetite!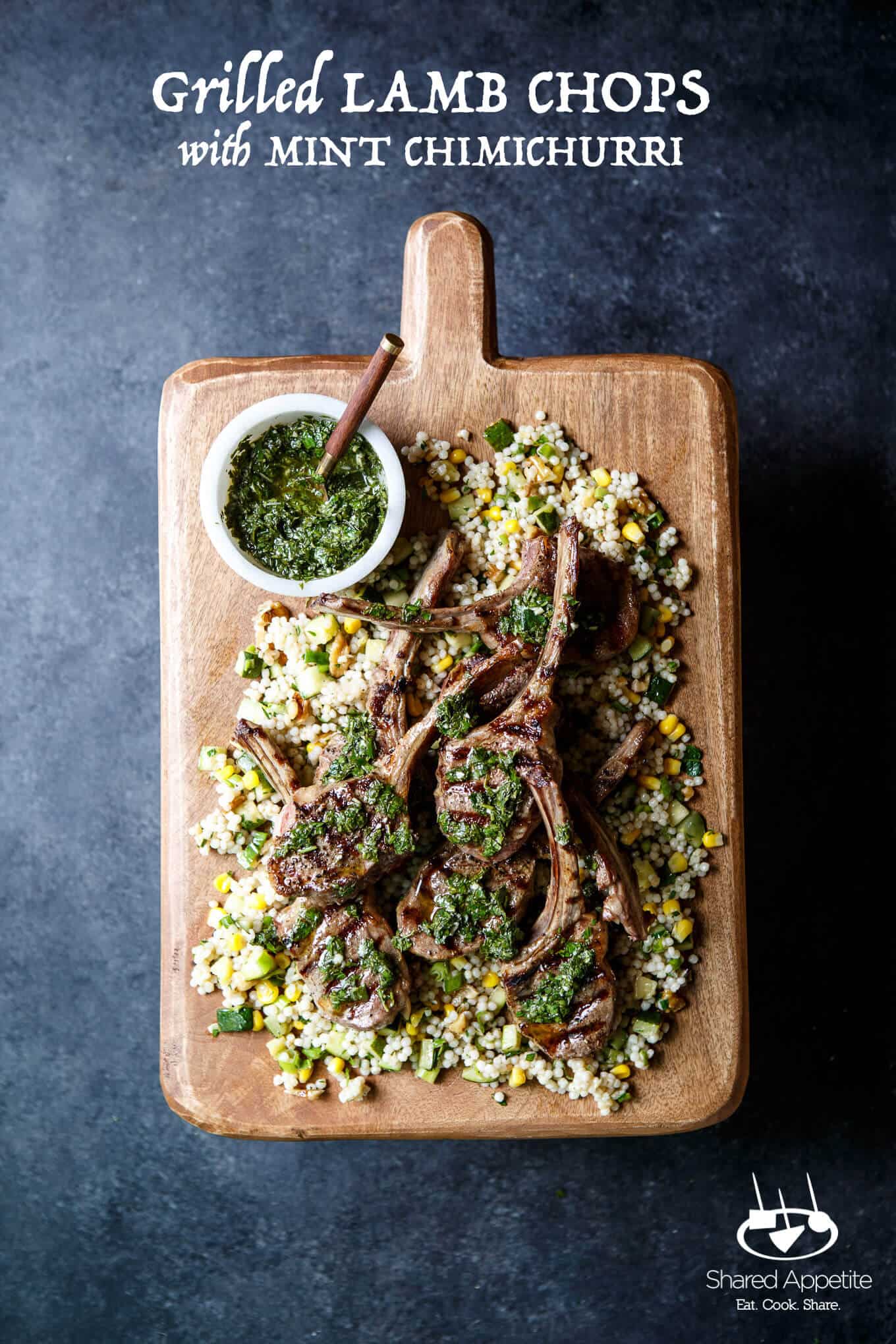 It's Friday! No, not really. But every day over the summer sure feels like it. The past few weeks, my wife and I have entertained and had backyard get-togethers... on weeknights. There's just something so innately and incredibly satisfying to have family or friends over and to cook for them. I love to entertain, so my grill has been working overtime lately.
Olivia is totally on board as well. She is obsessed with swimming around in the pool (thanks to this awesome swimmer helper thing... HIGHLY recommend). She happily swims all the way down to the deep end and all the way back. By swim I mean float and her little legs kick furiously under the water. It's super cute. And while she swims with Asheley or whatever friends are over at the time, I'm manning the grill.
Burgers and hot dogs are good and all, but let's get real. Sometimes you want something a bit fancier. Something a bit more refined. Something that's a showstopper of a dish. Enter these Grilled Lamb Chops with Mint Chimichurri.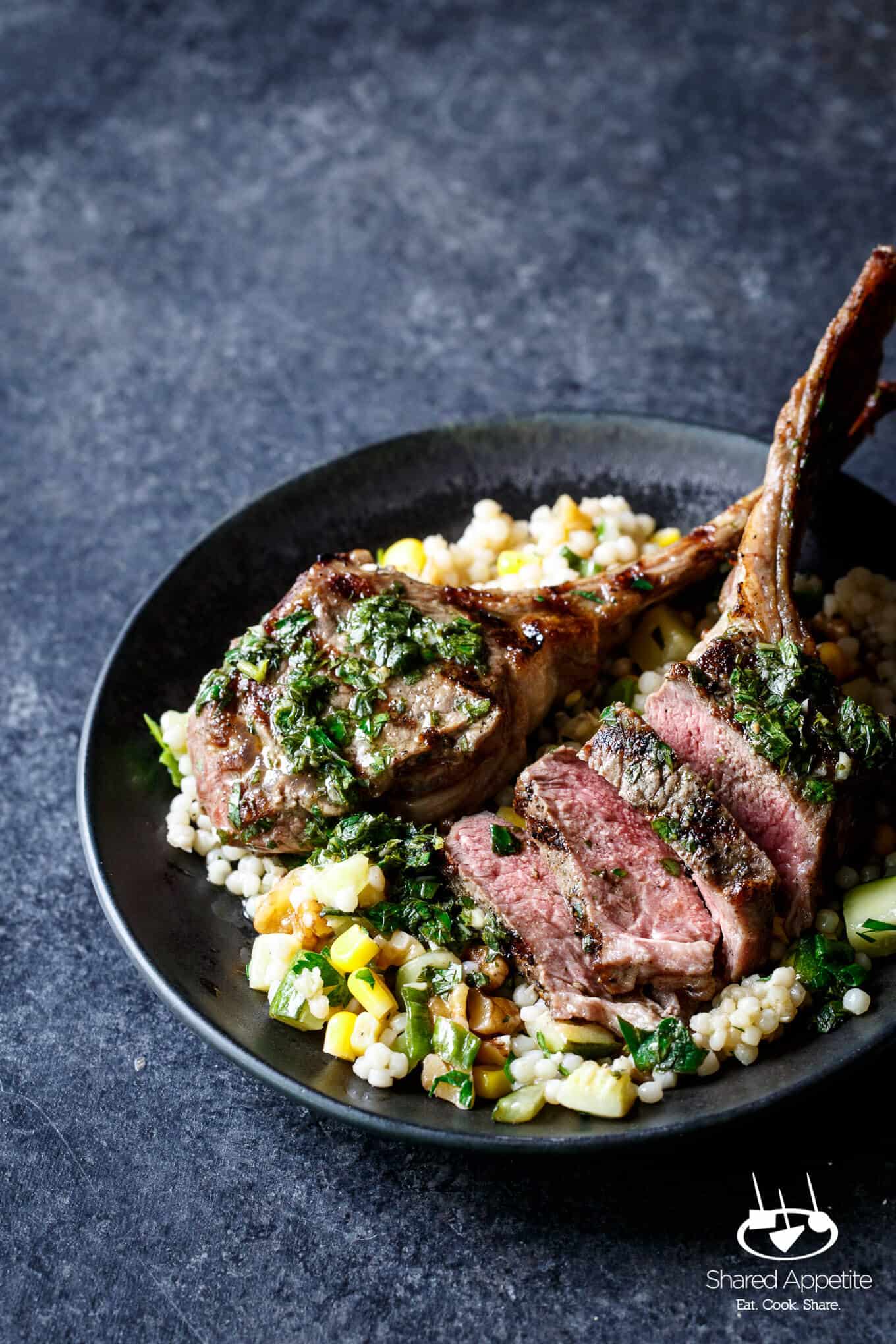 Here's the beauty of these Grilled Lamb Chops with Mint Chimichurri.
They look (and taste) like some high end culinary masterpiece. I mean, just look at them. That's the epitome of elegant summer eating. But here's the secret. These Grilled Lamb Chops with Mint Chimichurri are incredibly easy to pull off.
If you can cook a burger, you can cook these lamb chops.
The key to a great lamb chop? Make sure to season them generously with salt and pepper and have a good quality instant read thermometer. Cook them to 145°F for lamb that's super moist and tender with a perfect rosy interior!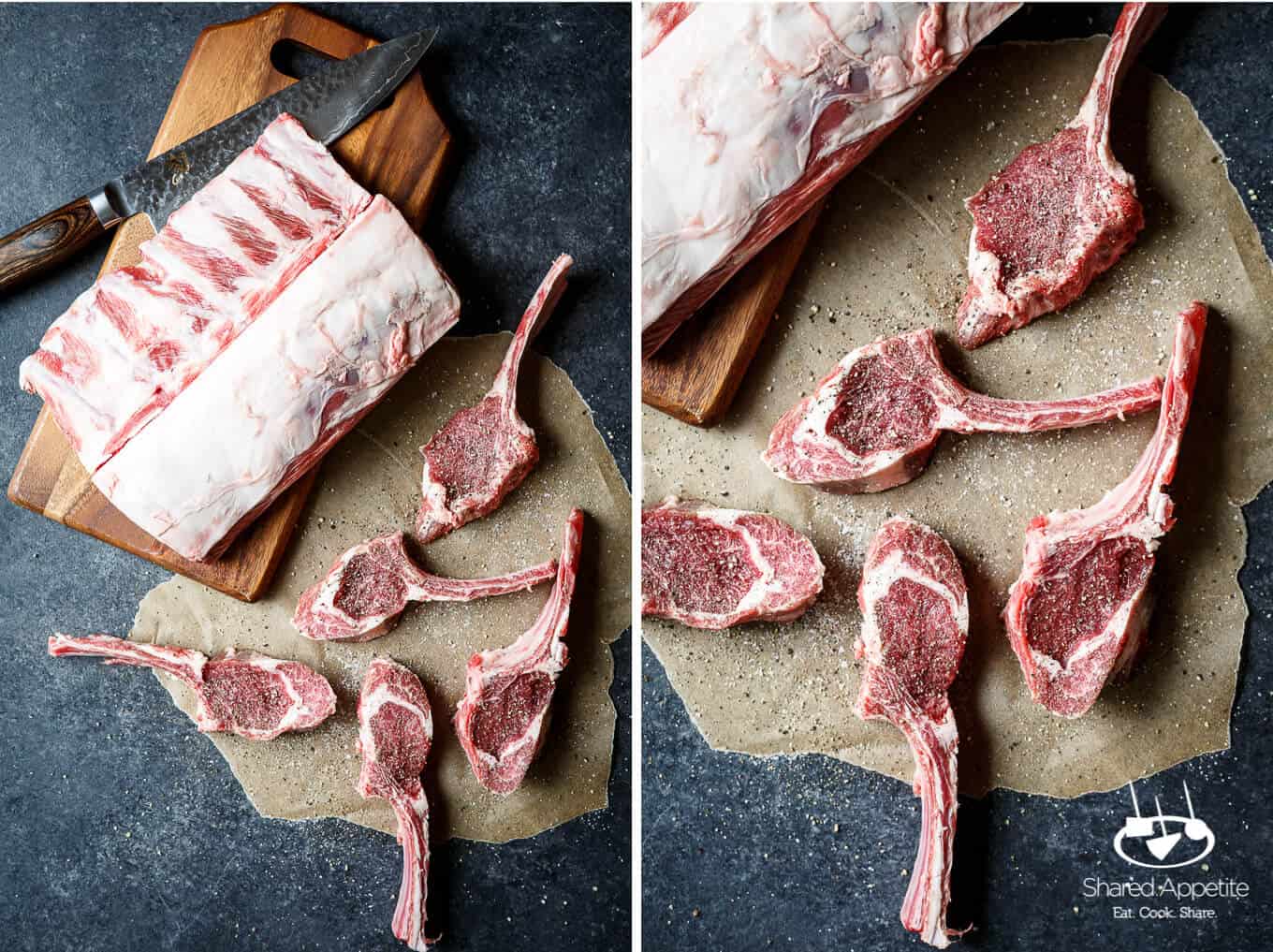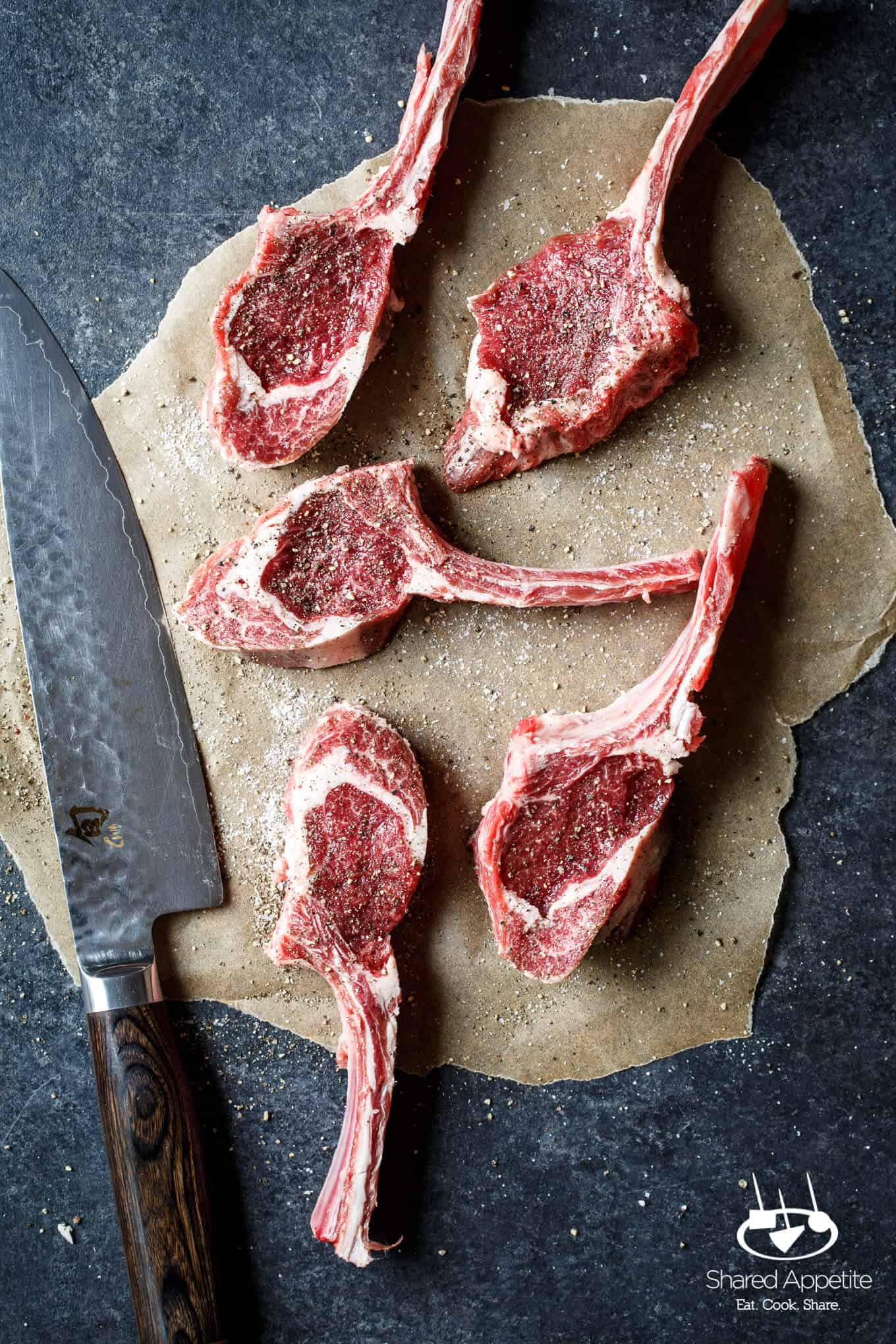 The biggest secret of all when it comes to a great lamb chop? The lamb. When you're working with a superior product, you don't need to do much to it.
American lamb is just that... superior.
It makes me so bummed that a lot of the lamb sold here in the states is actually from Australia and New Zealand. What the what?! I know, it's crazy. We are buying meat from the opposite side of the world when we have BETTER lamb right here! And it's LOCAL!
How local, you ask? American lamb is produced in almost every single state. I had the honor to tour a lamb ranch in California last year and I can tell you this... raising lamb is a labor of love and passion. It's not some get rich quick scheme or anything like that. These guys work incredibly hard, and I personally am so happy to support our local farmers by keeping it local.
Let's review. Lamb from 10,000 miles and 30 days away from our supermarkets... or lamb that was raised right here on American soil by family-owned ranches AND tastes better? Uhm, yea. No duh. American lamb for the win!
Next time you are at the butcher counter… make sure you let them know that you want AMERICAN lamb.
Speaking of lamb, it's once again time for Summer LAMBventures! The American Lamb Board wants to know what type of Summer Lambventure personality you are...
Grilling Guru
Fit Foodie
Outdoor Adventurer
Patio Party Planner
Head over to their contest page by and enter their Summer Lambvetures contest by August 1, 2017 to win some serious swag and prizes! We're talking a $250 gift card AND lamb! It literally takes less than 60 seconds to enter the contest, so make sure to go there now! Winners announced August 15, 2017!
Want to win the grand prize worth $2000?! Complete two of your summer bucket list items and share photos of it to Instagram, Facebook, and/or Twitter. Use the hashtag #summerlambventures and you'll be entered to win the grand prize... a large Green Egg and 4 seasonal Lamb Party Pack Shipments!
I'm thinking about which personality I am. Definitely not the Fit Foodie. I want to be fit and think being fit is super important, but in all honesty I like ice cream a lot more. I'm also definitely not the Outdoor Adventurer. I much prefer being inside with the air conditioning thank you very much. But Grilling Guru and Patio Party Planner? Yes and yes. I absolutely LOVE grilling and LOVE entertaining. I'm pretty sure we've had at least one party or get together every week since summer started.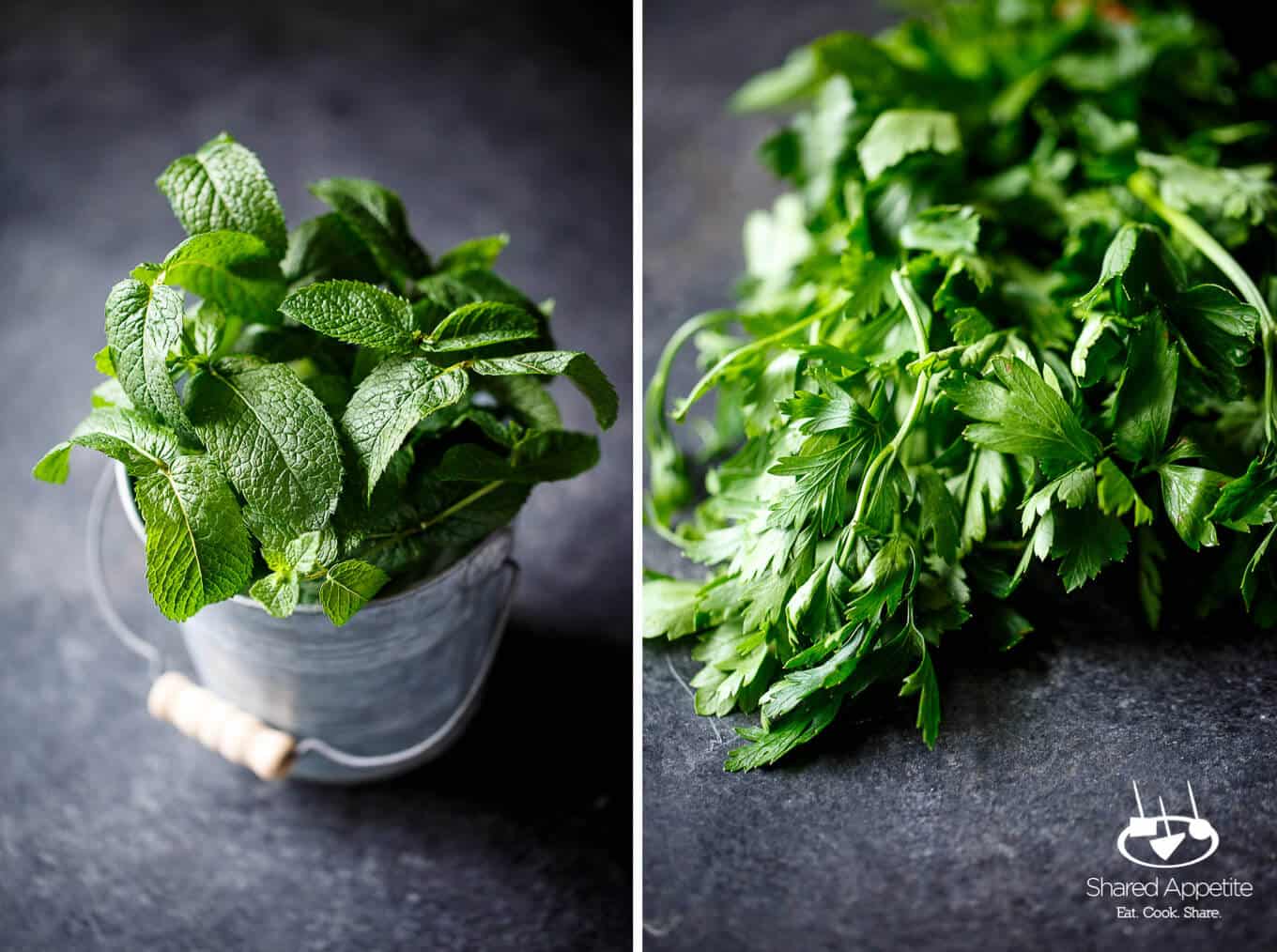 It's no secret that lamb goes extremely well with mint. Even people that don't eat lamb regularly know that lamb and mint is a classic pairing. You often see chimichurri sauce with steak in Argentinian cuisine, but I created a mint chimichurri for these grilled lamb chops. It's like a chunkier version of pesto and is super bright and herbaceous.
It's the perfect condiment for these Grilled Lamb Chops with Mint Chimichurri. The lemon and red wine vinegar cuts right through the richness of the lamb, and the parsley and mint brighten up your tastebuds. It's a serious flavor party and you're all invited.
The chimichurri comes together in under 10 minutes (under 5 minutes if you're quick in the kitchen) and can be made hours ahead of time.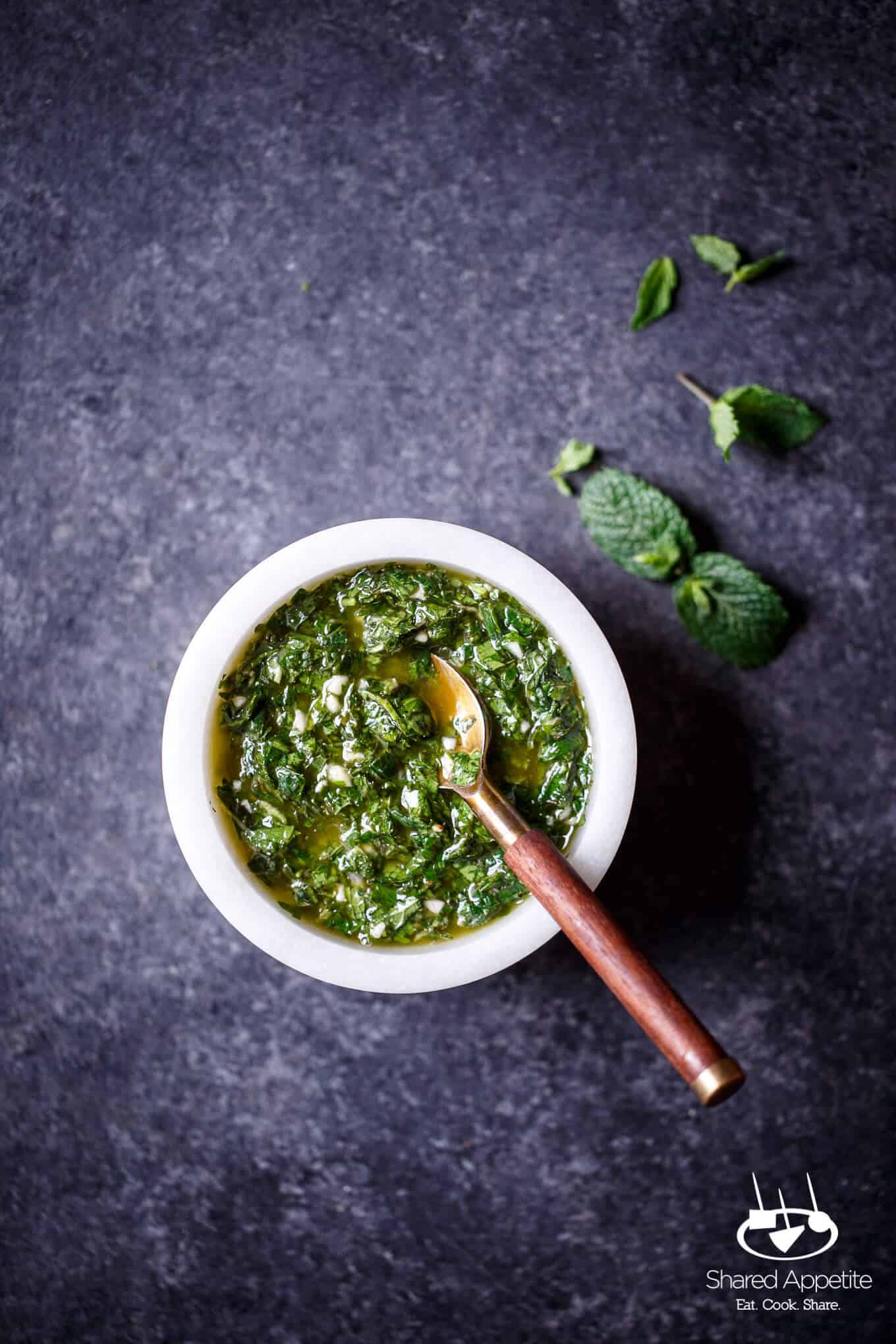 Up to this point, you have a paleo-friend, gluten free, and dairy free meal on your hands. This last part is totally optional (and isn't paleo friendly or gluten free), but it's darn good.
My favorite summer salad of all time is this Blueberry and Corn Grain Salad, so I adapted a version for these Grilled Lamb Chops with Mint Chimichurri.
Regular couscous is alright, but Pearl (or Israeli) Couscous is the bomb dot com. The corn and zucchini are basically summer in vegetable form, and the walnuts add a great crunch and the scallions are the perfect delicate onion-y bite. I dress the salad in a bright lemon vinaigrette and top it with a bit of fresh mint, which ties in the salad perfectly to the lamb and chimichurri.
All together, this is one epic meal filled with LEGIT bold flavors!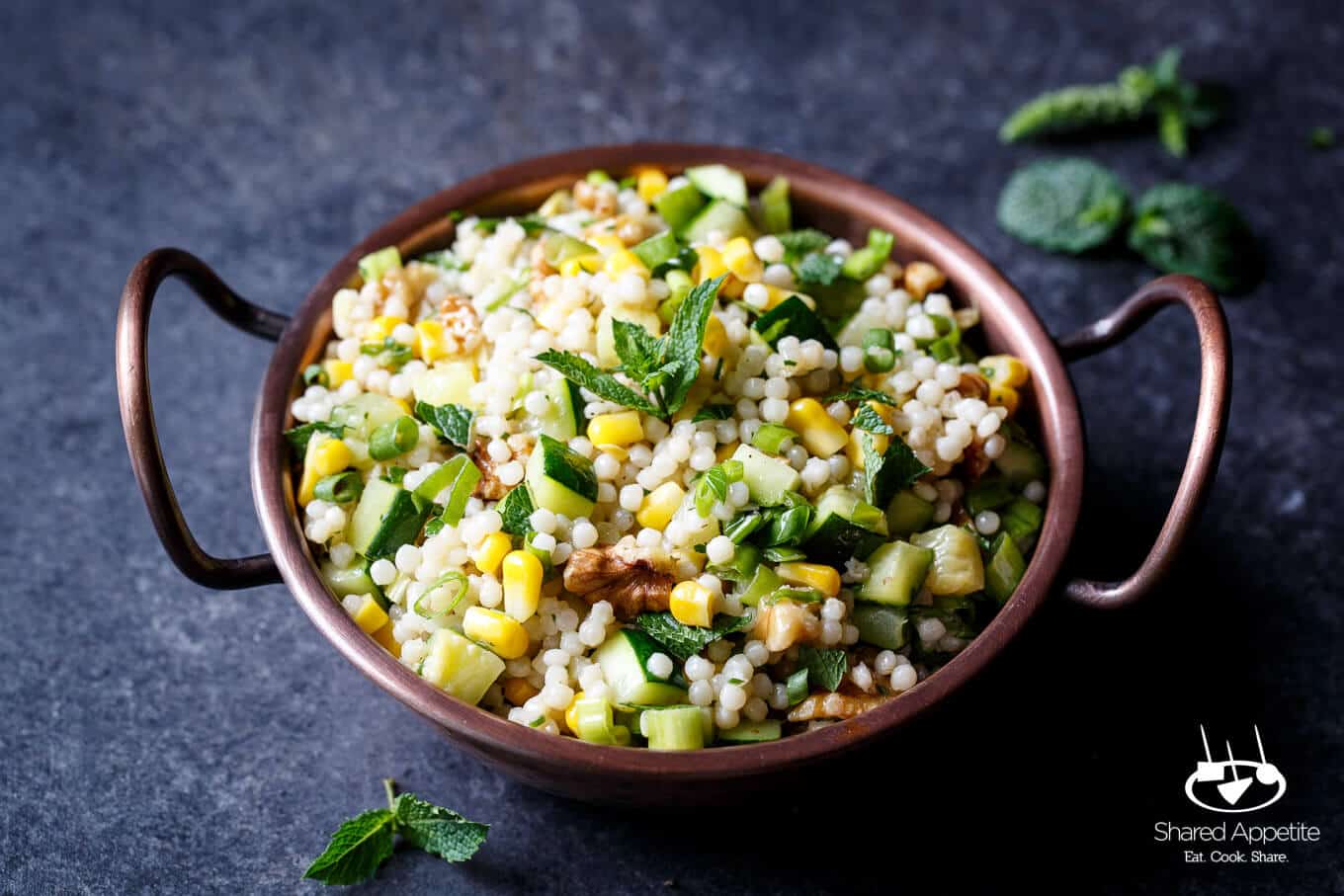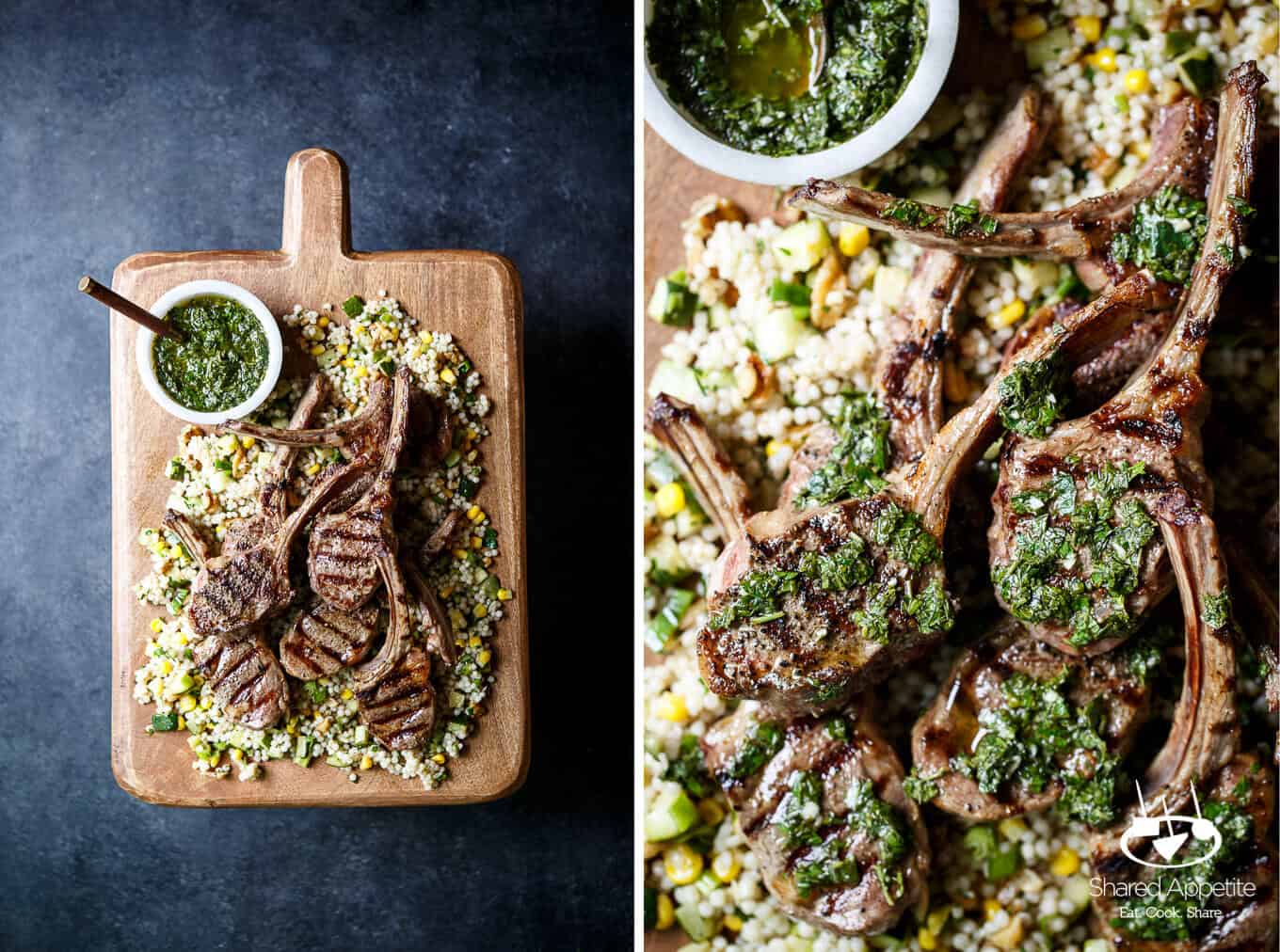 And listen, if you've never had lamb before or had a bad experience with it in the past, you need to try it again. Lamb chops are super tender and have a very mild lamb flavor. It's not "game-y" at all and is like the filet mignon of the lamb world. These little gems are highly addictive!
If you've never cooked lamb before, what are you waiting for? It's just like cooking a steak, except these lamb chops come with their own little handle! Just take care not to overcook it (that's where I highly recommend an instant read thermometer) and you'll be a lamb-cooking ninja in no time!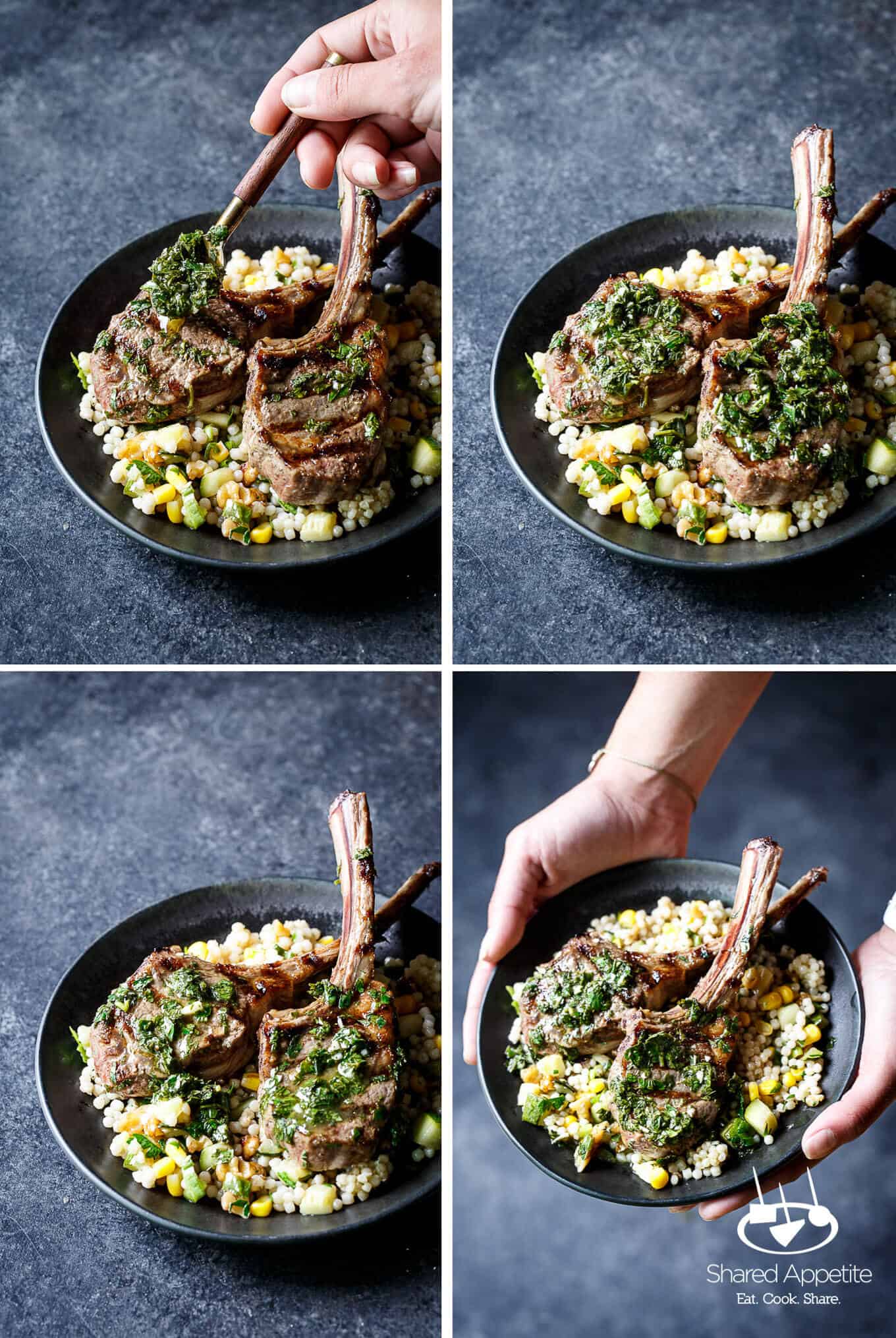 Print
Grilled Lamb Chops with Mint Chimichurri
---
Author:

Chris Cockren

Total Time:

35 minutes

Yield:

4

Servings

1

x
1

rack of lamb cut into

8

chops

1 cup

loosely packed parsley

½ cup

loosely packed mint

½ cup

extra virgin olive oil

3 tablespoons

fresh lemon juice

1 ½ tablespoons

red wine vinegar

1

clove garlic
Kosher salt
Freshly ground black pepper
for the Pearl Couscous Salad
1 cup

uncooked Israeli/Pearl Couscous, cooked according to package directions

2

ears corn, cooked and kernels removed

1

zucchini, chopped

1 teaspoon

olive oil

¼ cup

plus 1 teaspoon extra virgin olive oil, divided

½ cup

walnuts, chopped

4

scallions, thinly sliced

2 tablespoons

fresh lemon juice

2 tablespoons

champagne vinegar
Kosher salt
Freshly ground black pepper

¼ cup

fresh mint leaves, chopped
---
Instructions
Season lamb chops generously with Kosher salt and freshly ground black pepper.  Grill lamb chops to desired doneness (I highly recommend 145°F for a nice medium-rare/medium pink center).  Let rest for 5 minutes before serving.
Meanwhile, make the mint chimichurri.  Pulse parsley, mint, olive oil, lemon juice, red wine vinegar, and garlic in a food processor until uniformly chunky.  You don't want to over process it to a pesto like consistency.  Season generously with Kosher salt and freshly ground black pepper.
Serve lamb chops with the pearl couscous salad and top with mint chimichurri.  Devour.
for the Pearl Couscous Salad
Heat 1 teaspoon olive oil in a nonstick pan and cook zucchini until just cooked through.
In a medium bowl, combine cooked pearl couscous with corn kernels, zucchini, walnuts, and scallions.
In a separate small mixing bowl, whisk together lemon juice, champagne vinegar, and remaining ¼ cup olive oil. Drizzle into salad and toss to coat. Top with mint.
Prep Time:

15

Cook Time:

20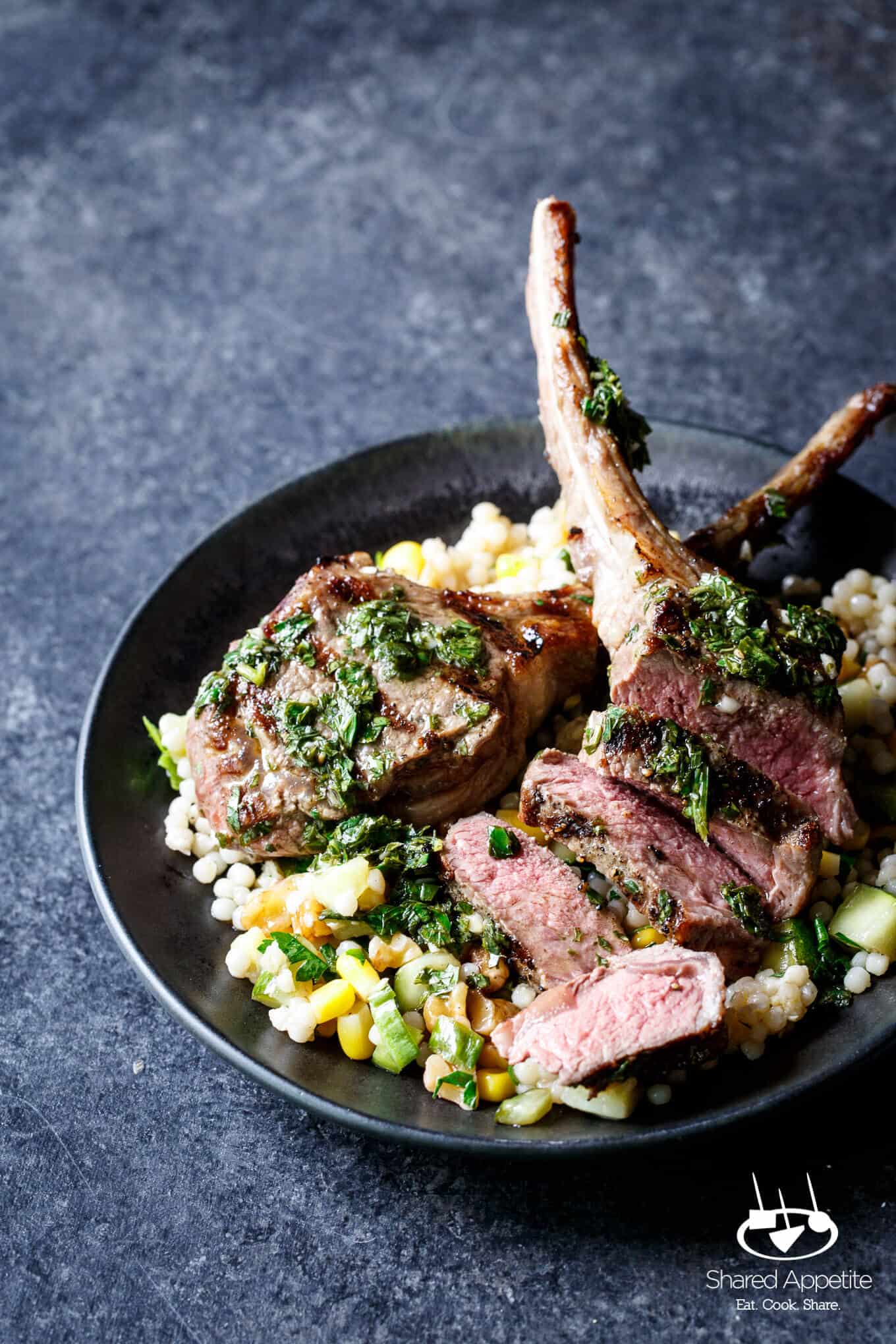 Grilled Lamb Chops with Mint Chimichurri
Need More Lamb Ideas?
Lamb Kefta Meatloaf with Spiced Yogurt and Israeli Salad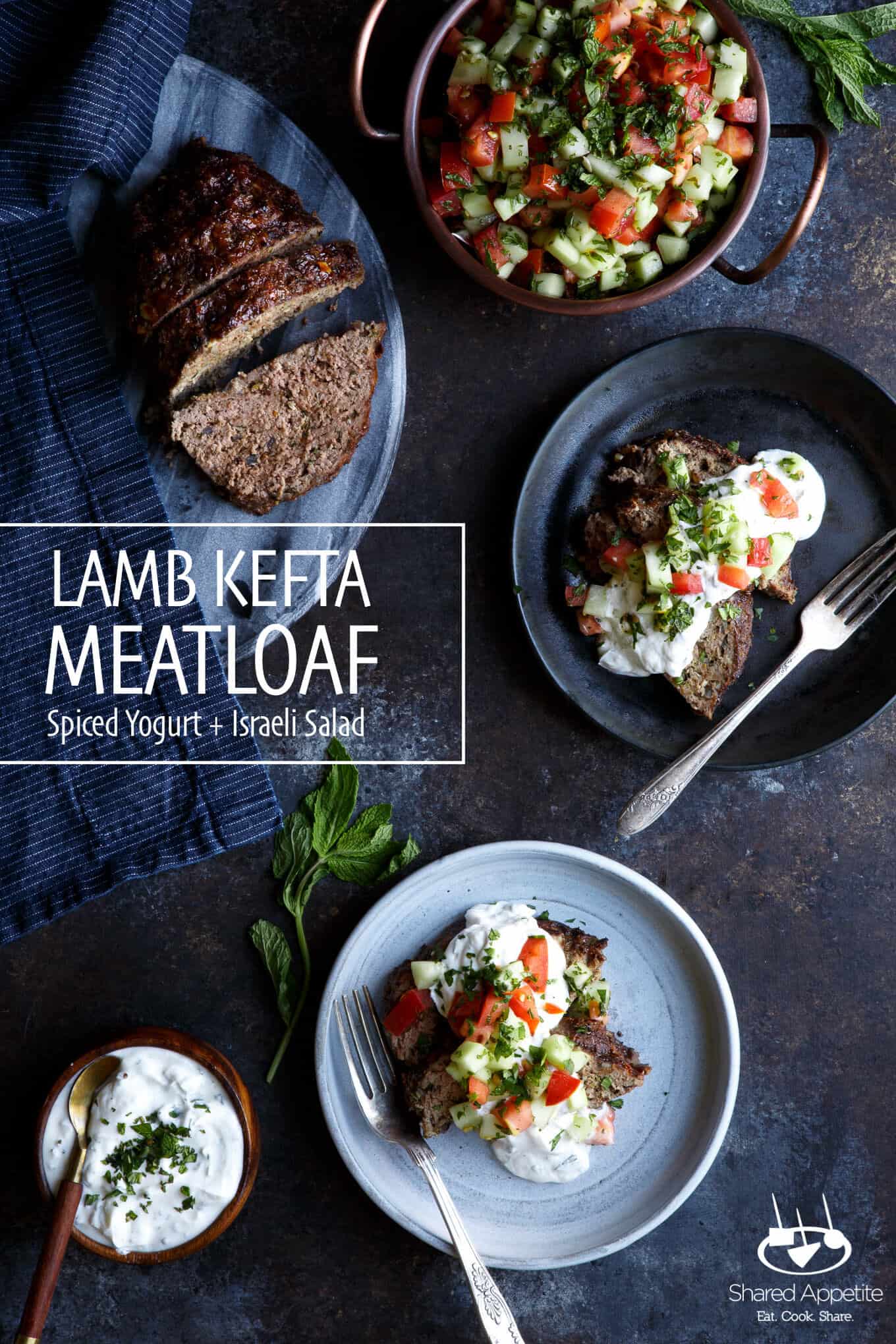 Southwest Braised Lamb Shanks in Adobo Sauce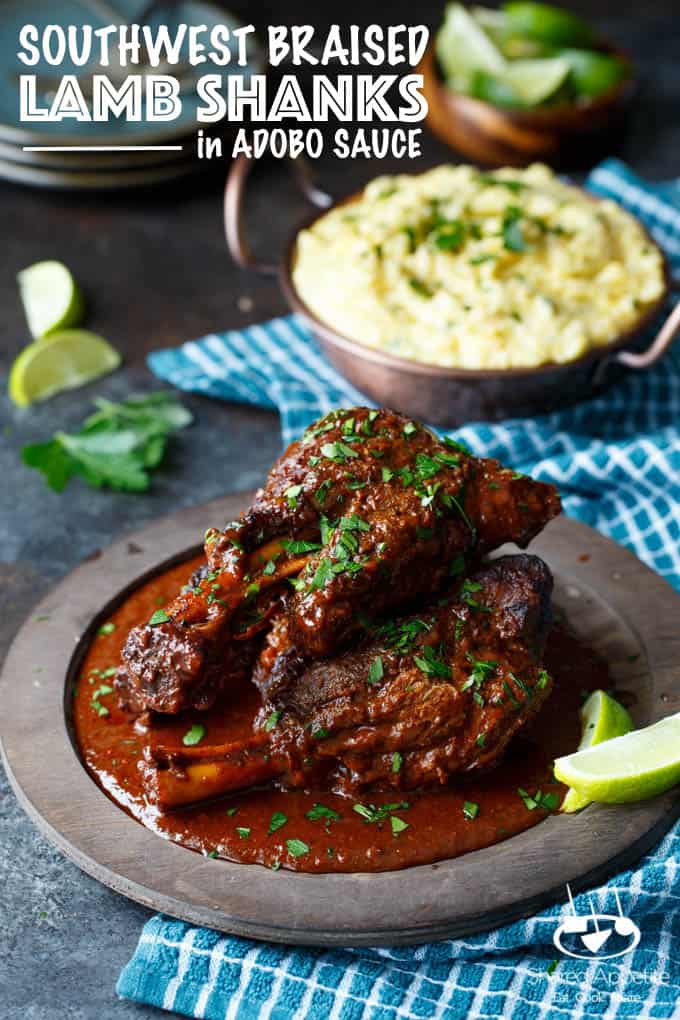 Lamb Kefta Burgers with Spicy Whipped Feta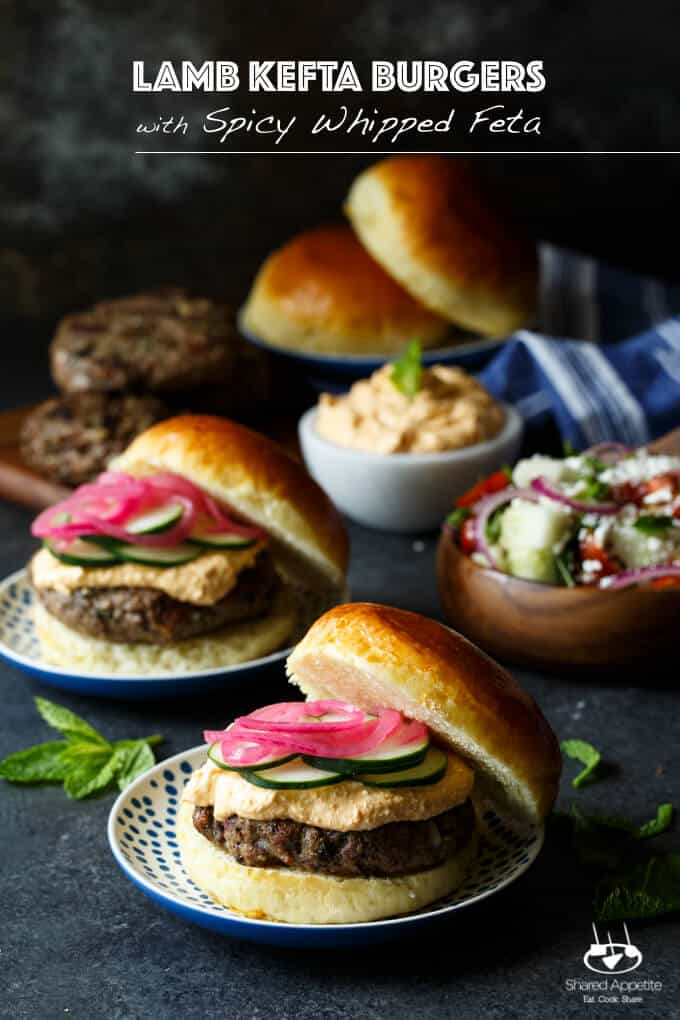 Mediterranean Lamb Flatbread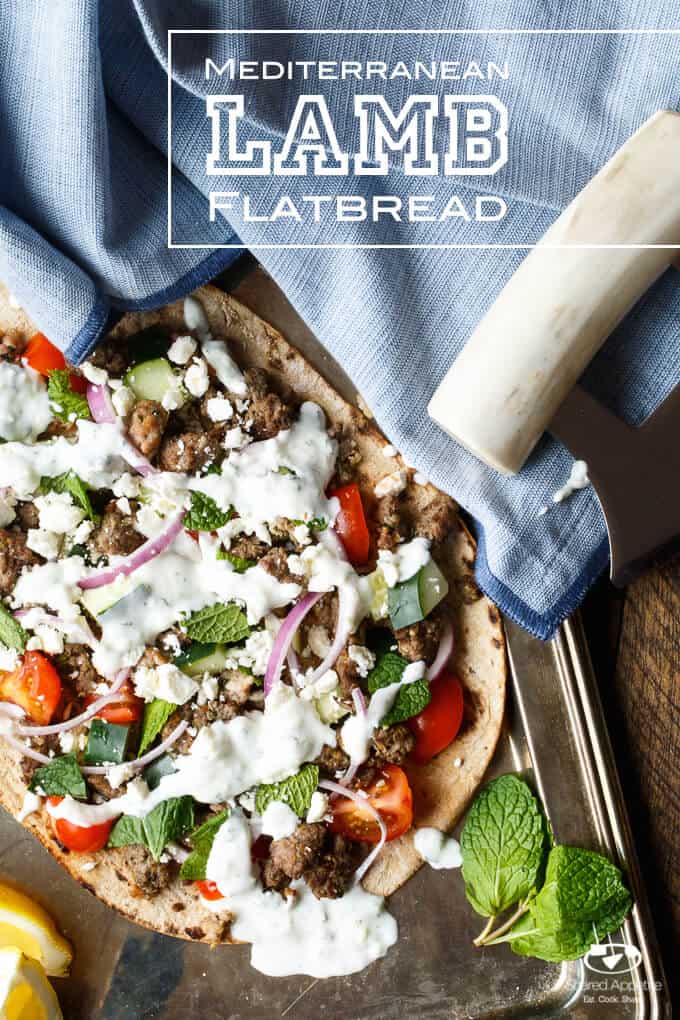 Mexican Lamb Tacos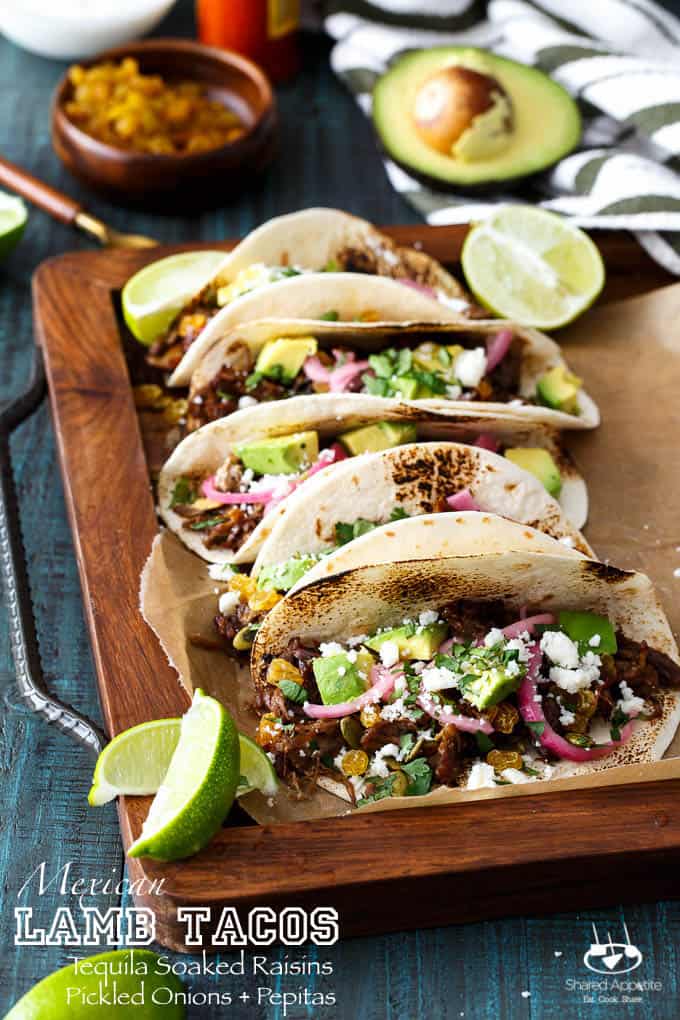 Southwest Ancho Chile Crusted Lamb Chops