Make dinnertime extra easy this week with these super flavorful One Pan Baked Chicken Fajitas! Perfect for feeding a whole family without a kitchen full of dishes!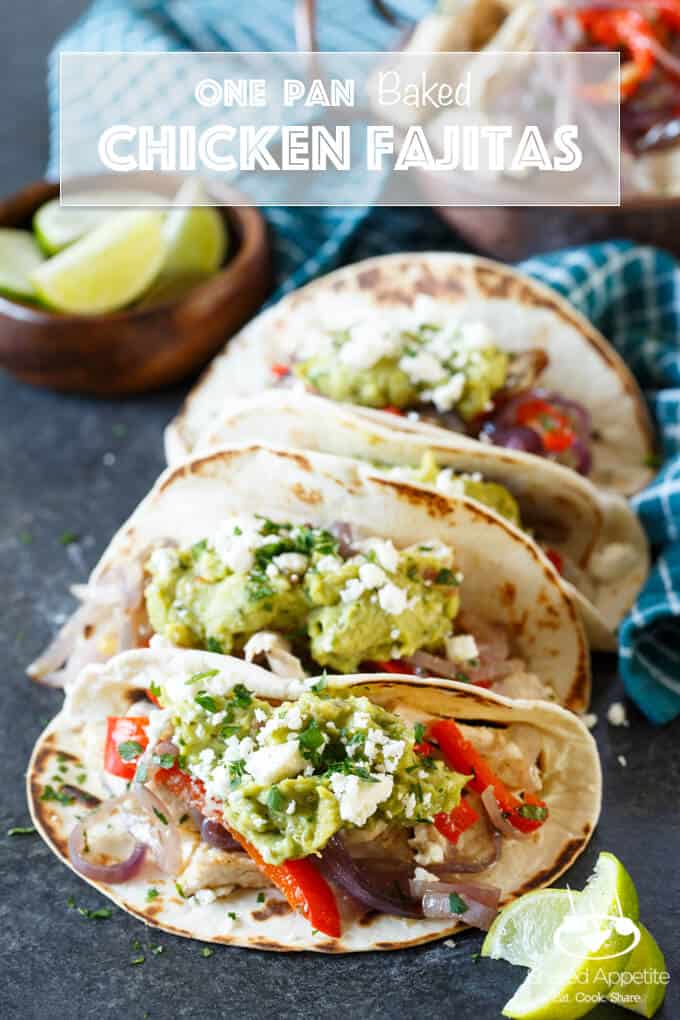 Growing up, I can remember some iconic dinners in our house. Some were pretty epic (I'm looking at you fondue night and pork chops with applesauce and noodles) and some... well not so much (swedish meatballs and beef stew tragically come to mind). As I approached my teenage years, my mom upgraded her classic Americana cooking to get a bit exotic. Fajita night!
And I'm being totally sarcastic, because fajitas are so mainstream. But to my dad, who literally didn't even eat pizza when he met my mom... this was a big step.
Fajita night soon became a staple in our house. Wednesdays. Every single Wednesday... and we SO looked forward to it. Soon we started inviting other family to fajita night as well, and it became this beautiful tradition (with Flying Saucers for dessert because it was BOGO night at Carvel... woot).
Even though we are all grown up now and my brother and I each have our own families, my mom can still lure us all together whenever she wants by declaring a fajita night dinner. Even our wives are on board. The actually look forward to family dinner at the in-laws. That's how good these chicken fajitas are. Magic, I say. Pure magic.
The one thing that was always a bummer about fajita night was that my mom managed to dirty up every dish in the house. That definitely needed some updating because who has time for all that crap when you are trying to slap dinner on the table during the week. Not this guy. Boom! One Pan Baked Chicken Fajitas to the rescue!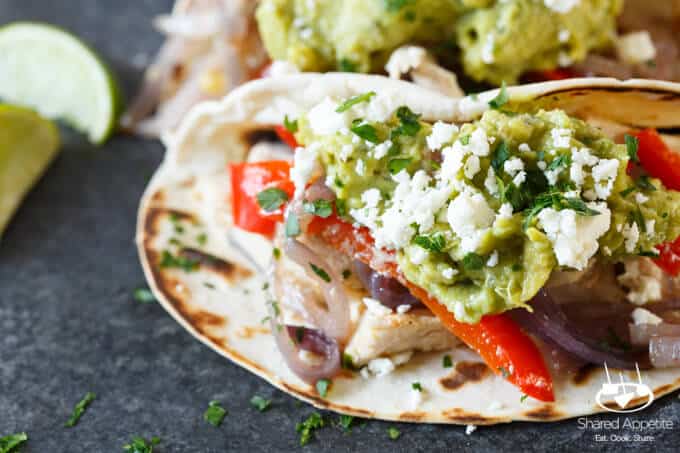 Here's the easiest plan of attack with this recipe. Either the night prior or before you go to work that morning, pound out your chicken breasts so they are of equal thickness (about ½"-ish would be great... no need to go crazy). Mix together the super quick marinade (it only takes 5 minutes to whip together) in a ziploc bag and drop in the chicken. Let it take a nice long soak while you are hard at work all day. Come home, preheat the oven, and place all your veggies and chicken on a sheet pan. Bake... DONE.
Seriously, it's that simple. All you dirtied up was a sheet pan and a cutting board for these One Pan Baked Chicken Fajitas. I like to put out the fajita chicken and pepper + onions with some of my famous guacamole, salsa, sour cream, and lime wedges. Cheese is also a necessity... go with shredded cheddar or Monterey jack, or go all fancy with some crumbled queso fresco. Your choice.
Bottom line. You need these One Pan Baked Chicken Fajitas in your life. They are SO simple to whip together, and will become a staple in your house for years to come. They literally brought our family together around the table for just about a decade!
Print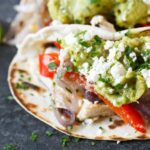 One Pan Baked Chicken Fajitas
---
Total Time:

35 minutes

Yield:

6

to 8

1

x
6

to

8

chicken breasts

⅓ cup

plus 2 tablespoons vegetable or canola oil, divided

3 tablespoons

white wine vinegar

2 tablespoons

lime juice

3

red onions, one finely chopped and two sliced, divided

1

garlic clove, minced

1 teaspoon

hot sauce

½ teaspoon

Kosher salt

3

red bell peppers, sliced

16

-

20

flour tortillas, warmed
Shredded sheddar cheese or crumbled queso fresco
Guacamole
Lime wedges
Chopped cilantro
---
Instructions
In a large bowl, combine ⅓ cup vegetable oil, vinegar, lime juice, minced onion, garlic, hot sauce, salt, and pepper. Add chicken, stir to coat, and marinate in refrigerator for at least 6 to 8 hours, but preferably overnight.
Preheat oven to 400°F. Place peppers and sliced onions on a sheet pan and drizzle with remaining 2 tablespoons oil. Season with Kosher salt. Place marinated chicken on top of the vegetables and roast in oven until chicken is just cooked through, about 20 to 30 minutes. Remove from oven and slice chicken.
Top warmed tortillas with chicken, pepper and onions, guacamole, cheese, a squeeze of lime, and cilantro. Devour immediately.
Notes
*prep time doesn't include marinating time
Prep Time:

15 mins

Cook Time:

20 mins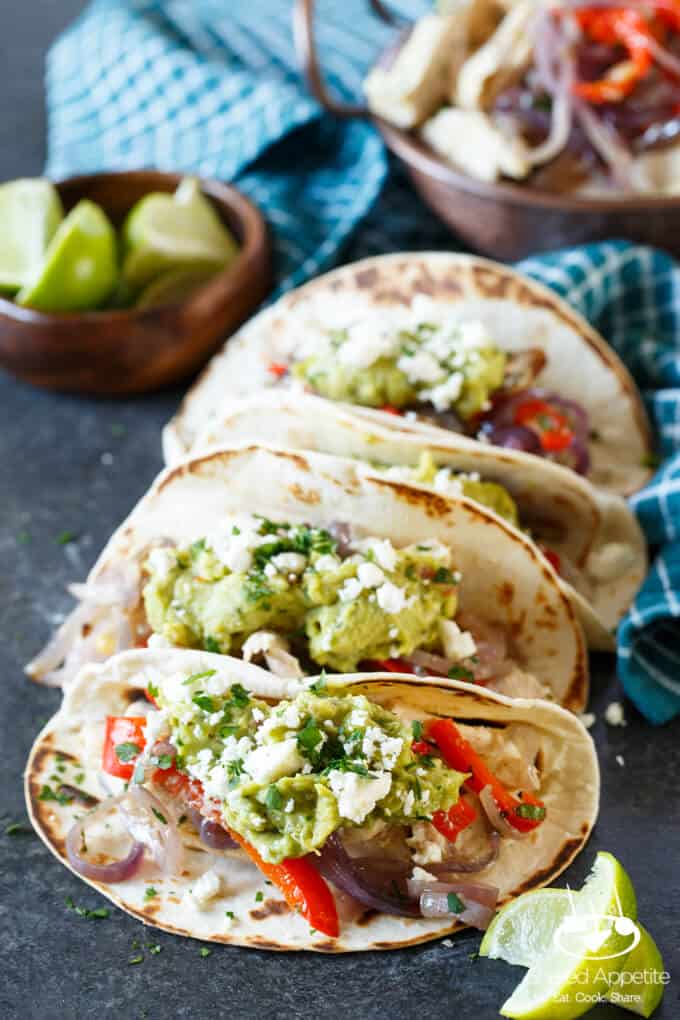 One Pan Baked Chicken Fajitas
Need More Mexican Food In Your Life?
Spicy Caramelized Pineapple Bacon Guacamole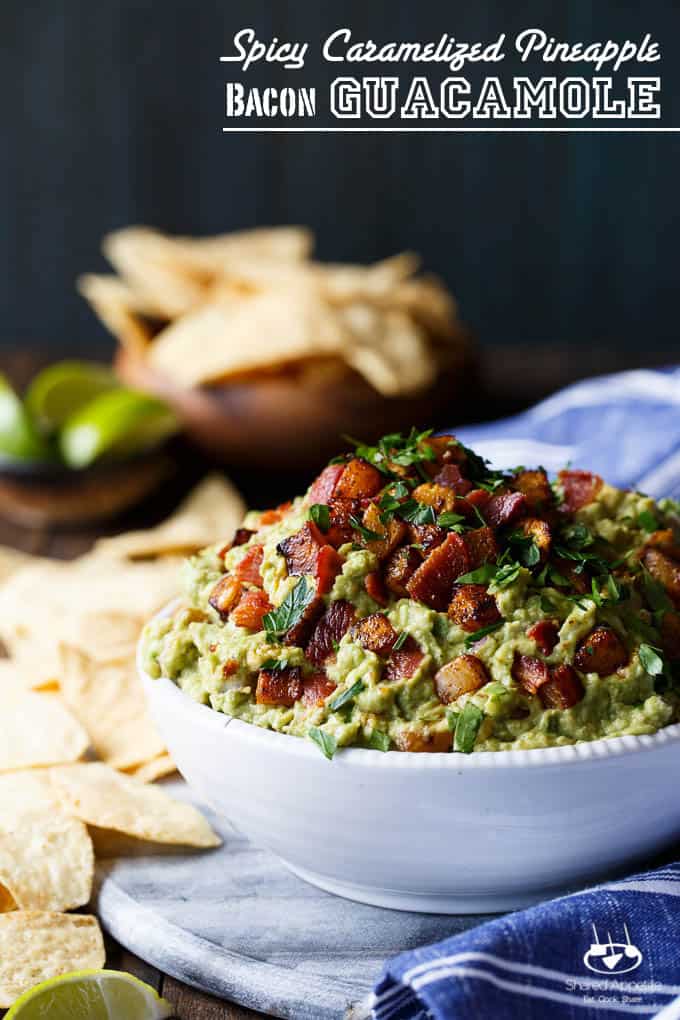 Channa Masala Vegetarian Indian Tacos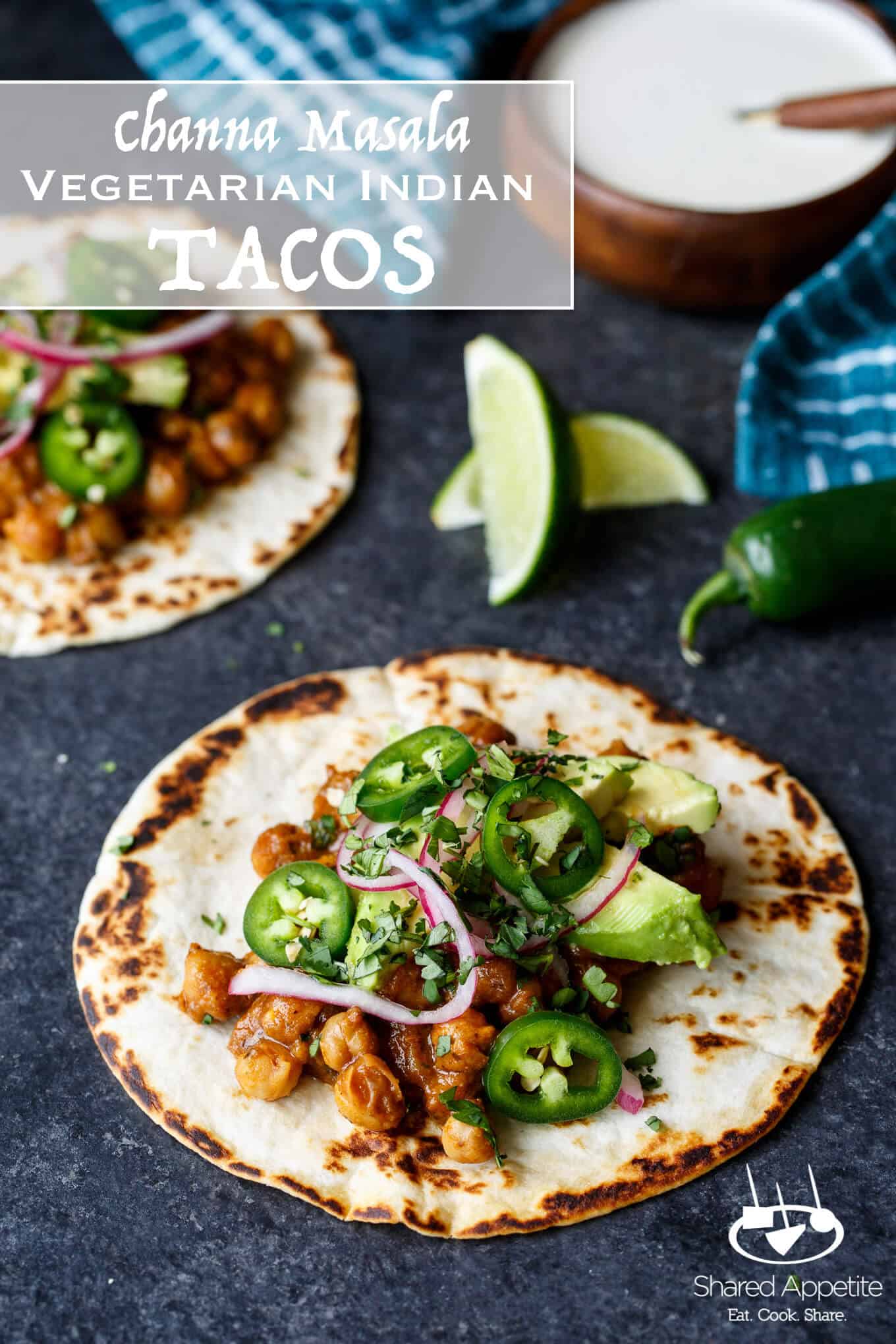 4 Ingredient Nutella Choco Tacos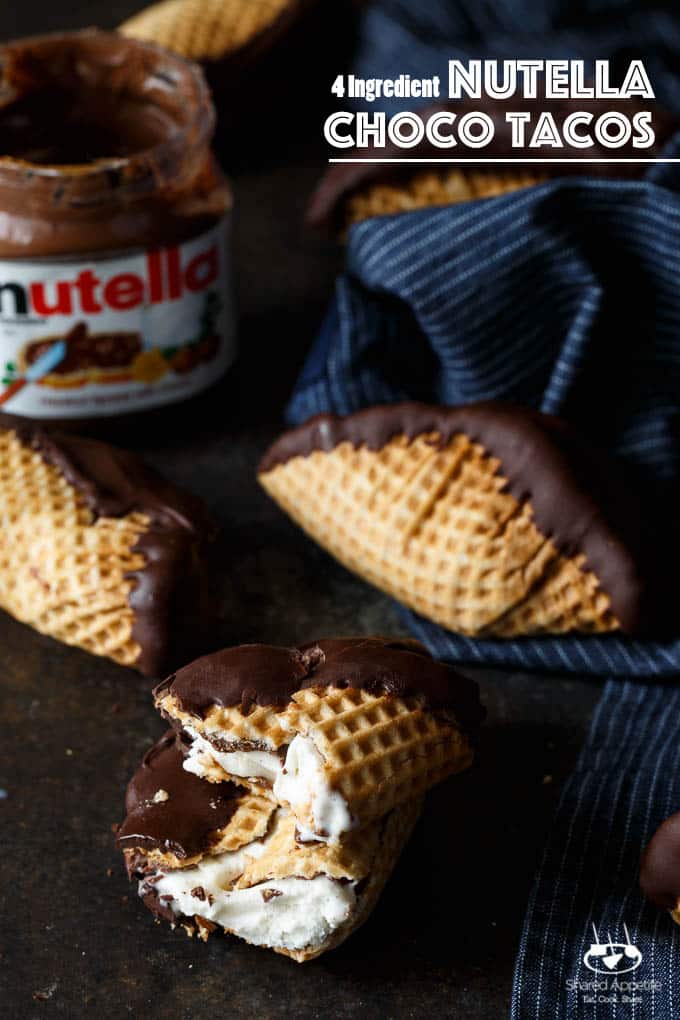 Hidden Veggie Chicken Enchiladas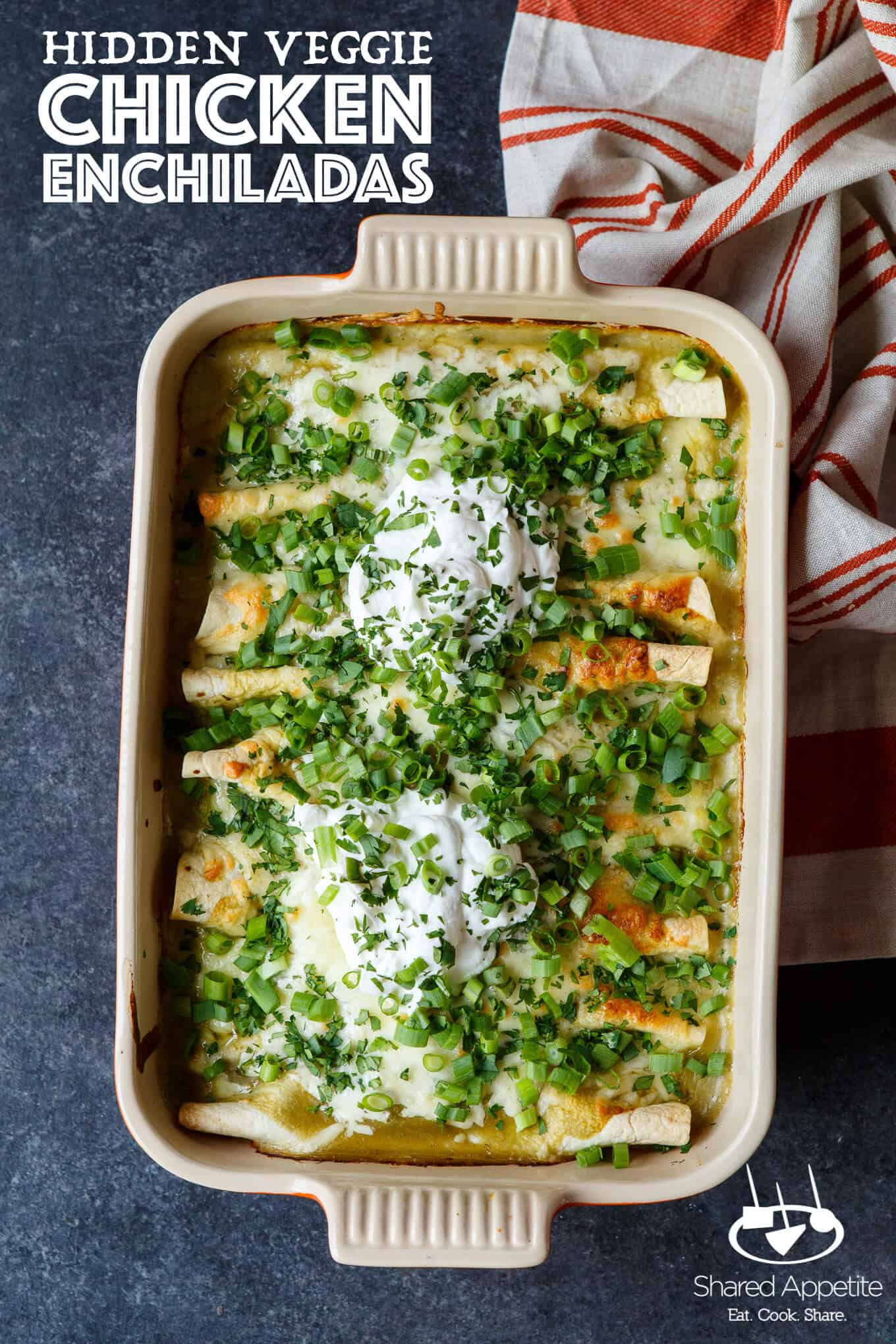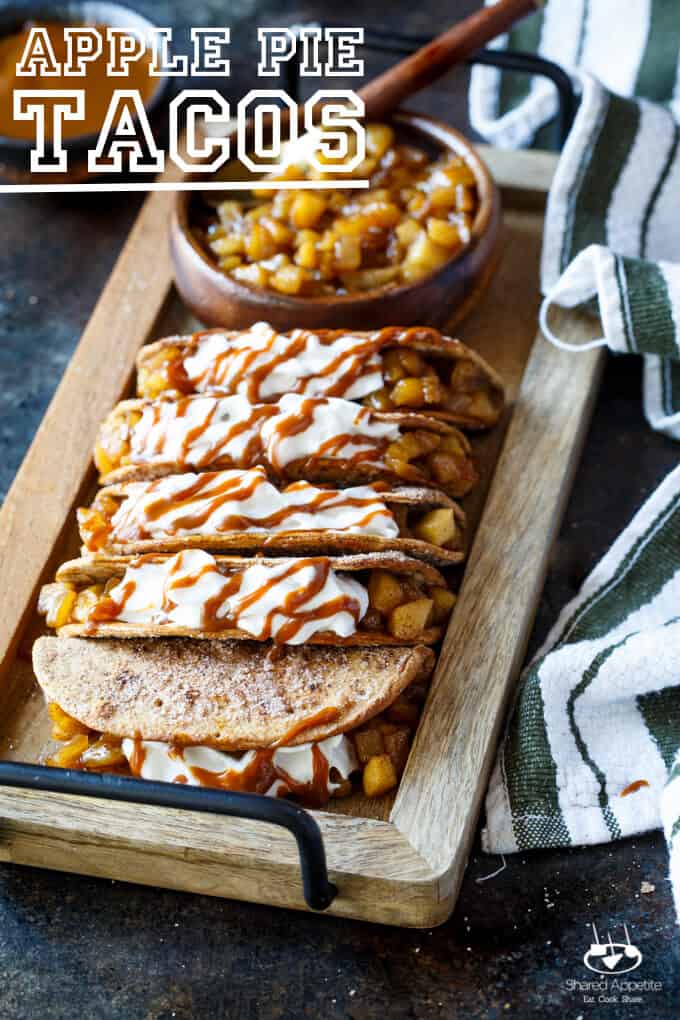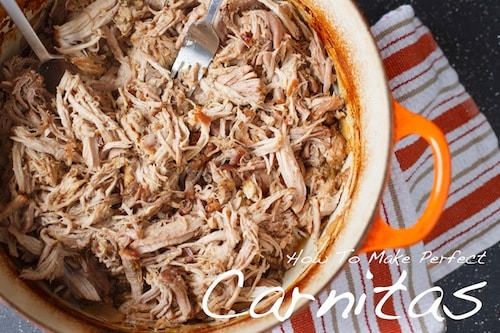 Buffalo Chicken Enchiladas with Green Chile Sour Cream Sauce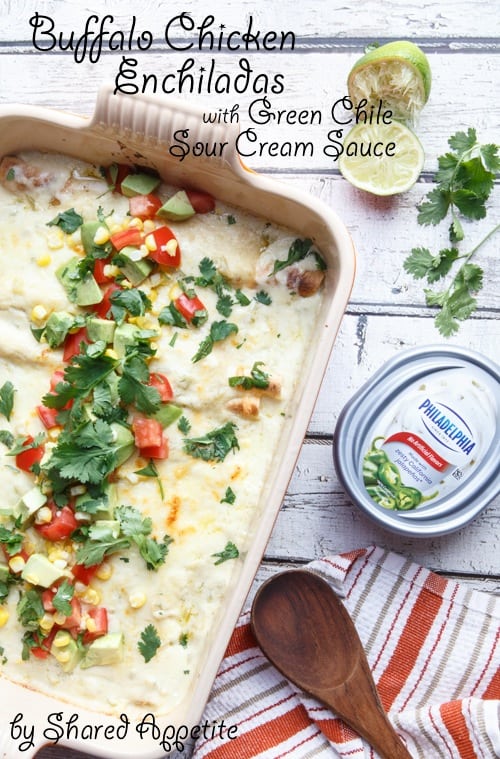 Animal Style In-N-Out Bacon Cheeseburger Tacos