This DIY LOADED FRENCH FRIES BAR with McCain© Dip'n Wedges™ is sponsored by McCain Foods USA, Inc©. As always, all opinions and recipes are my own. Thanks for supporting the brands that support Shared Appetite!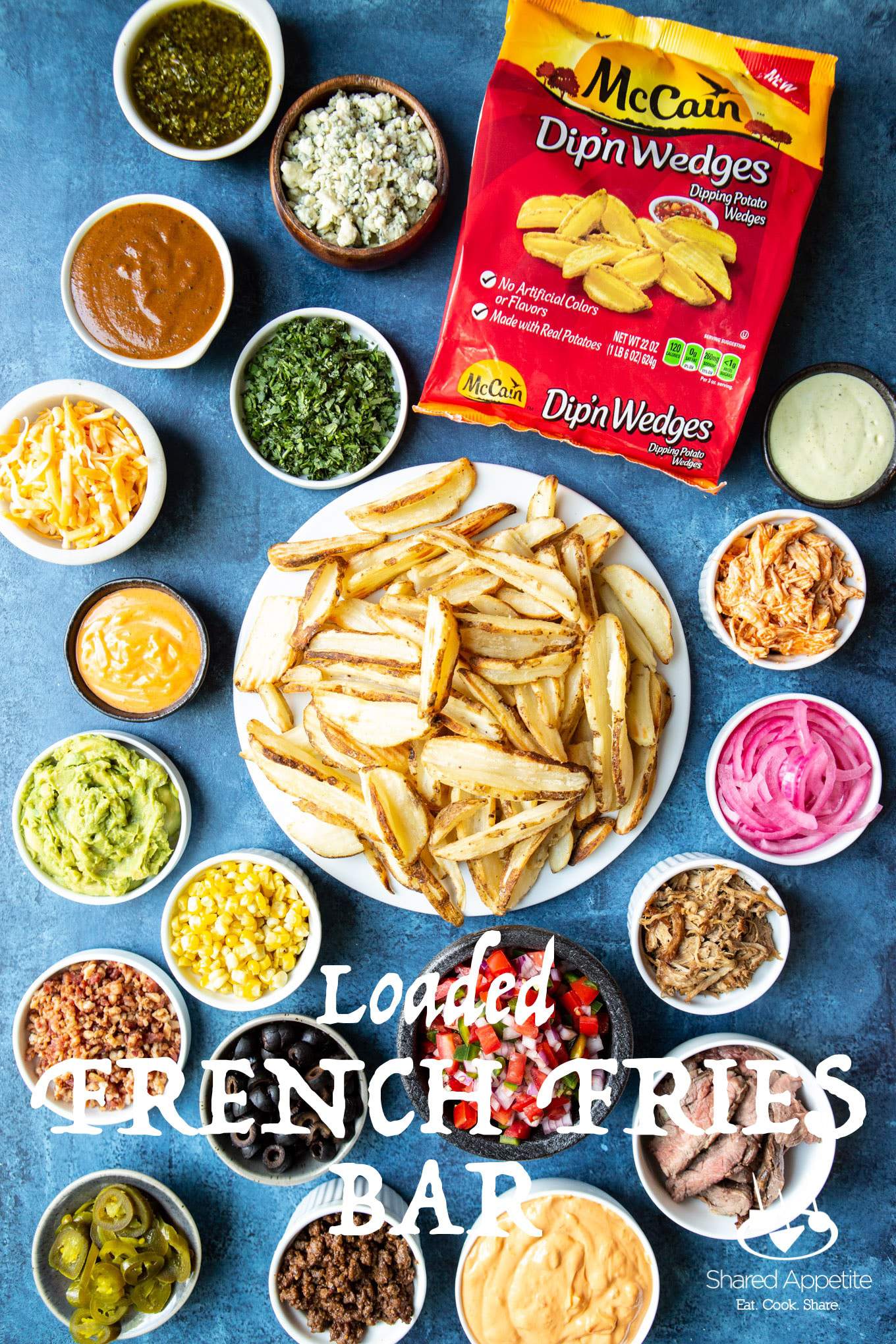 I've always had a passion to entertain. Hosting parties, bringing together family and friends to eat and drink together, and creating grand menus with elaborate recipes has been a long-standing love of mine. The problem, though, is that I spent all my time tending to the food and ignoring the people that came to enjoy it.
Balance. It's taken me years to figure out how to create delicious food, all the while staying present during our get togethers. And that, I believe, is the definition of easy entertaining: serving amazing food with the freedom to actually socialize with your guests.
My favorite way to master easy summer entertaining lately has been with epic DIY spreads (I'm looking at you hot dogs, s'mores, and charcuterie boards!). They feature big and bold flavors with make-ahead items so that guests can help themselves and I can minimize my time in the kitchen! When I came across these McCain© Dip'n Wedges™, I knew that this DIY Loaded French Fries Bar was happening at my next backyard bash!
Look for your closest McCain© Potato, Dip'n Wedges™ retailer here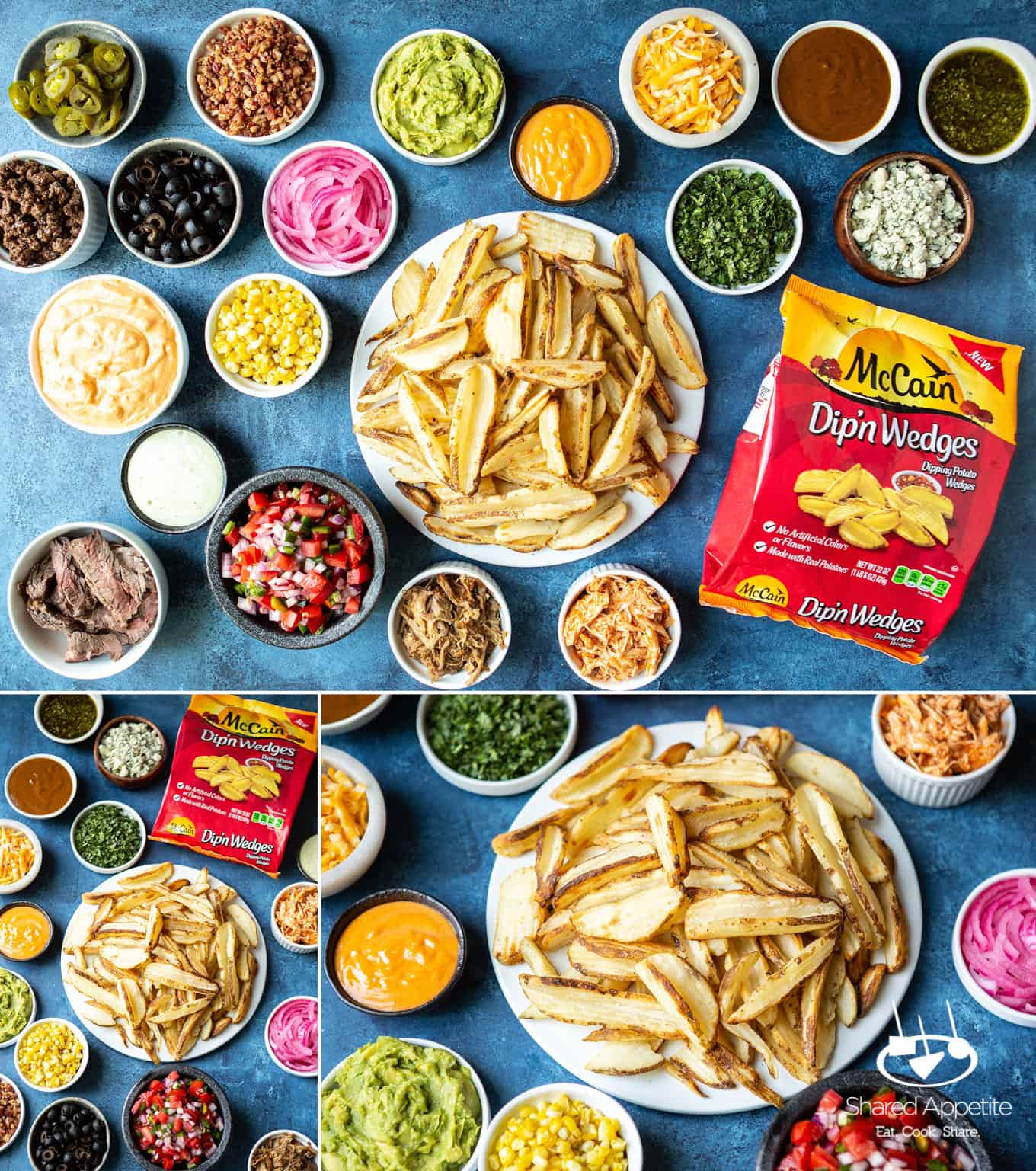 This DIY Loaded French Fries Bar is everything I love about summer. Tons of colors, flavors, and textures. The freedom to change up the flavor combos once your taste buds need a shift. And best of all, it's nosh type food… you know, the type of meal where you can graze for a bit, then jump in the pool before returning for some more bites after a few belly flops and lounges on the giant swan pool float.
The center of the DIY Loaded French Fries Bar? Dip'n Wedges! These battered v-shaped potato wedges are made with 100% real potatoes and have no artificial flavors or colors. Most importantly, they are perfect for dipping in all my favorite sauces and ready to be piled high with toppings! I love that McCain has figured out a way to turn fries into the perfect vehicle to scoop up dips and build little flavor boats!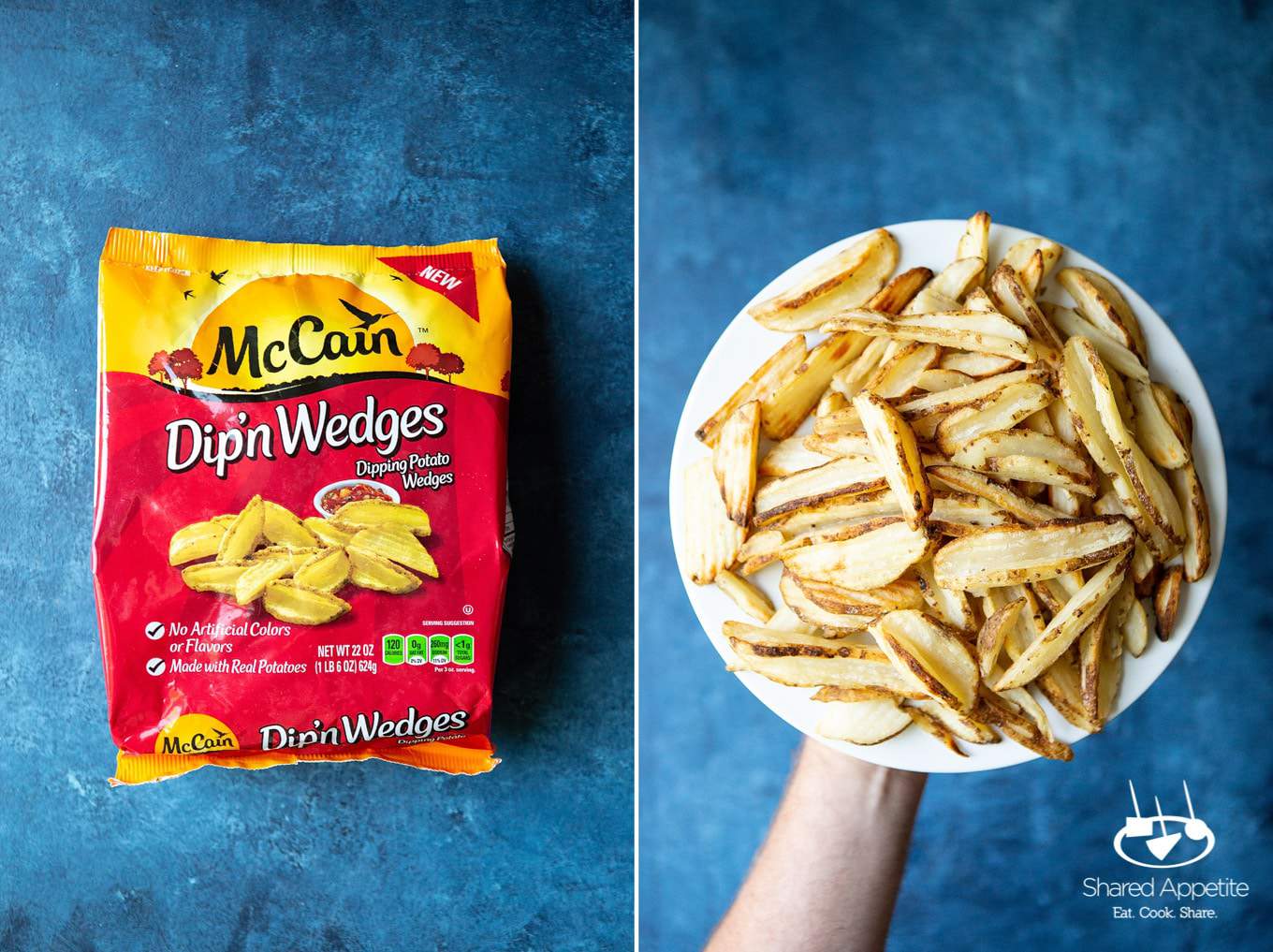 How simple is it to bring together this DIY Loaded French Fries Board for your next party? Prepare an arsenal of make-ahead toppings and put them in separate cute bowls for extra presentation points, bake up a good amount of these crispy and fluffy Dip'n Wedges, and then be prepared for endless compliments from your family and friends for weeks to come.
The toppings you choose are entirely up to you, but the ones I've suggested below are a great start! I treat creating this DIY Loaded French Fries Board just like I would a charcuterie spread. You'll want to hit on all the flavor and texture components: salty, sweet, savory, acidic, sour, rich, crunchy, smooth, fresh, spicy, fatty, and herbaceous. And remember, you want to pick toppings that can be made entirely ahead and can either be served up directly from the refrigerator or very quickly reheated. Less time in the kitchen and more time with guests!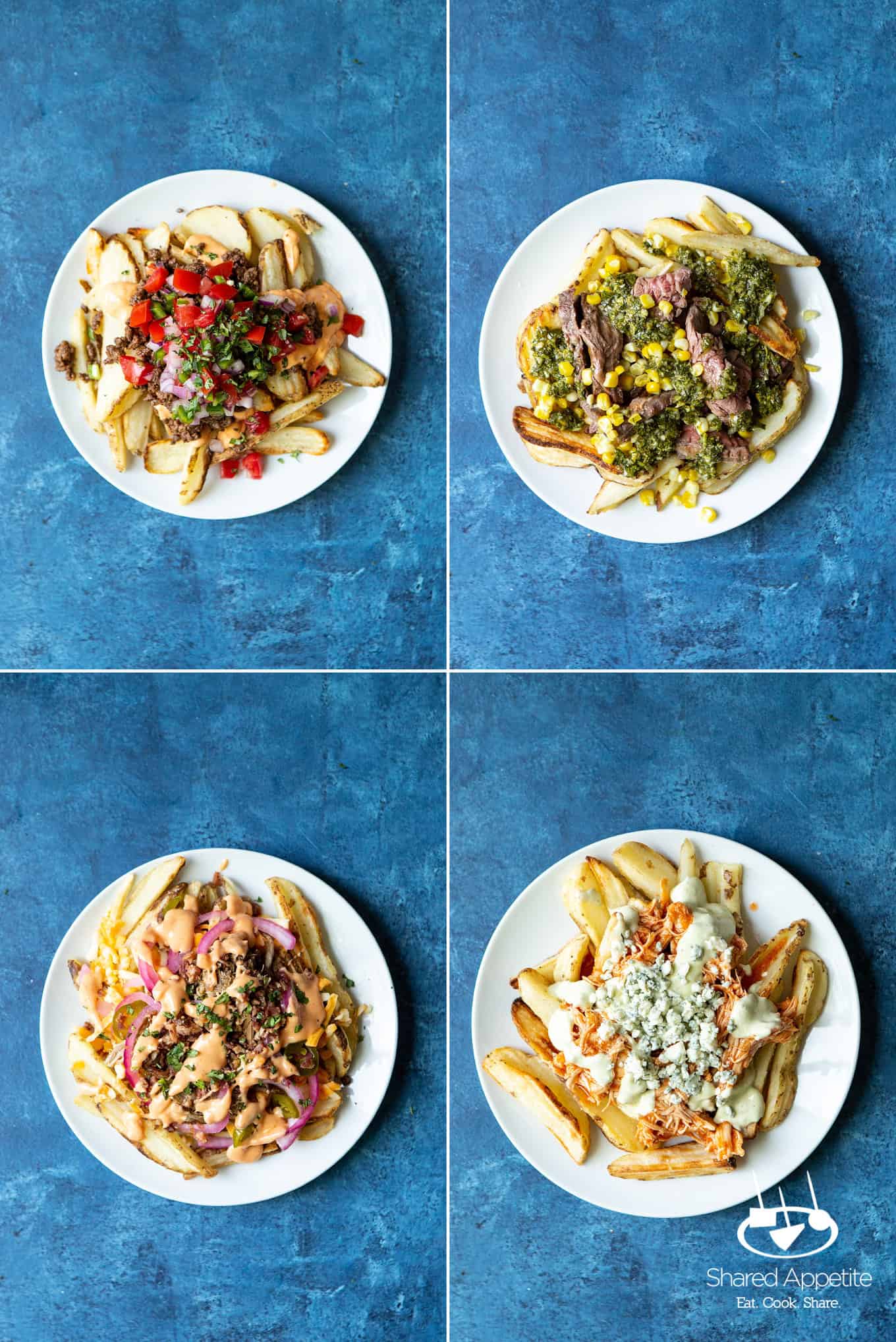 You'll surely think up countless flavor combo ideas for your DIY Loaded French Fries Bar, but here are just four quick ideas I came up with:
LOADED TACO – taco meat, queso, pico de gallo, and guacamole (pickled jalapeños, sour cream, and lettuce are also great ideas!)
CHIMICHURRI SKIRT STEAK – grilled skirt steak, make ahead chimichurri, and sautéed corn
PULLED PORK – pulled pork, shredded cheddar, pickled onions, pickled jalapeños, and sriracha mayo
BUFFALO CHICKEN – slow cooker buffalo chicken and avocado ranch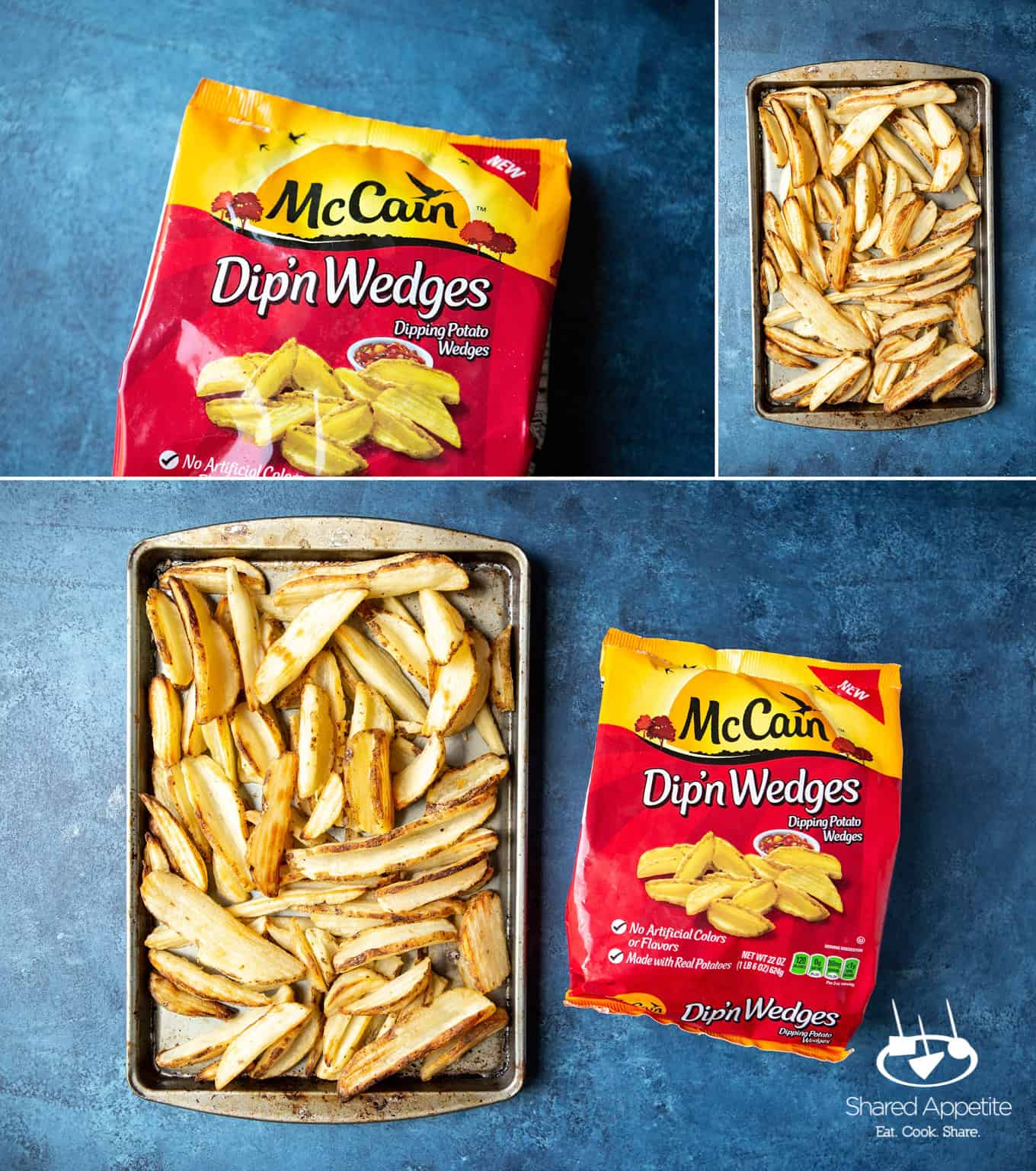 Print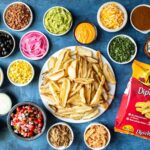 DIY Loaded French Fries Bar
---
Author:

Chris Cockren

Total Time:

40 minutes

Yield:

Enough for a Party!
McCain© Dip'n Wedges™
taco beef
grilled skirt steak
queso
sour cream
avocado ranch*
sriracha mayo**
pickled jalapeños
bbq sauce
crumbled bacon
shredded cheddar cheese
crumbled blue cheese
crumbled feta or queso fresco
sliced black olives
sautéed corn
chopped parsley
chopped cilantro
---
Instructions
Bake Dip'n Wedges according to package directions.  Place all toppings in separate small bowls and serve alongside a platter of Dip'n Wedges.  Allow guests to help themselves in creating their own loaded french fry creations!
Notes
*avocado ranch: in a food processor, combine one avocado with one bottle ranch dressing
**combine mayonnaise with as much sriracha as desired (taste until you reach desired spiciness)
Prep Time:

20 minutes

Cook Time:

20 minutes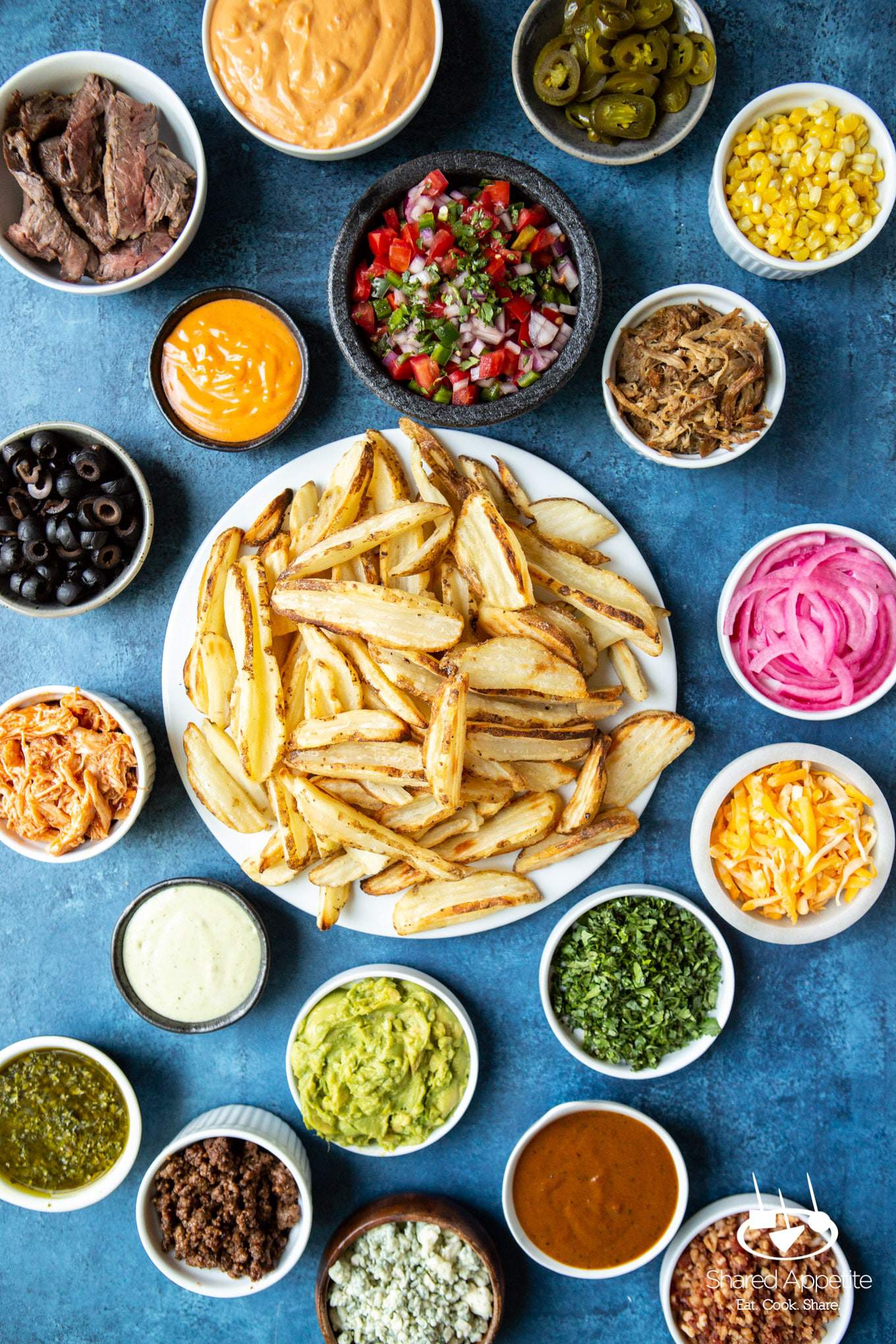 DIY LOADED FRENCH FRIES BAR