This Spicy Lamb Coconut Curry Ramen was created in partnership with the American Lamb Board. As always, all opinions and recipes are my own. Thanks for supporting the brands that support Shared Appetite!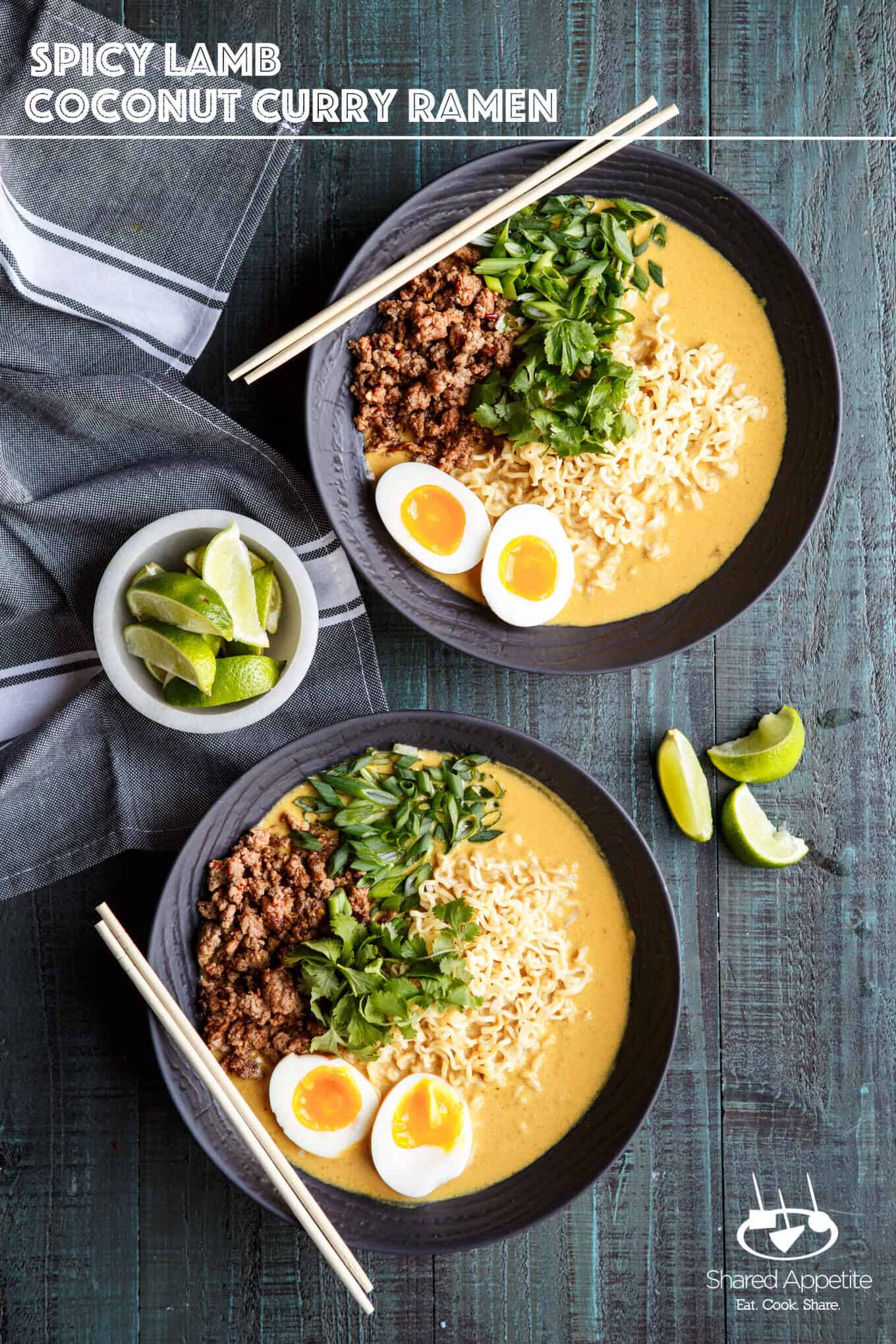 Valentine's Day is next week. I don't know how it manages to sneak up on me every year... but here we are again. Honestly, Valentine's Day isn't a huge holiday for Asheley and I. We made the decision years ago that we wouldn't do the whole going out to dinner thing and Asheley is unwavering in her apathy for the standard Valentine's Day gifts.
Just to be clear... we absolutely love going out to dinner and I am so into buying gifts for people. Just not for Valentine's Day. Going out to dinner on Valentine's Day is such a lackluster experience. The pre-fixe menus are ridiculously uninspiring and they rush you in and out of the restaurant faster than you can finish your glass of wine. Oh, and don't get Asheley started on the rate of inflation on Valentine's Day flowers.
Instead, we take Valentine's Day as an opportunity to slow down and spend a night together… at home (and yes, we did that even before we had a toddler in the mix).
I cook something epic. We actually set the table and use cloth napkins instead of eating on the couch while catching up on DVR. Yeah, an actual fancy adult dinner (after our toddler goes to bed, of course). And this year, I'm bringing some serious flavor to Valentine's Day dinner with this Spicy Lamb Coconut Curry Ramen!
Psst. Before you go any further, make sure you go and enter the Lamb Lover's Month giveaway for $1,000 in prizes! It takes less than 30 seconds to enter!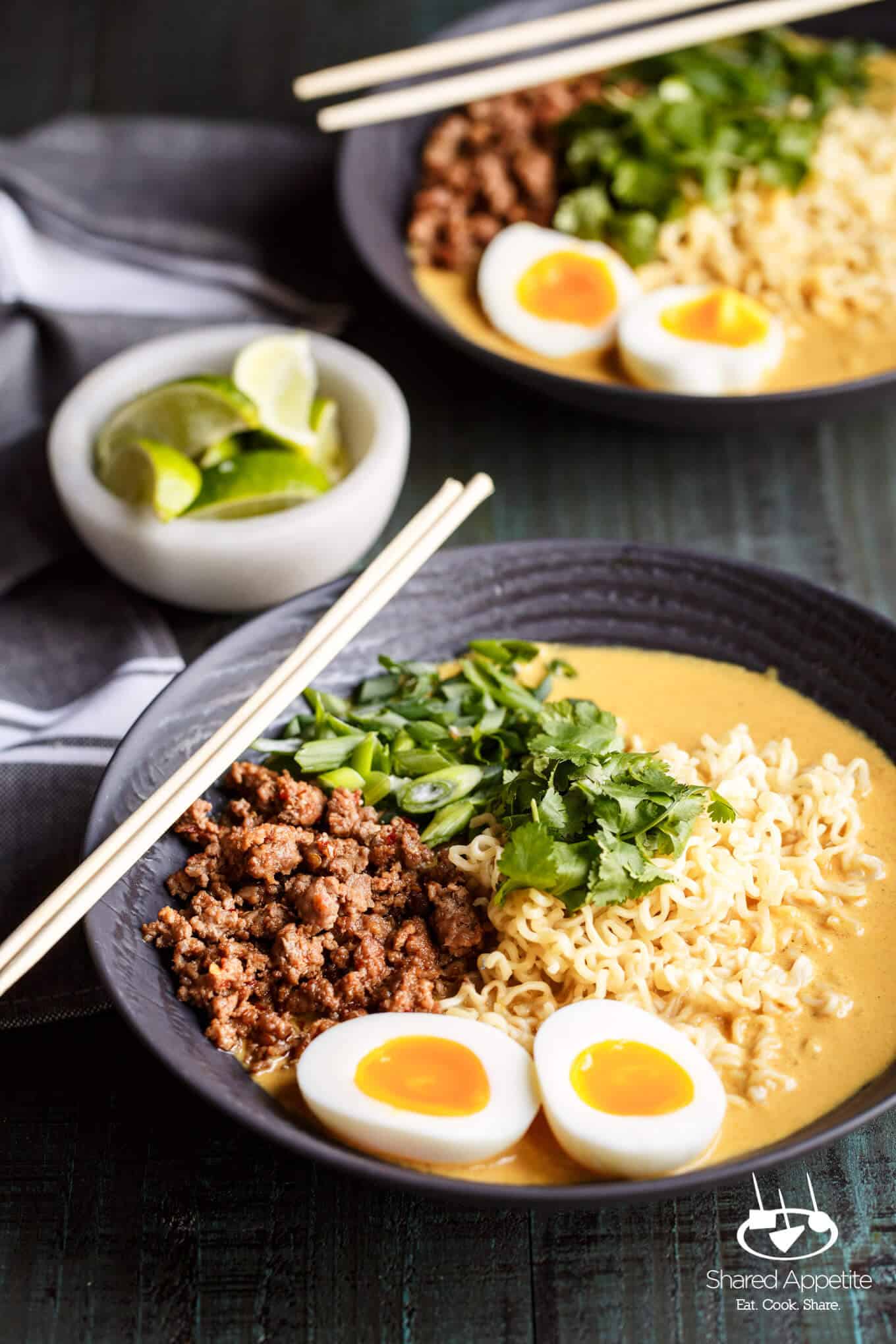 Asheley LOVES soup. It's what she craves for dinner 90% of the time... from the day I finally cave and turn on the heat in the fall all the way up until the pool gets uncovered in the spring. Yeah, that's a lot of soup. Usually I make a big batch of my Fire Roasted Chili or Roasted Butternut Squash and Apple Soup for her to reheat on demand, but Asheley and I both know what her absolute favorite soup of all time is... ramen.
We make sure to stop at her favorite legit ramen spots every time we make our way into the city in these winter months, but I also love making versions at home for her. My attempts are always wildly inauthentic (the real stuff takes a TON of time to prepare), but I make up for it with packing it full of extra flavor.
This Spicy Lamb Coconut Curry Ramen is actually inspired by a dish I had at the Lamb Jam Finale at the James Beard House a couple years back. After regional competitions determined qualifiers from local restaurants, each chef descended on NYC that evening to bring their best lamb dish to the lucky few that got to taste and vote on the winner (and by some stroke of luck, I was one of those lucky few).
The winner that night, and the dish I still cannot stop dreaming about, was the Smoked American Lamb Khao Soi from The Honey Paw in Portland, Maine. Their Khao Soi, which is a northern Thai/Burmese inspired soup, featured a coconut curry base with smoked lamb, noodles, fermented mustard greens, and lime. The intense amount of flavor they packed into this little bowl of soup literally made my jaw drop. It was... insanely unforgettable.
Fast forward to last year when the American Lamb Board invited me to Portland, Maine to tour one of their sheep farms and they had a little welcome dinner at... you guessed it, THE HONEY PAW! And yes, they served their Khao Soi. And yes, I ordered seconds.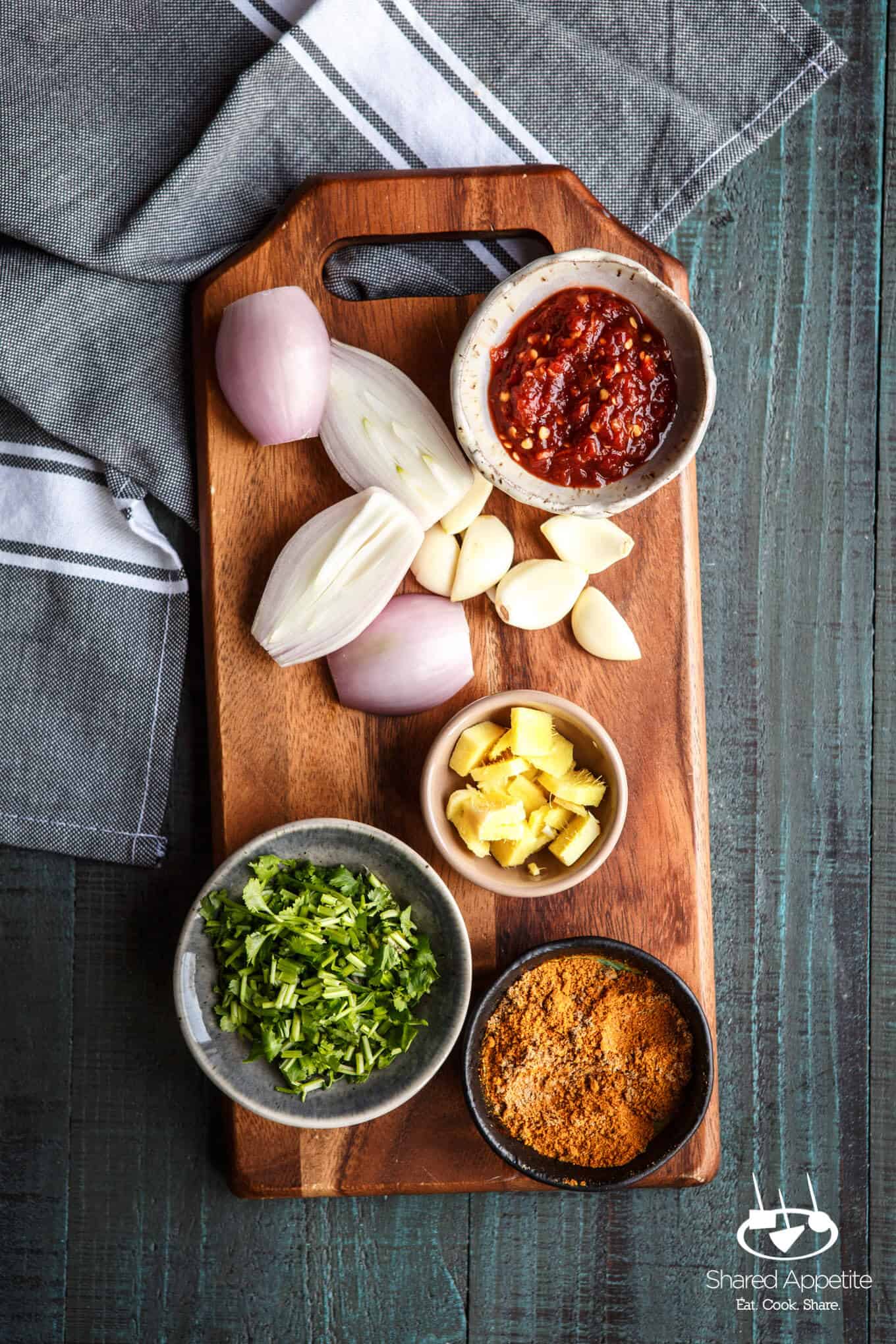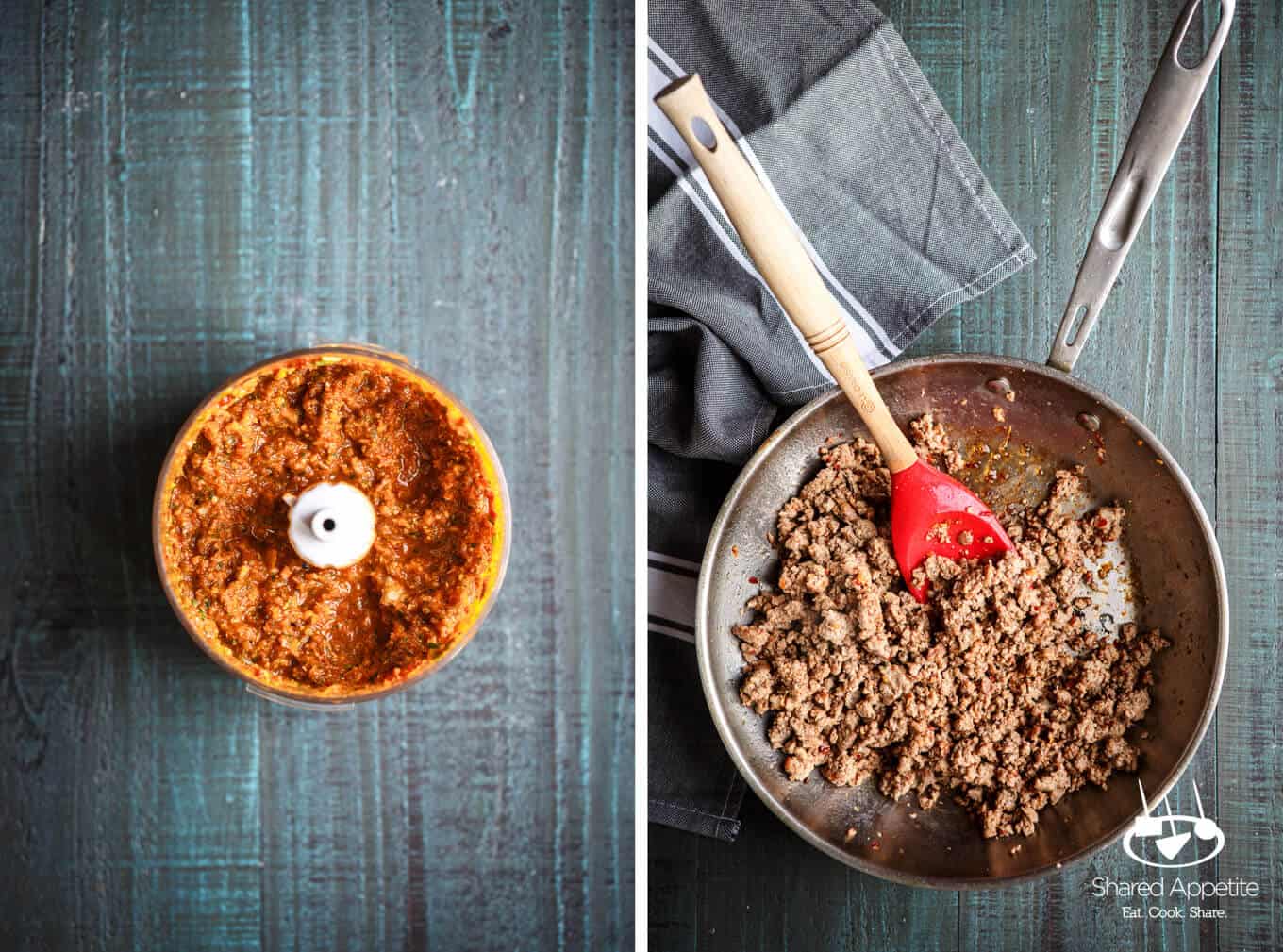 My Spicy Lamb Coconut Curry Ramen is a version of their Khao Soi that is a little bit more accessible to the home cook (and one that is easier to make happen on a weeknight when time isn't on your side). It all starts with a flavor bomb that will become the base for this coconut curry soup... shallots, garlic, ginger, cilantro, a few spices, and sambal oelek. Give it a whirl in the food processor, simmer it with coconut milk and some broth, and you have one dynamite soup.
It's creamy (yet dairy free), has a stunning yellow color from the tumeric, and has an infectious flavor that will make your taste buds dance the entire meal. To finish off this Spicy Lamb Coconut Curry Ramen, you need some key players:
the spicy lamb gets a hit of sambal oelek, garlic, and ginger, and is the perfect protein for this rich ramen soup base
chopped scallions and fresh cilantro give a refreshing herbaceous bite
a perfect soft boiled egg is a standard ramen addition and let's be honest... a jammy yolk makes any meal better
And we can't forget about the actual noodle in this Spicy Lamb Coconut Curry Ramen. You have some choices. Feel free to use those instant ramen noodles, which is what is pictured here. I've also made it with stir fry rice noodles, which are a little bit wider and are a great gluten free option. If you're in a pinch, you can even use spaghetti or linguine!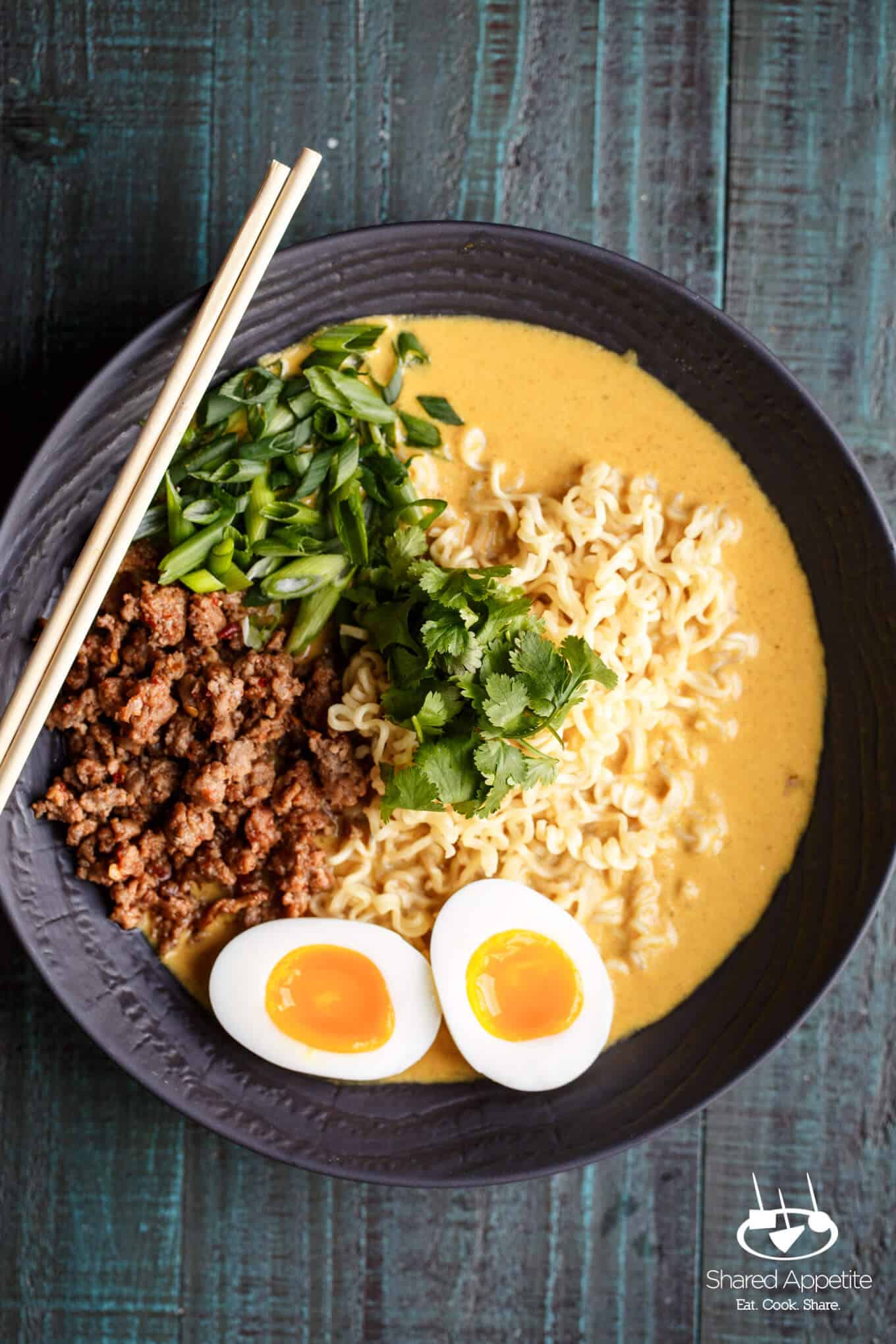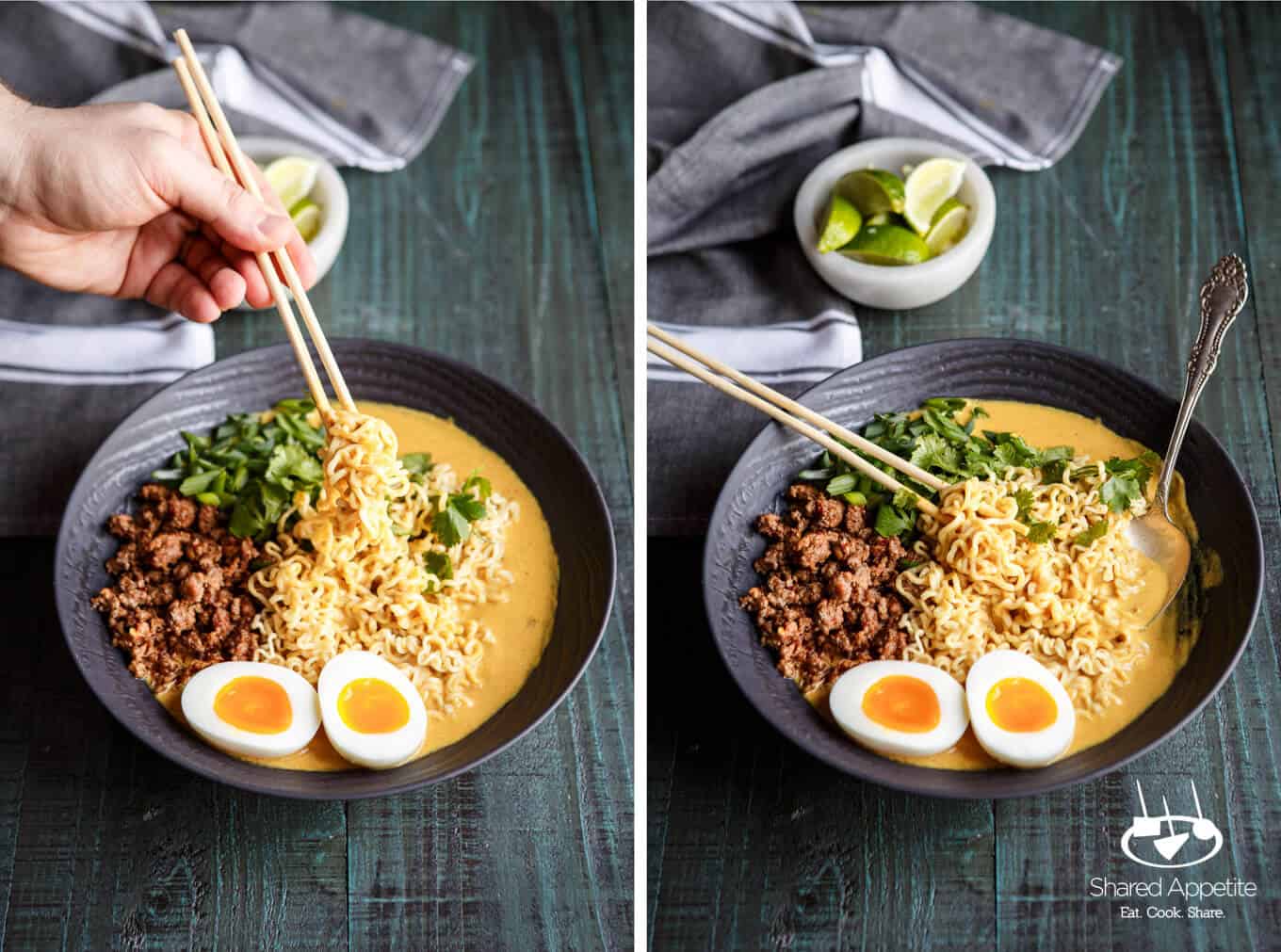 Back to this spicy lamb. We need to have a chat.
Did you know that the majority of the lamb here sold in the states is actually from Australia and New Zealand. We are literally buying meat from the opposite side of the world. That's lamb that has traveled 10,000 miles and 30 days to get to our supermarkets.
The better choice? American Lamb. Not only is it a superior tasting product, it's incredibly local.
American Lamb is produced in almost every single state here in the U.S. I've had the honor now as an American Lamb lambassador to visit two ranches, one in California and one in Maine. Unequivocally I can tell you that raising lamb is a labor of love and passion. The people that run these family-owned farms work so incredibly hard, and I am personally so happy to support our local ranchers by keeping it local.
Next time you are at the butcher counter… make sure you let them know that you want AMERICAN lamb. It tastes better, is fresher, and helps support families right here in the U.S.
Did you know February is Lamb Lovers Month? To celebrate, the American Lamb Board is hosting an incredible Date Night Giveaway! You can win $1000 in prizes! It takes 30 seconds to enter either on their website or Facebook page!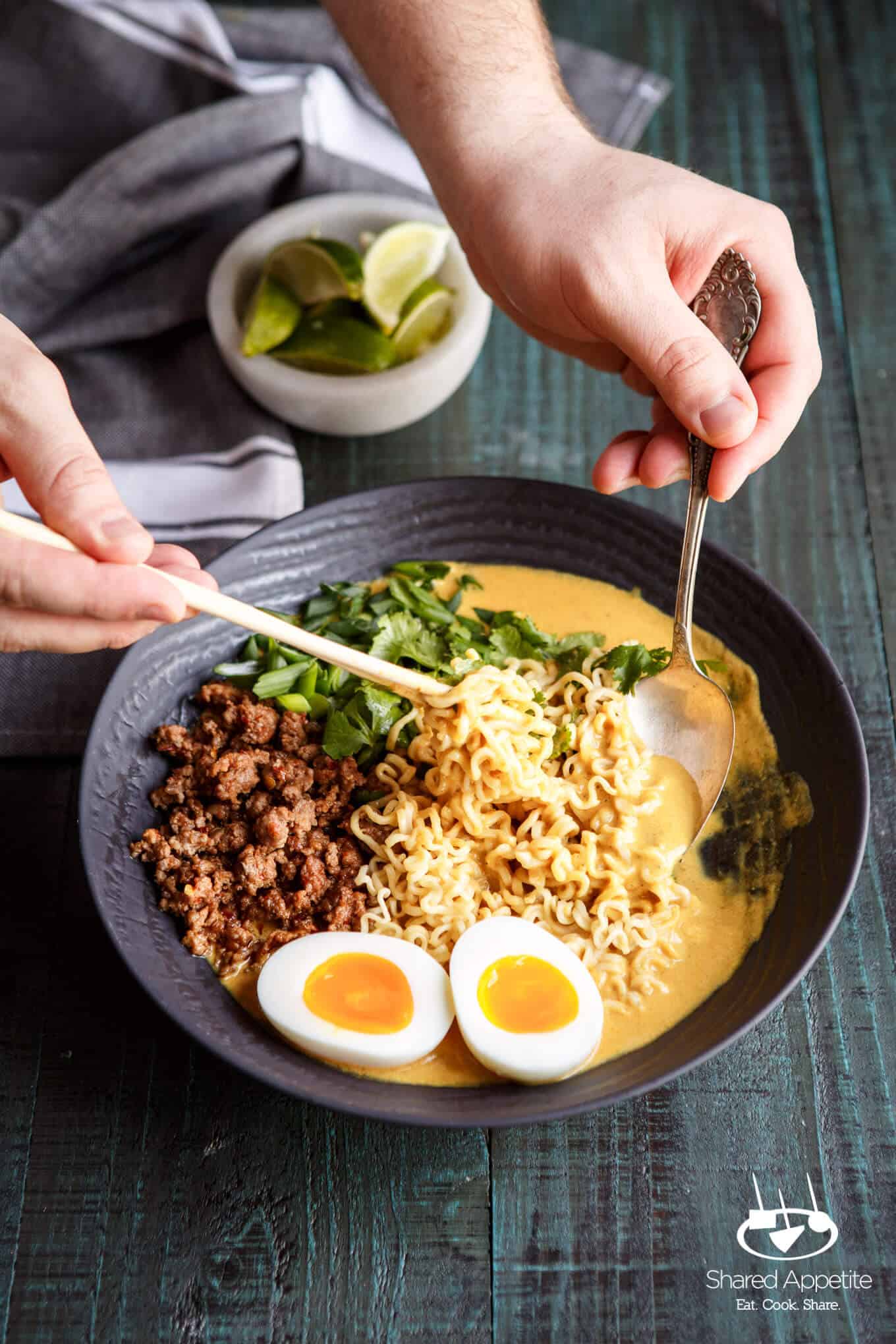 Print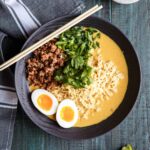 Spicy Lamb Coconut Curry Ramen
---
2 tablespoons

sambal oelek

2

shallots, peeled and halved

6

cloves garlic, peeled

1

(2 inch) piece ginger, peeled and sliced

¼ cup

cilantro stems, chopped

1 tablespoon

ground coriander

1 tablespoon

ground turmeric

1 teaspoon

curry powder

1 tablespoon

vegetable or canola oil

2

(14 ounce) cans unsweetened coconut milk

2 cups

chicken broth

1 tablespoon

fish sauce

1 tablespoon

light brown sugar
Kosher salt
Spicy Lamb (recipe below)

2

(3 ounce) packages instant ramen noodles, flavor packets discarded*

2

eggs

1

bunch scallions, very thinly sliced

1

lime, sliced into wedges
Cilantro, for garnish
for the Spicy Lamb
1 tablespoon

vegetable or canola oil

1

pound ground lamb

2

-

3

teaspoons sambal oelek, depending upon how spicy you'd like

¼ teaspoon

garlic powder

¼ teaspoon

ginger powder
Kosher salt
---
Instructions
Puree sambal oelek, shallots, garlic, ginger, cilantro stems, coriander, turmeric, curry powder and 3 tablespoons water in a food processor until a smooth-ish paste forms.
Heat oil in a large pot over medium heat. Add the above paste and cook, stirring constantly, for 4-5 minutes. Whisk in coconut milk and broth and season generously with Kosher salt. Bring to a boil, then reduce heat and cook for 20 to 25 minutes. Add fish sauce and brown sugar, and cook for at least 5 more minutes.  Pour soup through a fine mesh strainer and discard solids.  Return soup to the pot and keep hot.
Meanwhile, cook eggs: bring water to boil in a medium saucepan. Lower heat to a rapid "hard simmer". Carefully lower eggs into water and cook for exactly 6 ½ minutes. Use a slotted spoon to remove eggs from water and place in an ice bath (bowl filled with very icy water). Let eggs cool completely, then carefully peel and slice in half.
Meanwhile, cook spicy lamb: heat oil in a large skillet over medium-high heat. Add lamb and season with Kosher salt, breaking into small bite-sized pieces as it cooks, until no pink remains, about 6 minutes. Stir in sambal oelek, garlic powder, and ginger powder and cook for 1 more minute. Remove from heat and set aside until soup is done.
Cook ramen noodles in boiling water until just cooked through (if you cook too long, they will turn to mush).
Divide broth between bowls. Add ramen noodles, spicy lamb, scallions, and garnish with cilantro. Serve with lime wedges. Devour immediately.
Notes
*you can also feel free to use another type of noodle like thicker stir fry rice noodles or even spaghetti!
**if you have extra soup and lamb leftover, refrigerate and reheat for a future meal!
Prep Time:

20 minutes

Cook Time:

40 minutes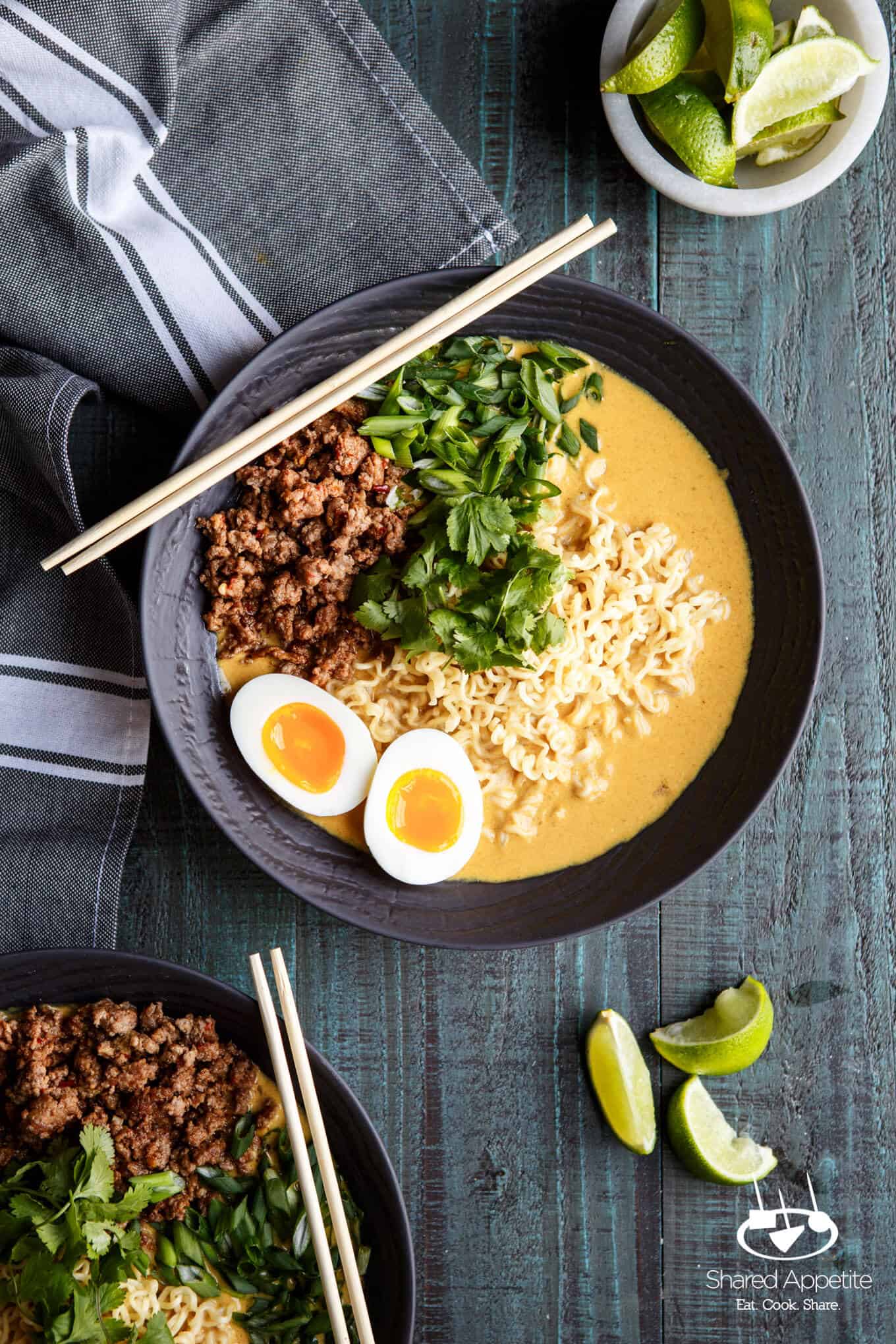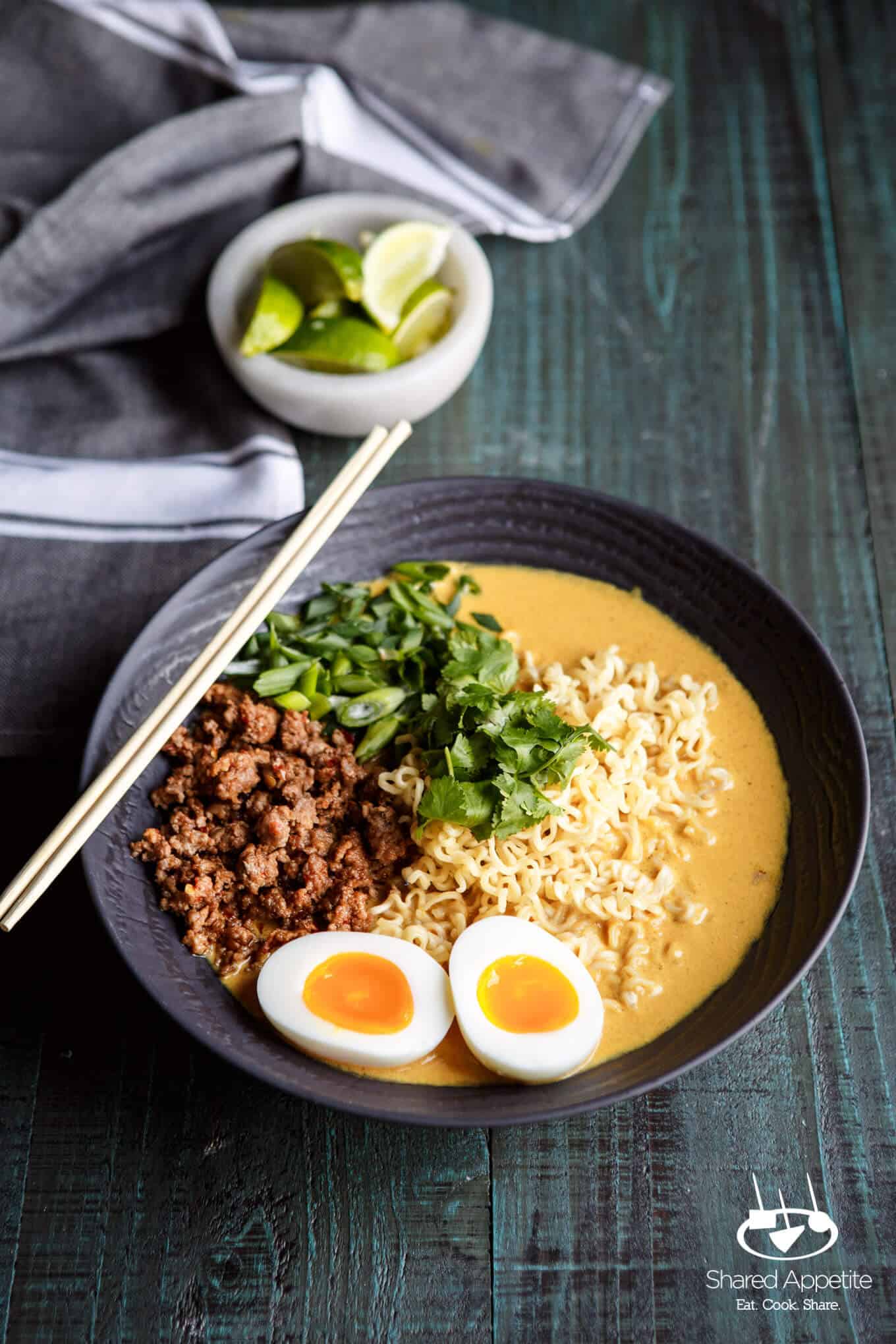 Spicy Lamb Coconut Curry Ramen