This Spicy Pork Thai Coconut Curry Ramen is brought to you by REVOL. As always, all opinions and recipe are my own. Thanks for supporting the brands that support Shared Appetite!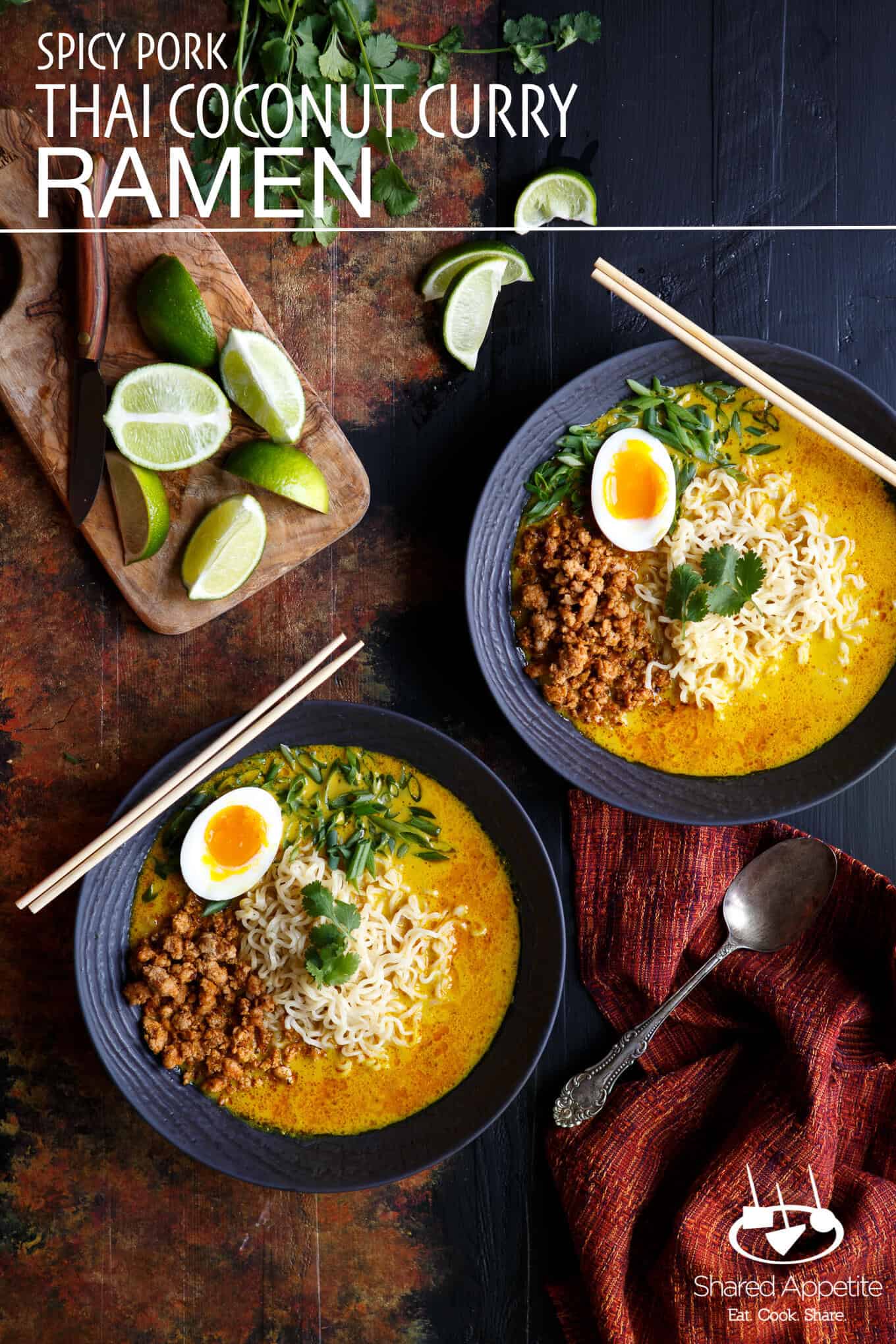 Asheley and I absolutely love going into the city to eat. It's hands down my favorite hobby. Yes, eating is my favorite hobby… shocker. Need ideas of where to eat in the city? No problem… start here with my The Top 10 Foods You Have To Eat in NYC (and follow that up with the The 10 Best Ice Cream and Frozen Treats in NYC). We've amassed quite a list of places we've eaten, including everything from cheap (and sometimes sketchy) eats all the way through crazy legit 3 Michelin Star fine dining. The ridiculous thing is that no many how many places we cross off our list, there's literally always hundreds more that we want to try. A never-ending food bucket list… my type of list.
But give Asheley the choice of where she wants to eat, she will always (ALWAYS) choose ramen. She is 100% certifiably obsessed. I don't blame her. The ramen scene in NYC is on point. Reproducing the authentic ramen we seek throughout the city is really time-consuming to do at home, but I'm always a fan of finding fun recreations to make for Asheley when we can't make it into NYC. And with a toddler keeping us super busy, we definitely aren't getting into Manhattan nearly as often as we would like. So I cook her up some wildly inauthentic ramen at home, like this Spicy Korean Kimchi Ramen and Bacon, Egg, and Cheese Breakfast Ramen.
And now, I'm bringing you this Spicy Pork Thai Coconut Curry Ramen. It has instantly become a staple in our house, and it's something I find myself craving again and again.
This Spicy Pork Thai Coconut Curry Ramen is surprisingly simple to make as far as ramen goes, and is one of those dishes that will impress the heck out of your family and friends. I seriously want a bowl of it right now… and I just ate dinner.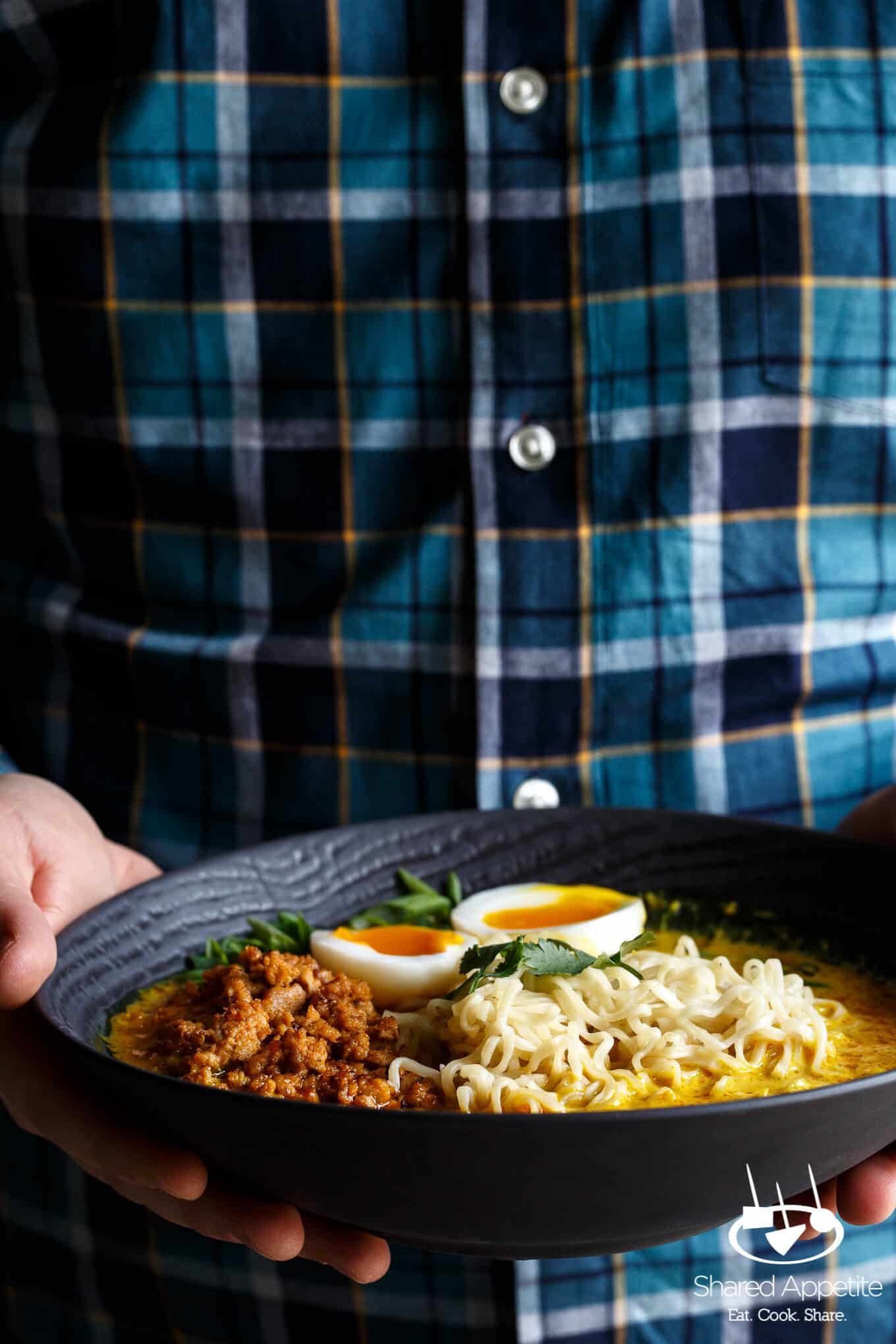 Have you ever heard of Khao Soi? Me neither, up until a few months back when I was served a bowl of it at the American Lamb Board's Lamb Jam Finale at the James Beard House. It was hands down one of the best things I ate all year. In the top 5, for sure.
It had this unreal depth of complex flavors, and every bite revealed another layer of deliciousness that I wish I could have every single night for dinner.
Khao Soi is a northern Thailand soup-like dish made with a thick coconut curry base, some sort of meat, noodles, lime, and other accompaniments. It's apparently super popular as a street food in Thailand, but it hasn't made its way into the mainstream of Thai restaurants here in America. It's a shame, because it's so darn good you'll cry at first bite.
This Spicy Pork Thai Coconut Curry Ramen is basically a ramen version of a simplified Khao Soi. Trust me, you're welcome.
Seriously, I want to eat this again right now. SO GOOD.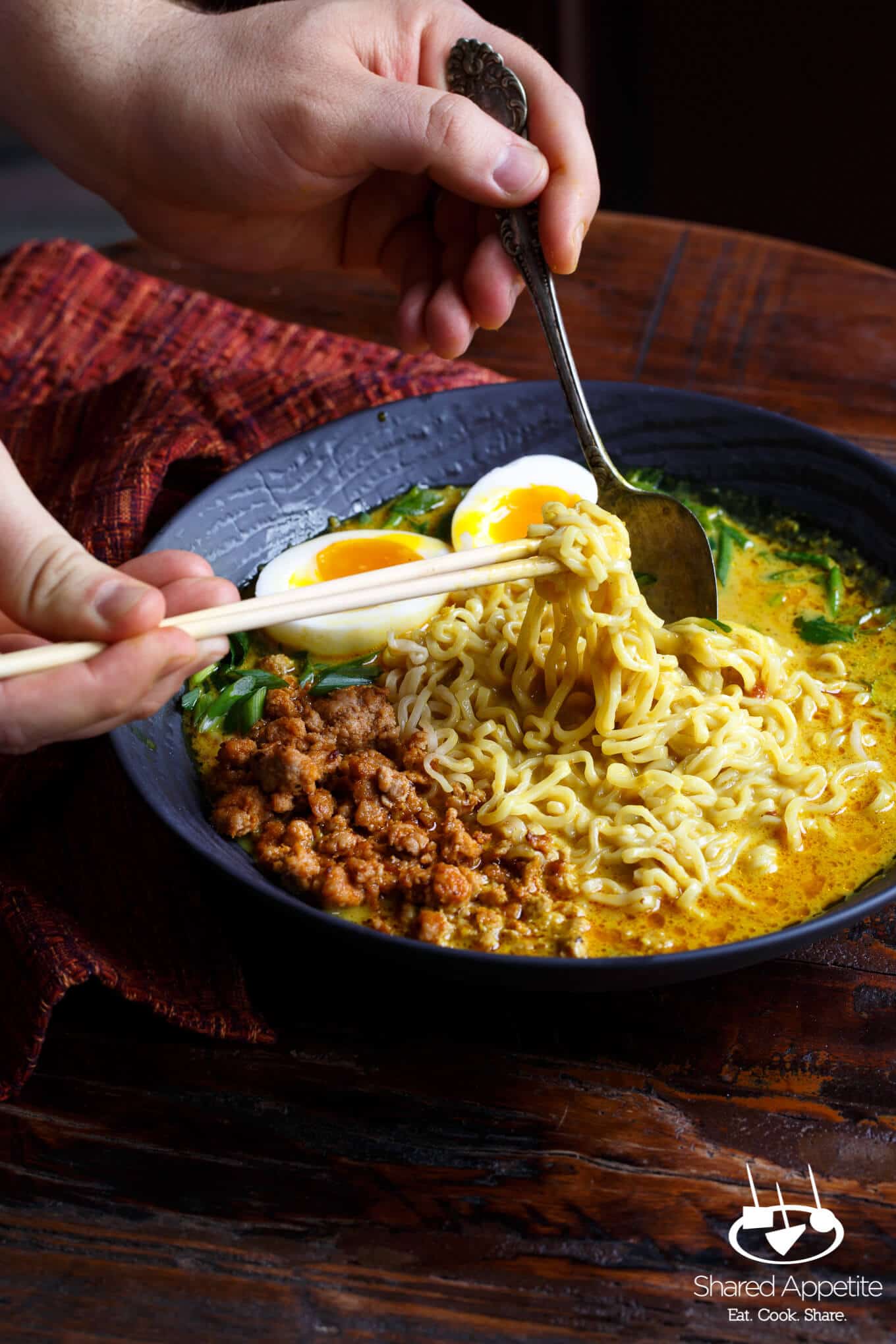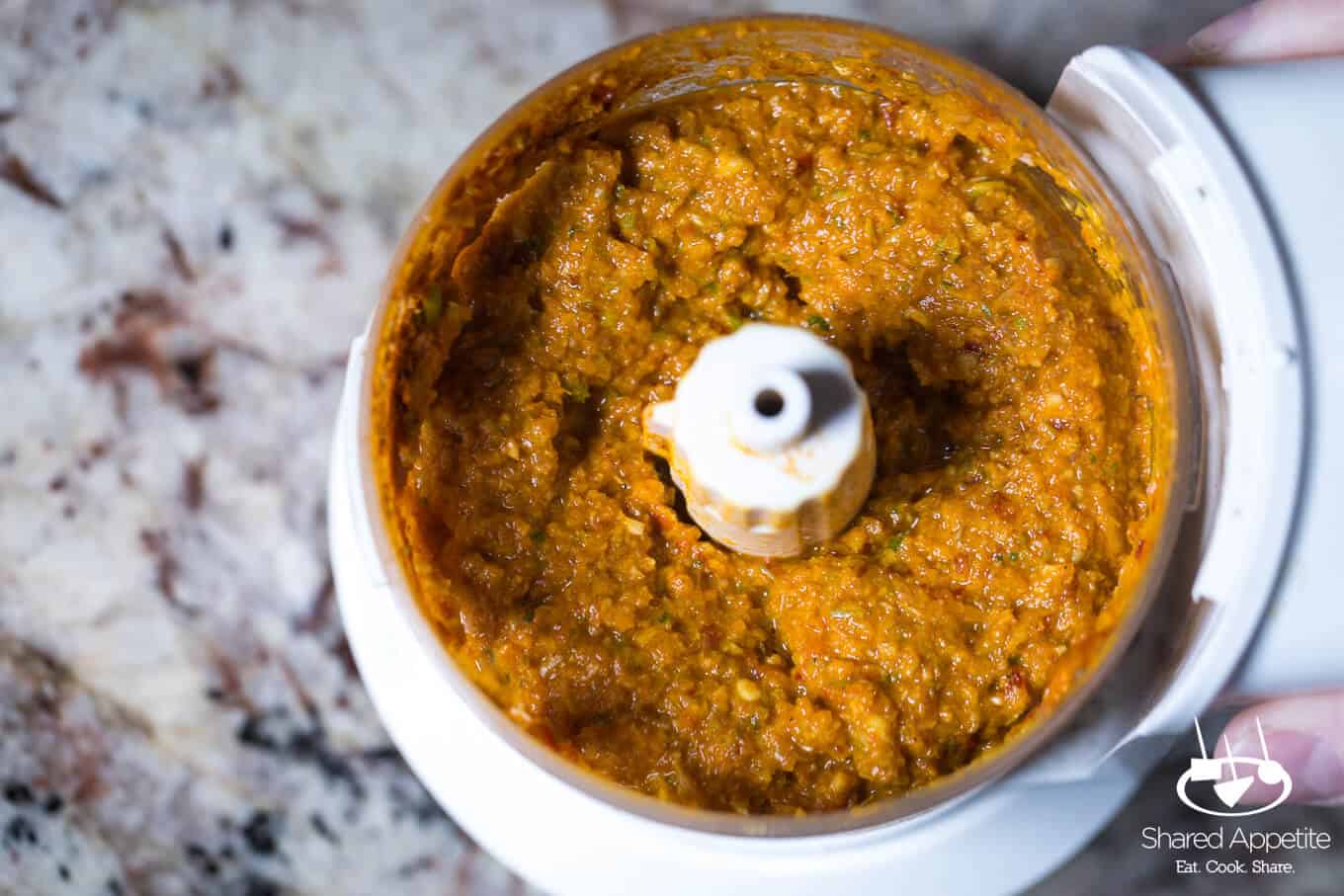 It all starts with this flavor bomb paste of sambal oelek (a chili paste condiment that I love more than sriracha), shallots, garlic, ginger, cilantro, coriander, turmeric, and curry powder. It's a lot of ingredients, but most are staples in your pantry already (and if sambal oelek isn't already in your fridge, give it a try and you'll be a believer too… you can snag it for cheap on Amazon here).
Best of all… no chopping required. Just throw everything into a food processor and boom. FLAY-VAHHHHHH.
After that, all you need is to cook up it up with some broth and coconut milk… add in a little bit of fish sauce and sugar and BOOM. An insanely good Khao Soi soup base for this Spicy Pork Thai Coconut Curry Ramen.
No ramen experience is complete without a couple things in my book:
Pork. Usually I'm all about the pork belly, but it takes too much effort. Well, too much for what I want to put in right now. This spicy ground pork is studded with sambal oelek, garlic powder, and ginger powder. It takes all of 10 minutes to whip together while the soup is simmering away.
Soft boiled eggs. Give me all those jammy custard-like yolks… ermagherd they are one of God's greatest culinary gifts. And psst, don't be intimidated. They are SO easy to make. All you need is a timer and some ice water to guarantee soft-boiled-egg-paradise.
Scallions. It gives that fresh herbal bite that cuts through the richness of the broth. It balances everything out, so no skipping the green stuff.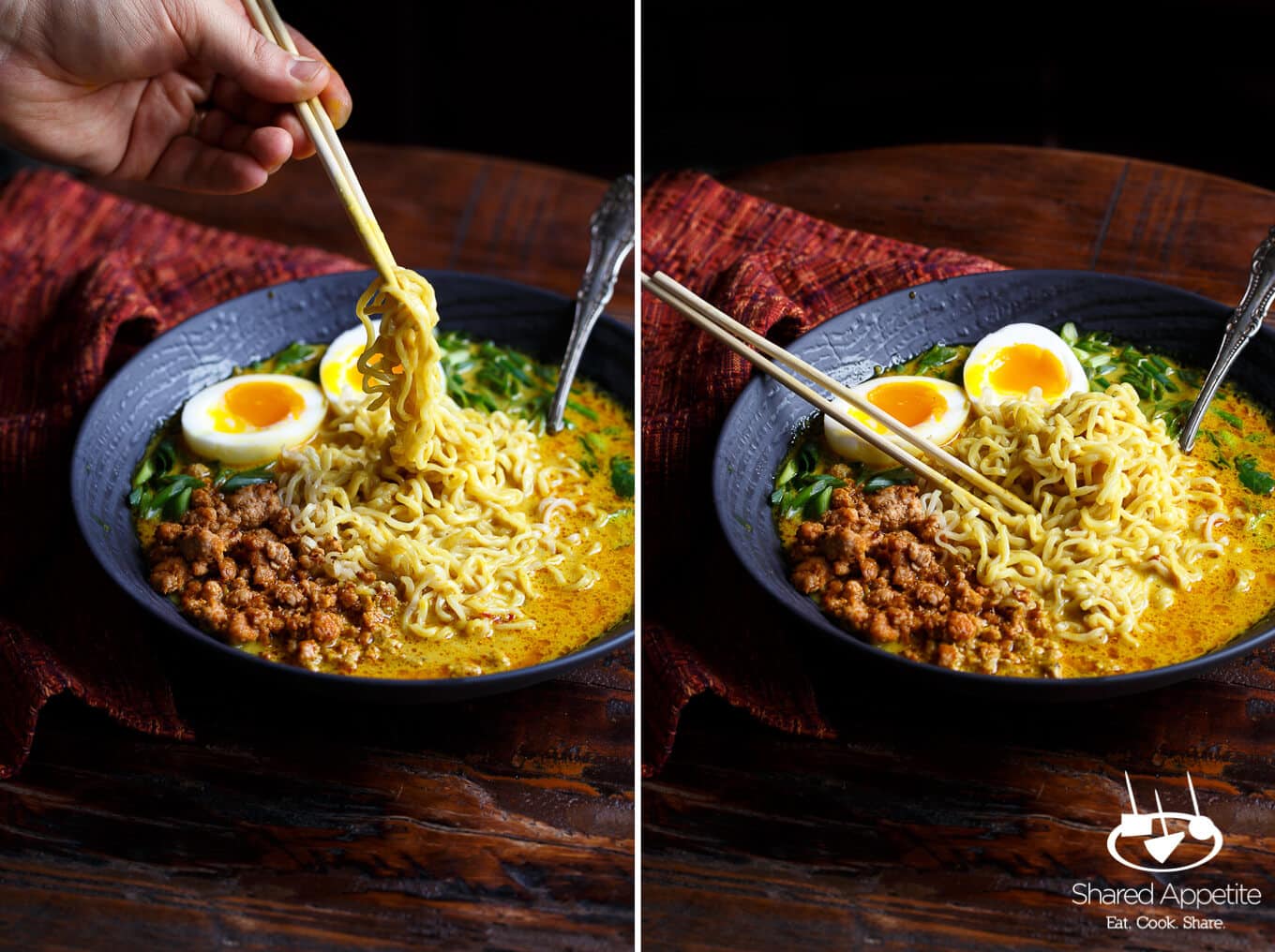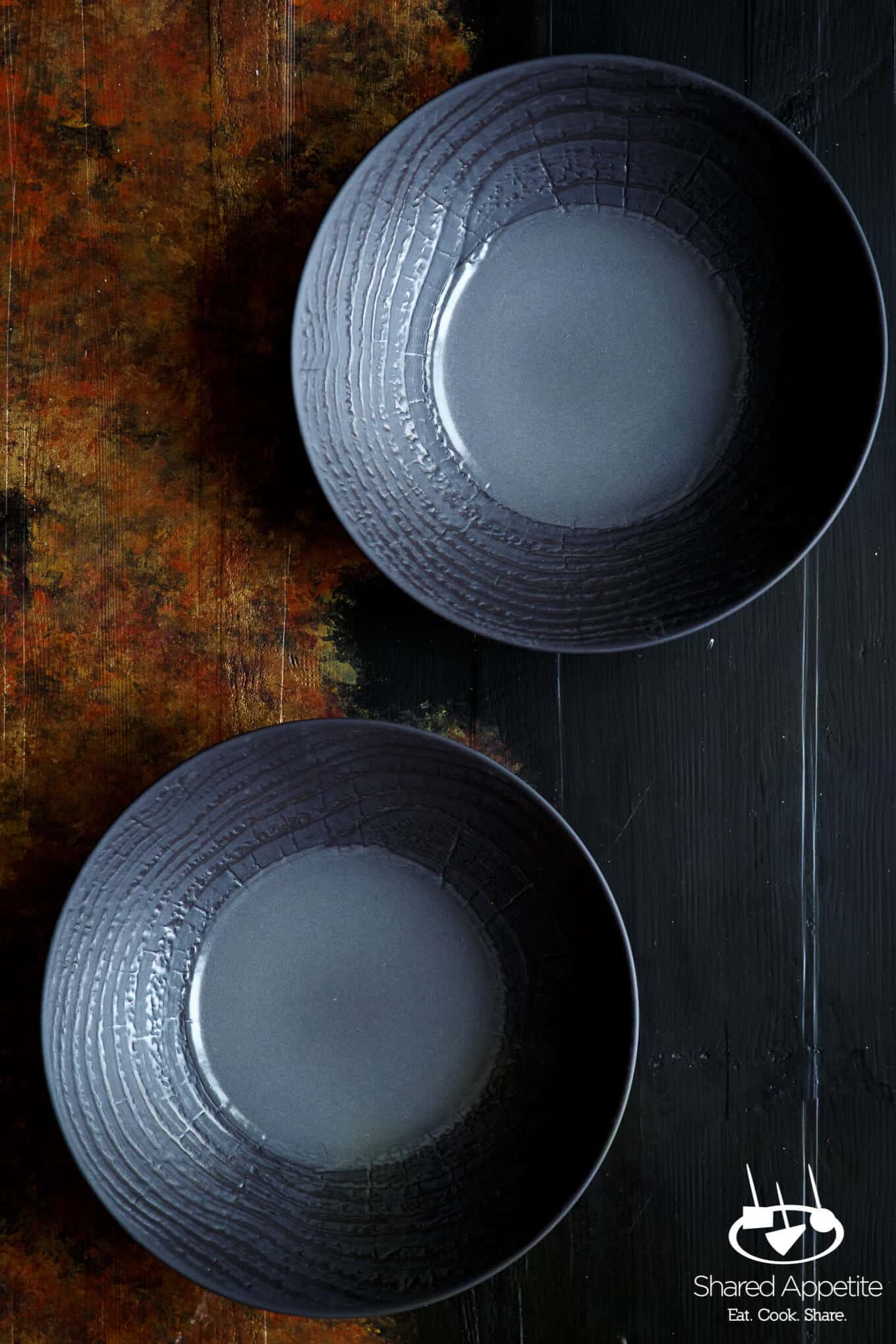 If you've been to any great restaurant, whether it be a hole-in-the-wall joint only locals know about or the newest fine dining celebrity chef restaurant that's trending hard right now, they've mastered one very important thing. The experience. It doesn't have to be fancy. It just has to be memorable.
That's where these awesome new bowls come in that I scored from REVOL. I am in LOVE with them, and they make this Spicy Pork Thai Coconut Curry Ramen experience complete. Because really, the last thing you want to do is serve this beautiful ramen in some lame super boring bowls.
These Liquorice Colored Arborescence Bowls by REVOL are absolutely the perfect size for all sorts of soups and pastas, and make this Spicy Pork Thai Coconut Curry Ramen look all sorts of irresistible.
Ever hear of REVOL? You may have seen a selection of their products at Williams Sonoma. They are a family-owned business that has been manufacturing culinary porcelain in France since 1768. Let's just pause there for a second.
1768. Like. over 2 centuries.
What other businesses do you know that have been going strong for over 2 centuries?! That's insane.
They must be doing something right. And that something is that their products are beautiful, durable, and design-oriented. Their innovative bakeware and cookware are all about quality meets style. It's high end stuff that's still accessible for everyday use. And you better believe that their customer service is on point (you don't stick around for 250+ years unless you constantly deliver on your promises to customers).
And that, my friends, is exactly the type of healthy cookware and bakeware I want to stock my kitchen with… functional and durable while allowing me to cook in style with sleek modern design. Heck yes.
Good news. Now you can cook your style, too. REVOL just launched a brand new website for us here in the U.S. so we can instantly search and purchase products directly from them. Shipping is SUPER fast, too. I know from experience 🙂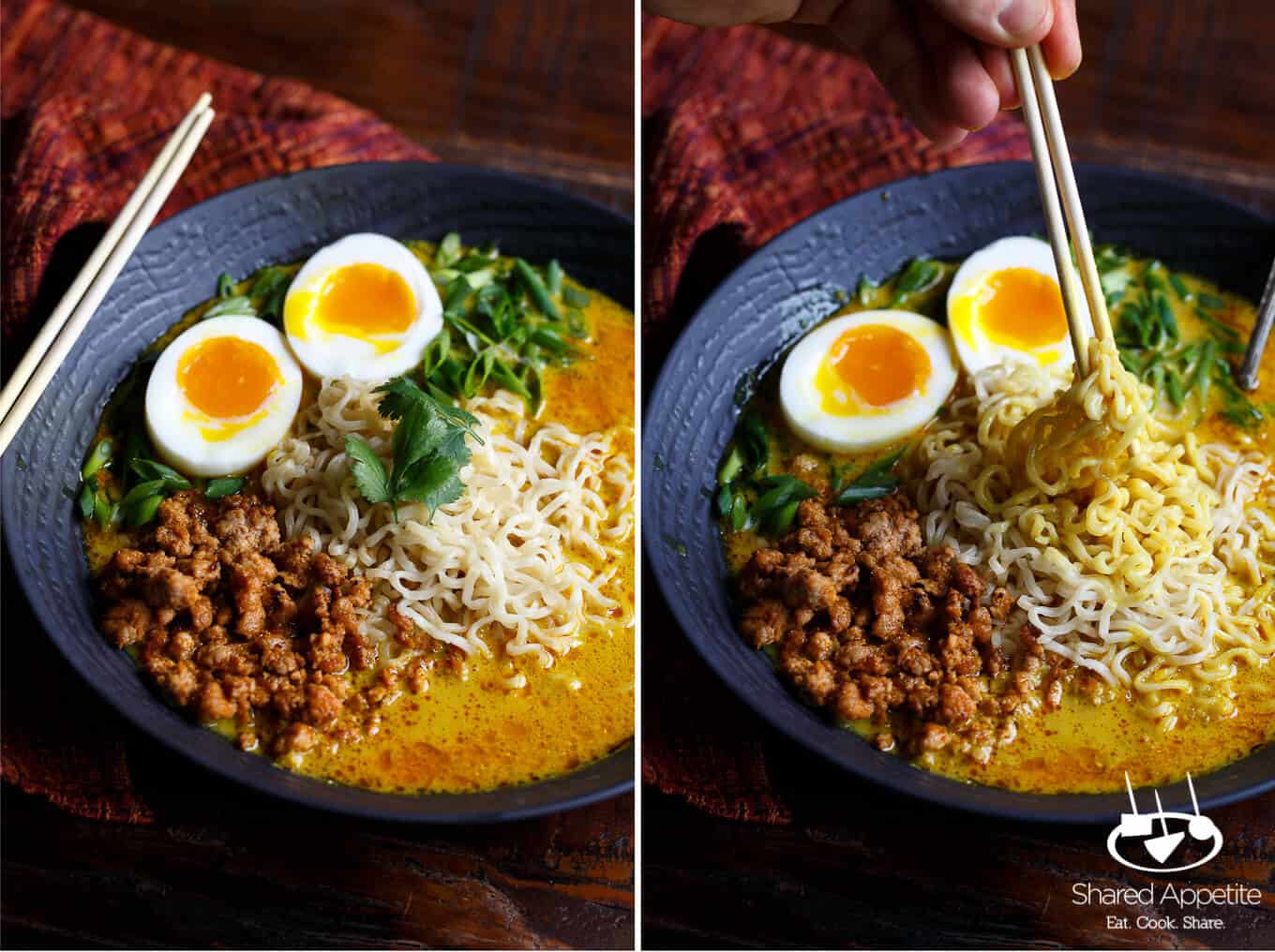 *recipe adapted from Bon Appetit
Print
Spicy Pork Thai Coconut Curry Ramen
---
2 tablespoons

sambal oelek

2

shallots, halved

6

cloves garlic

1

(2 inch) piece ginger, peeled and sliced

1/4 cup

cilantro stems, chopped

1 tablespoon

ground coriander

1 tablespoon

ground turmeric

1 teaspoon

curry powder

1 tablespoon

vegetable or canola oil

2

(14 ounce) cans unsweetened coconut milk*

2 cups

chicken broth

1 tablespoon

fish sauce

1 tablespoon

light brown sugar
Kosher salt
Spicy Pork (recipe below)

4

(3 ounce) packages instant ramen noodles, flavor packets discarded

4

eggs

1

bunch scallions, chopped

1

lime, sliced into wedges
Cilantro, for garnish
for the Spicy Pork
1 tablespoon

vegetable or canola oil

1

pound ground pork

2

–

3

teaspoons sambal oelek

1/4 teaspoon

garlic powder

1/4 teaspoon

ginger powder
Kosher salt
---
Instructions
Puree sambal oelek, shallots, garlic, ginger, cilantro stems, coriander, turmeric, curry powder and 3 tablespoons water in a food processor until smooth. Add 1-2 more tablespoons water if needed to help mixture form a smooth paste.
Heat oil in a large pot over medium heat. Add paste and cook, stirring constantly, for 4-5 minutes. Whisk in coconut milk and broth and season generously with Kosher salt. Bring to a boil, then reduce heat and cook for 20 to 25 minutes. Add fish sauce and brown sugar, and cook for at least 5 more minutes.
Meanwhile, cook eggs: bring water to boil in a medium saucepan. Lower heat to a rapid "hard simmer". Carefully lower eggs into water and cook for exactly 7 minutes. Use a slotted spoon to remove eggs from water and place in an ice bath (bowl filled with very icy water). Let eggs cool completely, then carefully peel and slice in half.
Meanwhile, cook spicy pork: Heat oil in a large skillet over medium-high heat. Add pork and season with Kosher salt, breaking into small bite-sized pieces as it cooks, until no pink remains, about 6-7minutes. Stir in sambal oelek, garlic powder, and ginger powder and cook for 1 more minute. Remove from heat and set aside until soup is done.
During the last 2 to 3 minutes of the ramen broth simmering, cook ramen noodles in boiling water until just cooked through (if you cook too long, they will turn to mush).
Divide broth between bowls. Add ramen noodles, spicy pork, scallions, and garnish with cilantro. Serve with lime wedges. Devour immediately.
Notes
*make sure to use canned coconut milk and not the carton type… they are different.
Prep Time:

10 mins

Cook Time:

35 mins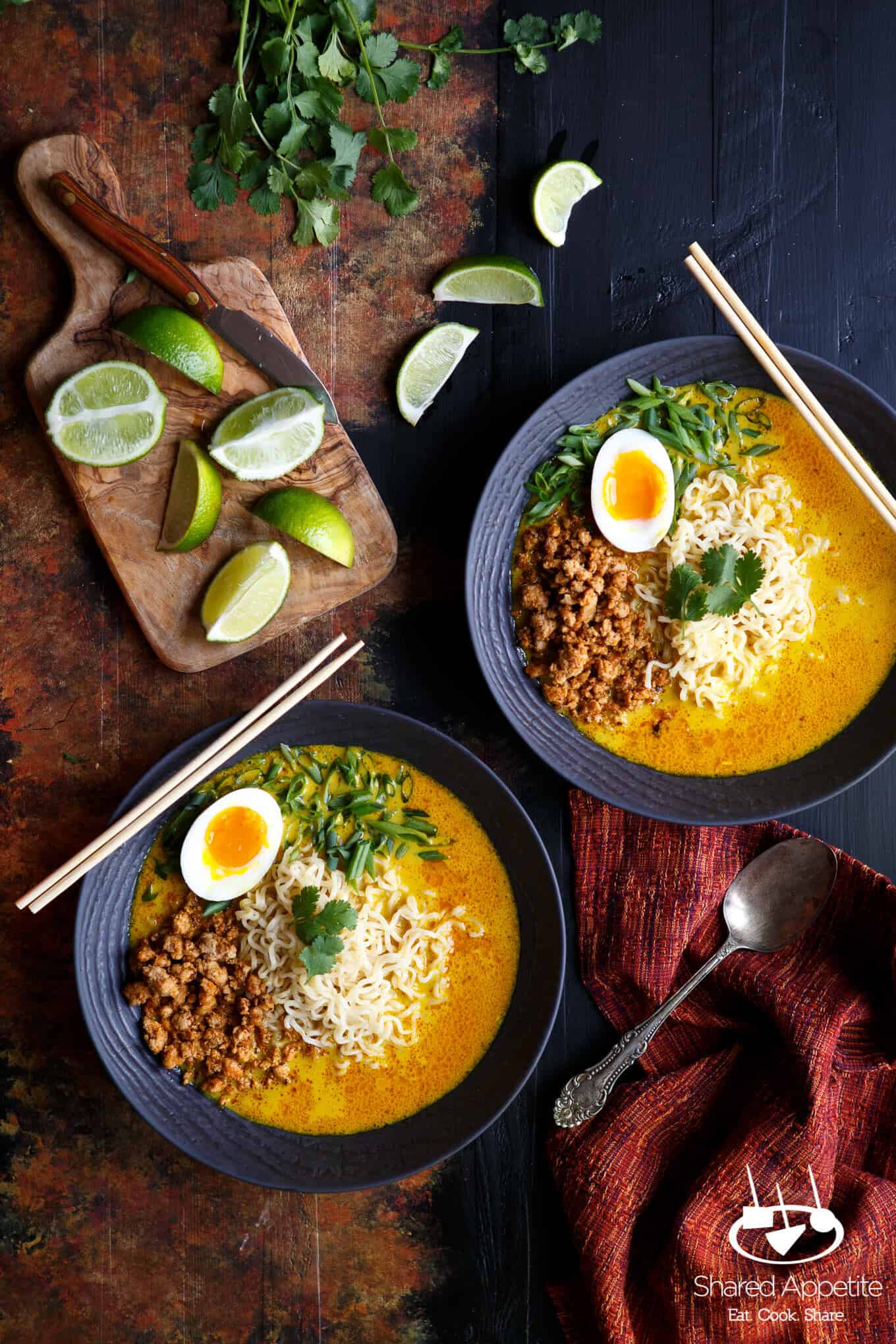 Follow REVOL: Facebook | Instagram
Spicy Pork Thai Coconut Curry Ramen
Need More Ramen?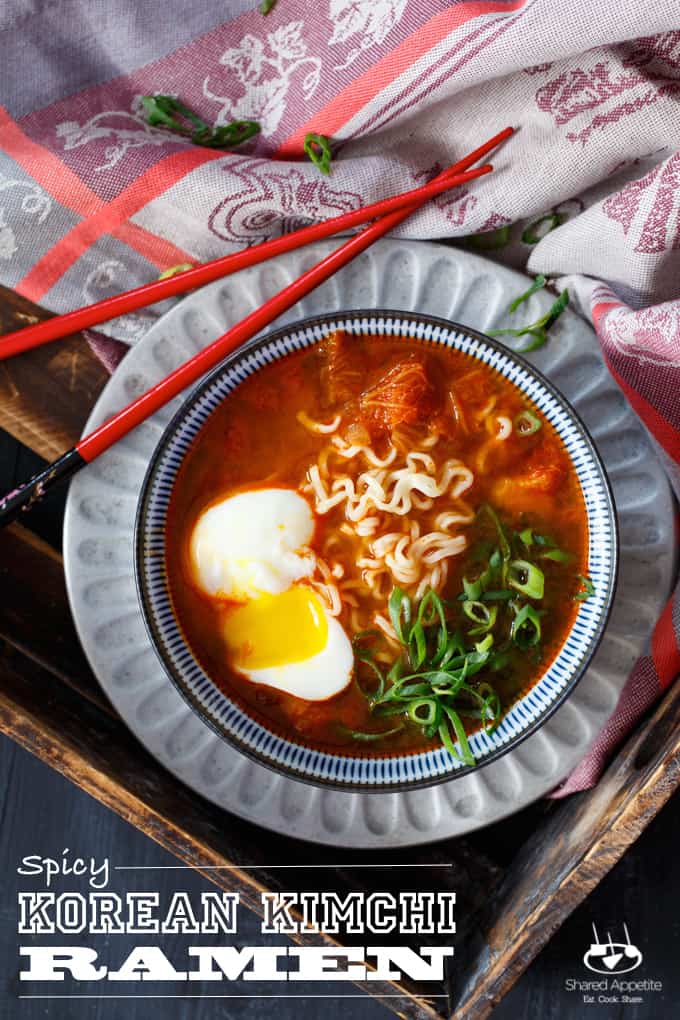 Bacon, Egg, and Cheese Breakfast Ramen