This No Churn Olive Oil Ice Cream with Roasted Peaches and Olive Oil Cookies are brought to you by Carapelli® Extra Virgin Olive Oil. As always, all opinions and recipe are my own. Thanks for supporting the brands that support Shared Appetite!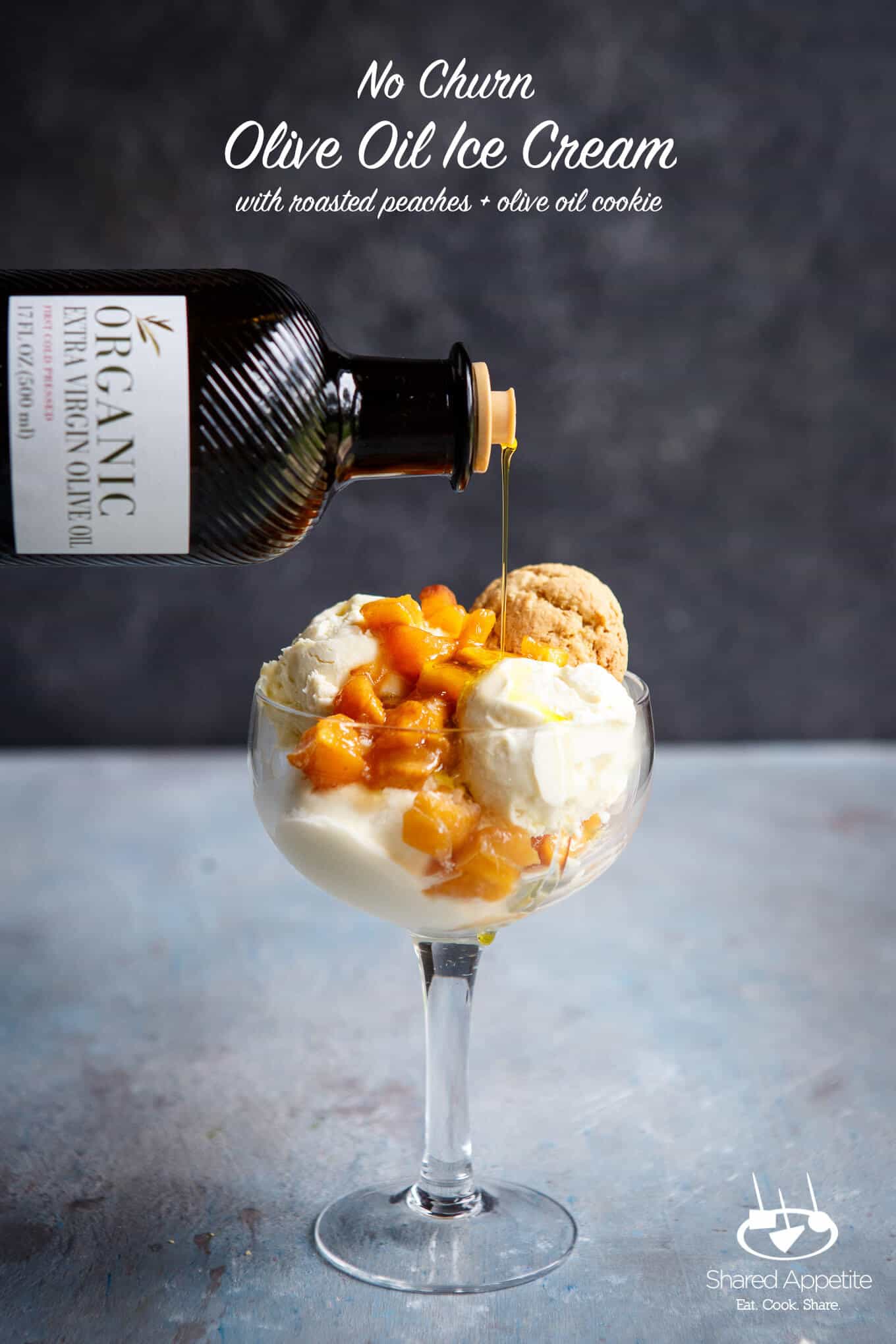 One of the hardest goodbyes I have to say each year is to my dear friend… summer. It always takes forever to get here and then leaves way too quick, but my oh my do I love every minute we get to spend together.
My favorite part? Well, besides the whole summer vacation from teaching and getting to spend lots of time with my family and friends? ICE CREAM. I am obsessed with the stuff. And even though summer may officially be over, I enthusiastically devour ice cream year round. Unfortunately, my 2 year old daughter does not share the same love for frozen concoctions as her daddy does. It breaks my heart. I couldn't even get her to try ice cream for the first two years of her life.
However, there was a MAJOR breakthrough this August. I got Olivia to try ice cream (with rainbow sprinkles, of course). Finally, she got it. The light bulb went off. It was one of the proudest moments I've had in fatherhood to date. My daughter now LOVES ice cream. Praise the Lord.
Of course I'm happy to get some scoops wherever I can, but there's a certain satisfaction from making homemade ice cream. Usually I'll make it the legit way, cooking a custard to just the right temperature and putting it through an ice cream machine. But let's be honest. When you have a toddler hanging on your legs, it's hard to concentrate on such a finicky recipe. That's when a recipe like this No Churn Olive Oil Ice Cream saves the day!
And you know what's seriously saving the day here? This Carapelli® Organic Extra Virgin Olive Oil. It's seriously SO good. But, more on that later.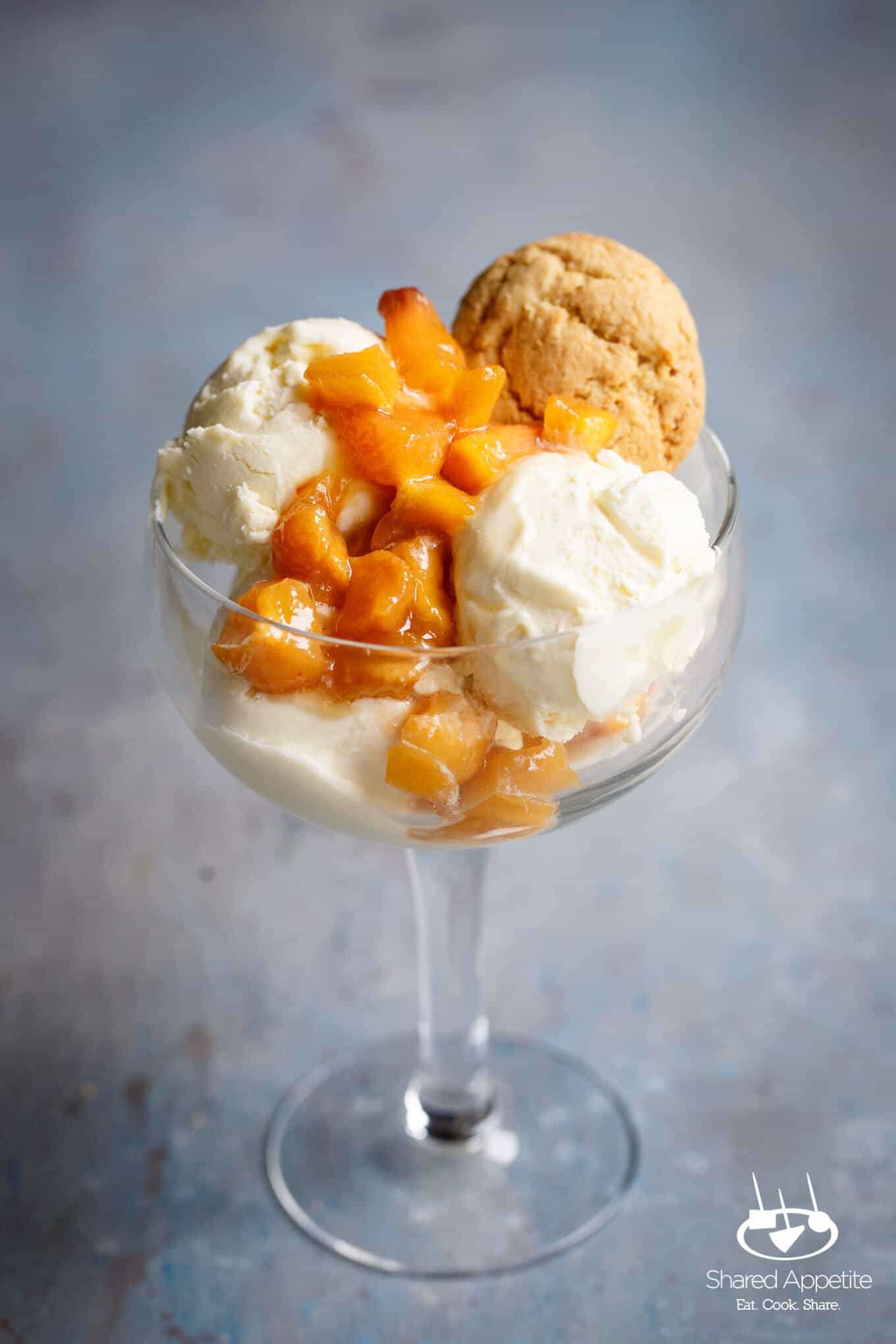 I know what you're thinking. Olive oil IN ice cream?! I like olive oil. I like ice cream. But don't you dare go crazy on us and combine the two.
The thing is, it's actually pretty epic. I first had olive oil ice cream at one of Mario Batali's restaurants in NYC. I was skeptical too at first. I was 100% ready to denounce this ice cream anomaly and move on. But… his olive oil gelato was absolutely mind-blowing. It was rich, buttery, and absolutely unforgettable.
Batali served it up in a sundae with some sort of seasonal fruit and crunchy crumble. And that is exactly what we are recreating today. Check out just how QUICK and EASY it is to make this No Churn Carapelli® Olive Oil Ice Cream with Roasted Peaches and Olive Oil Cookies.
Plus, you can find the Carapelli® Olive Oil and all other ingeredients at Shop Rite, which makes shopping almost too easy.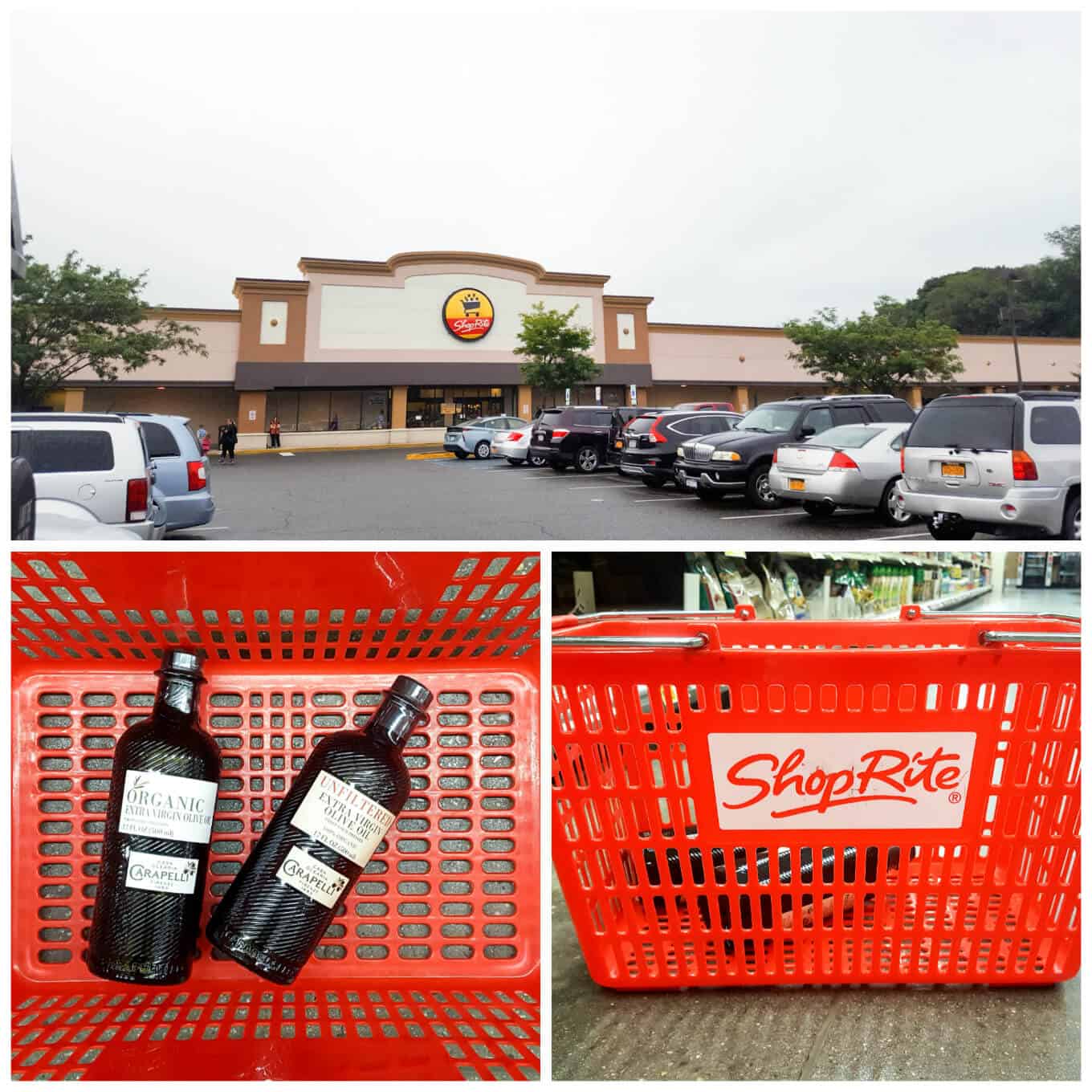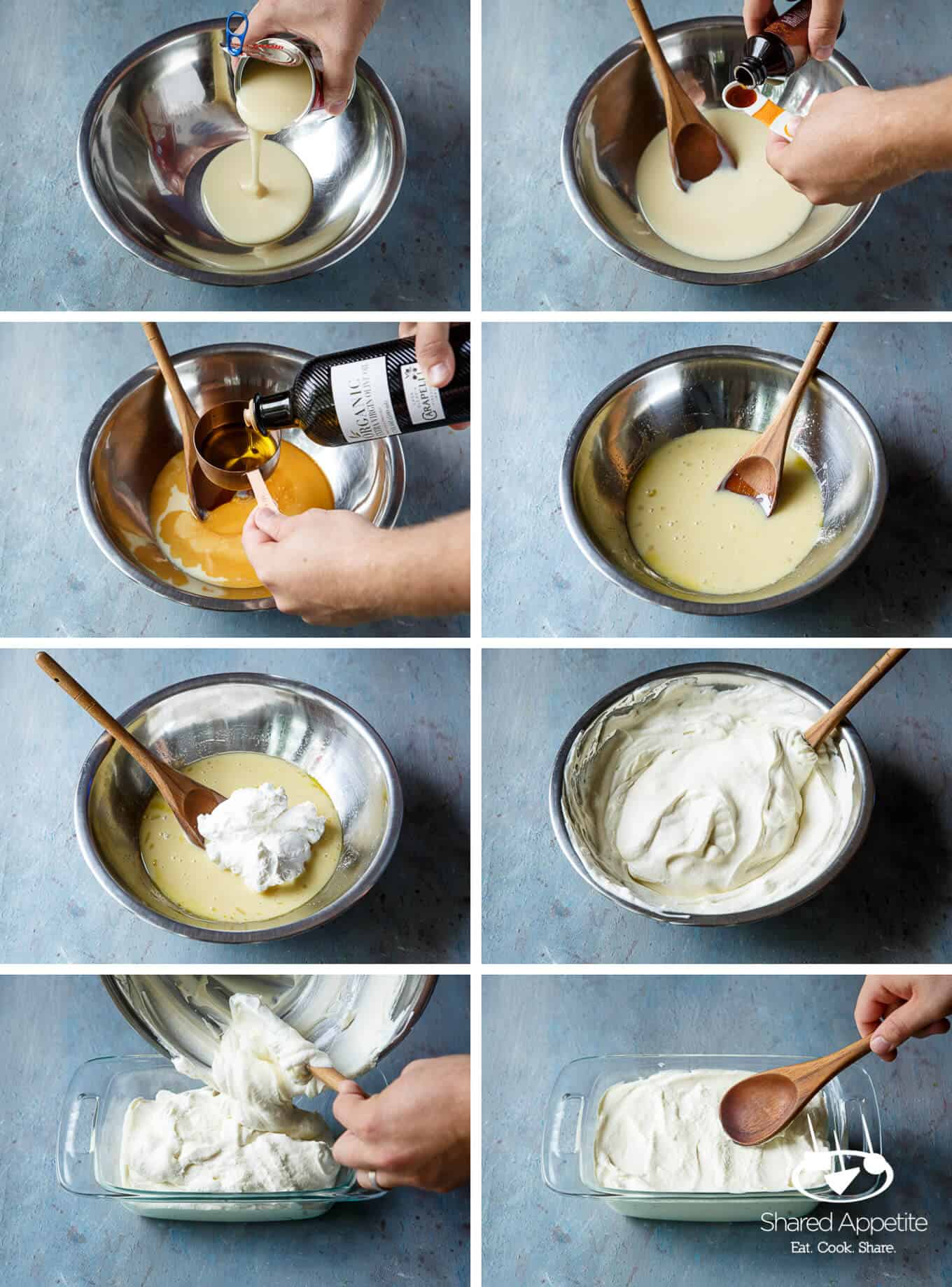 I have to admit. I always thought no churn ice creams were kind of lame. I mean, they are kind of like cheating. Mix a few ingredients together… freeze… and boom, ice cream. Really? Could it truly be that easy?
My friends. It IS that easy!
All this No Churn Olive Oil Ice Cream needs is FOUR INGREDIENTS and 5 minutes of prep!
Just mix together some sweetened condensed milk, vanilla, and Carapelli® Organic Extra Virgin Olive Oil. Fold in some whipped heavy cream. Freeze. That's it. No more, no less.
Now I will tell you. There's a secret to getting this No Churn Olive Oil Ice Cream to have the perfect smooth, lucious, and creamy texture possible. It can't be frozen solid when eating it. When you try to eat it straight out of the freezer, the ice cream can be a little brittle. You need to let it sit and "melt" a little bit. Once it softens from its time in the freezer, you're left with legit ice cream.
Smooth, thick, velvety No Churn Olive Oil Ice cream.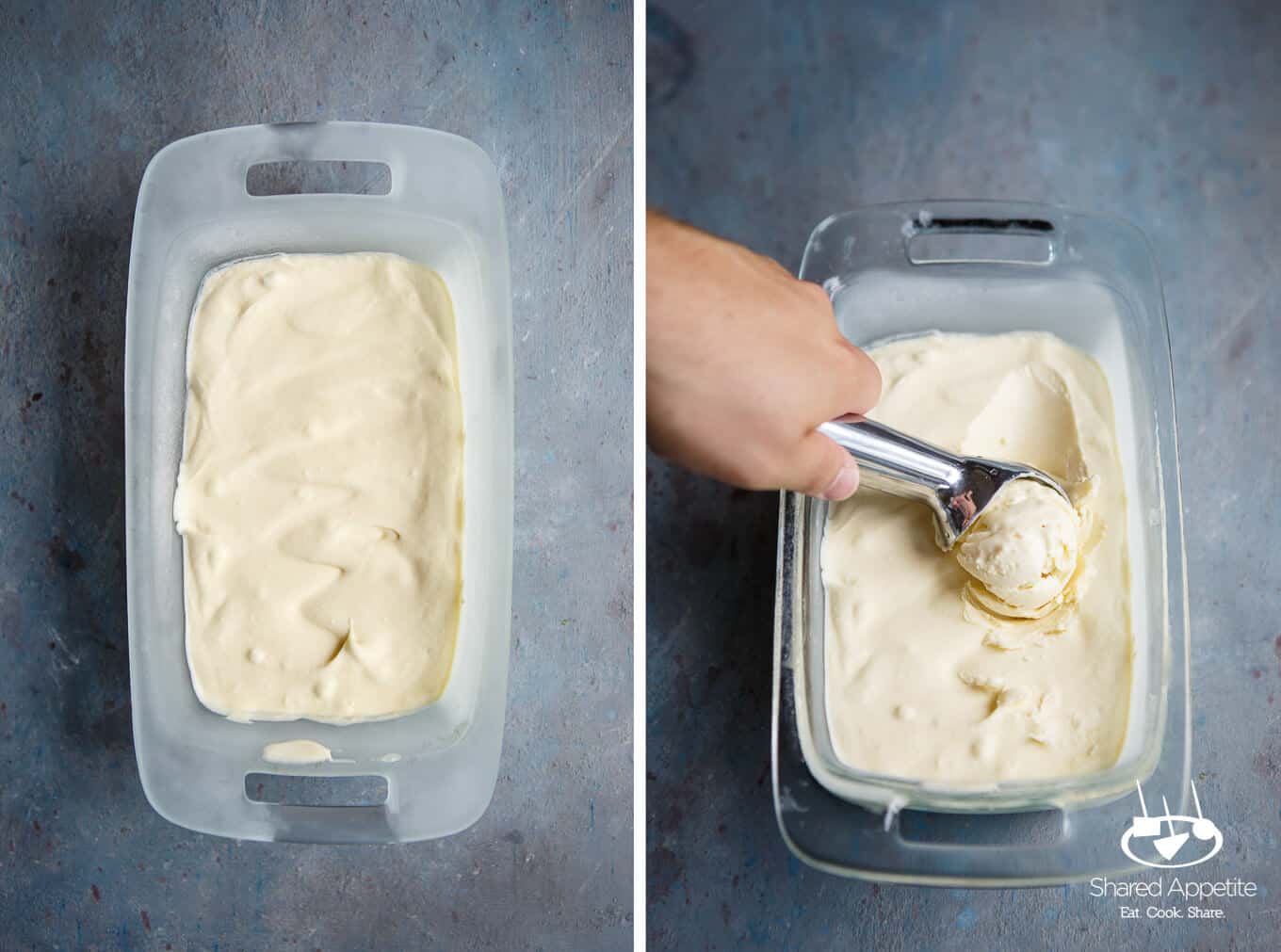 Now listen, you really need some fruit component on top of this ice cream. It really helps tie together the olive oil ice cream. I'm using peaches here because it's peak season for them in NY, but feel free to use another seasonal fruit as you see fit. Roasted apples, berries, cherries, and other stone fruit would be amazing as well!
You'll want to roast your fruit until it's meltingly soft. Not quite to the point where it's falling apart and no longer retains it shape, but the fruit should be VERY soft.
I roasted these peaches with Carapelli® olive oil and brown sugar (skip the cinnamon like you would normally use for pies and crisps… it'll overwhelm the delicate flavor of the olive oil in the ice cream), and ermagherd they are good enough to eat all by themselves. However, they are really superb on top of this No Churn Olive Oil Ice Cream.
Feel free to serve the roasted fruit warm, room temperature, or cold on your ice cream!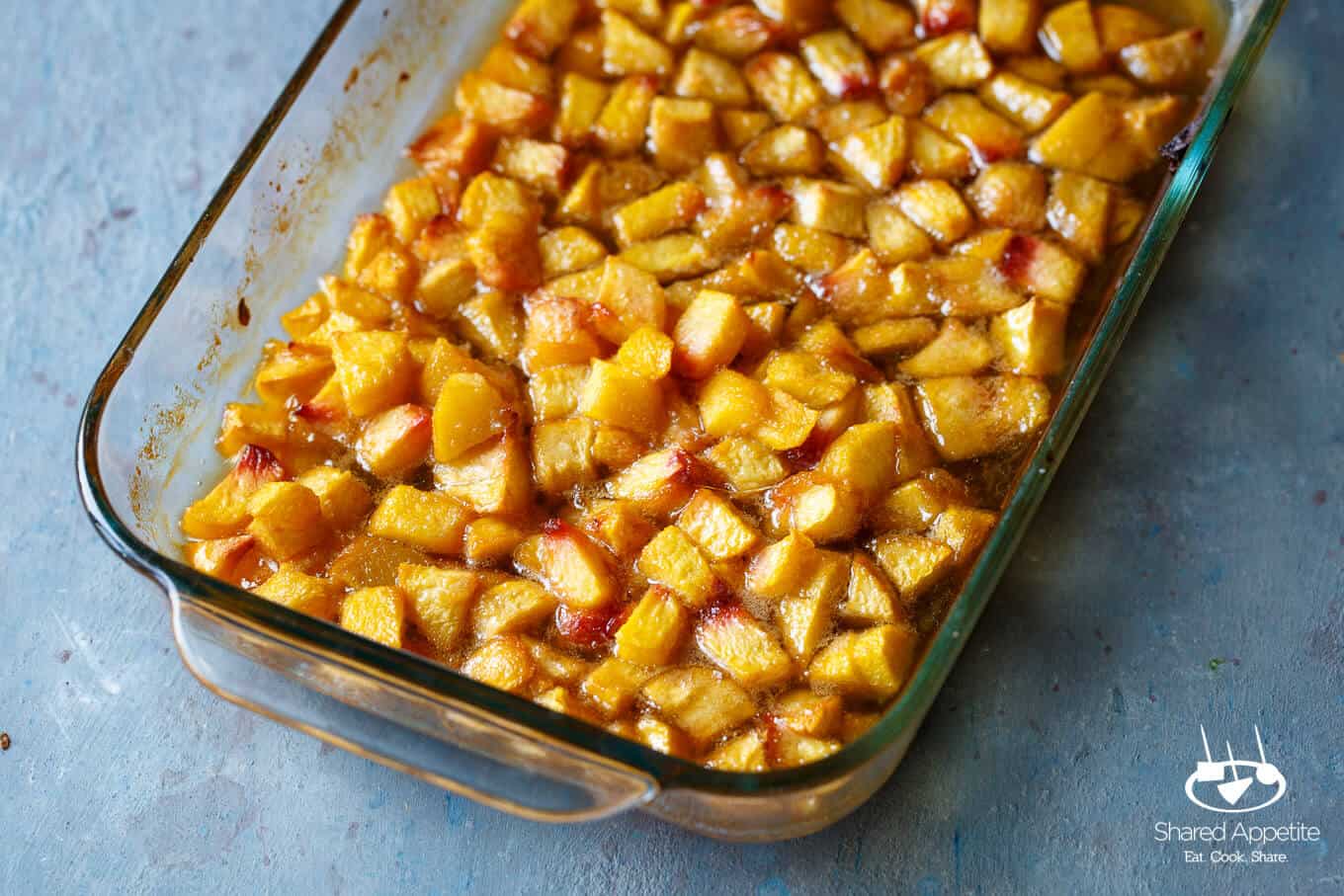 These mini olive oil cookies are not entirely required for these sundaes, but they certainly make them MUCH BETTER. I love having a textural component in my ice cream, whether that be as simple as some sprinkles or crushed oreos… or as stunning as these mini olive oil cookies.
The dairy free cookies use Carapelli® Organic Extra Virgin Olive Oil in place of the butter, and are quite good all on their own. If you know you won't need all of them for your sundaes, feel free to mix some chocolate chips into the rest of the cookie dough and bake them up for a future snack 🙂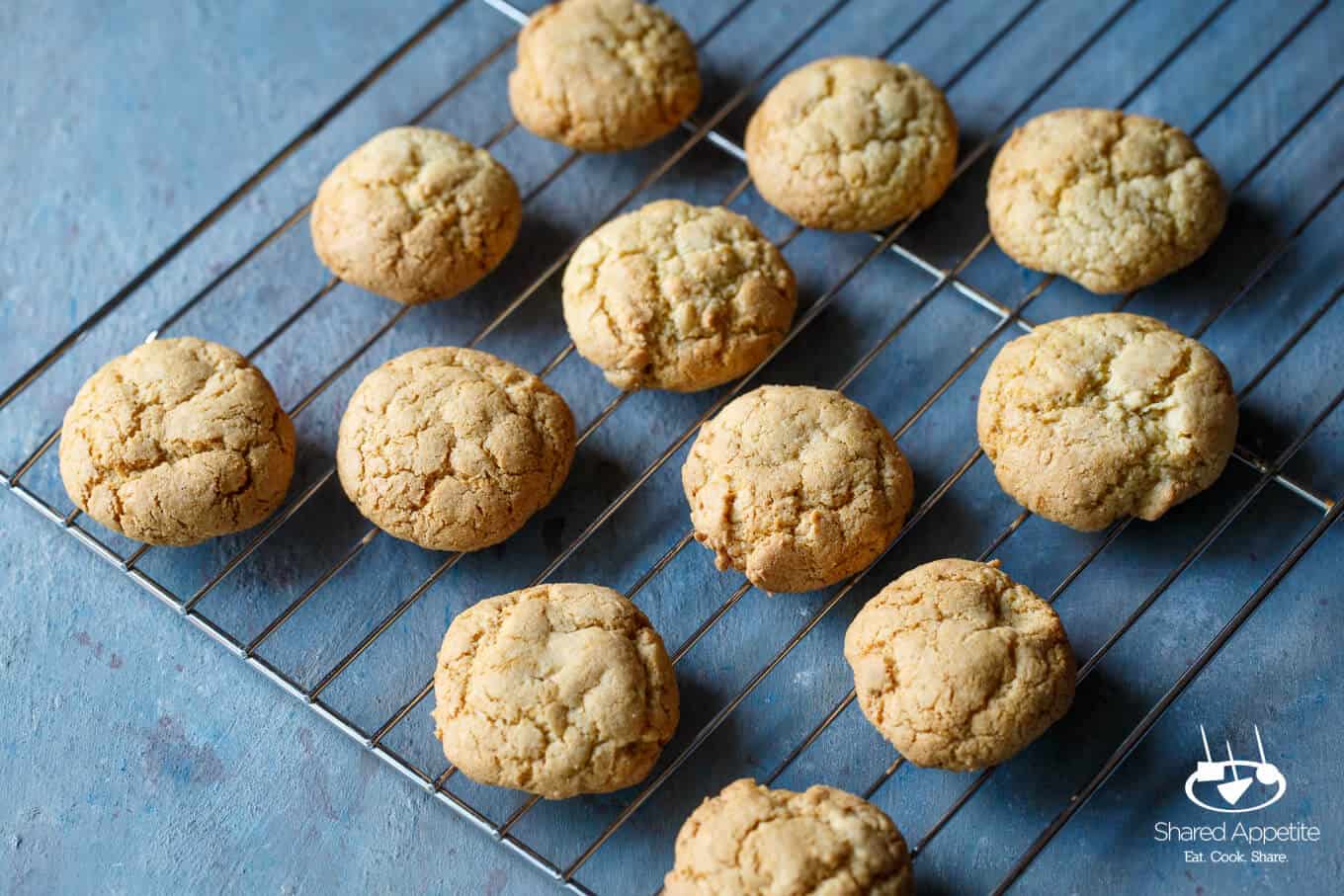 How good are these cookies? Let's just say my 2 year old daughter couldn't keep her hands off them long enough for daddy to photograph them…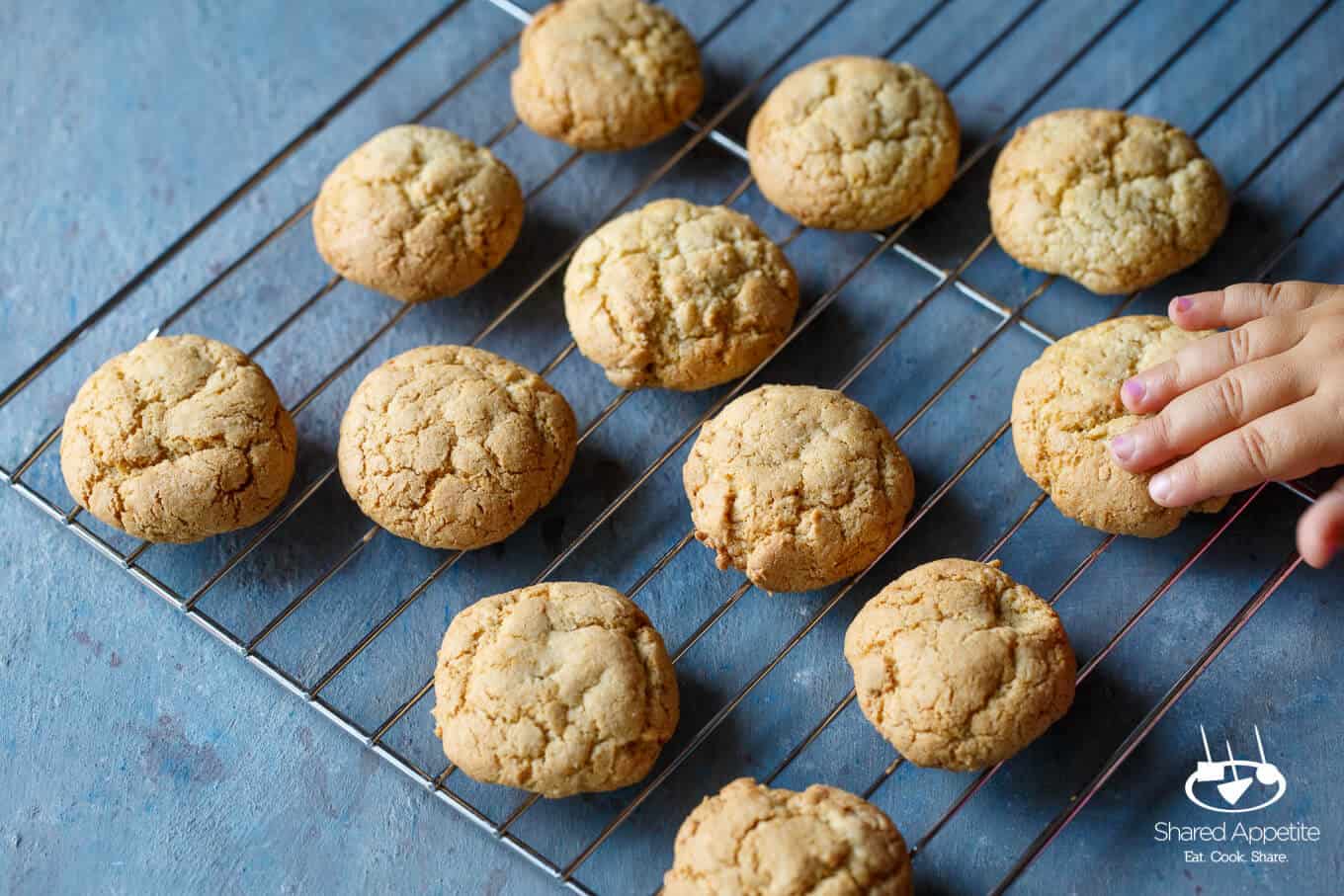 Onto the star of this No Churn Olive Oil Ice Cream with Roasted Peaches and Olive Oil Cookies. Carapelli® Organic Extra Virgin Olive Oil.
Carapelli® Extra Virgin Olive Oil has a genuine and balanced taste with a lovely peppery finish. I love that it's organic, non-GMO, and is super high quality.
The superior quality is something you can instantly taste… my olive oil loving friend (he's a bit of an olive oil snob actually) was quite impressed with this olive oil. And if he says its good, it's good!
And can we just talk about the Carapelli® Organic Extra Virgin Olive Oil bottle? I love love love the sleek design. It's a bottle I don't even hide away in my pantry… I let it proudly sit out on my kitchen island because it's absolutely stunning!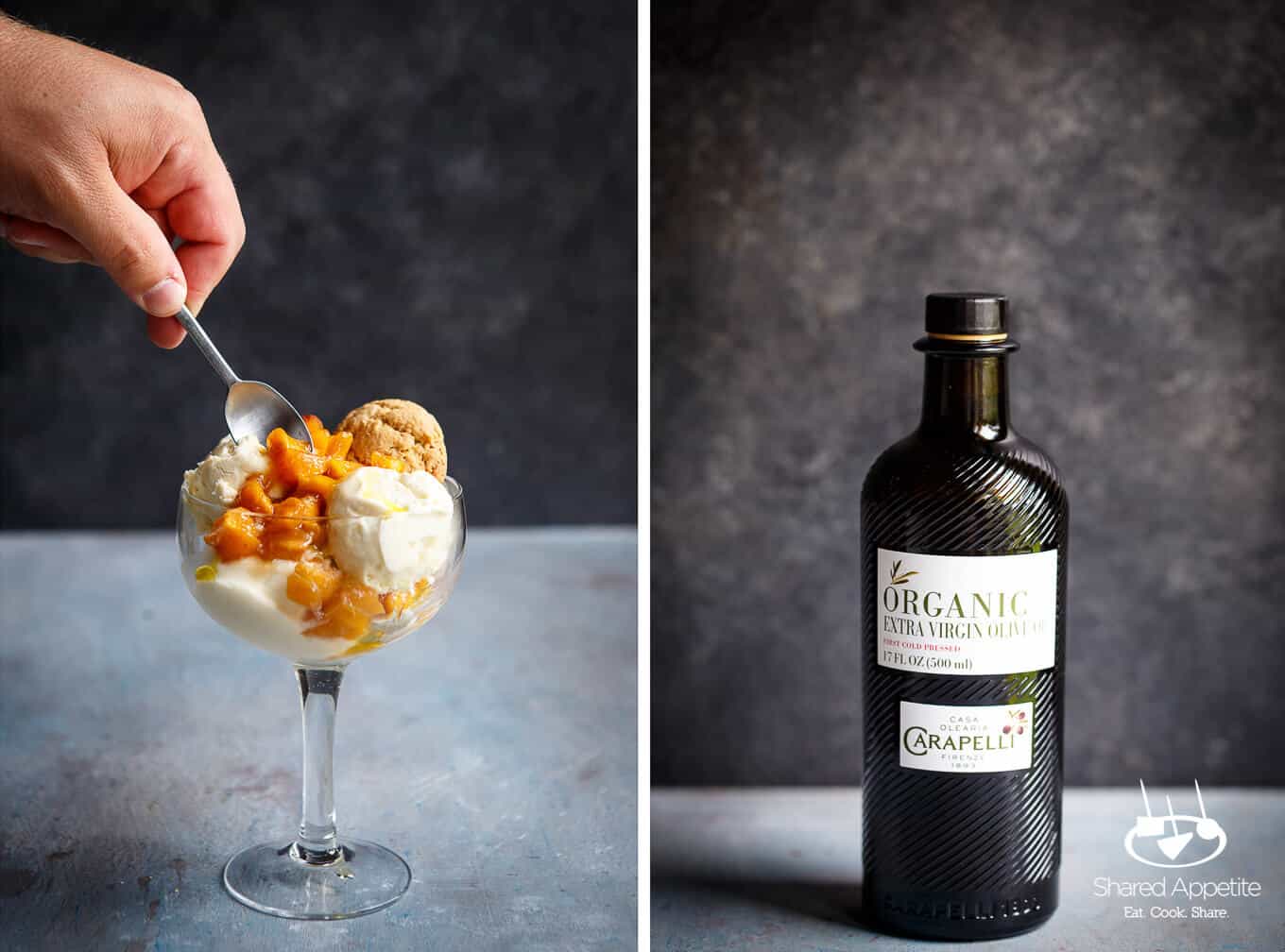 Print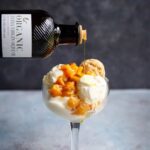 No Churn Olive Oil Ice Cream with Roasted Peaches
---
Author:

Chris Cockren

Prep Time:

30 minutes (plus 6 hours freezing time for ice cream)

Cook Time:

30

Total Time:

1 hour

Yield:

8

Servings

1

x
1

(14 ounce) can sweetened condensed milk

2 teaspoons

vanilla extract

1/2 cup

 Carapelli® Organic Extra Virgin Olive Oil

2 cups

heavy whipping cream
for the Roasted Peaches
4

peaches, peeled and finely chopped

1/4 cup

light brown sugar

2 tablespoons

 Carapelli® Organic Extra Virgin Olive Oil
Pinch Kosher salt
for the Mini Olive Oil Cookies
2 tablespoons

Carapelli® Organic Extra Virgin Olive Oil

2 teaspoons

milk

1

beaten egg

1/2 teaspoon

vanilla extract

6 tablespoons

granulated sugar

6 tablespoons

brown sugar

1 cup

all-purpose flour

1/2 teaspoon

baking soda
---
Instructions
Combine sweetened condensed milk, vanilla extract, and olive oil in a large mixing bowl.
Whip the heavy cream until stiff peaks form.  Stir in 1/3 of the whipped cream into the milk mixture.  Carefully but thoroughly fold in remaining whipped cream, being careful not to deflate the mixture as you combine.
Scrape olive oil ice cream into a loaf pan or other bowl and cover with plastic wrap.  Freeze for at least 6 hours.  Scoop and let ice cream sit for at least 5 minutes before eating so it achieves a good consistency.  You want it to be a little melty so it has maximum creaminess!  Top with roasted peaches and a mini olive oil cookie and devour.
for the Roasted Peaches
Preheat oven to 400°F.  Spray an oven safe baking dish with nonstick cooking spray.  Combine all ingredients in baking dish and let roast approximately 30 minutes, until peaches are caramelized and very tender.
for the Mini Olive Oil Cookies
Whisk together olive oil, milk, egg, vanilla extract, and sugars until well combined.  Add in flour and baking soda and stir until just combined.
Preheat oven to 375°F and form dough into tiny balls and place on baking sheets.  Bake cookies in oven for 10-12 minutes, just until light golden brown.  You should have approximately 24 mini cookies (you won't need this many for the ice cream sundaes, but feel free to just eat because, well… cookies).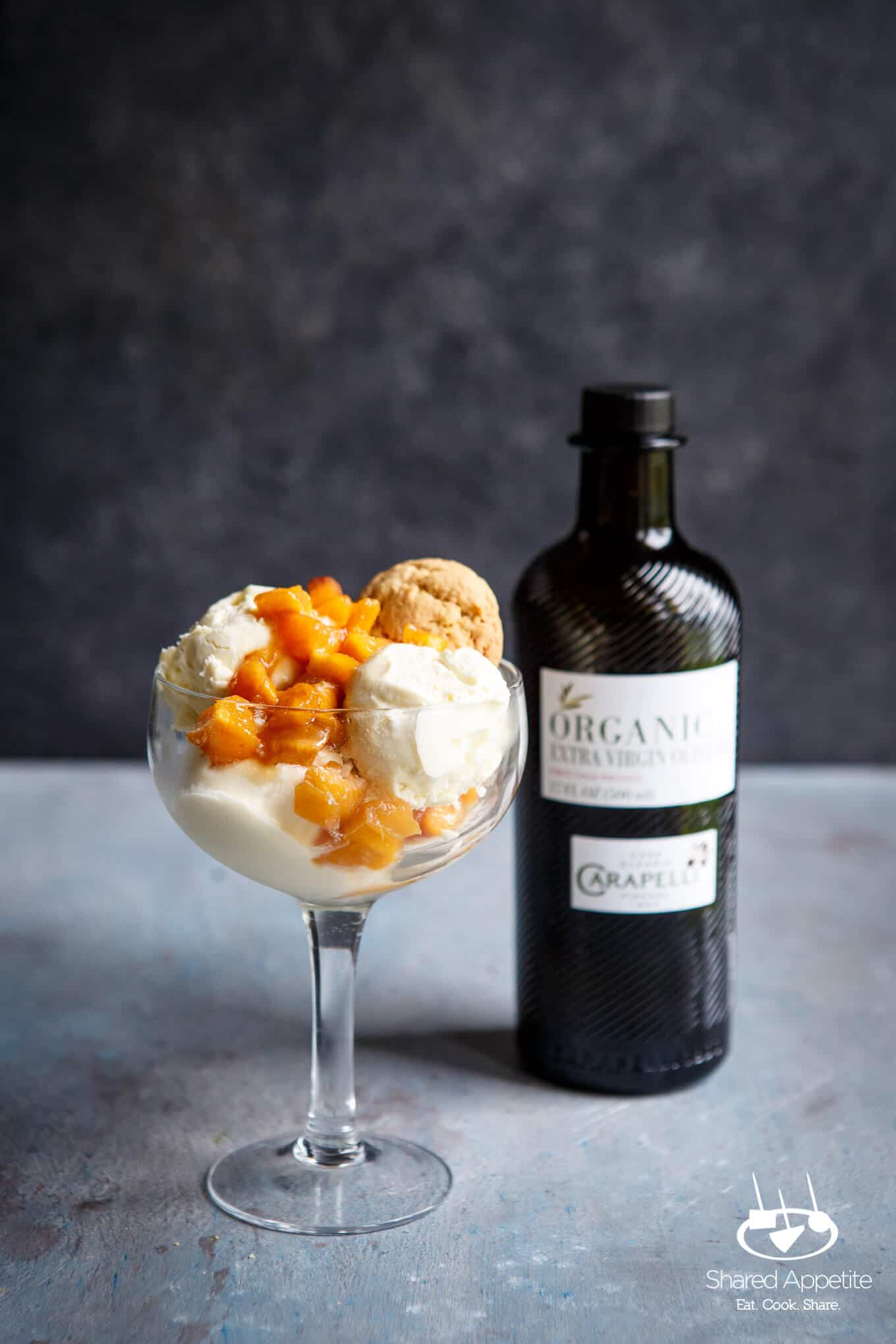 Looking to find Carapelli® Organic Extra Virgin Olive Oil? Good news… it's in stock at your local Shop Rite! I found it in the oil/vinegar aisle right away! Plus, use this Ibotta offer through November 3rd and save on your next purchase of Carapelli®!
Make sure to put this on your list for the next time you're making a Shop Rite run and get going on making this No Churn Olive Oil Ice Cream. It's the perfect easy entertaining dessert for your next dinner party!
No Churn Olive Oil Ice Cream
Looking For More Ice Cream?
Gluten Free Brownie Cookie Salted Caramel Ice Cream Sandwiches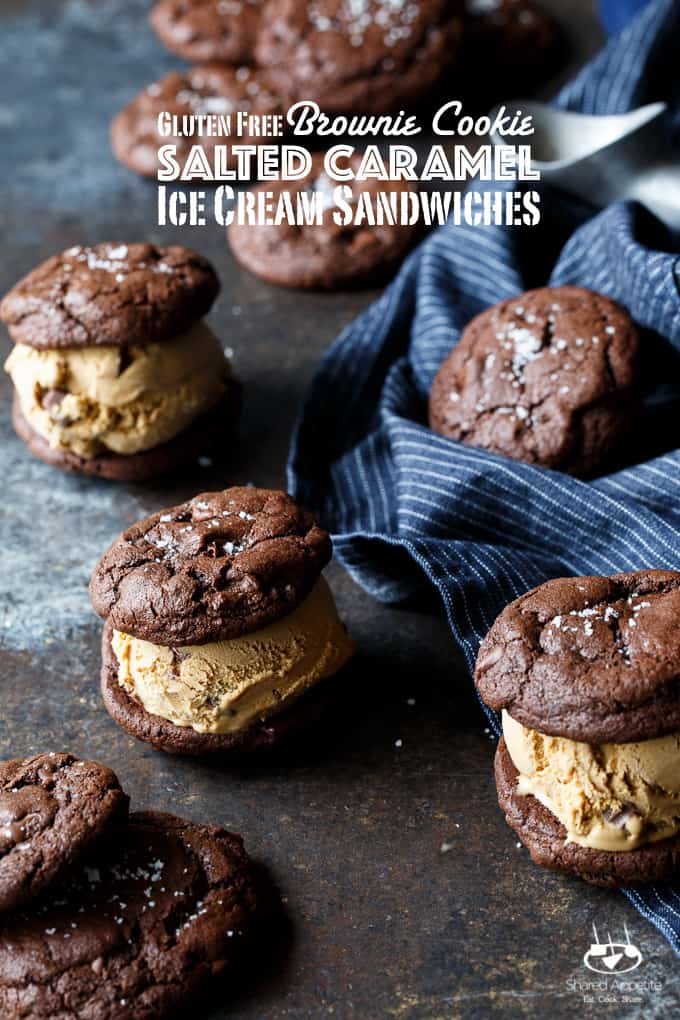 S'mores Semifreddo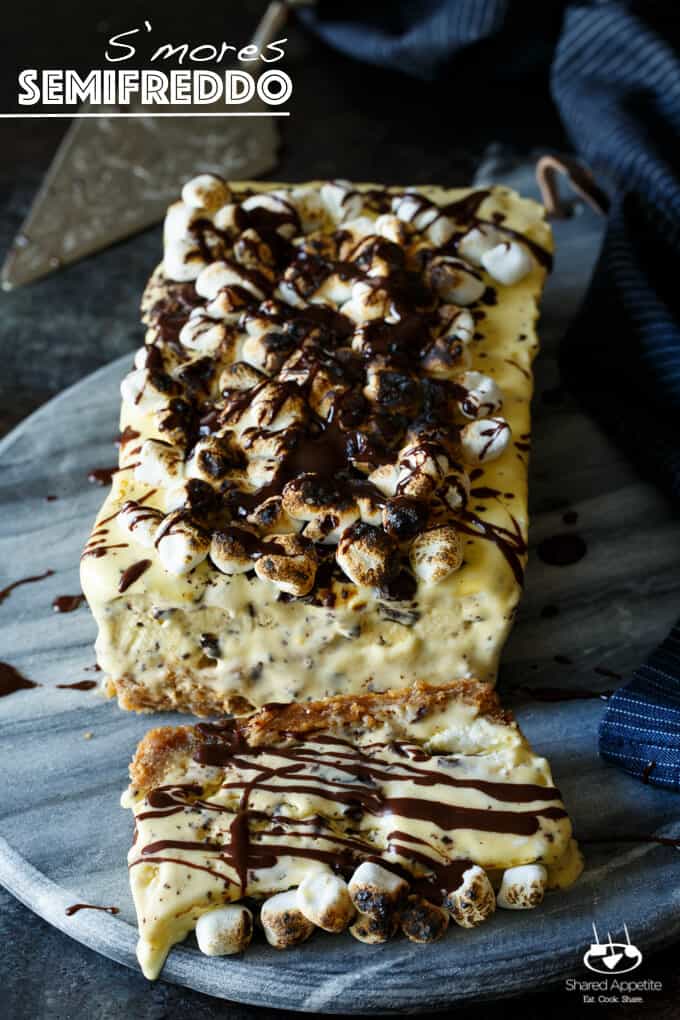 Mini Caramel Pretzel Ice Cream Trifles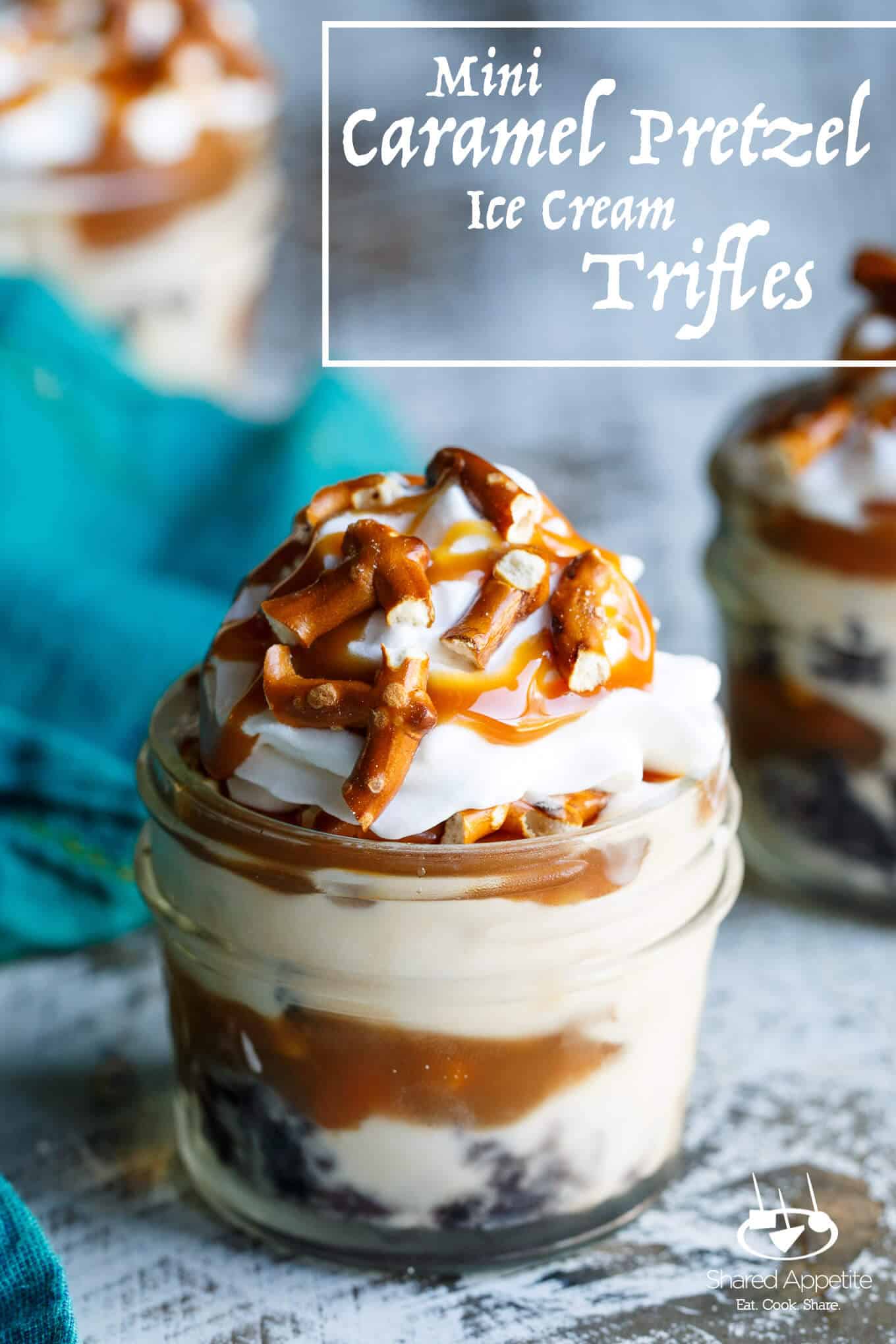 Two Ingredient Toasted Marshmallow Ice Cream