This is a sponsored post written by me on behalf of Vintage Seltzer for IZEA. All opinions are 100% mine.
This recipe for Sparkling Blueberry Thyme Lemonade was created in partnership with Vintage Seltzer. As always, all opinions and recipe are my own. Thanks for supporting the brands that support Shared Appetite!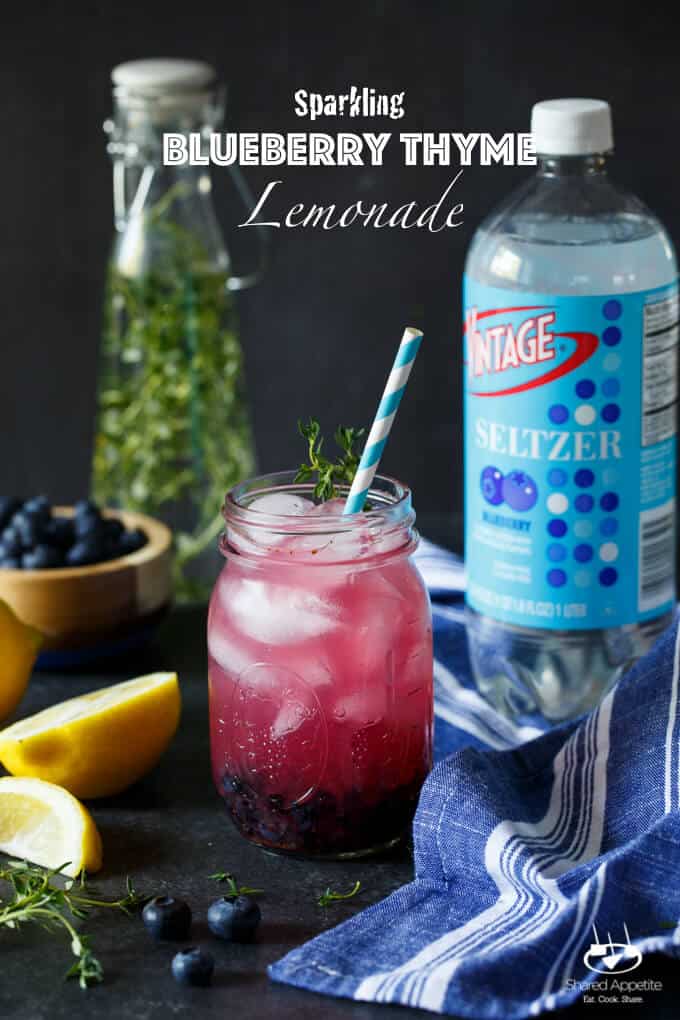 It's officially a heat wave here in New York. Walking outside literally feels the same as when you open the oven and forgot it was set to 425°F... heat blast to the face.
We have a pool in the backyard, so a normal person would just hang out in there all day. But can I be honest with you? You'll probably think I'm weird (if you already don't), but I'm not really a pool guy. Or outdoors in general. I much prefer the coolness of my central air.
BUT... Olivia loves being outside. Splashing in the water table, getting her piggies wet in the big pool, and walking non-stop in the grass. Her new thing is actually playing with the mulch. I don't get it.
So when I'm going to be out in this heat, a refreshing beverage is not just a good idea... it's a necessity. This Sparkling Blueberry Thyme Lemonade is beyond legit and totally quenches my thirst. Screw you, heatwave. I've armed myself with the power of this creative summer lemonade.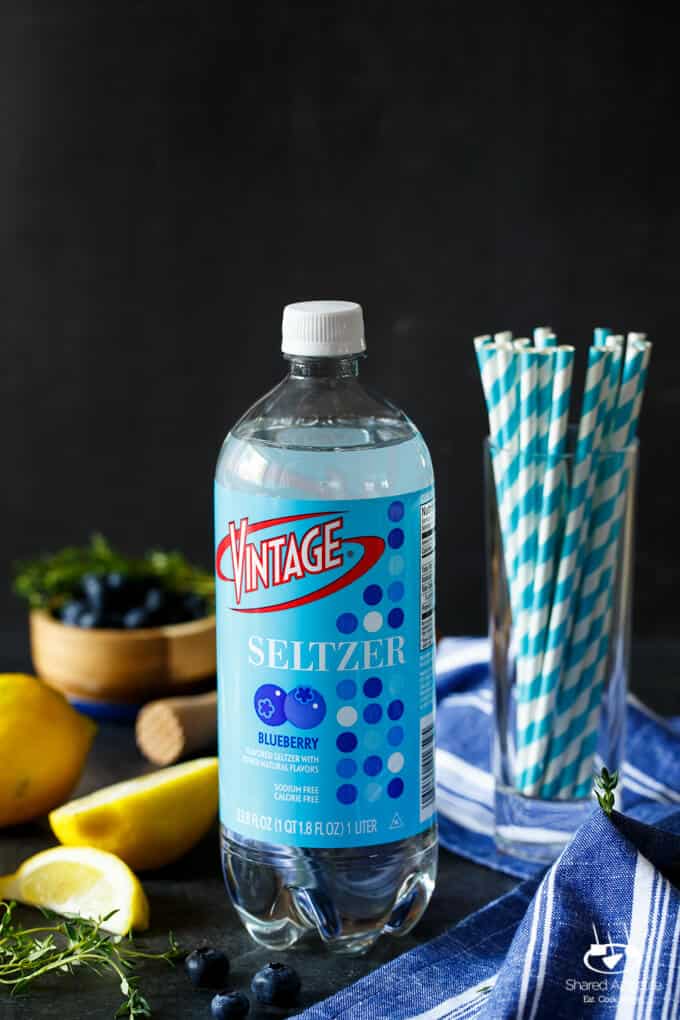 The drink couldn't be simpler. And really, a lot of times the simplest things in life are best, aren't they?
Fresh blueberries and lemon juice. A fragrant thyme simple syrup (don't worry, it literally takes minutes to make). And a big splash of the all new summer Vintage Blueberry Seltzer.
Heck yes.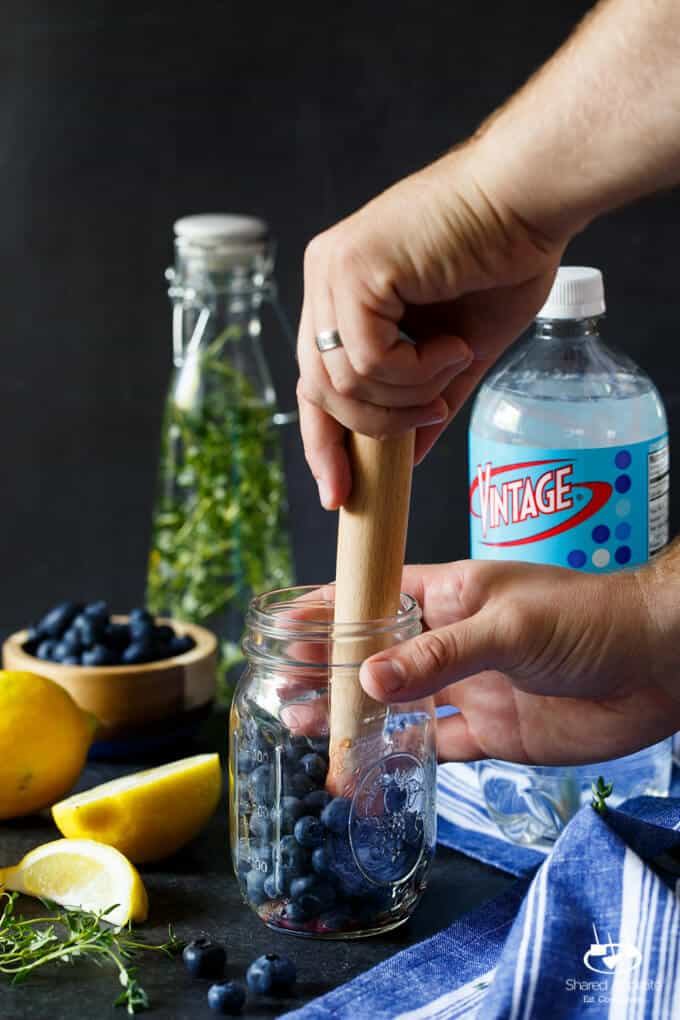 I like to muddle my blueberries right in the glasses. If you don't have a muddler, you can use the back of any wide handled serving spoon or just give 'em a quick whirl in the food processor.
Let's be honest though. It's pretty cool to muddle these with your guests watching. Adding a bit of showmanship to your summer beverage consumption gets an A+ in my book.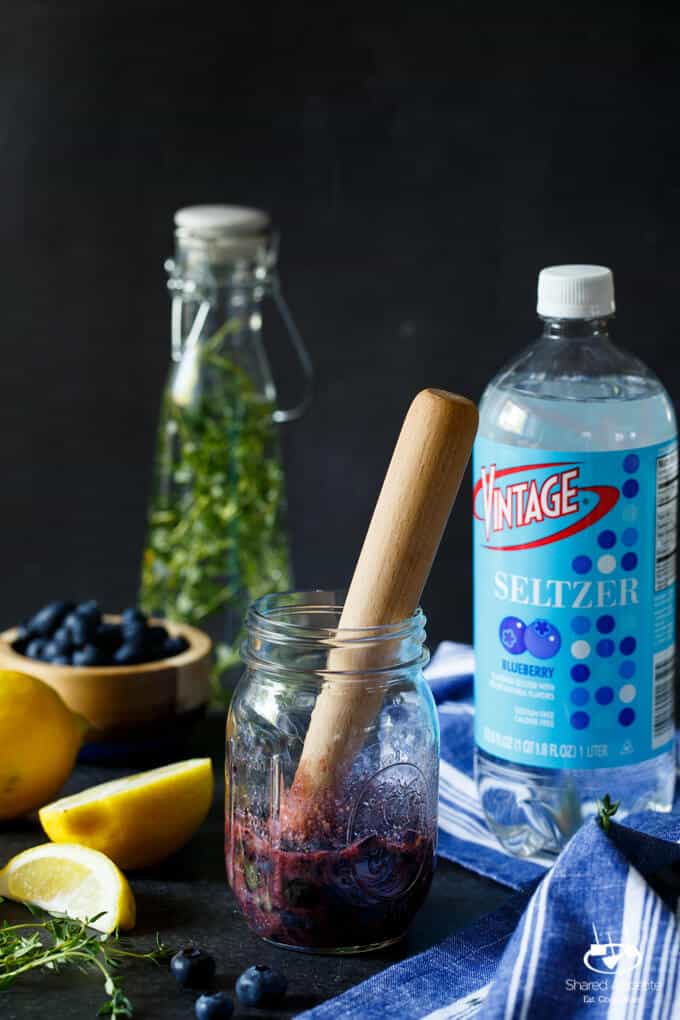 Vintage Seltzer was always around my house growing up. My parents drank the stuff all the time. My mom loved the raspberry, and my dad was a fan of the lemon lime and mandarin orange. To this day, every time I pass the beverage aisle in the supermarket and see those familiar blue bottles, I'm transported back to being a kid.
I'm really digging their special summer blueberry flavor. It goes so well with this Sparkling Blueberry Thyme Lemonade.
Vintage Seltzer continues to be a staple in our house today. It's a great healthy alternative when I want something bubbly. It's got zero calories, all natural flavors, is sugar free, and doesn't have any of those nasty artificial sweeteners in it.
I love adding it to freshly squeezed fruit juice. And with sparkling drinks like this, it makes for super easy summer entertaining when we have our friends coming over!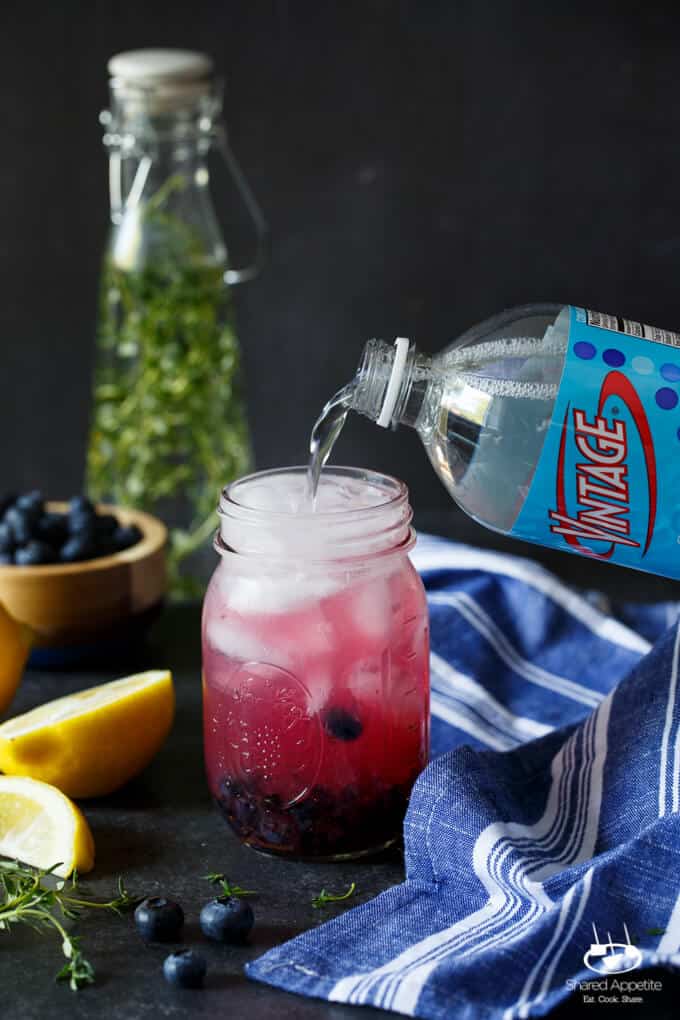 Along with the Blueberry seltzer flavor, Vintage Seltzer also unveiled two other awesome summer flavors.. Peach-Mango and Pineapple! I'm envisioning some epic tropical mocktails in my future!
You can find these three new flavors at Shoprite, Wegmans, and Stop N Shop! The core flavors are available anywhere in NY and NJ... click the link to see where you can Find Vintage.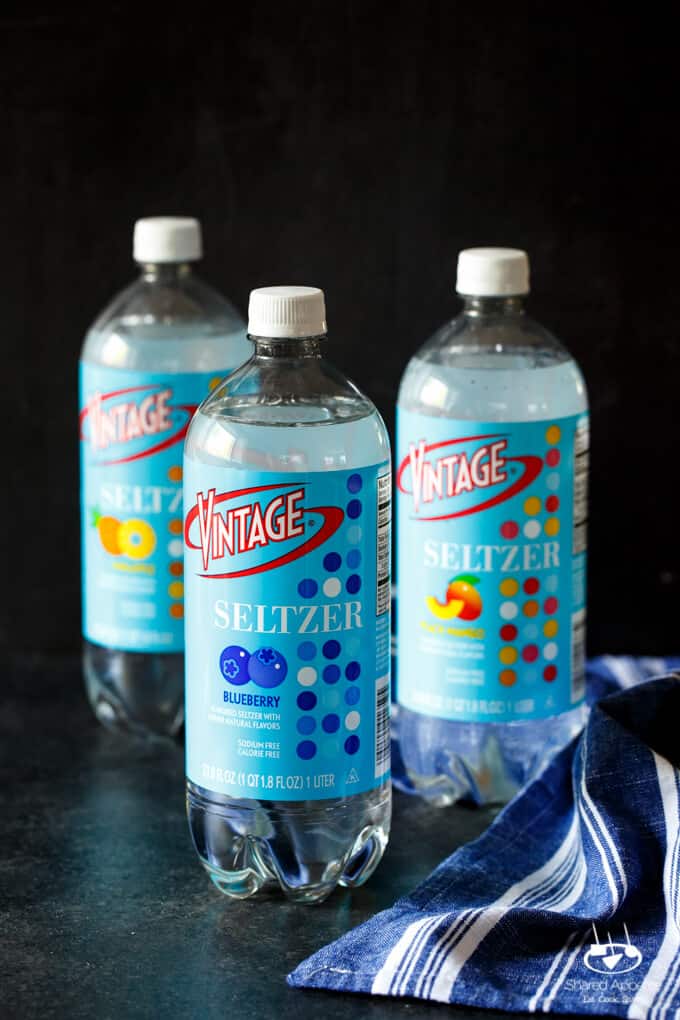 A word about the thyme simple syrup. Is the thyme absolutely necessary? Well, no, I guess not. But it's really delicious. I originally got the idea from my Blueberry Thyme Dessert Soup. It adds a cool, unique flavor twist that will get your taste buds moving. And you know I'm a fan of big, bold flavors.
If you want this lemonade to be a little less sweet and a bit more tart, I would down it to 2 tablespoons of simple syrup per glass instead of 3. I've got a sweet tooth though, so I'll be keeping it to 3 in my glass 🙂
Alright, well if you need me, I'll be hiding under the patio umbrella trying to keep this fair skin out of the sun while Olivia is playing with her water table. You better believe I'll have a glass pitcher of this Sparkling Blueberry Thyme Lemonade nearby.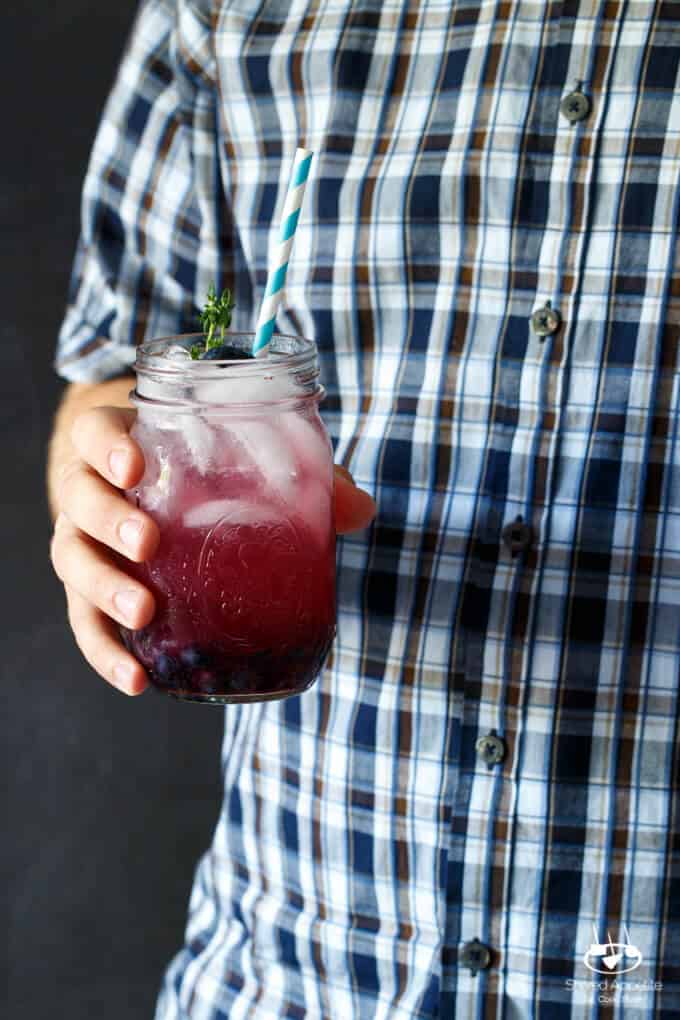 Print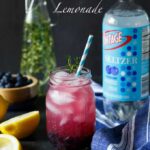 Sparkling Blueberry Thyme Lemonade
---
2 cups

blueberries

1 cup

fresh lemon juice

12 tablespoons

thyme simple syrup (recipe below)

2 cups

Vintage blueberry seltzer
for the Thyme Simple Syrup
1 cup

granulated sugar

1 cup

water
Large handful thyme sprigs
---
Instructions
Divide blueberries among 4 glasses. Muddle until blueberries are broken down and release their juice. Add ¼ cup lemon juice and 3 tablespoons thyme simple syrup to each glass. Stir, add a handful of ice, and top with approximately ½ cup blueberry seltzer (or a little bit more if the glass is larger). Give it a quick stir and devour immediately.
for the Thyme Simple Syrup
Combine sugar and water in a small saucepan over medium heat. Bring just to boil, stirring occasionally, until sugar is dissolved. Remove from heat and toss in thyme sprigs. Allow thyme to steep in simple syrup until it is completely cool. Discard thyme sprigs. Can be made ahead and refrigerated for up to a few weeks.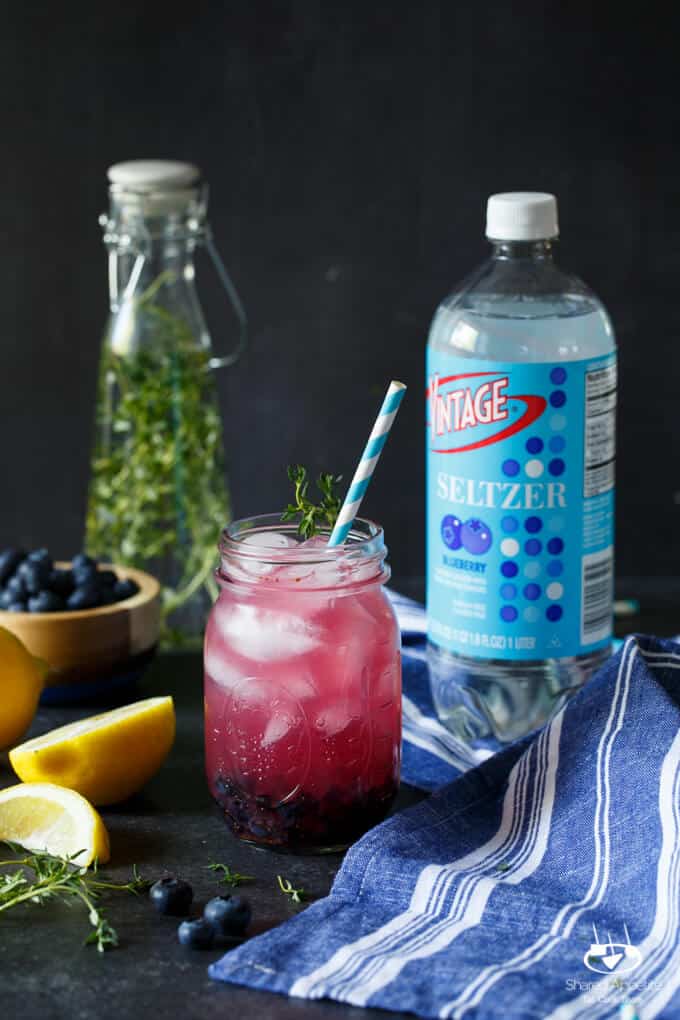 Follow Along: Vintage Twitter | Vintage Facebook
Sparkling Blueberry Thyme Lemonade
Need More Blueberry In Your Life?
Corn, Blueberry, and Halloumi Grain Salad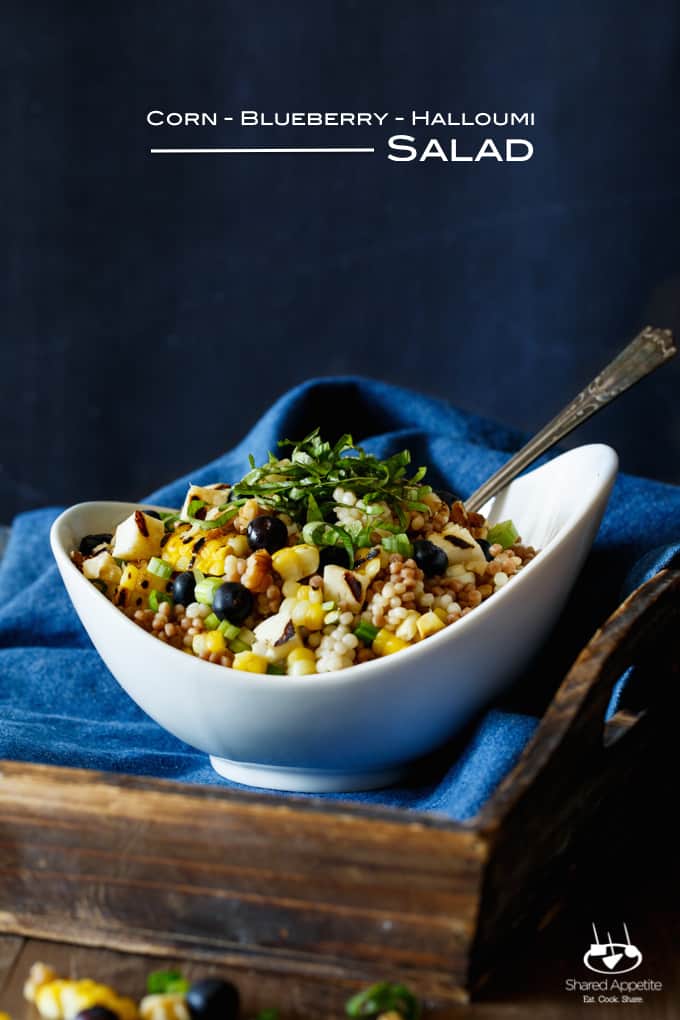 Vegan Blueberry Meyer Lemon Yogurt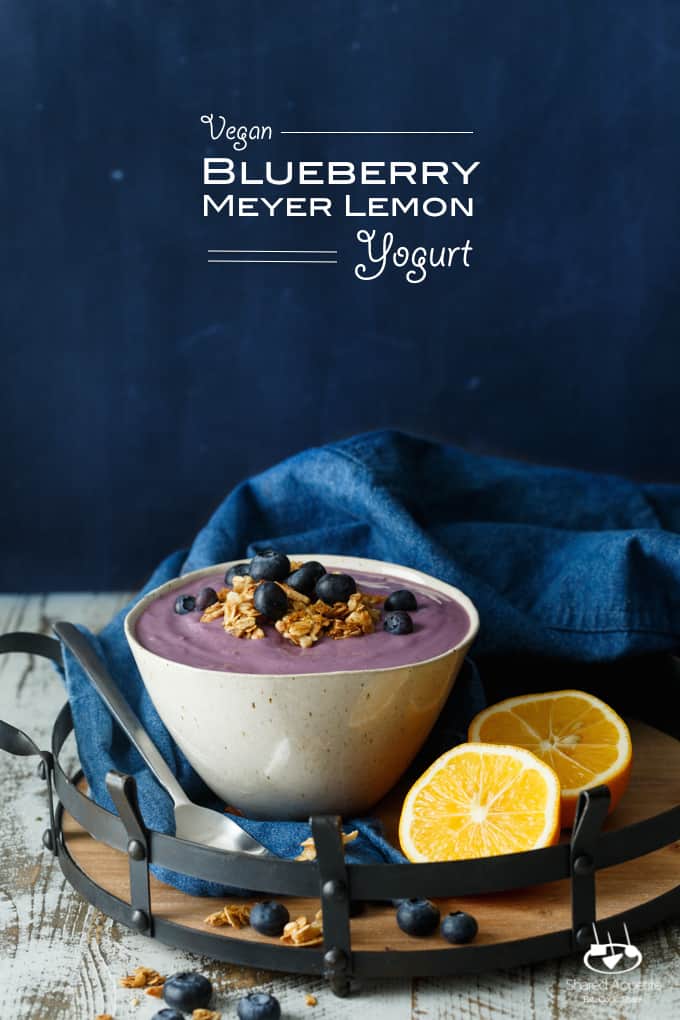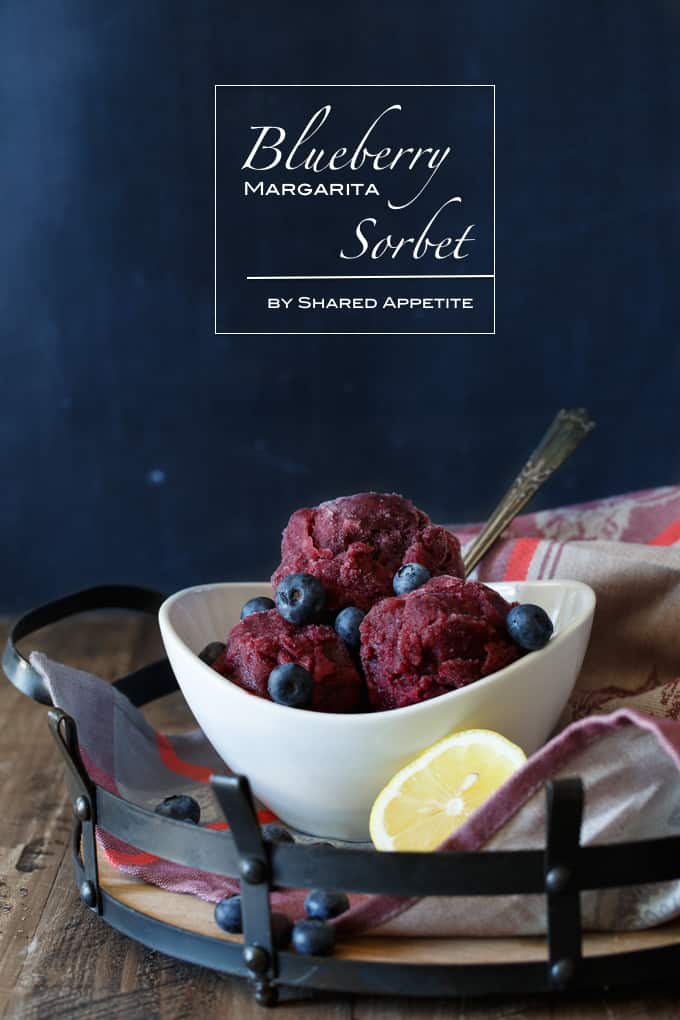 Grilled Summer Vegetable Flatbread with Blueberry and Lemon Ricotta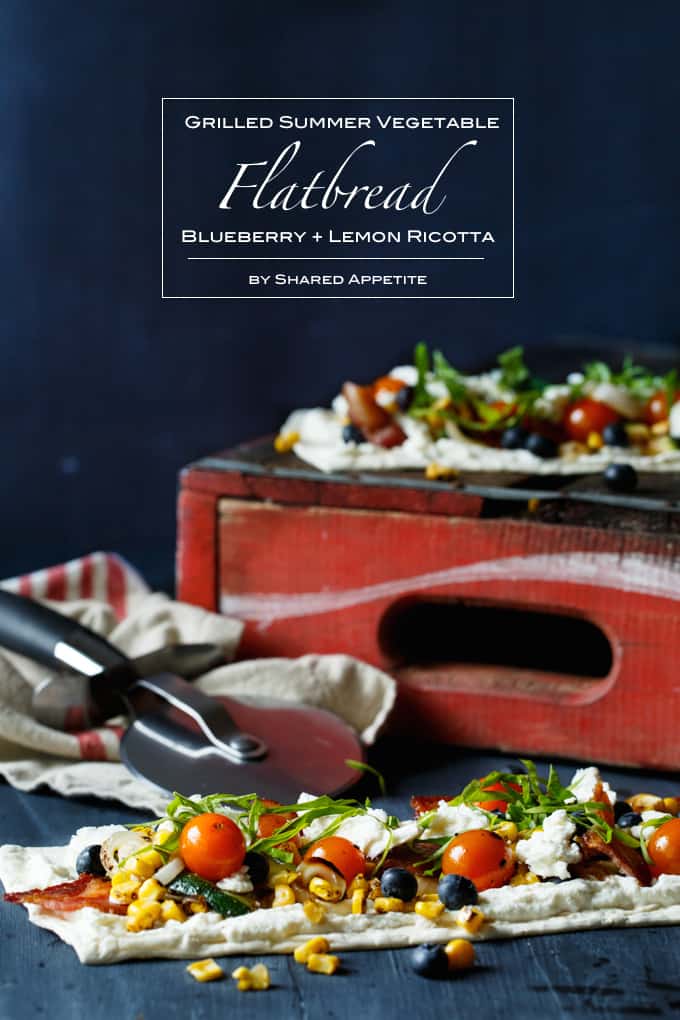 Blueberry Greek Yogurt Popsicles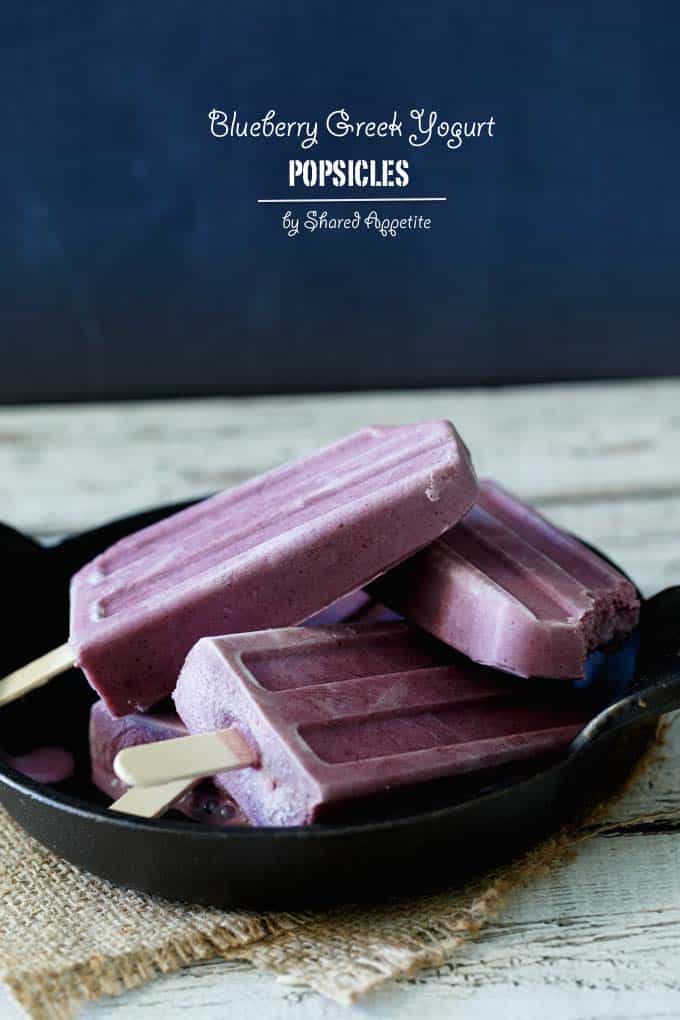 Blueberry Peach Margarita Popsicles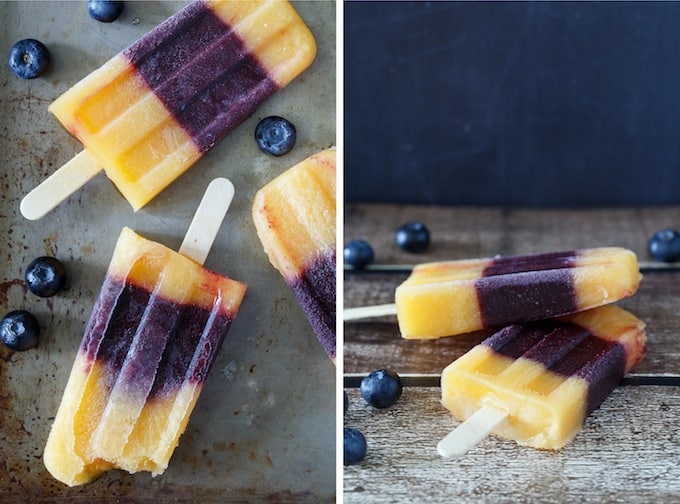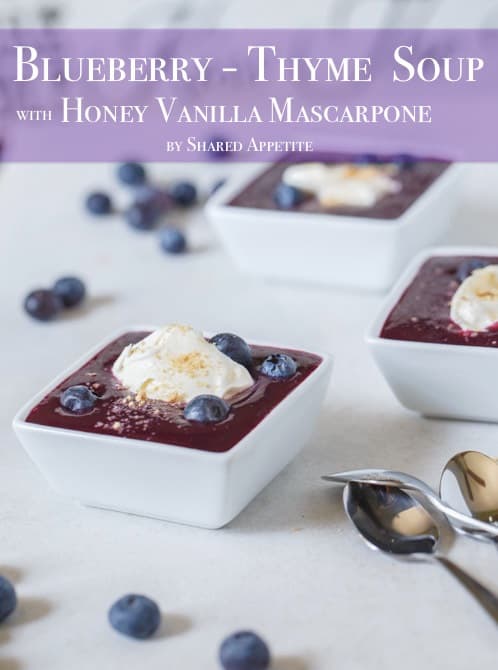 Gluten Free Blueberry Almond Granola