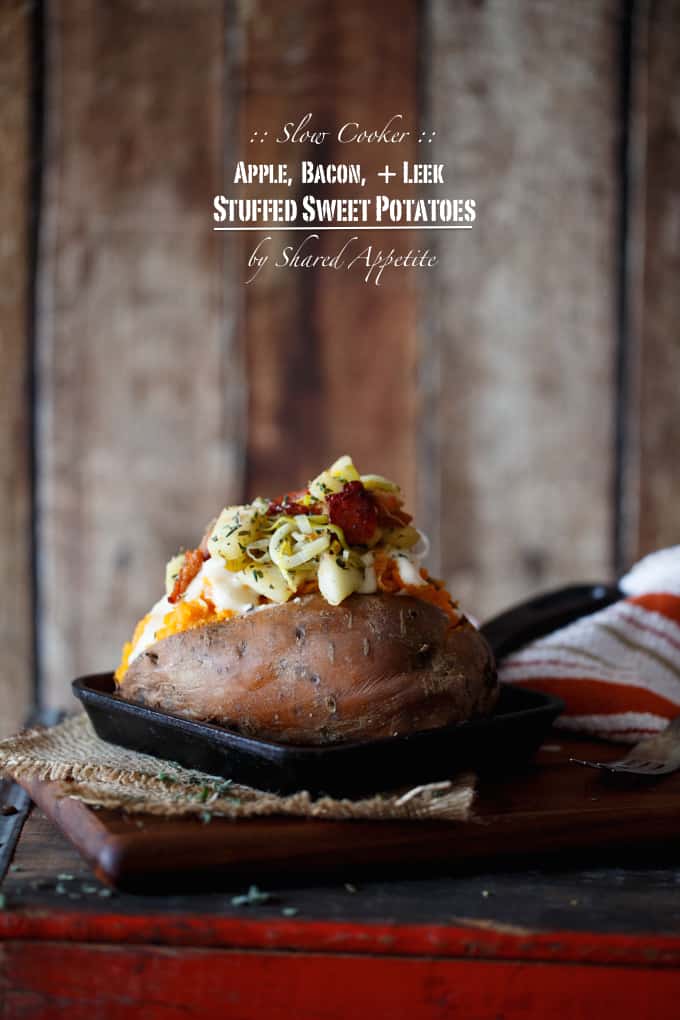 Did you know you can cook whole sweet potatoes in a slow cooker? #lifechanger ...so are these Apple, Bacon, and Leek Stuffed Sweet Potatoes. Mmmm bacon.
I love fall and everything. The colors are beautiful. Wearing a light jacket is acceptable. Ridiculous amounts of apple cider consumption is epic. Halloween and Thanksgiving are great holidays.
I love it all.
Except for one thing. The dark. Ugh how I loathe waking up in a frigid pitch black room. Granted the frigid part is because we refuse to put on our heat yet. But the dark thing? Yea, that's all on you nature.
Soon enough, it'll be dark out when I wake up AND by the time I get home from work. #notcool
Anyone else not into cooking as much when it's dark out? For some reason, the lack of sun zaps all of my energy. So that's when slow cooker meals come to the rescue. Meals like this Slow Cooker Sesame Chicken and Broccoli. And this Slow Cooker Coconut Curry Chicken. And of course this epic Slow Cooker Buffalo Chicken. And my latest obsession, these Slow Cooker Korean Sliders.
And you guys. Maybe I'm just fashionably late to the party, but did you know that you can totally rock whole sweet potatoes in a slow cooker?! If you did and didn't tell me, what the heck... I thought we were friends.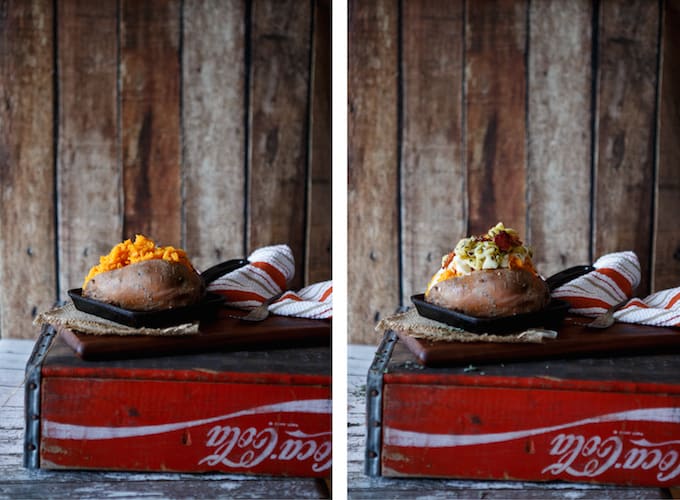 Stuffing sweet potatoes is pretty, well, sweet. They kinda rock my world, since I know that they are definitely on the healthy side, although they don't taste that way. Our house is already big fans of creative stuffed sweet potatoes... like these Thai Peanut Stuffed Sweet Potatoes and Southwestern Stuffed Sweet Potatoes.
And now it's time to bring some fall flavor action to the party. Apples. Bacon. Leeks.
And just because... a little white cheddar mornay sauce action. Don't get all weirded out by mornay sauce. It's just a fancy word for some cheese sauce goodness.
Slow Cooker Apple, Bacon, and Leek Stuffed Sweet Potatoes... Heck to the freaking yes.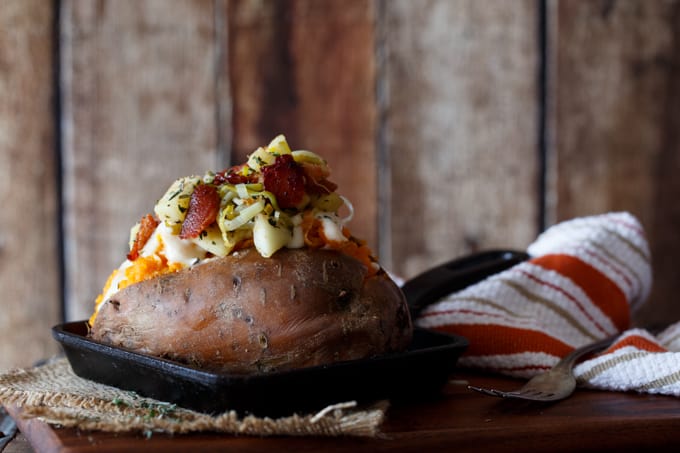 Here's why slow cooker sweet potatoes are so amazing. You can throw 'em in before you leave for work and bam... you're pretty much ready to eat when you get home. No waiting around for an hour as they roast away in the oven.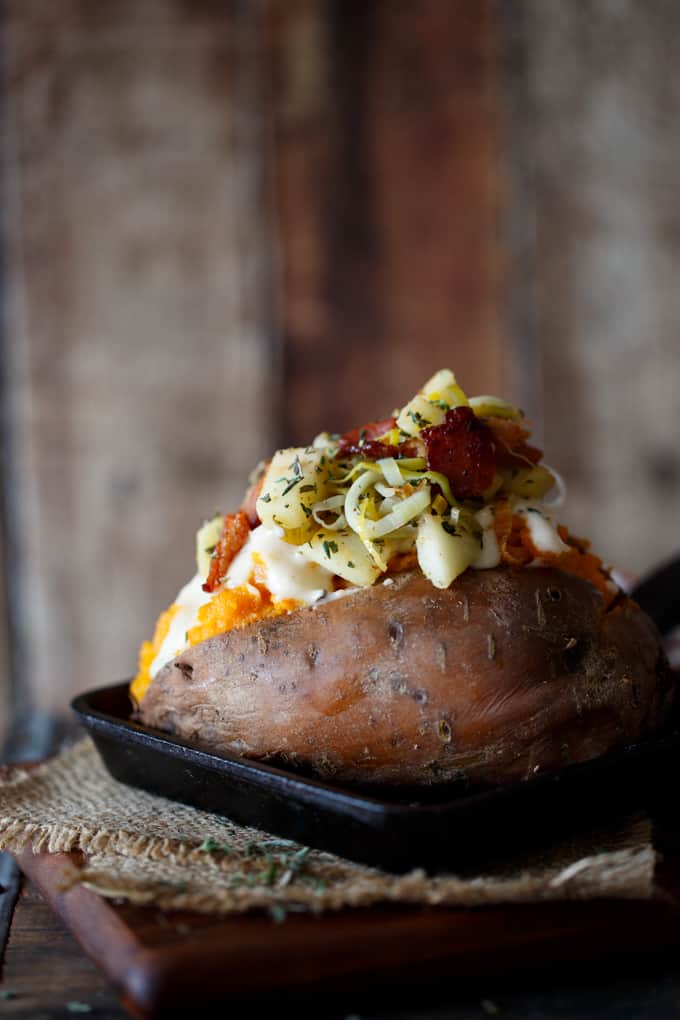 Print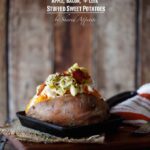 Apple, Bacon, and Leek Stuffed Sweet Potatoes
---
Total Time:

25 minutes

Yield:

4

1

x
4

sweet potatoes

10

slices thick-cut bacon, cut into bite-size pieces

2

leeks, washed, trimmed, and thinly sliced crosswise

2

Granny Smith Apples (or other tart apples), peeled and chopped into ½'' pieces

1 tablespoon

fresh sage, finely minced

1 tablespoon

fresh thyme, finely minced

1 teaspoon

fresh rosemary, finely minced
Kosher salt
Freshly ground pepper
for the Cheddar Mornay Sauce
1 tablespoon

unsalted butter

1 tablespoon

all-purpose flour

⅔ cup

whole milk

⅔ cup

grated white cheddar
Sprinkle of nutmeg
Kosher salt
Freshly ground pepper
---
Instructions
If using slow cooker for your sweet potatoes, piece sweet potatoes several times with a fork. Wrap in foil and place in slow cooker, cooking on low for 6-8 hours (depending upon size of sweet potato). There is no need for any liquid in the slow cooker. If not using slow cooker, cook sweet potatoes using your preferred method.
Cook bacon in a medium skillet over medium-low heat until crisp and golden brown. Transfer with a slotted spoon to a paper towel lined plate to drain. Remove all but 1 tablespoon of the bacon fat from the pan and add apples, leeks, and herbs (rosemary, sage, and thyme) to the skillet. Season with Kosher salt and freshly ground pepper. Cook over medium heat, stirring occasionally, until apples are soft and begin to caramelize, about 7 minutes. Add the cooked bacon back into the pan and cook for 1 more minute.
Meanwhile, melt butter in a small saucepan over medium-low heat. Whisk in the flour and cook, stirring frequently for about 1 minute, until mixture is a bit golden. Whisk in milk until fully incorporated with roux and no clumps remain. Cook, stirring often, until the milk mixture thickens to a runny sauce consistency, about 5-10 minutes. Remove from the heat and stir in the cheeses until fully melted. Season with a sprinkle of nutmeg, Kosher salt, and freshly ground pepper.
Split open each sweet potato and top with the cheddar mornay sauce and apple mixture. Devour immediately.
Prep Time:

10 mins

Cook Time:

15 mins
Now as shocking as this is, I know some of you still don't actually own a slow cooker. It's time to change that. And for those of you that already do, having 2 is twice the fun. Trust me. It's great for entertaining when you want to keep multiple things warm.
Big thanks to Hamilton Beach for providing me a slow cooker to play with, and for giving one away to one of Shared Appetite's finest readers. To enter this beauty... a Set 'n Forget® 6 Qt. Programmable Slow Cooker With Spoon/Lid, use the widget below...

Can't Get Enough?
Here's some more Sweet Potato action...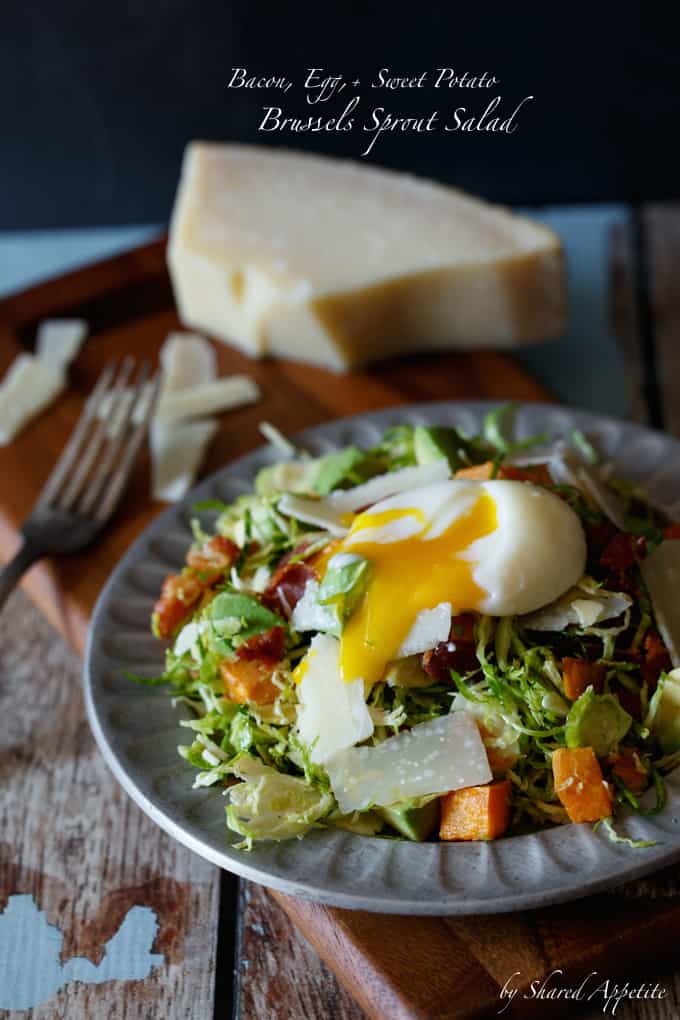 Bacon, Egg, and Sweet Potato Brussels Sprouts Salad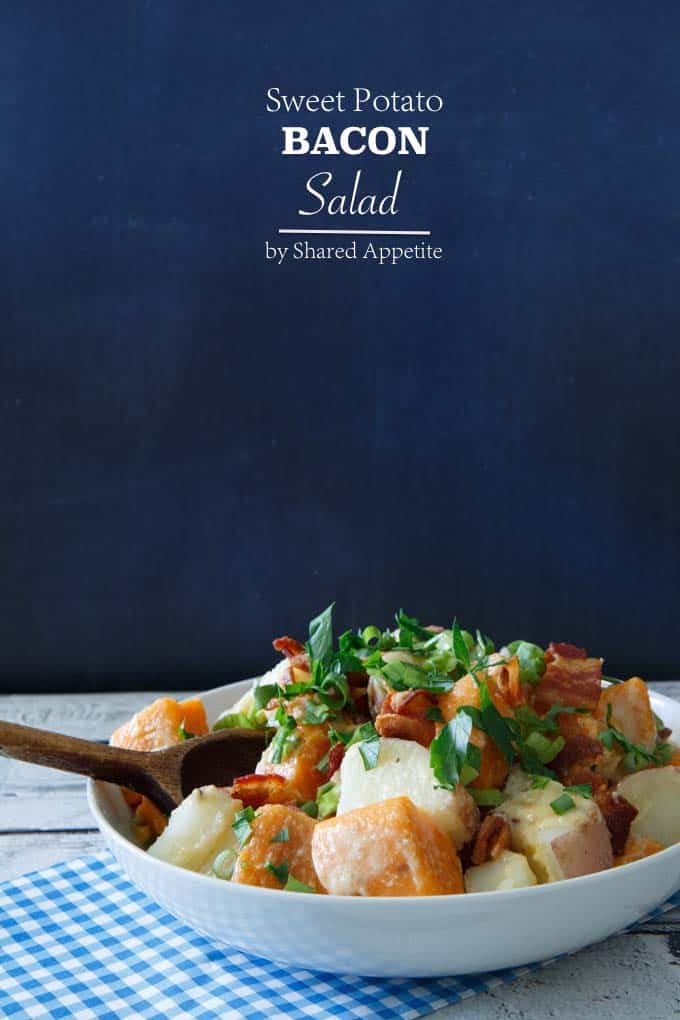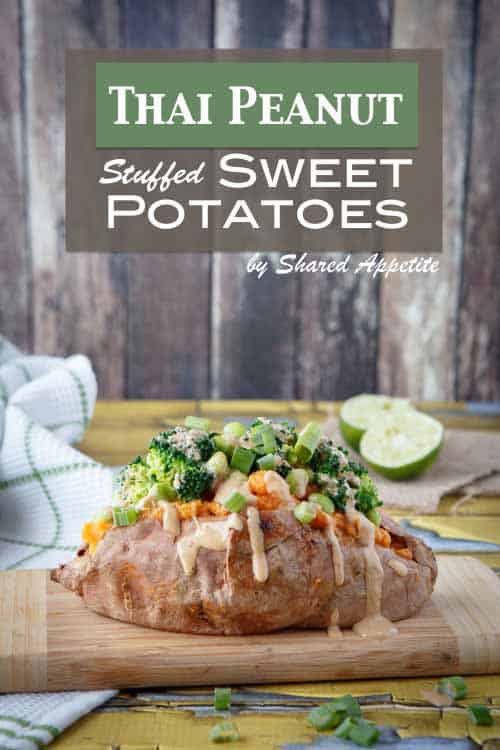 Thai Peanut Stuffed Sweet Potatoes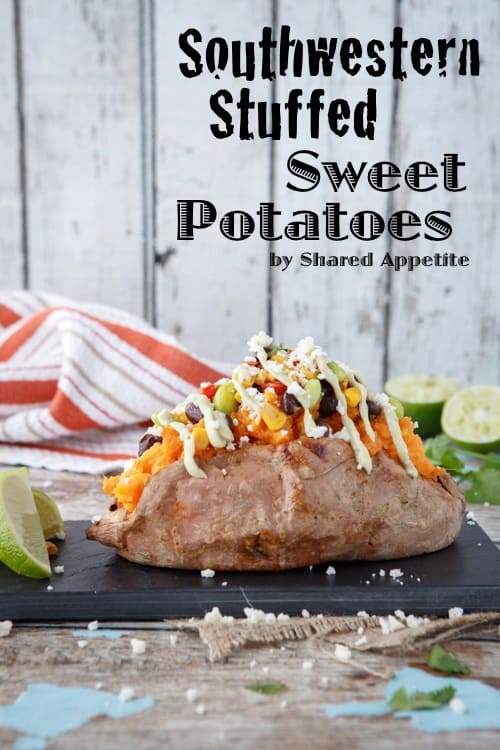 Southwestern Stuffed Sweet Potatoes